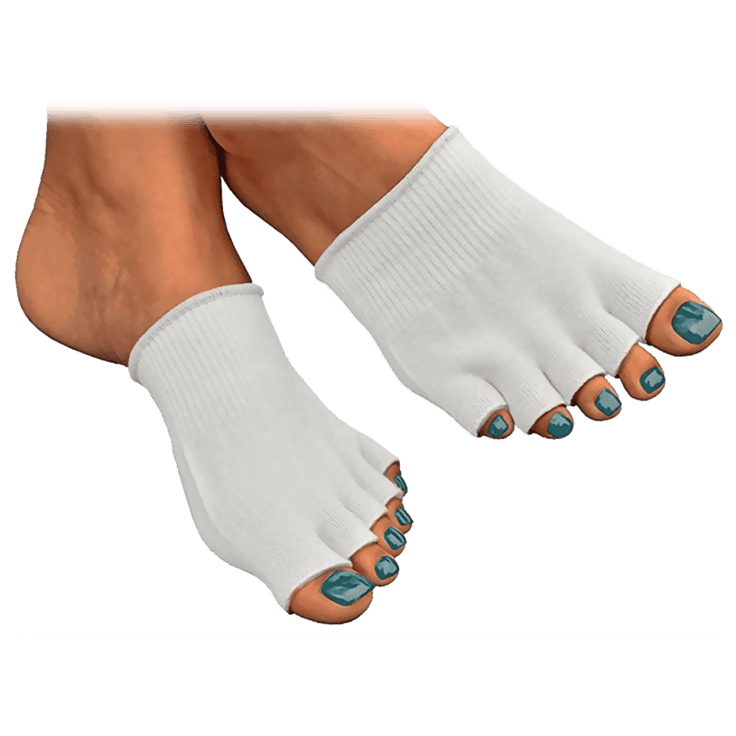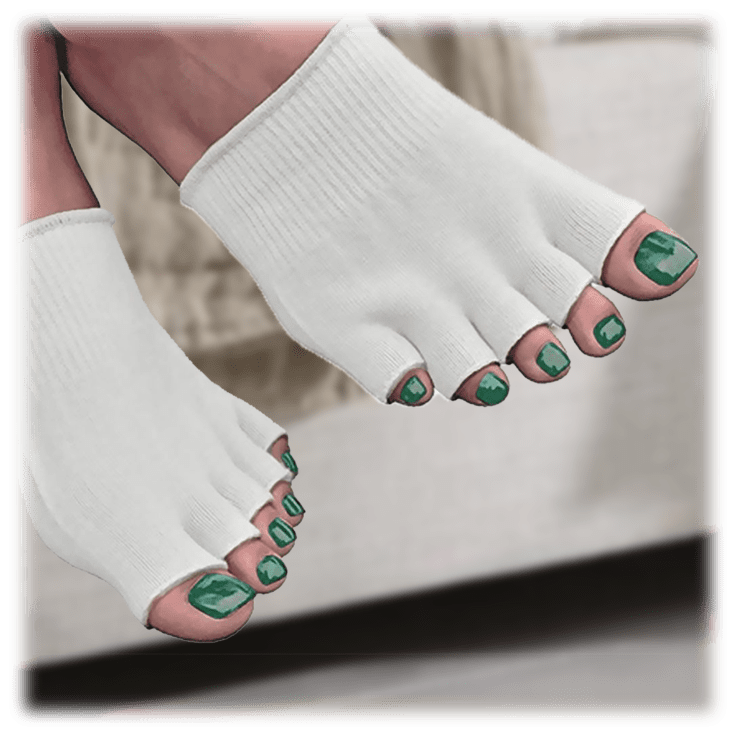 Extreme Fit Scented Recovery Open Toe Gel Compression Socks
These soft and stretchy half-socks with a glove-like open-toe design feature gel cushioning to help improve comfort and relieve pain.
Features
Therapeutic open-toe sleeve
Heals dry, cracked skin and achy feet
Softens Skin
Cushioned design helps relieve pain
Aims to gently separate and straighten the toes
Comfortable gel lining
Made from soft and stretchy fabric
Can be worn alone or with regular socks
Specifications
Product dimension 6 x 9.8''
Ingredients - 98% gel + 0.5% rose essential oil +0.5% olive oil +0.5% jojoba oil +0.5% vitamin E
One-size design fits sizes 7–11
Care instructions: hand wash
Included in the box
1x Pair of Scented Recovery Open Toe Gel Compression Socks
Warranty
Reviews
Verified Purchase
Love ❤️ Them already .
I can feel them working big time. As a Black Man in his 40s, I am a professional dancer and love to walk. I can already feel that I am going to be dancing like I never dance before all because of these wonderful pair of socks

. Thank you so much

for helping my feet coming together one day soon .
Written by @callmeneal - January 15th 2021
Verified Purchase
Happy Toes
I purchased these toe socks for my husband. He had surgery on his hammer toes and after several months began balance therapy. His therapist gave him something to put between his toes, but could not wear it with his shoes. He loves these! They are comfortable and can be worn with shoes! He wears a size 8 shoe and these work perfectly!
Written by @SusanLCollura - February 16th 2023
Verified Purchase
Unexpectedly comfortable compression socks
These are a little hard to put on, but I have a narrow foot. Having said that, they are comfortable to wear, and do seem to be stretching out my toes after wearing tight shoes all day.
Written by @wnt2save - July 30th 2021
Verified Purchase
Literally Cool cushioning
Easy to put on. Feel great. Wore beneath socks and with LLBean slippers. Rejuvenating. Scent was very mild thank goodness.
Written by @me2Monitor - February 27th 2021
Verified Purchase
Toe socks
The fit is great and you can use them for all kinds of treatments you like to.do to your toes to keep them healthy
Written by @witchtricia - January 12th 2021
Verified Purchase
Relieved my foot pain
I have foot pain in the balls of my foot. These did the trick as well as stretching out my toes! A good buy for me.
Written by @sheriwilson - December 3rd 2022
Verified Purchase
I lovete I'm going to reaorder again
Written by @arelis - February 2nd 2021
Verified Purchase
Terrible product. Save your money. Item felt good when I first put it on, but within 2 hours of having the socks on the gel begin to seep through the fabric and I wasn't even walking. I do not recommend purchasing this product!
Written by @dww19142 - January 17th 2021
Verified Purchase
Not what I expected at all
The gel was so thin that after wearing them for an hour or two the gel disappeared and it was like wearing a half a sock with my toes sticking out…not what I was expecting at all. A little disappointed in this delivery that I was looking forward to getting.
Written by @Ahousman - February 18th 2023
Verified Purchase
Low quality
This item is of very low quality and functions poorly . I will Not recommend this item to anyone
Written by @TohmD - July 7th 2022
Verified Purchase
Don't fit , poor quality
Written by @greenplant - February 18th 2023