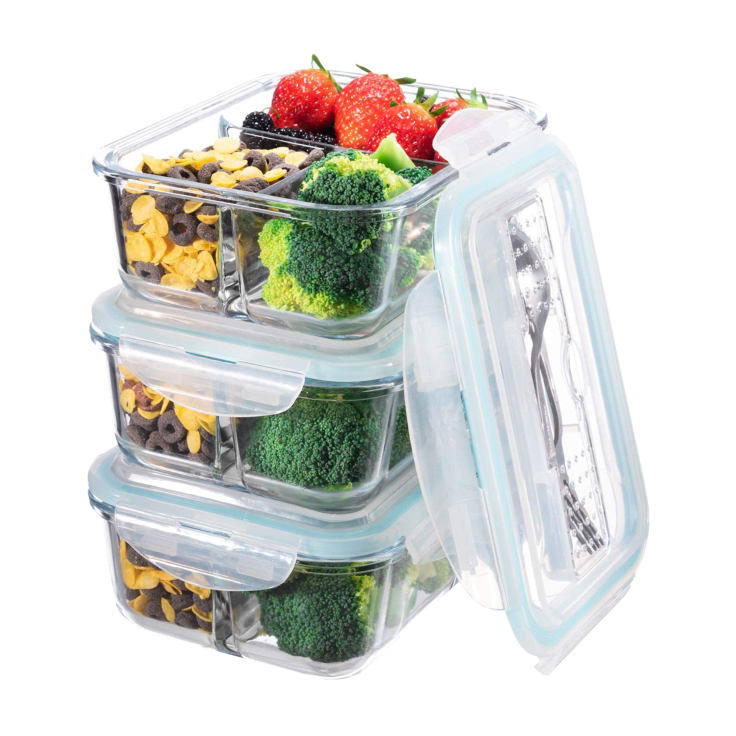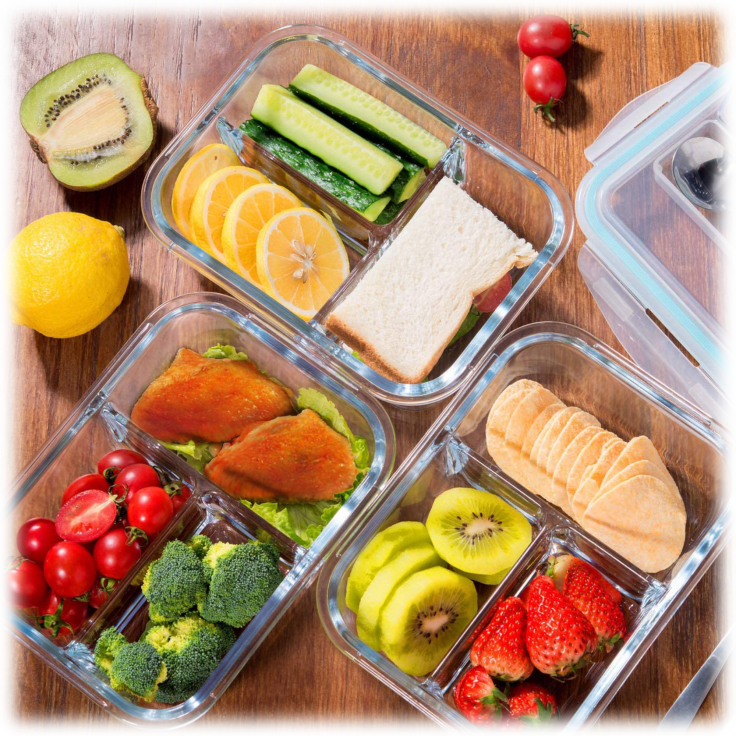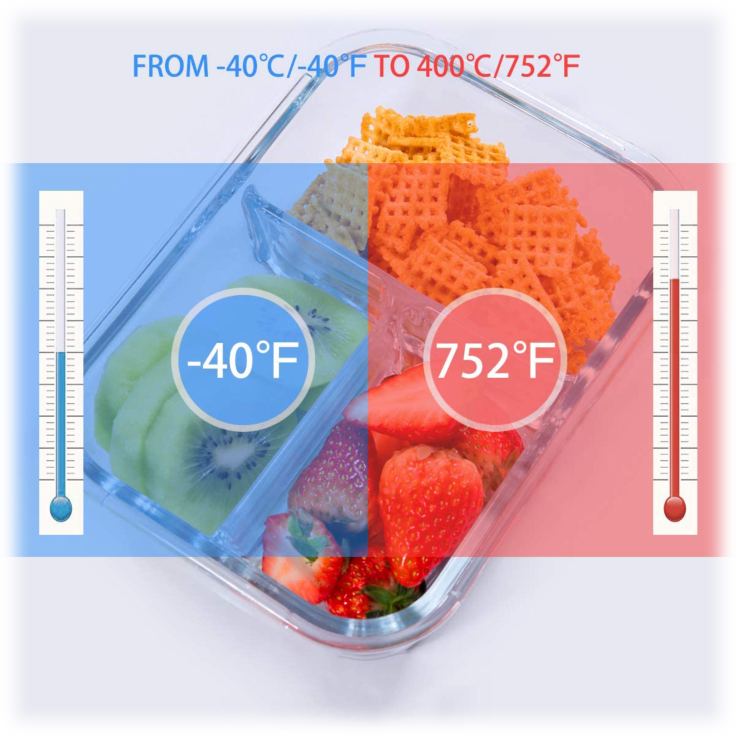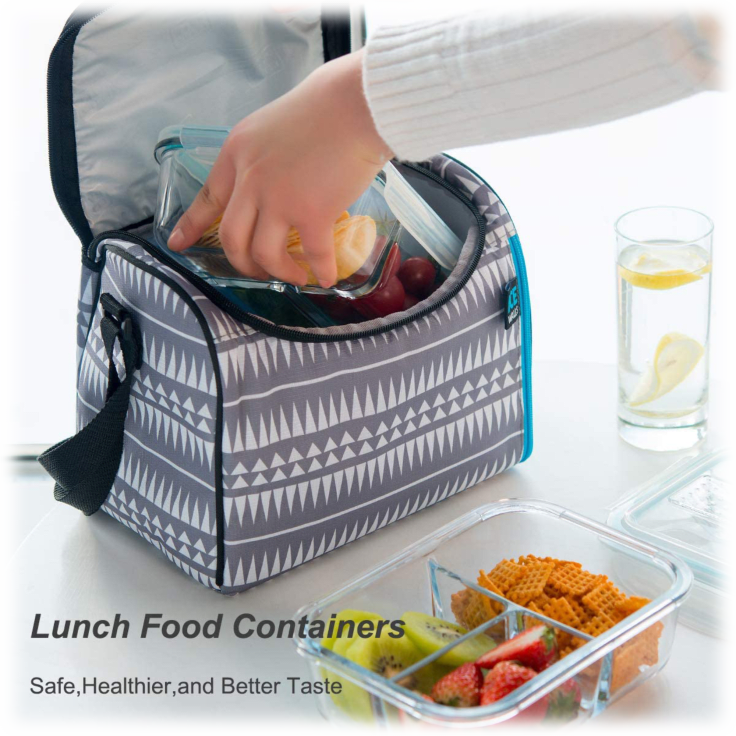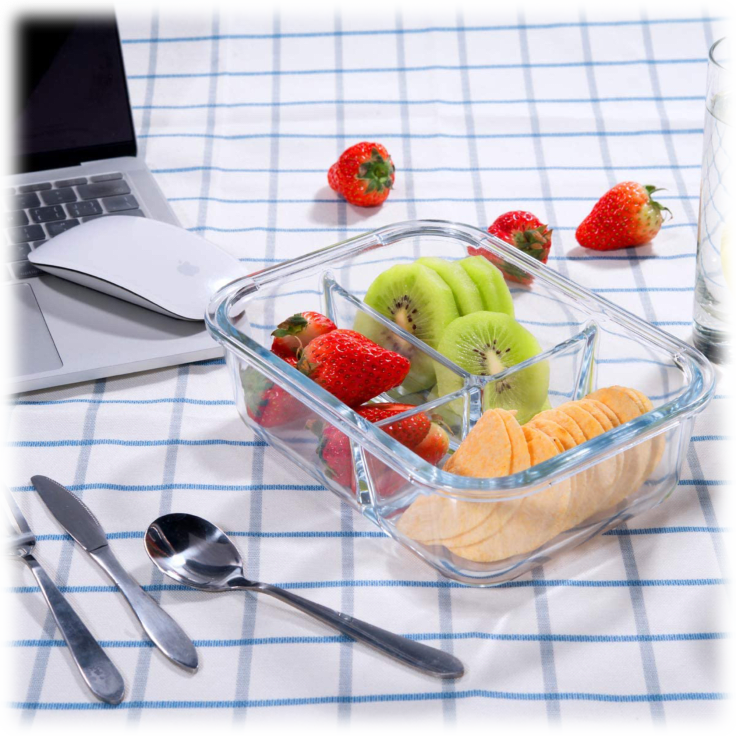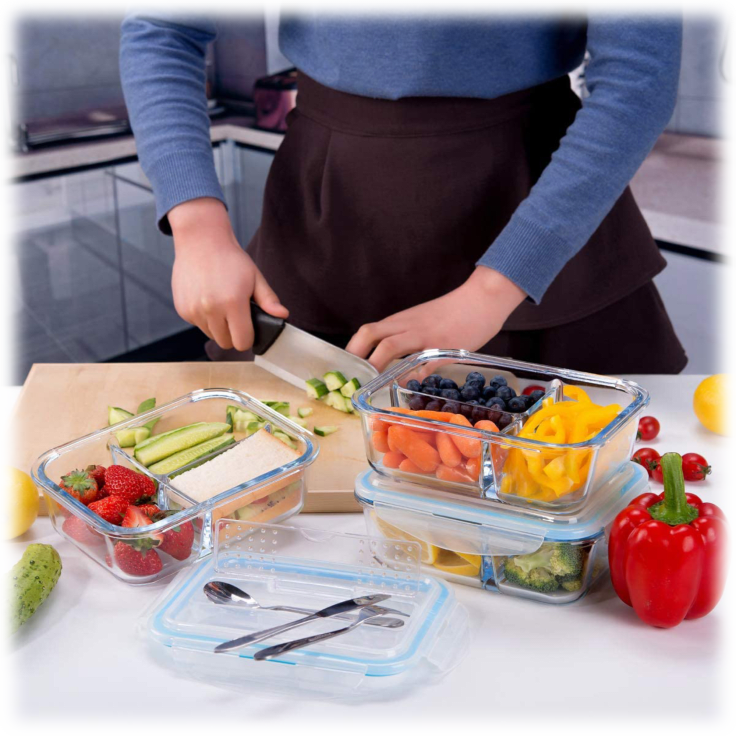 Coccot 6-Piece Meal Prep Glass Storage with Utensils
Features
These glass containers will be a good helper for serving your everyday food storage needs, not only are these good for dry foods but also our glass containers are great for holding liquids such as juice, Soup, and more
The snap locking system forms an airtight and watertight seal, never food spilling over again
You can use them over and over again, save your money, your time, and it's easy
Glass Storage Containers are 100% BPA Free, which will maintain the freshness and keep your food odorless
It's made out of borosilicate glass for easy heating and durability
Specifications
From -40℃/-40℉ in the freezer to 400℃/752℉ in the oven, safe for the oven, microwave, dishwasher, and freezer
The lids are not oven or microwave safe, please remove the lids before heating and cooking food
It's safe to wash the lids in the dishwasher, but high temperatures over a long period of time can deform the silicone sealing strip at the edge of the lid
Please wash the lids by hand as much as possible
Container Size: 35.5oz/1050ml/4.5cup, 3 Compartment Meal Prep Containers
Includes:

3 Glass + 3 Locking Lids + 3 Utensils Set(Knifes 3, Forks 3, Spoons 3
Included In The Box
6 Piece Meal Prep Glass Storage with Utensils
Warranty
Reviews
Verified Purchase
Perfect, as described, better than expected !!!
Oh my goodness, just love love love these and gosh were they packaged perfectly to insure they arrived unbroken. My husband will use them on the days he needs to stay at the office instead of coming home for lunch (bad weather/meeting/etc). Perfect.
Written by @rtomasi5280 - September 9th 2020
Verified Purchase
Very nice
These are really nice to take your lunch in, with the separate sides you don't have to worry about your food sliding. I'm going to give 1 to my co worker for a gift. I'm getting away for the plastic. This is a good buy & price. I'm happy

Written by @mzchell - November 22nd 2020
Verified Purchase
Excellent Quality
The glass is substantial, the lids are sturdy, the the 3 utensils are strong, not flimsy. What a great buy!
Written by @Smmc - July 7th 2020
Verified Purchase
Nice material
Better than what I expected
Written by @lovelywoman482 - September 11th 2020
Verified Purchase
Lunch pep
Written by @vok61 - November 27th 2020
Verified Purchase
I love the set it is glass I do not like reheating in microwave plastic I also love the real utensils that comes with the set they are stainless steel
Written by @picdaw - December 15th 2020
Verified Purchase
Great value for the price
These are very sturdy and high quality. My only sadness is that the attached silverware is tiny!
Written by @rejiwoods - July 23rd 2020
Verified Purchase
6 piece meal prep/glass storage containers
NO!..this purchased product did not arrive on June 19, 2020…and there have been many of the glass products shipped to me came damaged/broken…I'm a little disappointed.
Written by @horseNflight - June 20th 2020
Verified Purchase
Broken shattered box
I received this package . Poorly packaged for being glass. Totally won't open the box because it's all broken pieces in it . I need to return and get a refund on this bad packaging
Written by @Mweihrauch - June 20th 2020