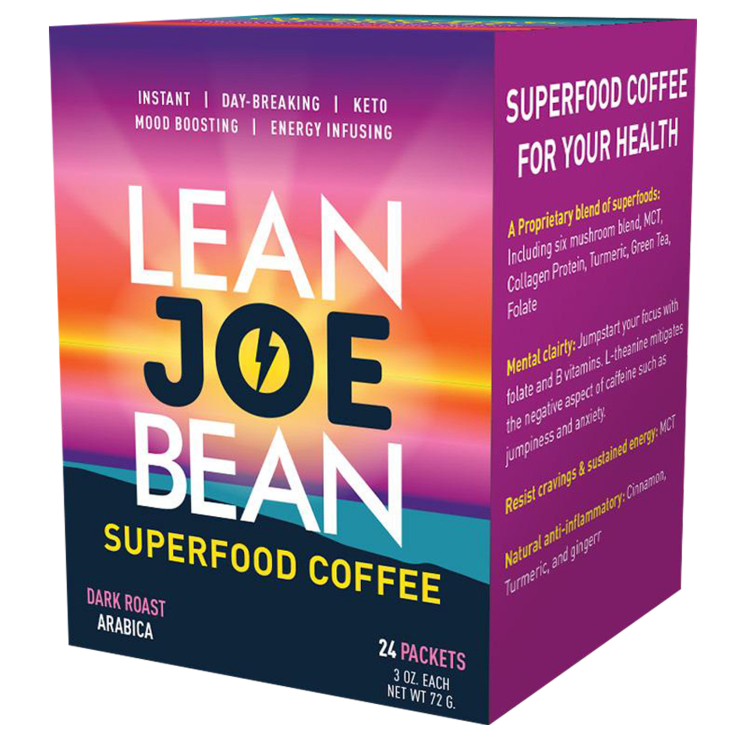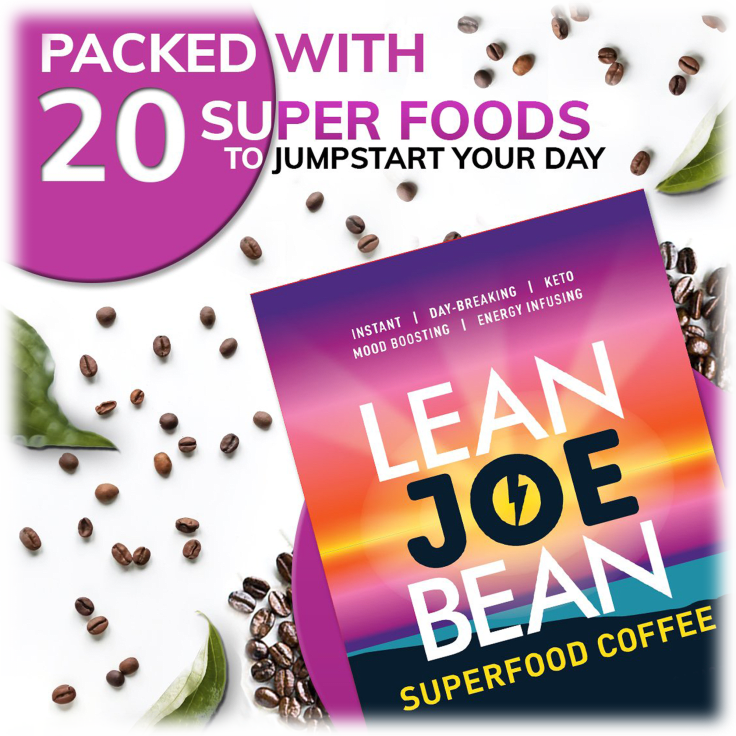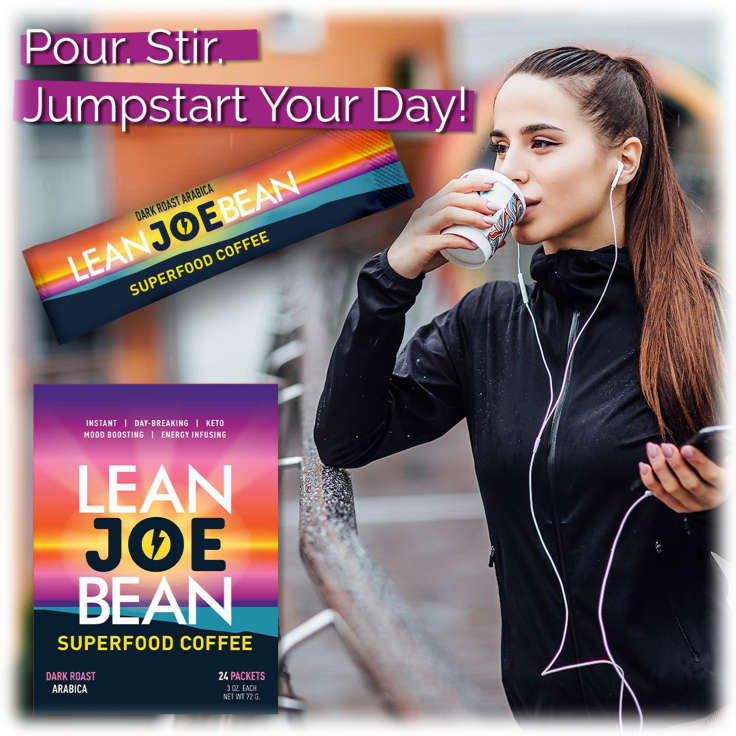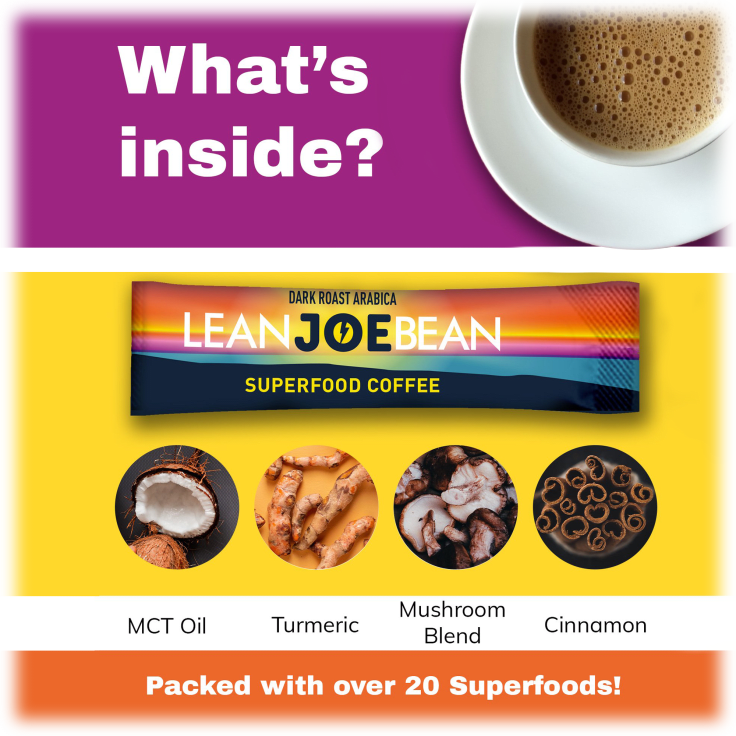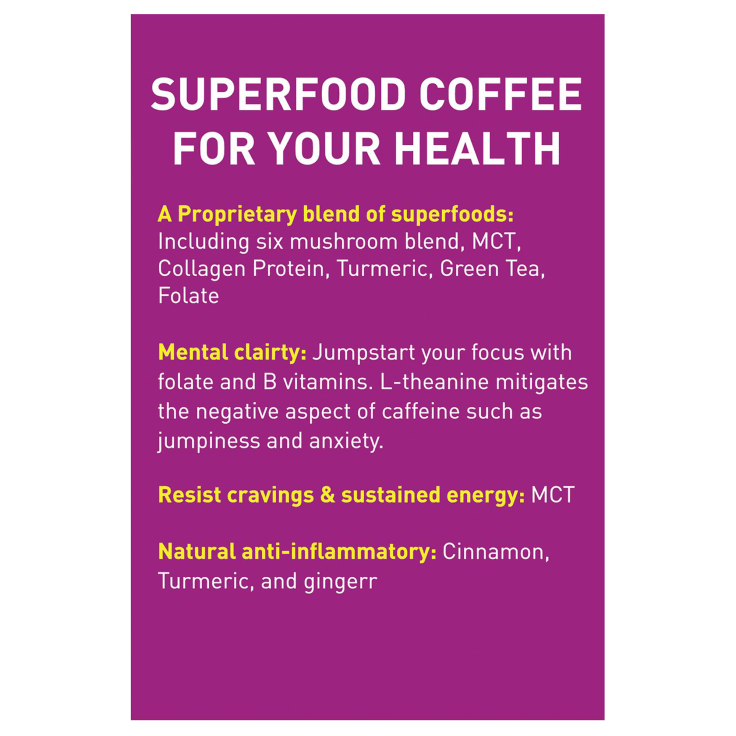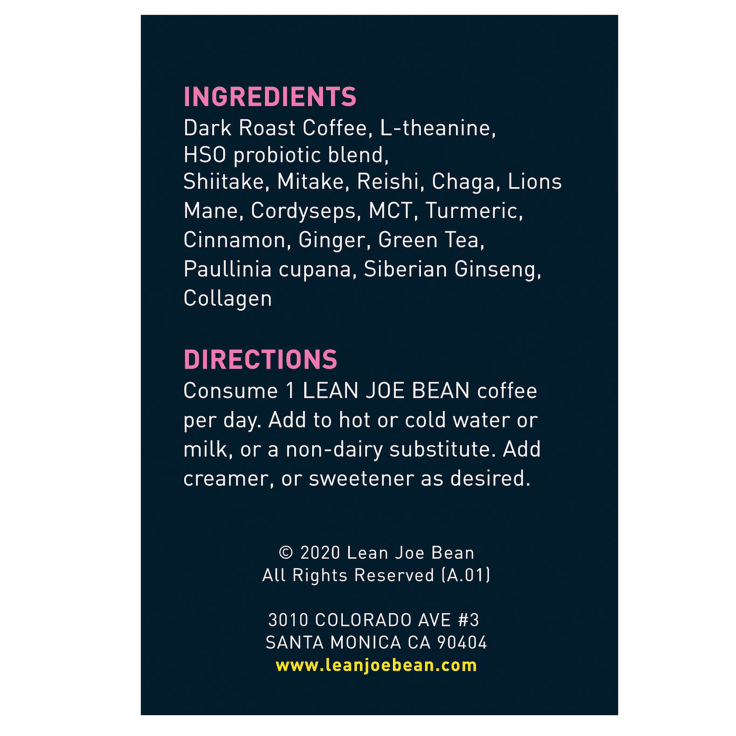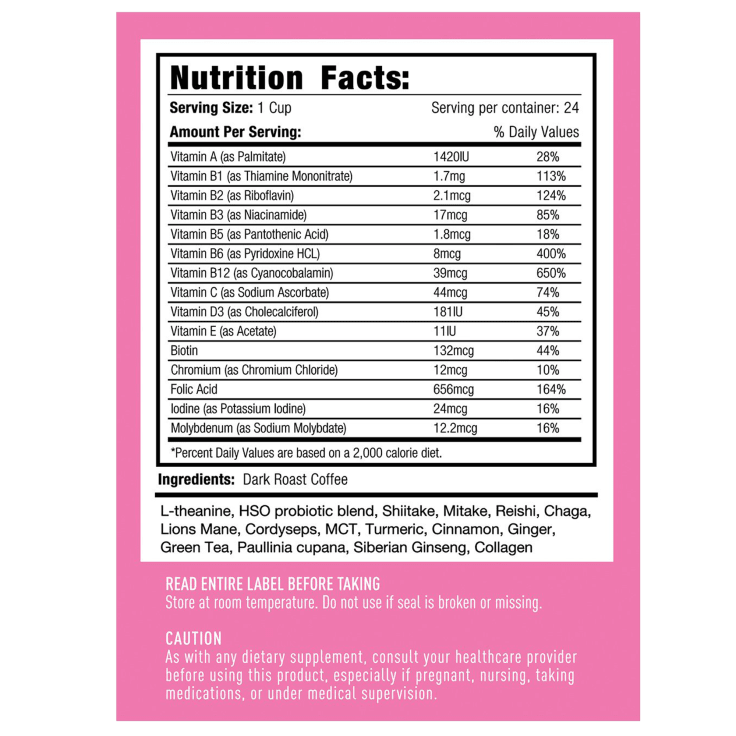 24-Pack: Lean Joe Bean Superfood Coffee
Your morning coffee just got a serious upgrade!
Features
Lean Joe Bean's new Superfood Coffee contains a potent, proprietary blend of natural, health-enhancing ingredients designed to:
Help boost mental acuity
Eliminate brain 'fog'
Improves focus and concentration
Cut cravings to help support healthy weight
Reduce inflammation
15 Natural 'Superfoods'
MCT
Turmeric
Cinnamon
Ginger
Green Tea
Siberian Ginseng
Collagen Protein
Paullinia cupana (guarana)
L-theanine
HSO Probiotic blend
Chaga Mushrooms
Shiitake Mushroom
Mitake Mushroom
Cordyseps
Lion's Mane
14 Essential Vitamins and Minerals
Vitamin A, B1, B3, B3, B5, B6, B12, C, D3, E, Biotin, Chromium, Folic Acid, Iodine, and Molybdenum

Contains Arabica, Dark Roast coffee

Can be served hot or cold

Doesn't break your fast (for people intermittent fasting)

Keto-Friendly

Just dissolve in water and it's good to go
Specifications
Included in the box
24x Lean Joe Bean Superfood Coffee Packets
Warranty
Available States
AL, AZ, AR, CA, CO, CT, DE, DC, FL, GA, ID, IL, IN, IA, KS, KY, LA, ME, MD, MA, MI, MN, MS, MO, MT, NE, NV, NH, NJ, NM, NY, NC, ND, OH, OK, OR, PA, RI, SC, SD, TN, TX, UT, VT, VA, WA, WV, WI, WY
Reviews
Verified Purchase
It works!!!
Took so long to receive I forget I ordered it. Box was a little beat up, but the packets inside seemed fine. Had one yesterday and one this morning and I must say I am really pleased with the product so far. I can really feel the improvement in my focus at work, extra energy and it totally eliminates cravings. I'm a keto-er/intermittent faster and this really got me thought the day. Shipping issues aside, it deserves the five stars.
Written by @naphaparris - January 29th 2021
Verified Purchase
Awesome flavor
Written by @lovelywoman482 - February 13th 2021
Verified Purchase
Awesome Coffee
Written by @grandmabeanie - February 11th 2021
Verified Purchase
i like being able to drink coffee and lose weight at the same time.
Written by @cheri111 - February 17th 2021
Verified Purchase
Written by @tregail23 - June 27th 2021
Verified Purchase
works well
This product works well for me in the am.
Written by @VMJqueen - April 14th 2021
Verified Purchase
Soso
Written by @chuckryder321 - February 5th 2021