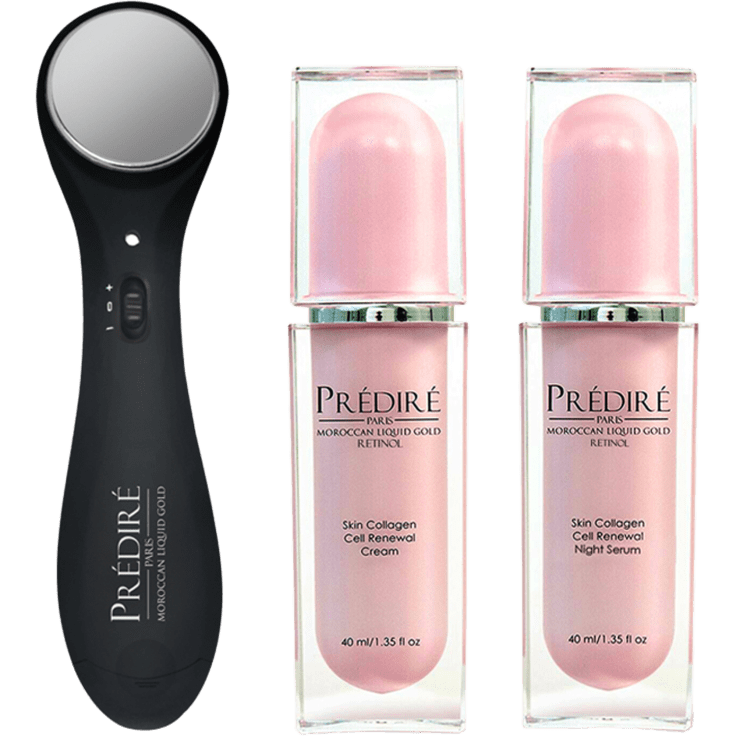 Predire Paris Day & Night Cell Renewal Retinol Treatment with Infuser
Features
Anti-Aging Break Through Formulas
Luxury Skincare formulated with the restoring powers of Argan Oil & Retinol.
Argan Oil contains multiple benefits to the skin, not only nourishing and protecting but reversing environmental damage, wrinkles, and premature aging. The active substances in organic Argan Oil called Triterpenoids offer amazing anti-inflammatory and anti-bacterial protection while promoting tissue and scar repair.
Retinol is an essential part of a skin care regime to boost collagen-depleted skin. In addition to boosting collagen production reducing wrinkles and fine lines, it also stimulates new blood vessels, giving the skin a rosy appearance and fading age spots.
Formula Properties & Benefits Include:
Natural Source of Vitamin E & Oxygen
Rich in Vitamin D, helping to promote skin cell growth, repair sun damaged skin, and assist in protecting your skin from harmful ultraviolet rays.
Contains Anti-Bacterial and Antiseptic properties that help the treatment of chronic skin diseases such as psoriasis, hidradenitis suppurativa, and eczema of a sub-acute character.
Protect cells against injury due to oxidation to shield the skin's surface, creating a protective defense barrier against oxidative stress and premature skin aging.
Helps to demolish acne and eczema, as well as improving discolorations and wrinkles from sun damage.
Skin Collagen Cell Renewal Cream Powered by Vitamin A (Treats Wrinkles & Age-Defying)
Collagen gives skin its strength and elasticity. The ability to maintain the smooth and plump appearance of young and healthy skin is connected to healthy collagen levels. Unfortunately, collagen production decreases as we age, which leads to the skin developing fine lines and wrinkles
Predire Paris Skin Collagen Cell Renewal Cream helps remedy the many problems of collagen loss. It penetrates deep into the skin, washing away dead skin cells, and revealing fresh, young, and hydrated skin.
This breakthrough formula combines cucumber and fruit extracts with Moroccan Argan Oil to ensure a healthy, radiant glow while enhancing collagen and promoting cell renewal.
Benefits:
Cell Renewing
Promotes Collagen Production
Minimizes Fine Lines & Wrinkles
Smoothing
Application:
Apply to clean skin morning and night.
Skin Collagen Cell Renewal Night Serum Powered by Vitamin A (Treats Wrinkles & Age-Defying)
Collagen is an important protein that gives skin its strength and elasticity. As we age, collagen production decreases, and this leads to the skin developing fine lines & wrinkles. Prédiré Paris Skin Collagen Cell Renewal Night Serum revitalizes, and maximizes cellular renewal in the skin.
Our serum works deeply in the skin while you sleep to deliver healthier collagen and skin cells, which lead to younger-looking skin.
Combining collagen with moisturizing and revitalizing ingredients, and adding Moroccan Argan Oil to the mix is our secret weapon.
Argan Oil is cherished for its restorative and anti-aging properties, and rapidly decreases lines and wrinkles, and giving skin a radiant, vibrant luster.
Benefits:
Cell Renewing
Works While You Sleep
Minimizes Fine Lines & Wrinkles
Restorative
Application:
Apply to clean skin at night time
Skincare Infuser
A gentle and suitable massage therapy treatment, designed to improve topical absorption and increase blood circulation, helping to promote cellular renewal.
The perfect Non-Surgical solution to achieving younger and healthier skin. A Non-Invasive treatment that has the added benefit of being Painless, Gentle and Relaxing with no recovery time required. Perfect for all skin types, treating an array of skin concerns. Activating the skin's own biochemical healing processes, for a revitalized and more youthful appearance.
Application: Apply one to two droplets of topical to the metal surface of skincare infuser. Select +/- for the intensity of vibration absorption. In circular motion apply skincare infuser to the desired area for 2-3 minutes, allowing the concentrate to absorb into the layers of the skin. Upon use cleanse device with an alcohol swab. Repeat daily for enhanced results.
Warranty
Available States
AL, AZ, AR, CA, CO, CT, DE, DC, FL, GA, ID, IL, IN, IA, KS, KY, LA, ME, MD, MA, MI, MN, MS, MO, MT, NE, NV, NH, NJ, NM, NY, NC, ND, OH, OK, OR, PA, RI, SC, SD, TN, TX, UT, VT, VA, WA, WV, WI, WY
Estimated Delivery Date
Friday, July 17th - Friday, July 24th. Due to a high volume of orders, delivery times are longer than usual.