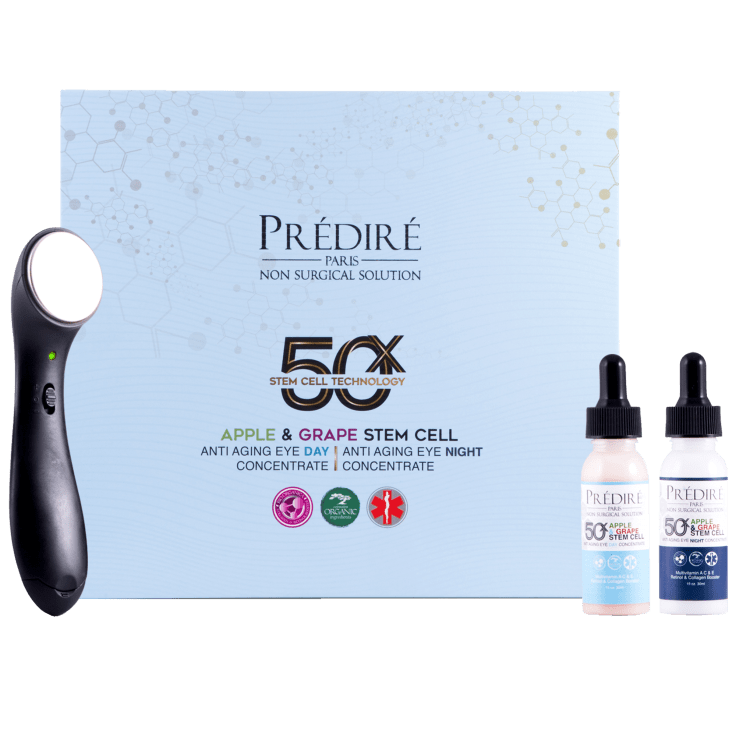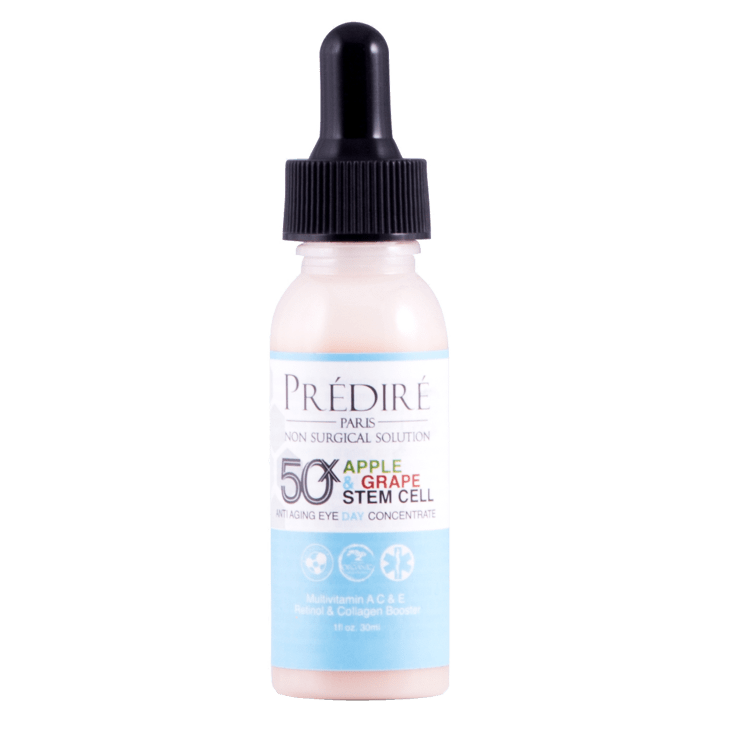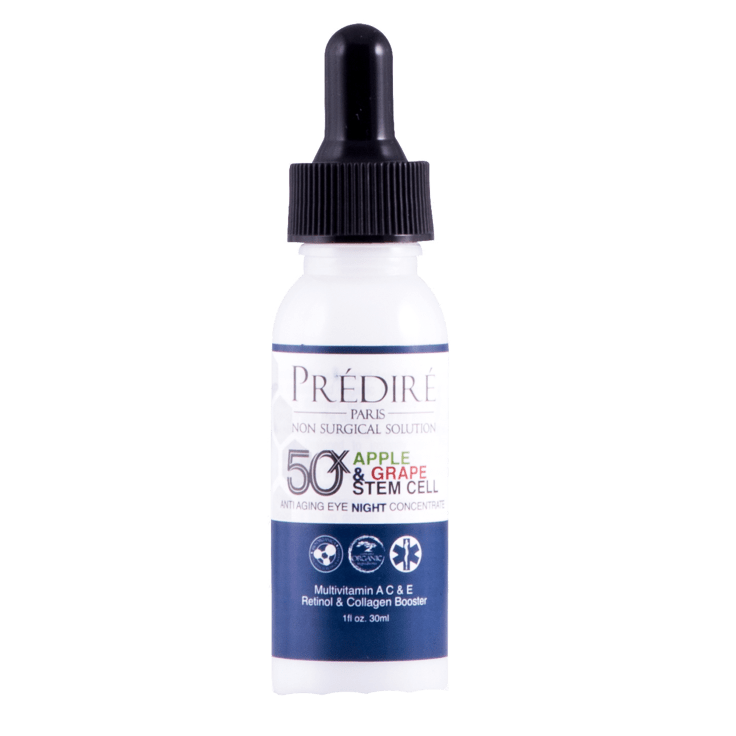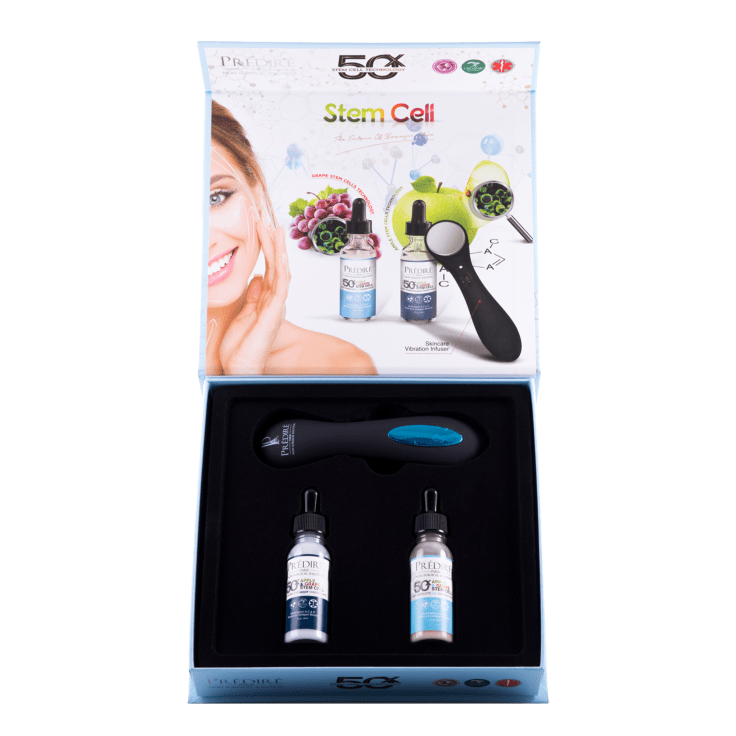 50x Apple & Grape Stem Cell Age Defying Day & Night Eye Concentrate w/Infuser
Features
Formula Properties & Benefits Include:
Argan Oil contains multiple benefits to the skin, not only nourishing and protecting but reversing environmental damage, wrinkles, and premature aging. The active substances in organic Argan Oil called Triterpenoids offer amazing anti-inflammatory and anti-bacterial protection while promoting tissue and scar repair.
Retinol is an essential part of a skin care regime to boost collagen-depleted skin. In addition to boosting collagen production reducing wrinkles and fine lines, it also stimulates new blood vessels, giving the skin a rosy appearance and fading age spots.
Natural Source of Vitamin E & Oxygen which is great for moisturizing the skin and treat rough and dry areas.
Rich in Vitamin D, helping to promote skin cell growth, repair sun damaged skin, and assist in protecting your skin from harmful ultraviolet rays.
Contains Anti-Bacterial and Antiseptic properties that help the treatment of chronic skin diseases such as psoriasis, hidradenitis suppurativa, and eczema of a sub-acute character.
Protect cells against injury due to oxidation to shield the skin's surface, creating a protective defense barrier against oxidative stress and premature skin aging.
Helps to demolish acne and eczema, as well as improving discolorations and wrinkles from sun damage.
Set Includes:
50X Apple & Grape Stem Cell Anti Aging Eye Day and Night Concentrate with Skincare Infuser
Age Defying Eye Day Concentrate
Formulated with the restoring ingredients of Apple & Grape stem cell, this formula is designed to begin working as soon as applied. Helping to support the skin's natural defenses and protect the delicate skin around the eyes from the harmful effects of UV stress to combat the signs of aging, our added ingredients of Apple and Grape Stem Cell extract provides additional nutrients to revitalize and rejuvenate the layers of the skin for a healthier and younger looking complexion.
Application: Cleanse skin prior to application. Apply one to two droplets to clean finger-tip and massage into the skin around and under the eyes in a circular motion. Allow for complete absorption. Do not rinse after application. Repeat this process a minimum of three times per week. For enhanced results, we also recommend using our Age-Defying Apple & Grape Night 50x Concentrate Eye Treatment prior to bedtime. For external use only. Avoid contact with the Caution: eyes and keep out of reach of children. Store at room temperature.
Age Defying Eye Night Concentrate
Enriched with the power of Apple & Grape Stem cells, this concentrated organic blend works while you sleep to diminish the appearance of aging and damaged skin. The skin around the eyes delicate and sensitive, often shows signs of fatigue and stress the quickest. Designed to instantly refresh the eye contour, and smooth the appearance of fine lines, crow's feet and the signs of aging, for a younger and more radiant glow.
General Application: Prior to application cleanse desire area. Apply 1-2 droplets to clean fingertip and massage into the skin around and under the eyes in a circular motion or to the desired area of treatment. Apply at night before bedtime and prior to the application of any other topical. Allow for complete absorption for optimal results. Do not rinse. Repeat process a minimum of three times per week. For the application of concentrate with Skincare, infuser refer to Skincare Infuser Application.
Skincare Infuser-
A gentle and suitable massage therapy treatment, designed to improve topical absorption and increase blood circulation, helping to promote cellular renewal.
The perfect Non-Surgical solution to achieving younger and healthier skin. A Non-Invasive treatment that has the added benefit of being Painless, Gentle and Relaxing with no recovery time required. Perfect for all skin types, treating an array of skin concerns. Activating the skin's own biochemical healing processes, for a revitalized and more youthful appearance.
Ideal when used with skincare topical to treat:
Fine Lines • Wrinkles • Crow's Feet • Redness
Dark Spots • Uneven Skin Tone • Dryness • Firming • Pore Cleansing
Tightening • Improving Elasticity • Diminishing the Appearance of Cellulite
Boosts Collagen Production • Improves Circulation • Helps to treat acne and kill bacteria
Application:
Apply one to two droplets of topical to the metal surface of skincare infuser. Select +/- for the intensity of vibration absorption. In circular motion apply skincare infuser to the desired area for 2-3 minutes, allowing concentrate to absorb into the layers of the skin. Do not rinse area of application. Upon use cleanse device with an alcohol swab
PAAE-SET
Warranty
Available States
AL, AZ, AR, CA, CO, CT, DE, DC, FL, GA, ID, IL, IN, IA, KS, KY, LA, ME, MD, MA, MI, MN, MS, MO, MT, NE, NV, NH, NJ, NM, NY, NC, ND, OH, OK, OR, PA, RI, SC, SD, TN, TX, UT, VT, VA, WA, WV, WI, WY
Estimated Delivery Date
Thursday, July 23rd - Thursday, July 30th. Due to a high volume of orders, delivery times are longer than usual.