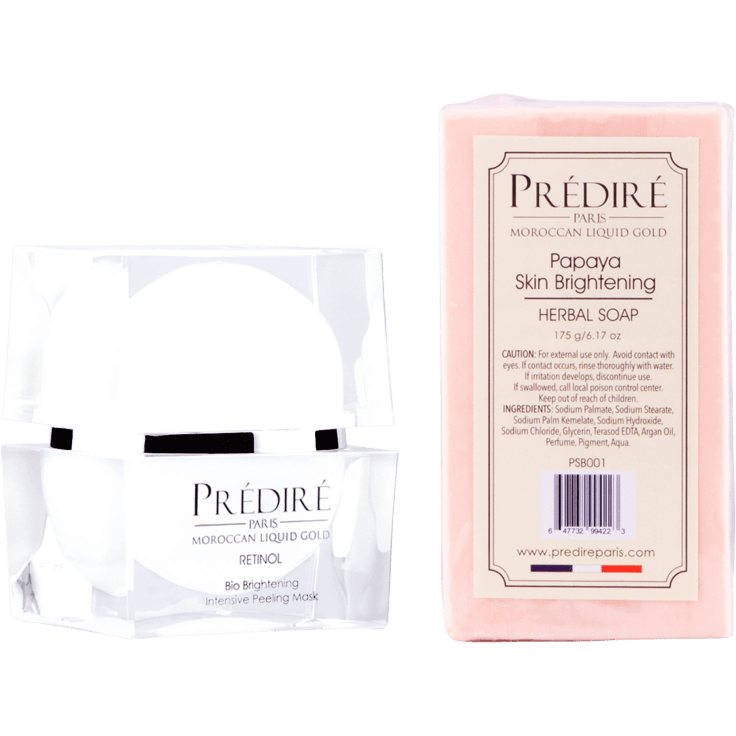 Brightening & Rejuvenating Toning Set Infused w/Vitamins E & A by Predire Paris
Features
Anti-Aging Break Through Formulas
Luxury Skincare formulated with the restoring powers of Argan Oil & Retinol.
Argan Oil contains multiple benefits to the skin, not only nourishing and protecting but reversing environmental damage, wrinkles and premature aging. The active substances in organic Argan Oil called Triterpenoids offer amazing anti-inflammatory and anti-bacterial protection while promoting tissue and scar repair.
Retinol is an essential part of a skin care regime to boost collagen-depleted skin. In addition to boosting collagen production reducing wrinkles and fine lines it also stimulates new blood vessels, giving the skin a rosy appearance and fading age spots.
Formula Properties & Benefits Include:
Natural Source of Vitamin E & Oxygen
Rich in Vitamin D, helping to promote skin cell growth, repair sun damaged skin, and assist in protecting your skin from harmful ultraviolet rays.
Contains Anti-Bacterial and Antiseptic properties that help the treatment of chronic skin diseases such as psoriasis, hidradenitis suppurativa, and eczema of a sub-acute character.
Protect cells against injury due to oxidation to shield the skins surface, creating a protective defense barrier against oxidative stress and premature skin aging.
Helps to demolish acne and eczema, as well as improving discolorations and wrinkles from sun damage.
Bio Brightening & Skin Toning Intensive Peeling Mask (Rich with Vitamin E & A)
The Bio Brightening Intensive Peeling Mask provides a deep and satisfying cleaning. The mask is infused with Argan Oil - nature's liquid gold from Morocco - and draws upon the Argan Oil's remarkable restorative and anti-aging properties. This is the right product to help bring back the skin's suppleness and youthful glow.
The mask helps get rid of dust and other toxins that could lead to discoloration and pigmentation problems. It unclogs pores from the harsh cleansers, makeup, oil, and other impurities a face encounters during a day, and stimulates the skin for optimal skin cell regeneration.
Nutrient Rich
Restorative
Unclogs Pores and Removes Other Impurities
Improves Skin Tone and Hyperpigmentation Issues
Application:
Hands must be completely clean and dry prior to application. Apply to clean, dry skin and gently massage onto the face in a circular motion for gently exfoliation; twice a week. Rinse clean with water and follow with any of our Predire moisturizers.
Papaya Skin Brightening Herbal Soap
Earning the nickname, "Fruit of the Angels", Papaya is an amazing fruit, bursting with vitamins and healing properties. Helping to remove dead skin cells, hydrated, even skin tone, and exfoliates, to reduce the signs of aging. Our Skin Brightening Herbal Soap, combines the wonderful properties of Papaya and Argan Oil, leaving your skin moisturized, protected, and energized, providing powerful rejuvenation of the skin.
Benefits:
Moisturizing
Provides Protection
Rejuvenating
Hydrating
Application:
Wet desired skin area. Massage soap into hands until a nice creamy foam has been formed. Set the bar of soap down and continue to rub your hands together. Then apply the foam to desired skin area and leave on for about two minutes. Rinse thoroughly with warm water and pat dry.
PB002-PSB001
Warranty
Available States
AL, AZ, AR, CA, CO, CT, DE, DC, FL, GA, ID, IL, IN, IA, KS, KY, LA, ME, MD, MA, MI, MN, MS, MO, MT, NE, NV, NH, NJ, NM, NY, NC, ND, OH, OK, OR, PA, RI, SC, SD, TN, TX, UT, VT, VA, WA, WV, WI, WY
Estimated Delivery Date
Friday, July 17th - Friday, July 24th. Due to a high volume of orders, delivery times are longer than usual.