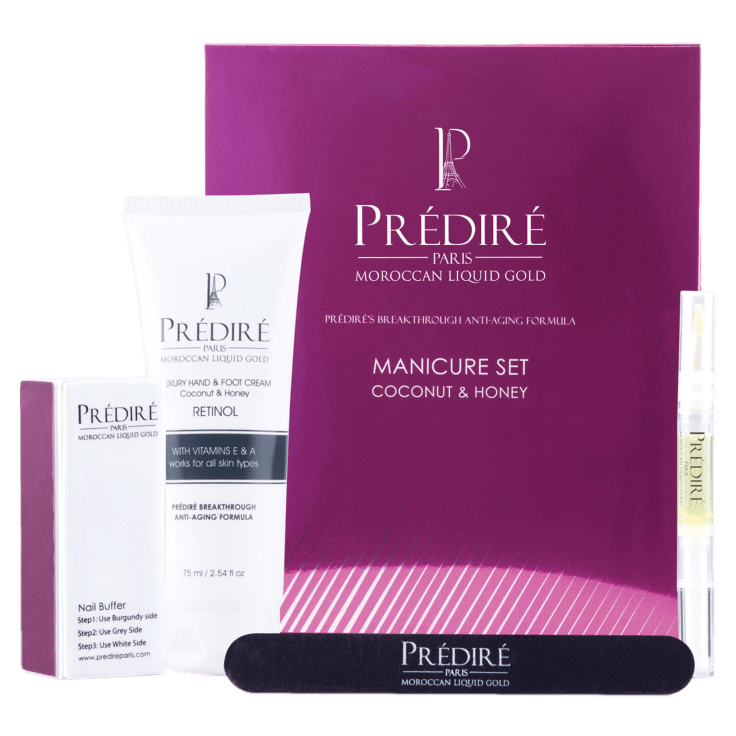 Predire Paris 4-Piece Manicure Set: Coconut and Honey
Features
Brittle and chipped nails, problem cuticles, and dry hands are a thing of the past with this all-inclusive Manicure Set!
Prédiré Paris Moroccan Argan Oil Manicure Set is a complete and stimulating beauty treatment for your hands and nails. The kit utilizes the highly nourishing and restorative Moroccan Argan Oil to protect hands, nails, and cuticles. Argan Oil will keep nails strong and prevent them from chipping and cracking, and our accompanied Argan Oil hand cream will leave hands & skin smooth and radiant! Almond milk hydrates the skin, and helps with circulation. Honey nourishes the nails, and has strong antibacterial qualities, which will help nails and cuticles stay healthy.
The kit contains:
Nail and Cuticle Serum
The Nail and Cuticle Serum is a secret weapon that will transform dry and damaged cuticles almost overnight. The powerful Moroccan Argan Oil makes a fast and visible impact on the nails, making them stronger and smoother with fewer ridges, enhances natural nail growth, and battles brittleness and splitting edges.
Hand & Nail Therapy Cream - Coconut Milk and Honey:
A Deep moisturizing cream rich in nutrients to helps nails and cuticles stay healthy. Formulated with Coconut to hydrate the skin and helps with circulation. Other active ingredients include Honey, a property enriched with strong antibacterial qualities that help to enhance nail and cuticle health.
Buffer Block
The Prédiré Paris Moroccan Argan Oil Buffer stimulates nails in three easy steps.
First step: Use the back of the buffer in a back-and-forth motion over the nail. Keep going for several seconds until the nail has a smooth sheen. Repeat this every month.
Second step: Use the white strip to buff each nail for several seconds. This will remove all remaining ridges and stimulate the nail bed. Repeat every few weeks.
Third step: Use the silkier, purple side of the buffer to buff each nail for no more than 10 seconds until you reach a glossy shine. This brings out your natural oils.
This is a super-smoothing hand and nail care treatment blended with nature's liquid gold; Moroccan Argan Oil. The cream bursts with restorative nutrients, glides on smoothly, and is absorbed quickly into the skin to help heal and protect. This elite treatment is packed with vitamins that will help even out the skin tone, strengthen the skin, and make it bright and soft.
Nail File
Use our Prédiré Paris Moroccan Argan Oil Nail Clipper on a regular basis to trim your nails while carefully rounding them at the sides. Smooth away rough nail edges and shape your nails faster and easier than ever before, without splitting the edges.
SPECIFICATIONS
Hand Cream Volume: 4.05 oz
Cuticle Serum: 0.5 oz
Warranty
Estimated Delivery Date
Wednesday, July 22nd - Wednesday, July 29th. Due to a high volume of orders, delivery times are longer than usual.