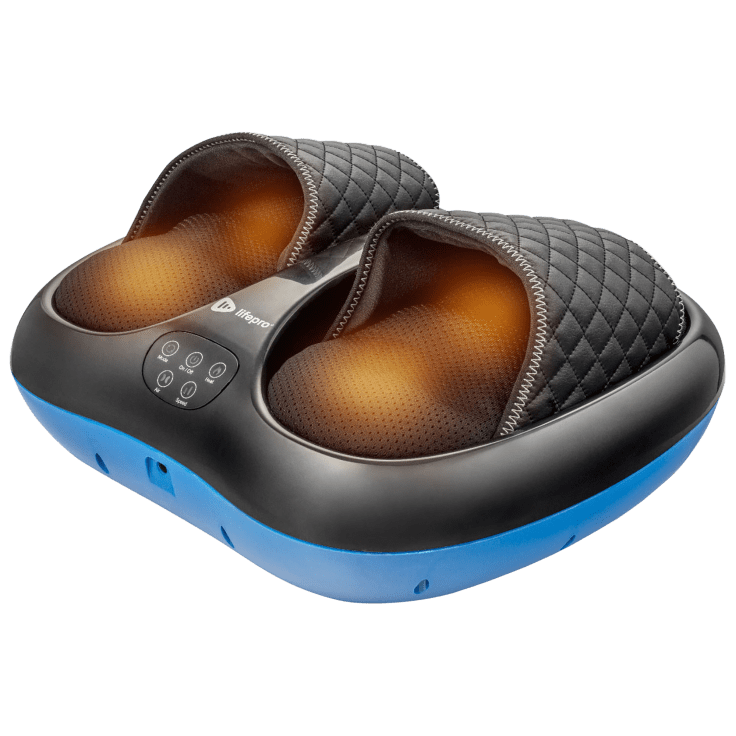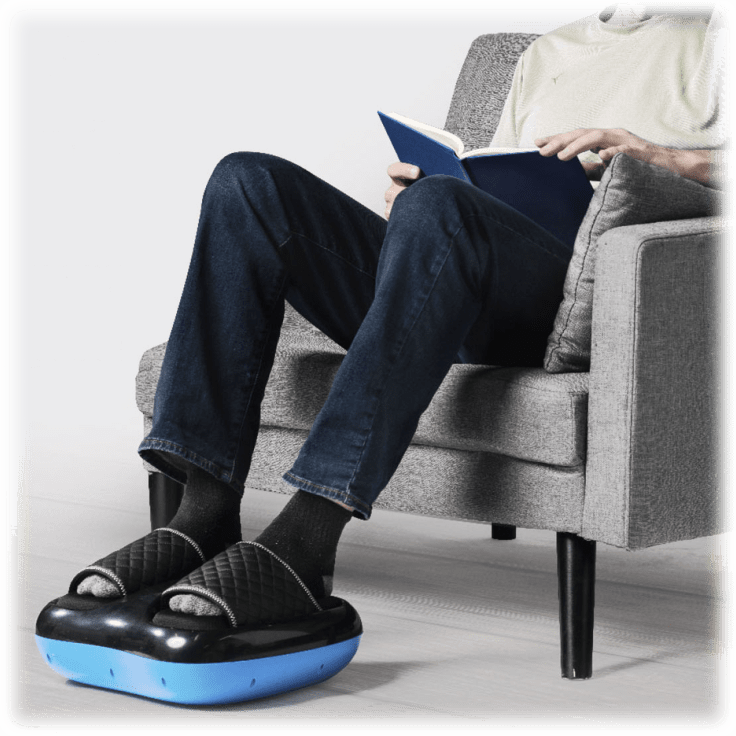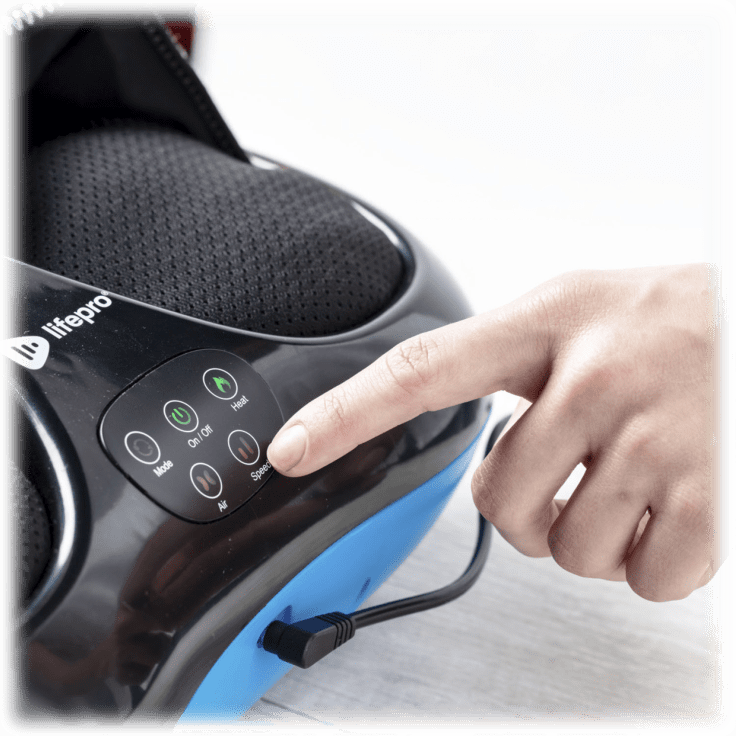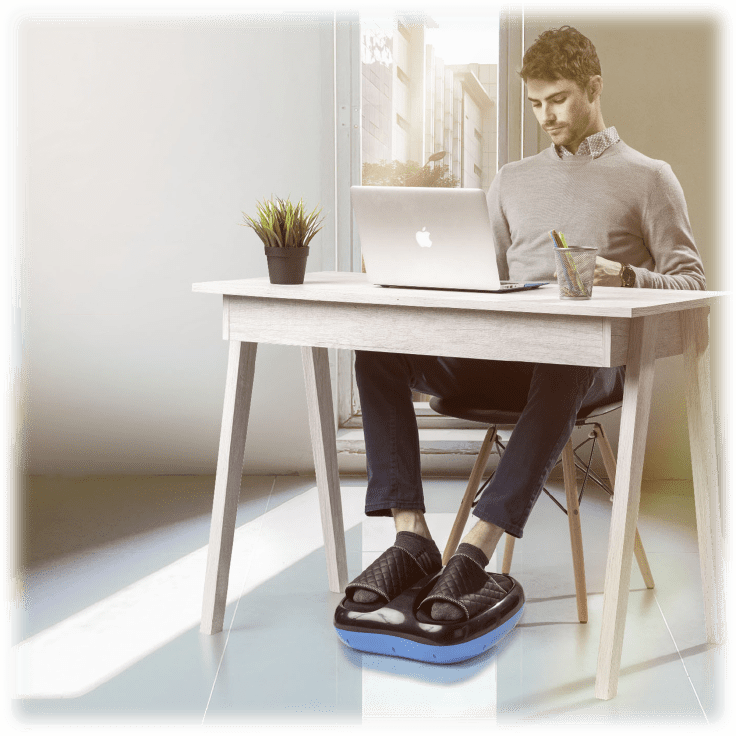 Lifepro Aculux Shiatsu Foot Massager with Heat
Features
BLISSFUL RELIEF: Experience foot pain relief in minutes. Compression on instep presses feet down onto 6 massage rollers, with acupressure nodes targeting sore heels, kneading roller massaging arches, and oscillating roller flexing cramped toes.
CUSTOMIZABLE MASSAGE: Our heated foot massager with a streamlined LED control panel includes 3 massage movements, 2 massage modes, 2 massage speeds, 3 air pressure intensity levels, and 2 heat levels, for a relaxing massage that hits your sweet spots.
REVITALIZE SORE FEET: Fits up to US M 11.5 / US W 12. Deep tissue foot massage comforts swollen, aching feet after being on your feet all day. Relieve stress and foot pain from arthritis, diabetic neuropathy, plantar fasciitis, and heel spurs.
COMPACT & LIGHTWEIGHT: No setup or assembly necessary; just plug and play. Our portable foot massager packs a lot of power into just 8.8 lb, making it easy to store and move around. Unwind with a soothing foot massage at home, work, or while traveling.
Specifications
Foot Massager
Dimensions: 14.8" L x 13.4" W x 5.3" H.
Net Weight: 8.8 lbs
Power: 48W Voltage, DC 12V
Decibel Rating: <70 dB
Heat Function:
Low: 108° F
High: 113°F
AC Power Adapter
Rated Input: AC 100-240V ~50/60 Hz
Rated Output: DC 12V 4A
What's Included?
1x Lifepro Aculux Shiatsu Foot Massager with Heat
1x AC Power Adapter
1x User Manual
Warranty
Available States
AL, AZ, AR, CA, CO, CT, DE, DC, FL, GA, ID, IL, IN, IA, KS, KY, LA, ME, MD, MA, MI, MN, MS, MO, MT, NE, NV, NH, NJ, NM, NY, NC, ND, OH, OK, OR, PA, RI, SC, SD, TN, TX, UT, VT, VA, WA, WV, WI, WY, AK, HI
Reviews
Verified Purchase
FEELS GREAT
IT ARRIVED VERY QUICKLY. SET UP EASY. LIFETIME WARRANTY.YOU WILL LIKE IT.
Written by @Dorea7676 - December 24th 2021
Verified Purchase
❤️ it
Great product, it's does it work
Written by @zeke120622 - December 31st 2021
Verified Purchase
Foot massager
Highly recommend- friends can't wait to buy!
Written by @gidyoung - December 24th 2021
Verified Purchase
Ooohhhhhhhhhh, soooooooo gooooood !
Written by @tedzontelli - December 25th 2021
Verified Purchase
my feet have never felt better. thank you
Written by @tinakisor - December 11th 2021
Verified Purchase
Directions for adjustments is a bit confusing. Other than that; sure makes the feel feel great.
Written by @tknapp13 - December 21st 2021
Verified Purchase
Mediocure
The rolling massage hurt my feet. I wish it slower.
Written by @Lynn5699 - December 7th 2021
Verified Purchase
Disappointment
I was waiting anxiously for this foot massager. but what a disappointment. It is not soothing to my feet, doesn't hit many poinys on feet, hard knobs to feet, not much variety in changing the motions & can't even feel the heat. My sister raved about this brand, but I can't say the same.
Written by @wmmfe84 - December 7th 2021
Verified Purchase
Written by @ashley7486 - December 20th 2021
Verified Purchase
Did not work out of the box
This was a Christmas present and it never worked. Very disappointed in the quality
Written by @aschnurman - May 18th 2022
Verified Purchase
Does nothing. Not even worth $1
I would give it a zero if I could. I can't believe I wasted my hard earned money on this. Big time mistake on my part.
Written by @kmdean70 - December 21st 2021
Verified Purchase
Not warm at all. Needs a remote and it is noisy.
Written by @swells62 - December 7th 2021