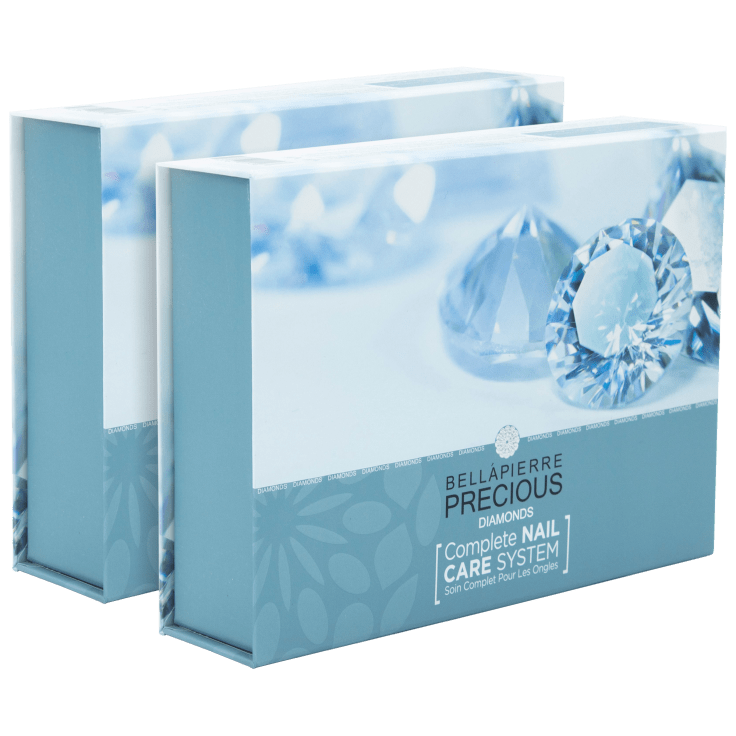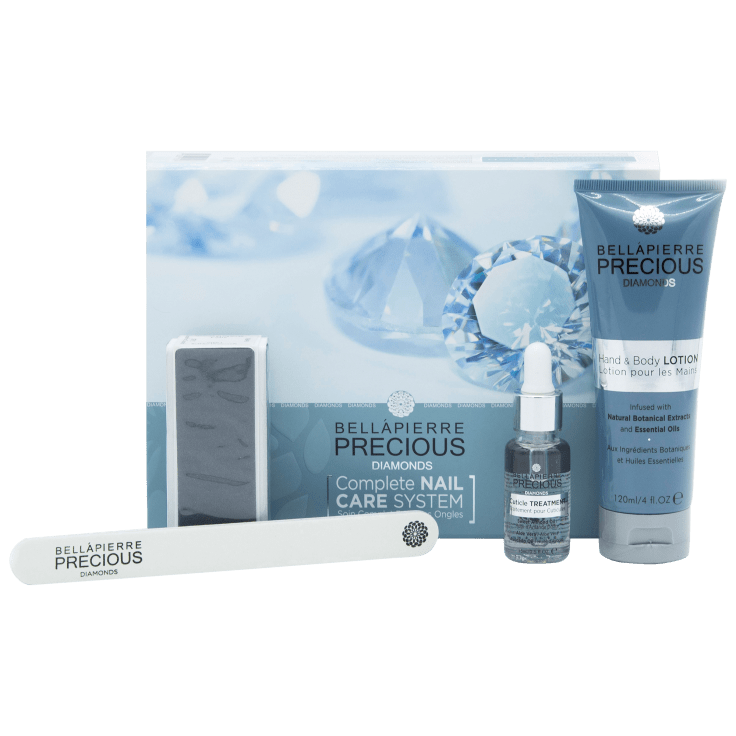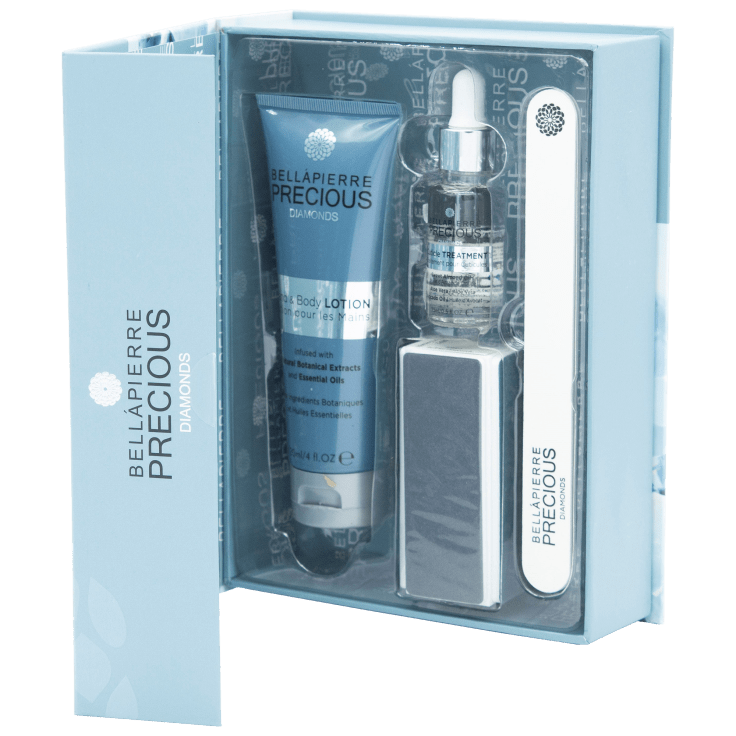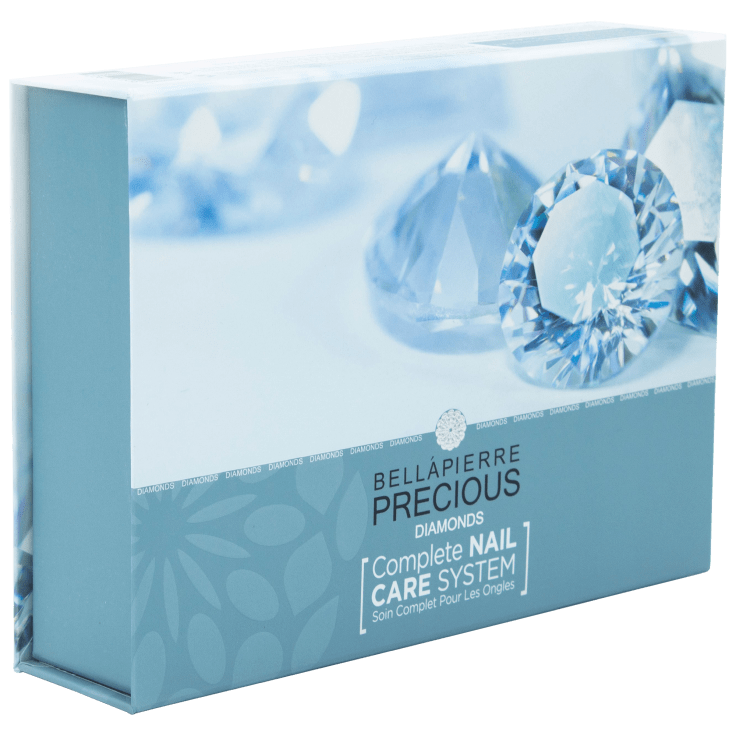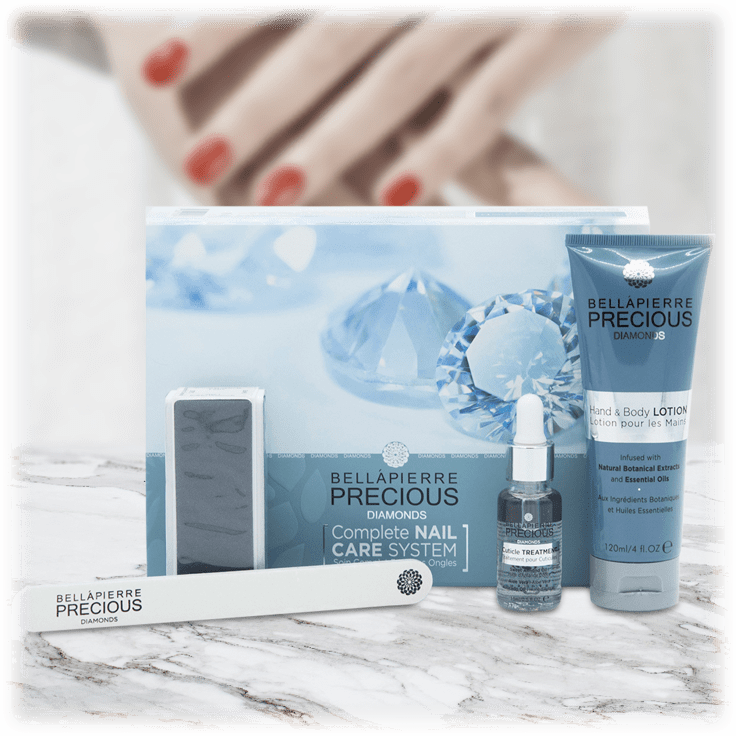 2-Pack: BellaPierre Cosmetics Complete Nail Care System
Features
A nail file you'll love
A nail buffer that actually works
Sweet almond cuticle treatment
Soothing hand and body lotion
Specifications
Bellapierre PRECIOUS Diamonds Complete Nail Care System contains everything you need to keep your nails looking healthy, buffed, and polished while leaving your hands soft, smooth, and beautiful. Included in this kit is our diamond textured nail file, exclusive 4-way nail buffer, vitamin-infused sweet almond cuticle treatment oil, and our luxurious hand and body lotion for a perfect at-home manicure treatment.
ingredients
Cuticle Treatment Oil:
Carotene, Tocopherol (Vitamin E), Sesamum Indicum (Sesame) Seed Oil, Paraffinum Liquidum (Mineral Oil), Oryza Sativa (Rice) Bran Oil, Simmondsia Chinensis (Jojoba) Seed Oil, Prunus Dulcis (Almond) Oil, Aloe Barbadensis (Aloe) Leaf Extract, Persea Gratissima (Avocado) Oil, Parfum (Fragrance).

Hand and Body Lotion:
Aqua (Water), Helianthus Annus (Sunflower) Seed Oil, Glycerin, Simmondsia Chinensis (Jojoba) Seed Oil, Potassium Gluconate, Carbomer, Emulsifying Wax NF, Glyceryl Monostearate, Stearic Acid, Copernicia Cerifera (Carnauba) Wax, Potassium Sorbate, Sodium Hydroxymethylglycinate, Citrus Grandis (Grapefruit) Seed Extract, Healthstone Powder, Parfum (Fragrance).
APPLICATION
Prior to using the complete nail care system please remove any existing nail polish, and then wash and dry your hands.
Using the Diamond File, you can shape your nails by filing from each corner to the center. This should be done in one direction, not back and forth. You can also use the strip marked as "SHAPER" from the Nail Buffer to help you shape your nails.

Next, using the Nail Buffer, start with the black strip marked as "STEP 1" on the side of the buffer, and buff across the nail in one direction for 10 seconds. This treatment removes ridges and residue. Use once every 2 weeks.

Using the white strip on top of the buffer marked "STEP 2," buff each nail for 10-15 seconds. This treatment will stimulate growth and remove all remaining scratches. If you wish to apply nail polish, please do so after this step. Allow nails to dry completely before continuing to the next step.

The last step using the Nail Buffer is the white strip on the bottom marked "STEP 3." Buff each nail for 10-20 seconds or until you achieve a glossy shine. Use this strip often as it will stimulate growth and make your dull nails sparkle again.

Apply one drop of the Cuticle Treatment to each cuticle around the nail and rub in thoroughly to make sure you have covered the full cuticle area. Be sure to push back the cuticle to allow the oil to penetrate the cuticle, this will help your nail beds to breathe. Daily use will avoid cracking and drying cuticles.

Lastly, apply the Precious Hand and Body Lotion to add moisture to your hands and nails. Use as needed.
what's included?
2x Diamond textured nail file
2x Exclusive 4-way nail buffer
2x Vitamin-infused sweet almond cuticle treatment oil
2x Hand and body lotion
Warranty
Available States
AL, AZ, AR, CA, CO, CT, DE, DC, FL, GA, ID, IL, IN, IA, KS, KY, LA, ME, MD, MA, MI, MN, MS, MO, MT, NE, NV, NH, NJ, NM, NY, NC, ND, OH, OK, OR, PA, RI, SC, SD, TN, TX, UT, VT, VA, WA, WV, WI, WY, AK, HI
Reviews
Verified Purchase
Amazing & impressive!
I would have never guessed this package came with so many essential items that are useful,…I ordered two because the other one is a gift.
Written by @horseNflight - May 25th 2021
Verified Purchase
Great gift
These will make great high end gifts when I don't have time to shop. I am also keeping one.
Written by @billandjulir - April 26th 2021
Verified Purchase
Beautiful nails
You can be so neat without spending the salon money.
Written by @Vanessa777 - May 1st 2021
Verified Purchase
beautiful packaging and lovely products. it really does make your nails shine.
Written by @mbdorsey - May 28th 2021
Verified Purchase
VERY NICE. ALREADY USING IT.
Written by @phairston00 - April 24th 2021
Verified Purchase
Can't wait to give these as gifts

Written by @LFletcher120923 - April 22nd 2021