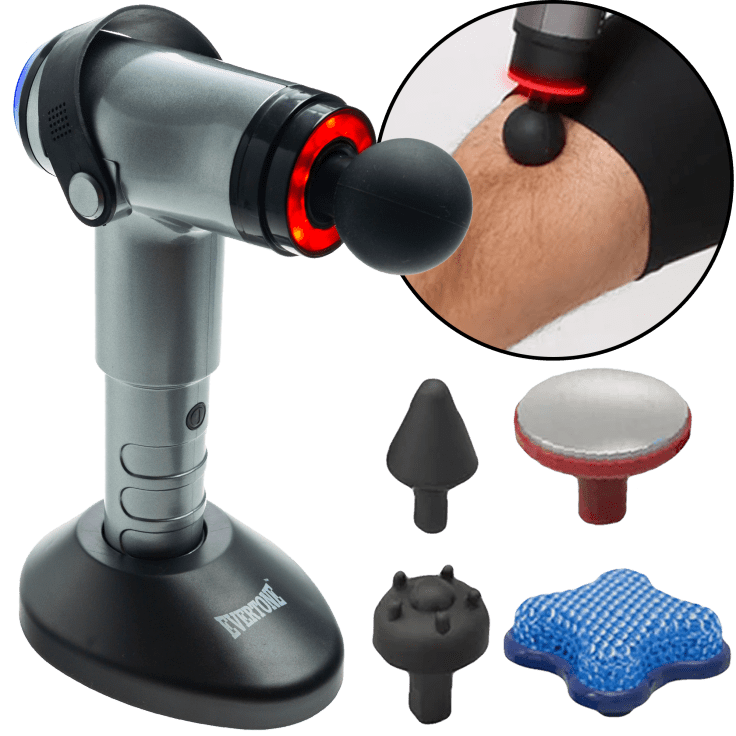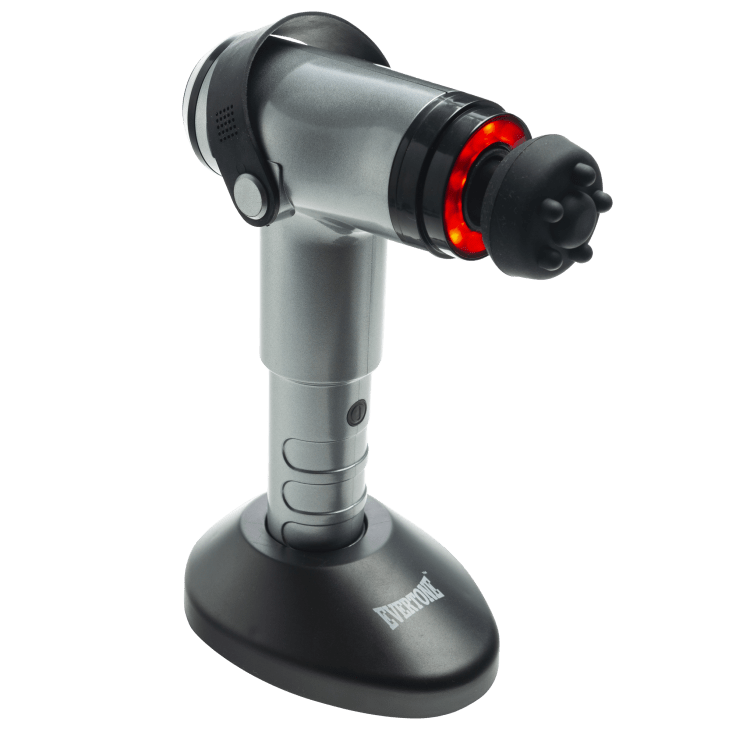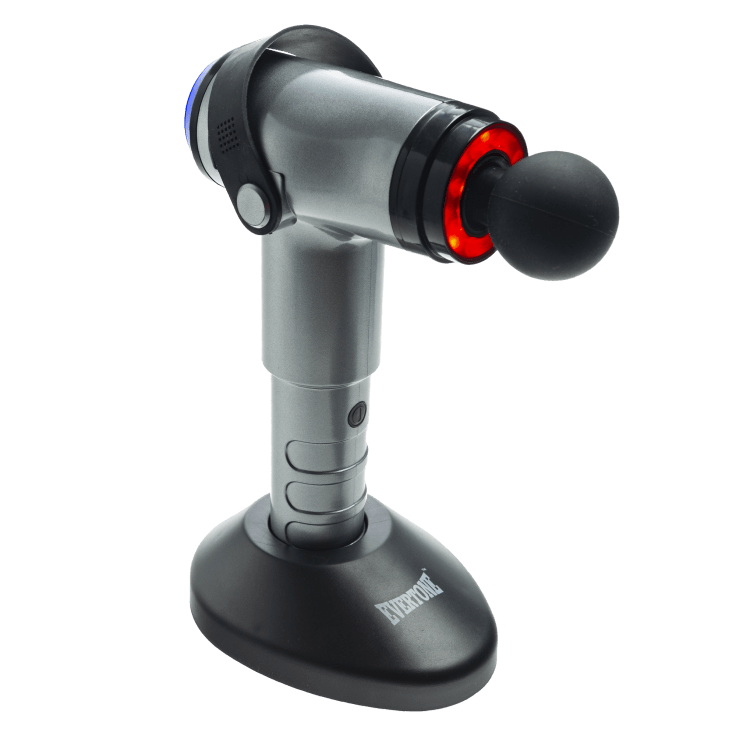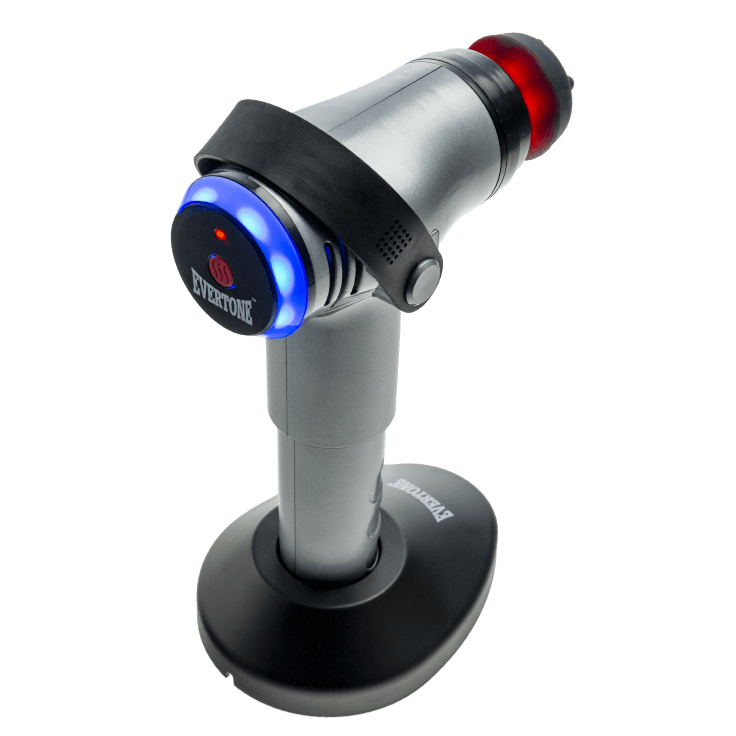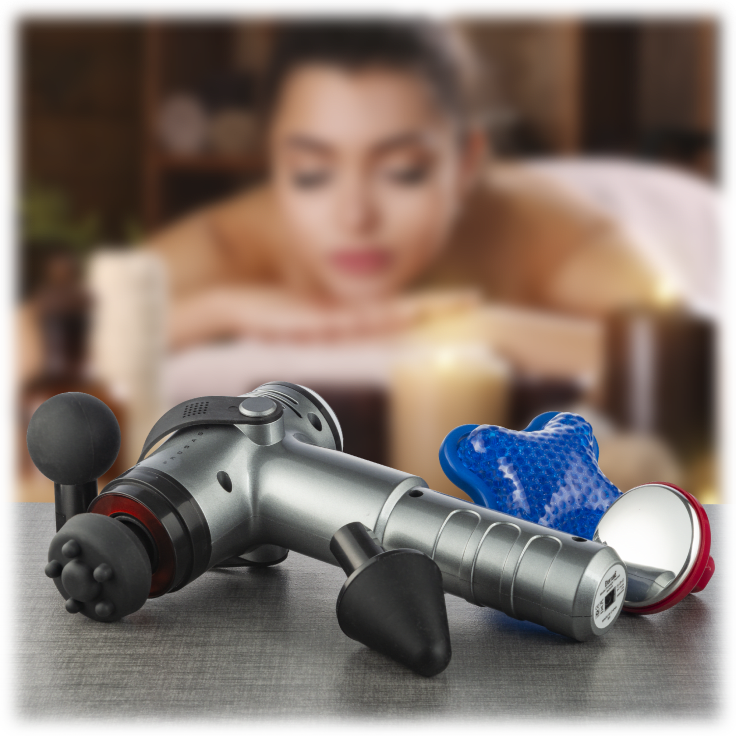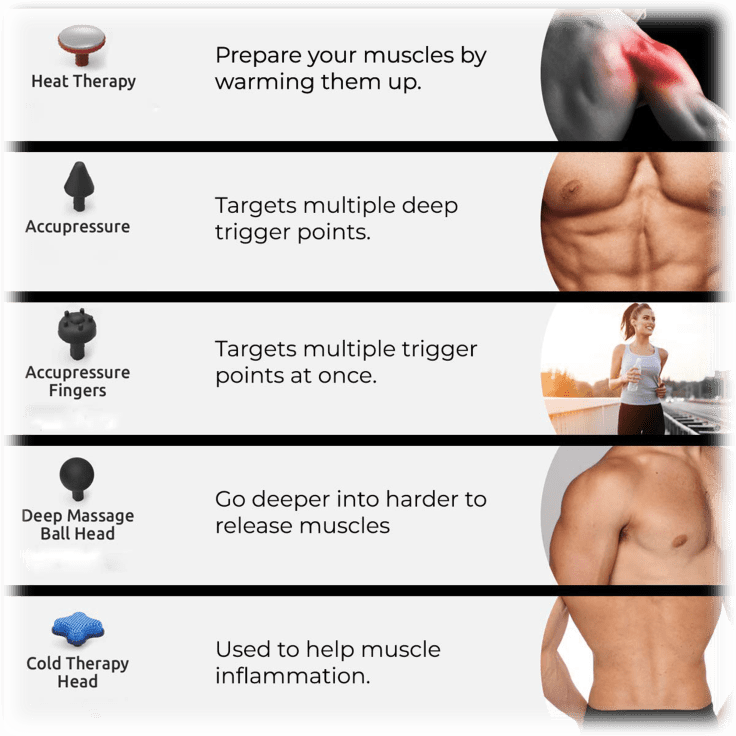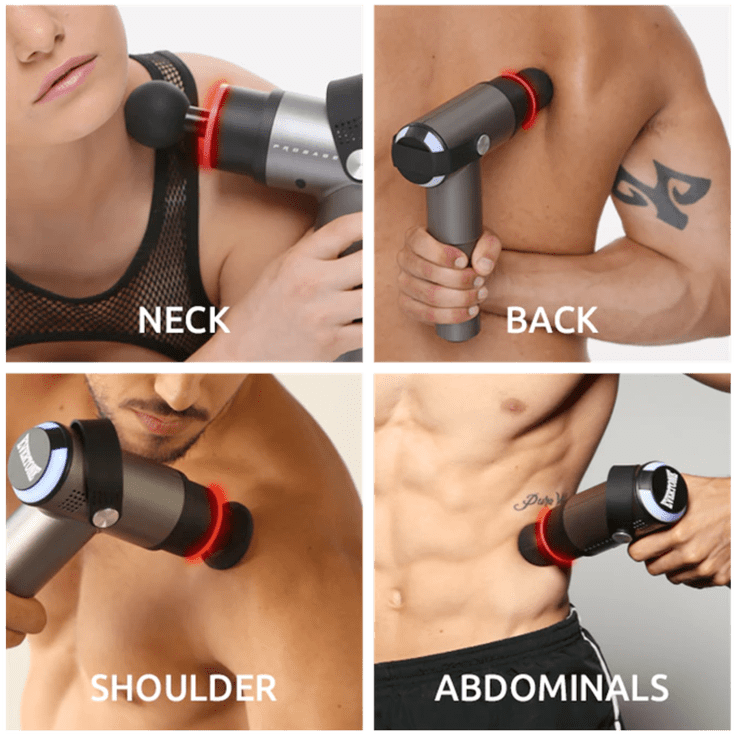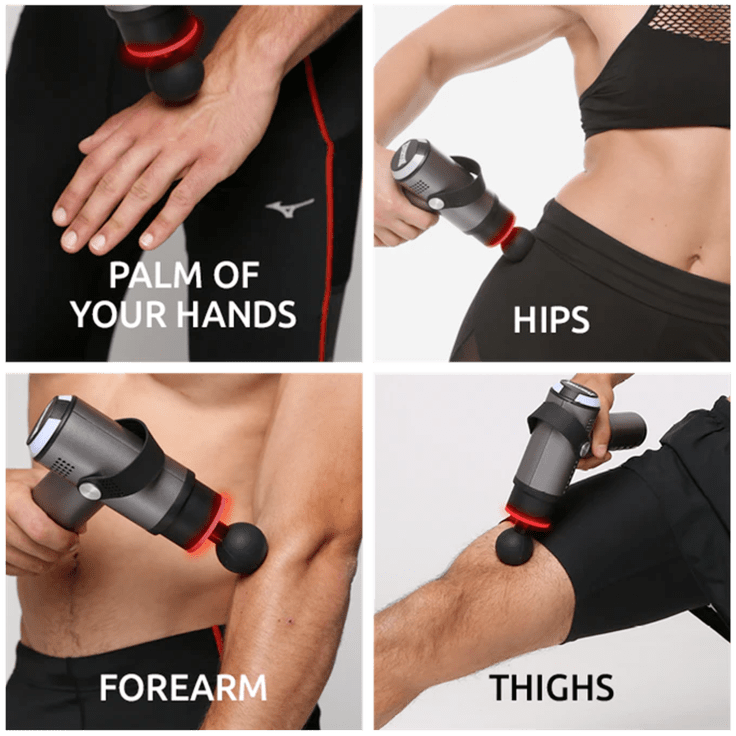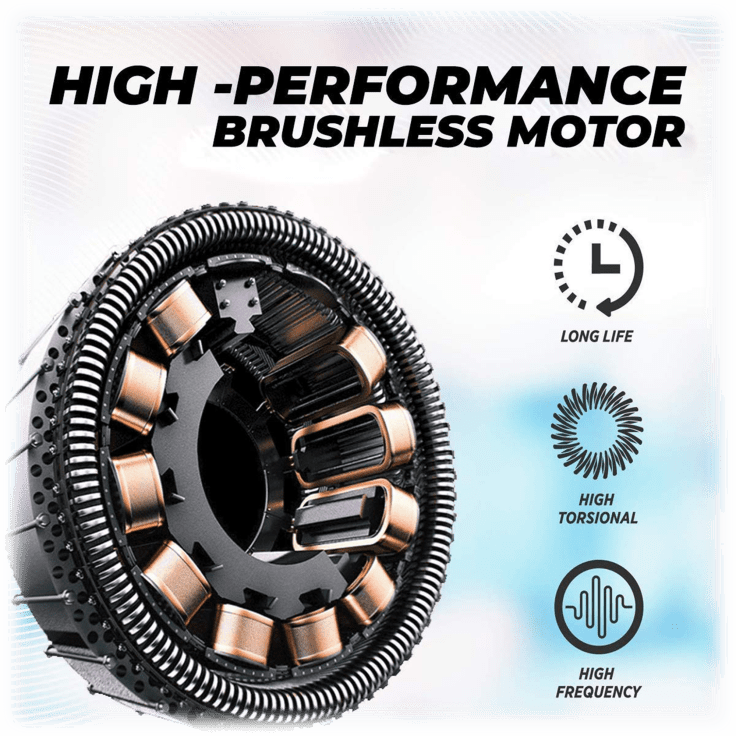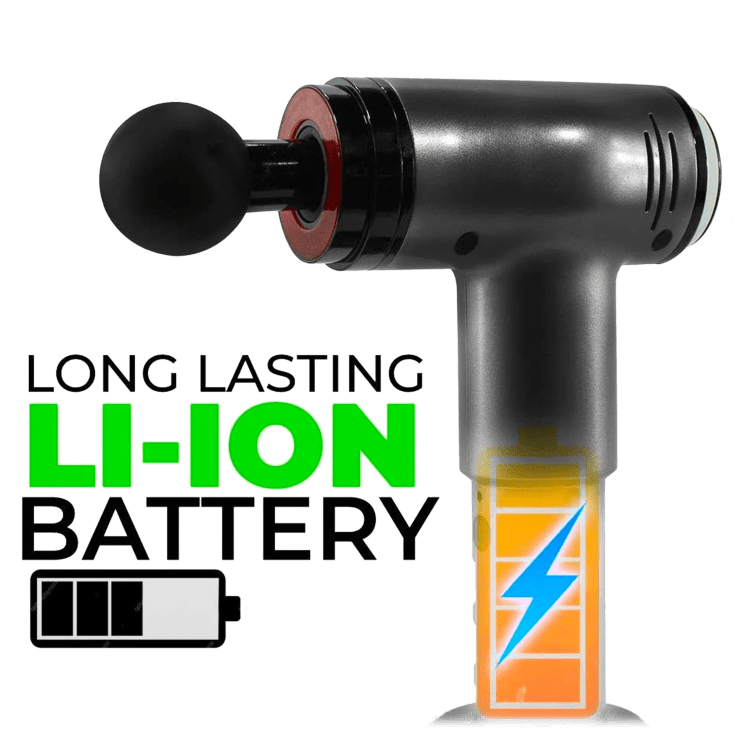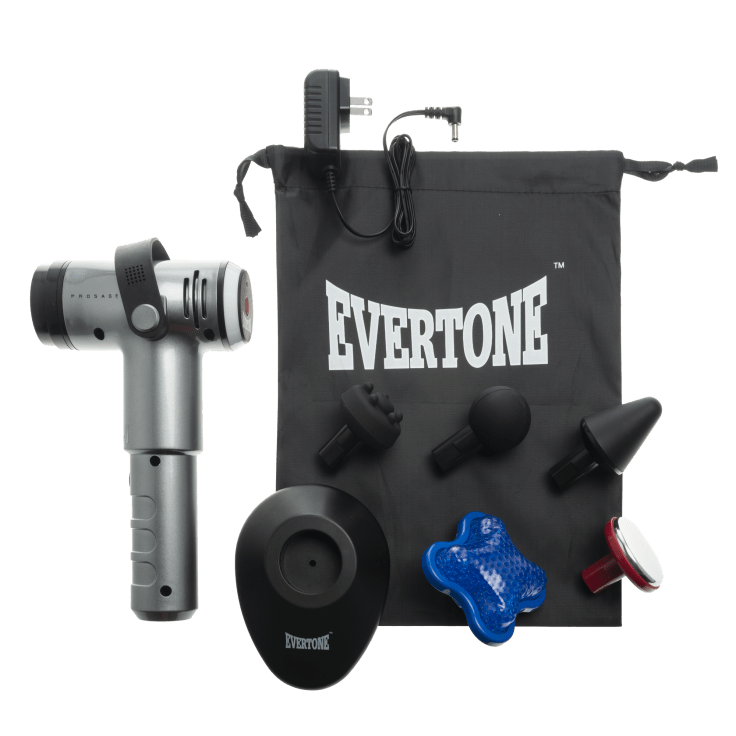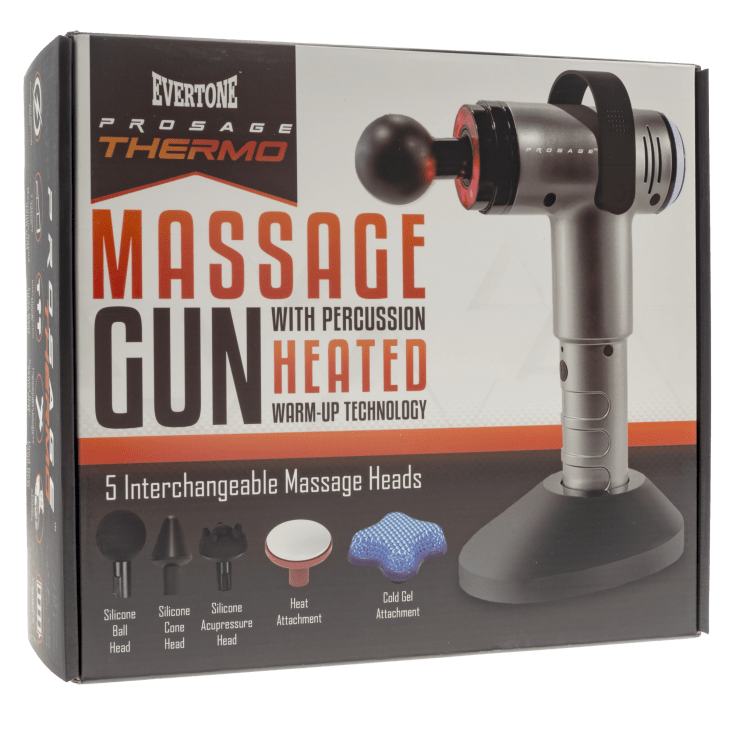 Prosage Thermo Percussion Massager with Warm-Up Technology by Evertone
Features
The Prosage Thermo is the only professional Hot and Cold Massage, percussive therapy gun with warm-up technology for everyday pains.
Prepares your muscles for the deep tissue massage
Helps prevent future injuries
Helps improve range of motion
Helps activate your muscles to perform at peak levels
Heated oscillating massager head
Built-in supreme fast-charging battery
Lightweight design
Charging port

Patented and CE & FCC Compliant

Targeted pain relief
Warm-up technology

The Prosage Thermo makes sure your muscles get a better warm-up before massaging, helping protect you from injury

Deep tissue massager

The Prosage Thermo features a powerful motor for deep tissue muscle recovery. The 3-speed intensities with interchangeable heads make it the best go-to for pre-workout and post-workout

Three intensity modes
Benefits of Theralite Heating
Helps activate the muscles with heat
Helps bring more oxygen, blood flow, and nutrients to painful areas
Helps reduce pain in muscles, tendons, joints, and ligaments
Helps reduce muscle spasms
Benefits of Percussion Therapy
Helps combat post-workout lactic acid buildup
Helps to relieve stiff and sore muscles
Helps improve the range of motion
Helps promote blood circulation
Helps speed warm-up and recovery
Specifications
Battery Capacity: 2600 mAH
Power by: DC adaptor input 100-240v/50-60Hz
Output Voltage: 9V DC 1A
Max. Current: 2000 mA
Power Consumption: 15W
1st Mode Speed: 2800 Rpm 46Hz
2nd Mode Speed: 3400 Rpm 56Hz
3rd Mode Speed: 3900 Rpm 65 Hz
Charging Time: 3-4 hours
Fully Charged works for approx.: 1.5 hours
Auto Timer: 10 minutes
Weight only the massager: 1.50 lbs
Weight full set: 2.12 lbs
Overall size of Massager: 23.5 x 6 x 19 cm
Included In The Box
1x Massager Device
1x Charging Base/ Holding Stand
1x DC Adaptor
5x Interchangeable Attachments

Silicone Ball Head
Silicone Cone Head
Silicone Acupressure Head
Heat Attachment
Cold Gel Attachment
Warranty
Available States
AL, AZ, AR, CA, CO, CT, DE, DC, FL, GA, ID, IL, IN, IA, KS, KY, LA, ME, MD, MA, MI, MN, MS, MO, MT, NE, NV, NH, NJ, NM, NY, NC, ND, OH, OK, OR, PA, RI, SC, SD, TN, TX, UT, VT, VA, WA, WV, WI, WY
Estimated Delivery Date
Wednesday, Nov 18 - Monday, Nov 23
Reviews
Verified Purchase
Husband loves it!
It is exactly as described in the ad very easy to use, light weight, well made and excellent price!
Written by @vicnor - March 17th 2020
Verified Purchase
The best!
Got this for my husband and he said this is the best!
Written by @mcjanes - March 6th 2020
Verified Purchase
I like this thermal massager!
I like this thermal massager!It is easy to work on the sore body muscles with all of the attachments.
It has good power!
Written by @donadeboer - February 3rd 2020
Verified Purchase
Love this product. Using on my daughter, sport soreness. Great product, would recommend it.
Written by @SherylMcphail - February 3rd 2020
Verified Purchase
Terrific product!
Substantial, well-built. Performs just as advertised. Very pleased with it.
Written by @zolatruitt - February 9th 2020
Verified Purchase
QUALITY
I've only had this machine for a few days… A piece of the machine already fell off and it makes a terrible noise.
Written by @LYNNCROISDALE - February 11th 2020
Verified Purchase
Horrible shipping through USPS
Packaging was destroyed. Can't attach pics or I would. Sent email to morning save cust service and haven't received any response. I am being generous with a 2. Item makes a rattling noise internally. Probably wont last long.
Written by @baddog206 - February 7th 2020
Verified Purchase
Missing a piece.
I would give it no stars if I could since I haven't been able to use it since I received it. I was missing the most valuable part…the adapter to charge it!! I wouldn't recommend!!!
Written by @Allendale712 - August 18th 2020
Verified Purchase
Prosage Thermo Percussion Massager
Took out of box plugged in to charge, will not charge. Useless to me will not work. Emailed customer service 3 times with no response. Manufacturer will not recognize because they have record of my purchase since I purchased from mourning save. Very dissatisfied with Mourning save. Will be notifying BBB about them selling faulty merchandise and not responding to my response for return or exchange of this product.
Written by @H3art123 - April 11th 2020
Verified Purchase
Doesn't work and customer service hasn't gotten back to me
This doesn't work. Customer service hasn't replied.
Written by @taceykeylon - March 7th 2020
Verified Purchase
Came damaged morningsave doesnt reply
They still havent emailed or called me back. The item came damaged in multiple places.
Written by @acorken44 - March 5th 2020
Verified Purchase
Does not work
I literally just got this product. Plugged in and all, the product does not work. The light is flashing blue and when we push the buttons, nothing happens.
Written by @edegroat408 - March 3rd 2020
Verified Purchase
It does a good job at massaging but I hate the red and blue lights-they are so unnecessary-reminds me of a child's toy. Also, I can not turn it off unless I put it on the base-I don't like that either.
Written by @jacdavis - February 20th 2020
Verified Purchase
No place to plug in charge, as shown on box. Charging Port.
Written by @hbsistr - February 16th 2020
Verified Purchase
Didn't arrive with all the attachments
Unfortunately I waited a short while for this product and when it did arrive the main, round silicone attachment was not included in the box. Other attachments were there but I would use the round one 90% of the time so this product is no good for me. I've tried to tried to reach out to Customer Service (via email) to have them send that particular piece or I would like to return the product for a refund. NO RESPONCE. Not good!
Written by @leonardwolf - February 10th 2020