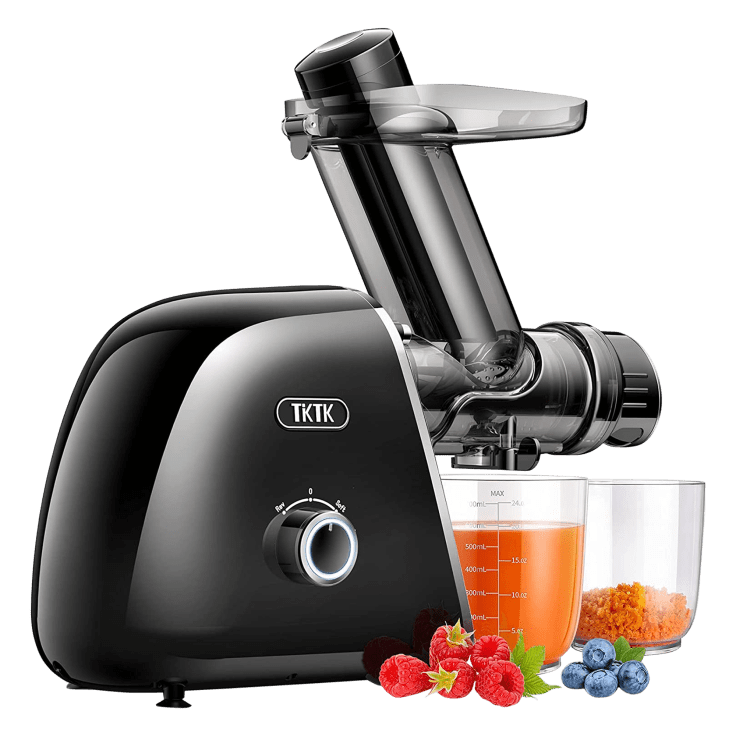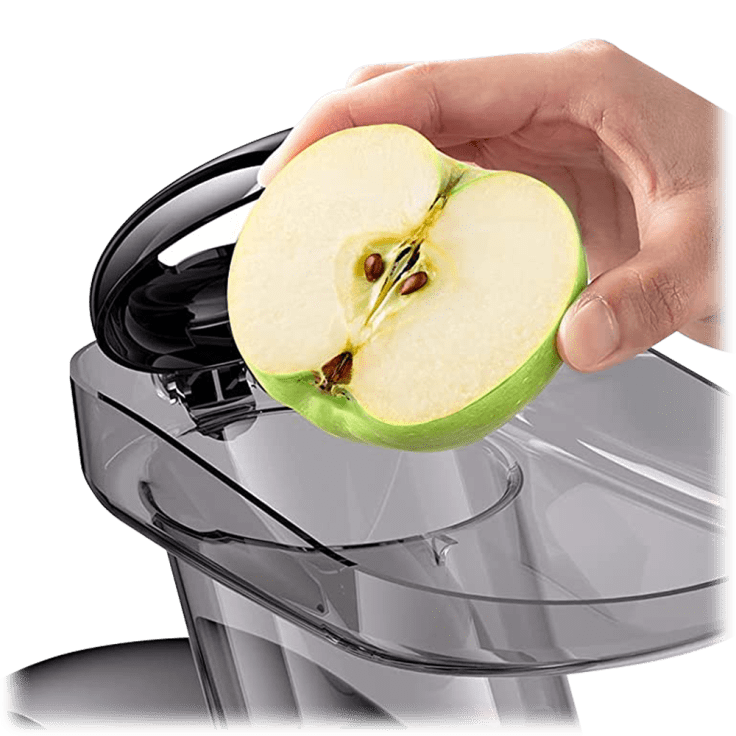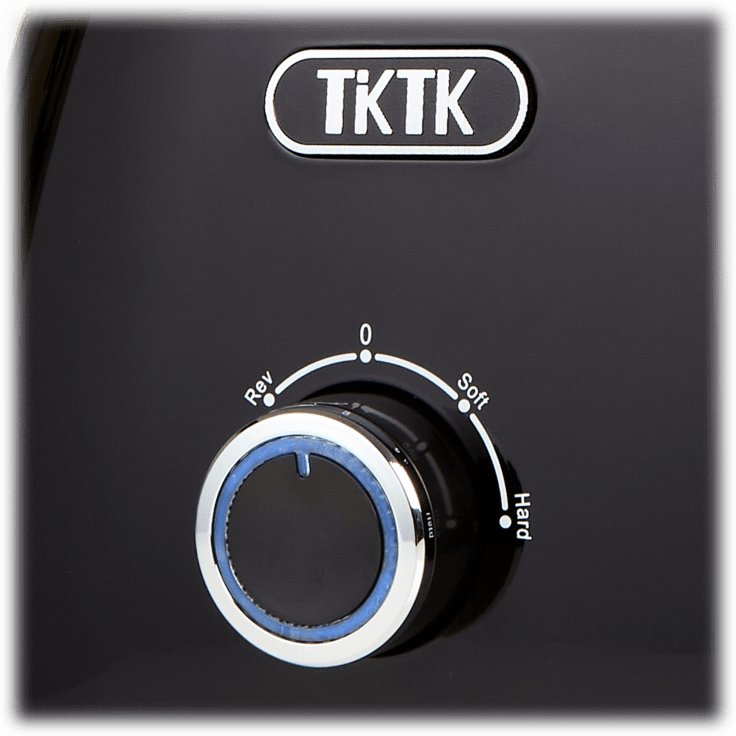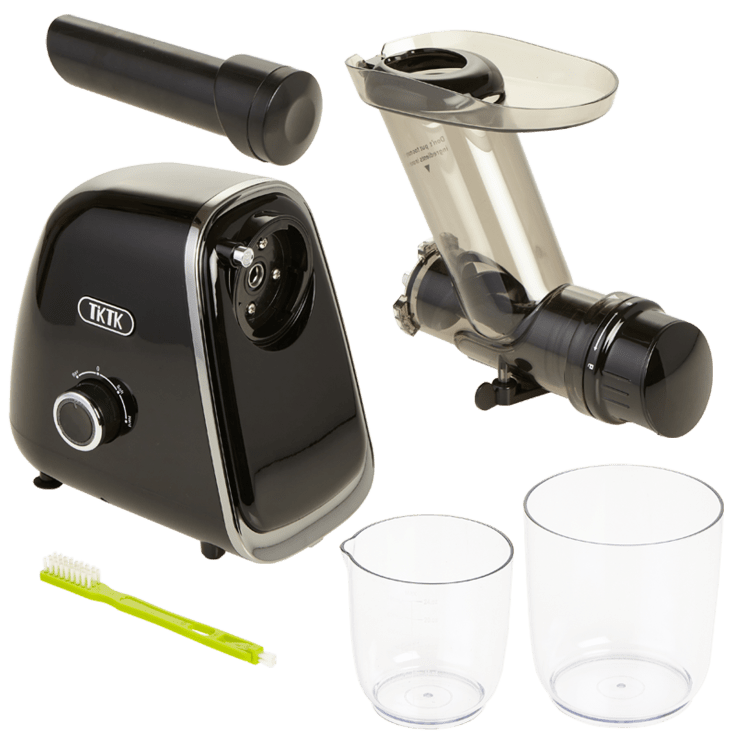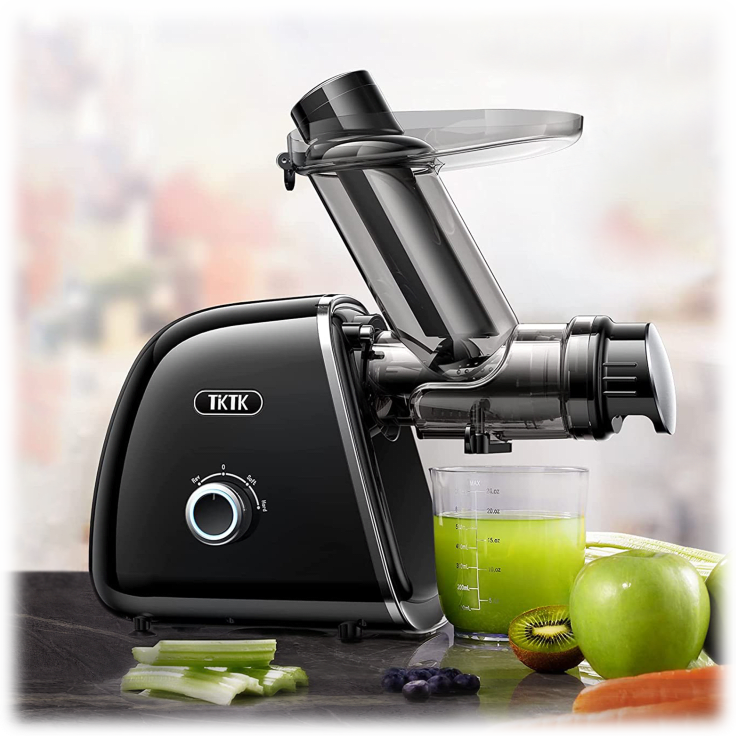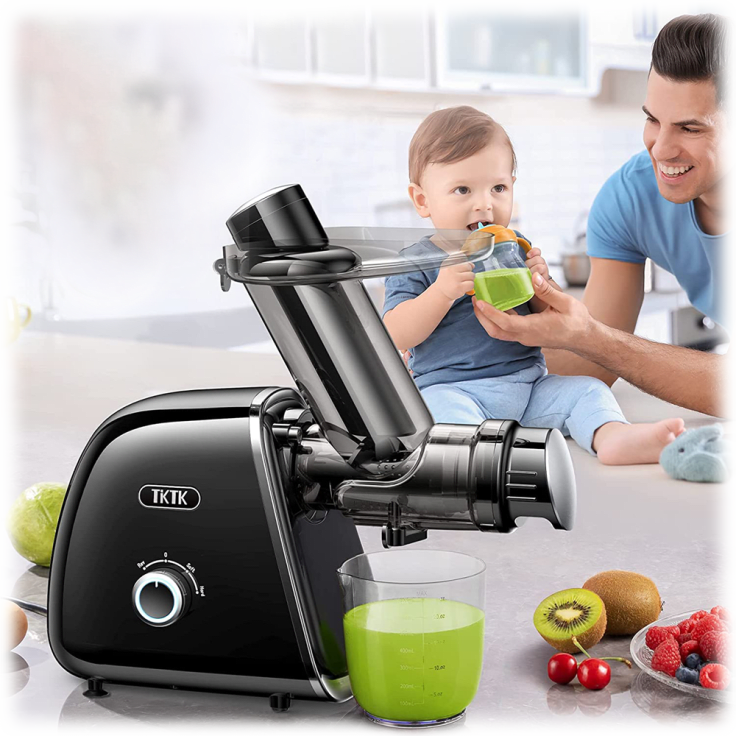 TKTK Wide Feed Juicer with Cold Press Juice Mode
Features
85 - 92% juice yield
3.2" wide feed chute to save time cutting
2-speed setting is designed for both fruits and vegetables
Great for veggies like ginger, celery, wheatgrass, Kale and other green leaves
Soft speed is slower for better nutrition, suitable for soft food
Hard speed is faster for higher juice efficiency, suitable for hard food
Save time in cutting veggies and feeding the juicer with the hard speed setting
European engineered motor, quieter than most juicer machines
Powerful cutting, less clogging and standby reverse function
9-process spiral extracts more juice and releases more fresh nutrition
Sleek design and black glossy surface with inserted blue light
4 suction cups under the bottom keeping it sturdy and stable
Anti-drip button and new filter also make it much easier to clean
Strict BPA-free material with no toxic chemicals
Dishwasher safe parts
Specifications
Dimensions:

8.6" W x 11.6" D x 21.7" H

Weight:
Soft speed: 85-95 rpm/m
Hard speed: 100-105 rpm/m
Voltage: 120V-60HZ
Wattage: 150 W
Material: American Tritan
Noise: less than 60 dbs
Juice Cup: 24 oz
What's included?
1x TKTK Wide Feed Juicer with Cold Press Juice Mode
1x User Manual
Warranty
Reviews
Verified Purchase
Lovely Juicer
I just received my TKTK Juicer. Its my first one. It is beautiful, quiet and easy to clean. It doesn't take up a lot of space.
Written by @Tjmoe2013 - April 5th 2022
Verified Purchase
Cold Press Juicer
It appears to be exactly what I wanted.
Written by @dianewalker59 - May 16th 2022
Verified Purchase
My New Juice machine
I LOVE it, it's sturdy and powerful.
Written by @Katrinaka96 - April 13th 2022
Verified Purchase
Juicer?
Isn't what I expected. A lot of waste … fiber and pulp is lost. Was hoping for a juicer that liquefied the fruits and veggies. Was hoping not to lose all of the fiber and pulp but this only returns the liquid. Not even worth trying to juice greens and hard veggies or fruits
Written by @reynd1 - April 4th 2022
Verified Purchase
Broke within a month!
A nightmare broke within a month cannot get parts. Trying to get my money back no customer services. STAY AWAY - do not buy
Written by @Mmon0606 - June 16th 2022
Verified Purchase
the plunger #6 part missing box caring original box appear to have been opened all pieces had been assembled upon arrive difficulty opening to wash, appears to have been stuck(maybe used previously)
Written by @nathaniel06 - May 11th 2022