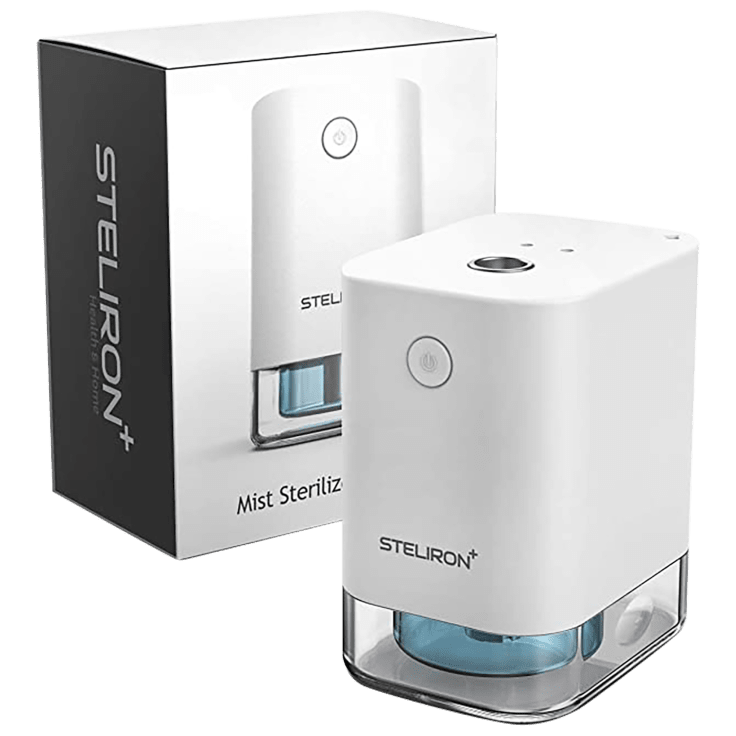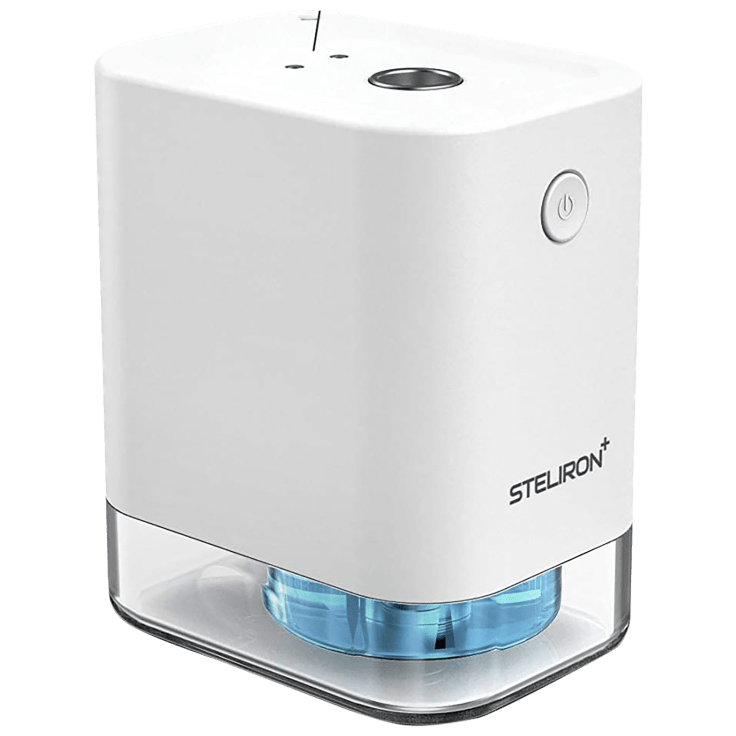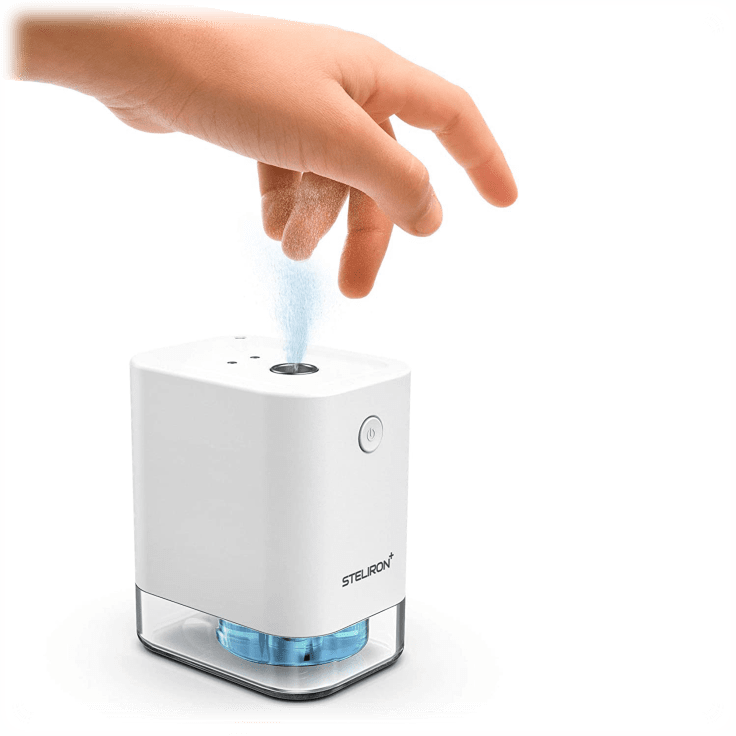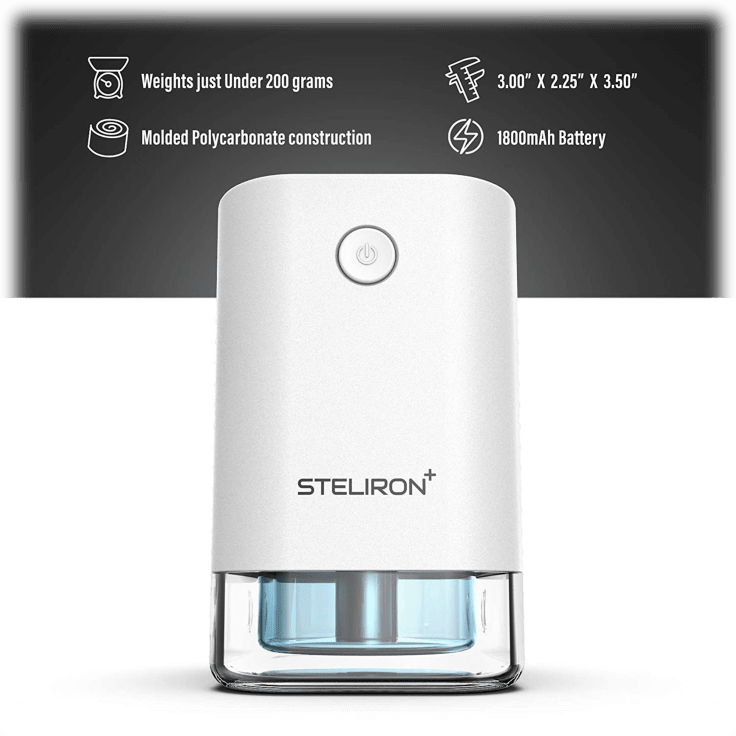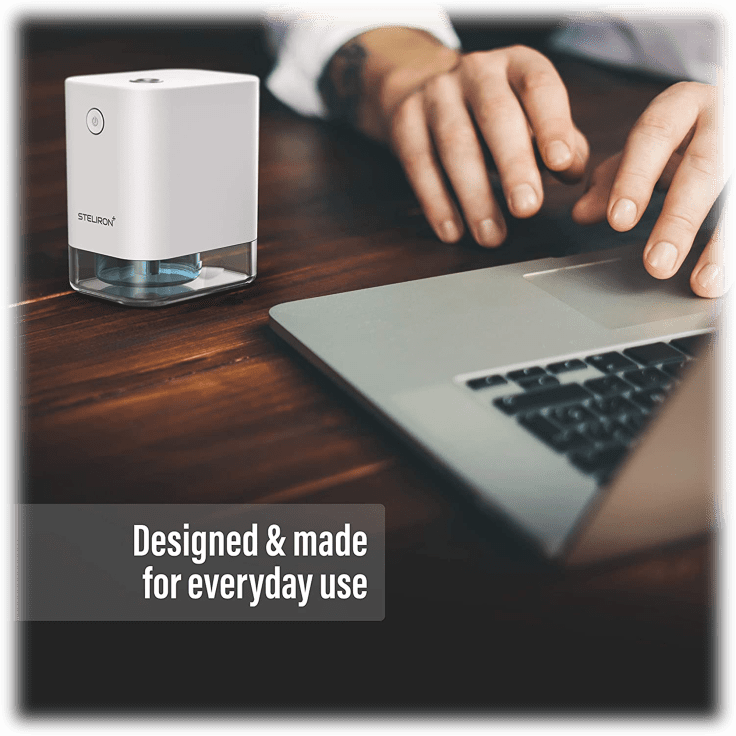 Steliron Automatic Hand Sanitizer Mist Dispenser
Features
With the Steliron Touch-free Hand Sanitizing mister, you and your family can remain safe and protected from bacteria, germs, and viruses
Utilizing Fine-Mist diffusing Technology the sterilizer will convert isopropyl alcohol to a fine mist that is gentle on the hands
Go beyond just hands, the mist can be used to sanitize phones, keys, headphones…you name it
The Steliron sanitizer makes a great alternative to messy gels and liquids while the Built-in Sensor means you never even need to touch the power button!
Specifications
Adding Sanitizer Liquid:

Remove Cover: Hold top, white section of unit in one hand and lower, transparent section on the other hand. Firmly pull down on the lower section while pressing inward, taking care to keep the unit upright
Remove Container: Rotate clear sanitizer container counterclockwise taking care to keep up-right
Filling: Remove wick and place on a lower, clear section of the unit, slowly refill using Isopropyl Alcohol with a concentration of 70%
Closing: Place wick into the opening of the sanitizer container ensuring so that it is seated on spring at the bottom of the shaft. Attached sanitizer container to upper
section of the unit by rotating clockwise until snug, ensuring not to overtighten. Please upper section of the unit into the lower section and click into place

Operation:

Power on: single press power button
Included In The Box
Steliron Automatic Hand Sanitizer Mist Dispenser
Warranty
Available States
AL, AZ, AR, CA, CO, CT, DE, DC, FL, GA, ID, IL, IN, IA, KS, KY, LA, ME, MD, MA, MI, MN, MS, MO, MT, NE, NV, NH, NJ, NM, NY, NC, ND, OH, OK, OR, PA, RI, SC, SD, TN, TX, UT, VT, VA, WA, WV, WI, WY
Reviews
Verified Purchase
Great little Sanitizer !
So far so good ! Nice fine mist for sanitizing the hands or anything else small to pass over the tiny station ! I'm Keeping by the garage door entry to use every time I arrive back home

Written by @janicefh - October 28th 2020
Verified Purchase
I am sooo satisfied!
This automatic hand sanitizer must dispenser is marvelous!..its exactly what I expected. Thank you Morning save!!!
Written by @horseNflight - October 31st 2020
Verified Purchase
https://morningsave.com/deals/steliron-automatic-hand-sanitizer-mist-dispenser-8
Vey good when automatic sanitizer and works on time!
Written by @mywa50 - November 3rd 2020
Verified Purchase
Really Cool...
Mom loves…this mist dispenser. She as bad sinuses and wants to clean her hands all the time.
Written by @regmae50 - November 2nd 2020
Verified Purchase
sanitizer
everything I expected,compact, convenient,& great value
Written by @tperry8149 - October 29th 2020
Verified Purchase
Very Smart!
Received mine today & I love it. Worth the money.
Written by @Sheila51 - November 3rd 2020
Verified Purchase
No Touch Sanitizer
So far I love it. Every teacher should get one!
Written by @reniagale45 - November 1st 2020
Verified Purchase
Sorry for the rating
I rated a 3 because It's a gift I have not used it It seems to be nice and I hope so because it's a gift
Written by @pataylor11 - November 4th 2020
Verified Purchase
Nope
Save your money it sprays so little you would need to refill the tiny bottle every time . Get better in Walmart or target!
Written by @just2oc - December 26th 2020
Verified Purchase
Broken
Written by @fairchild521 - December 29th 2020