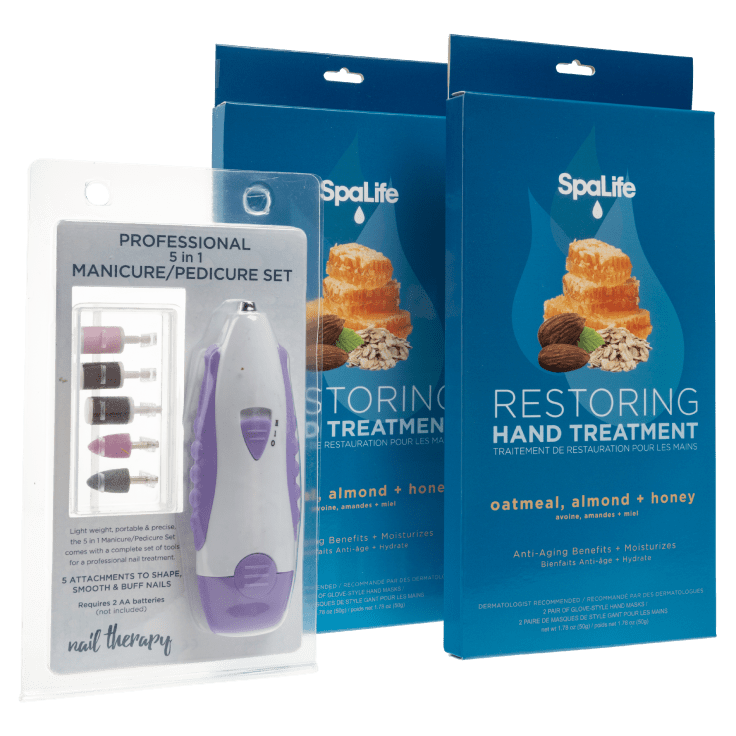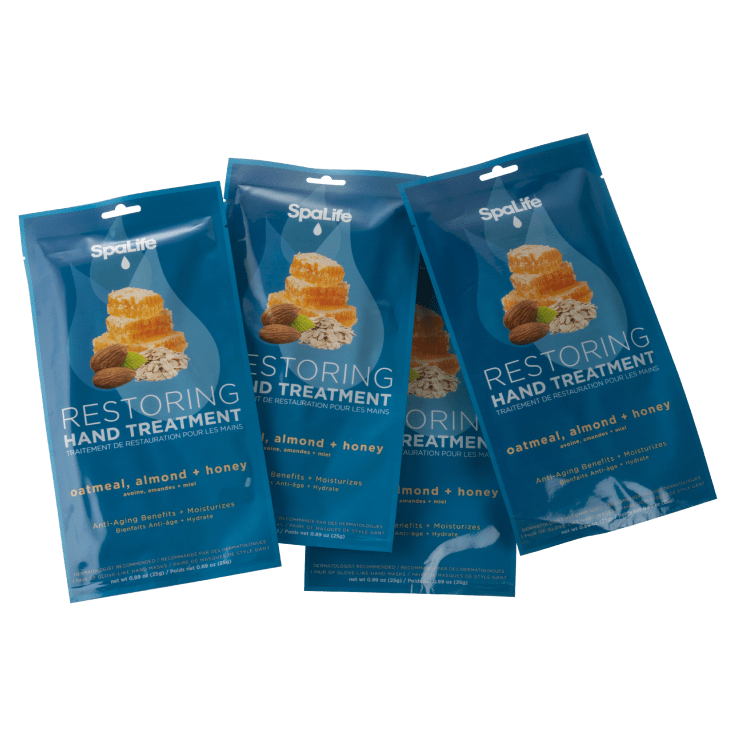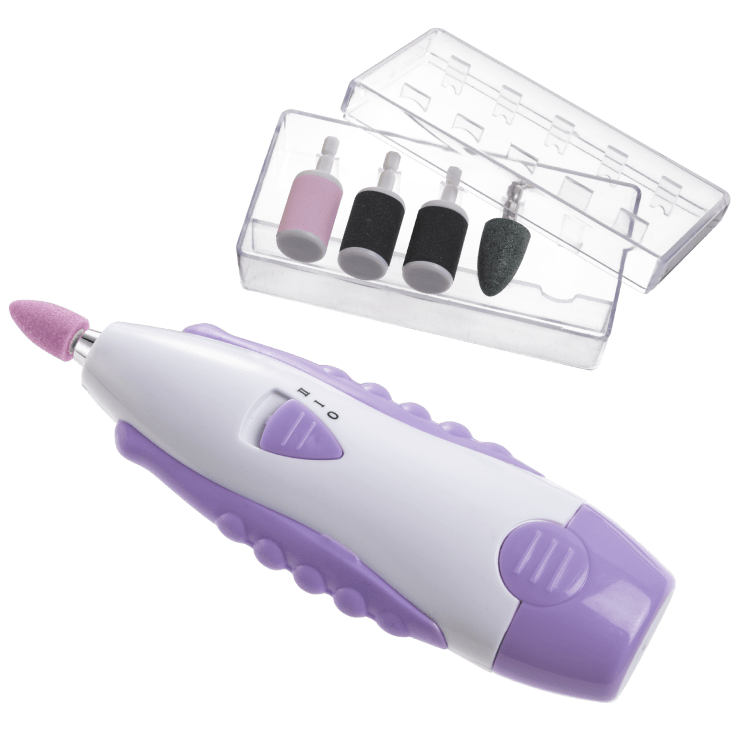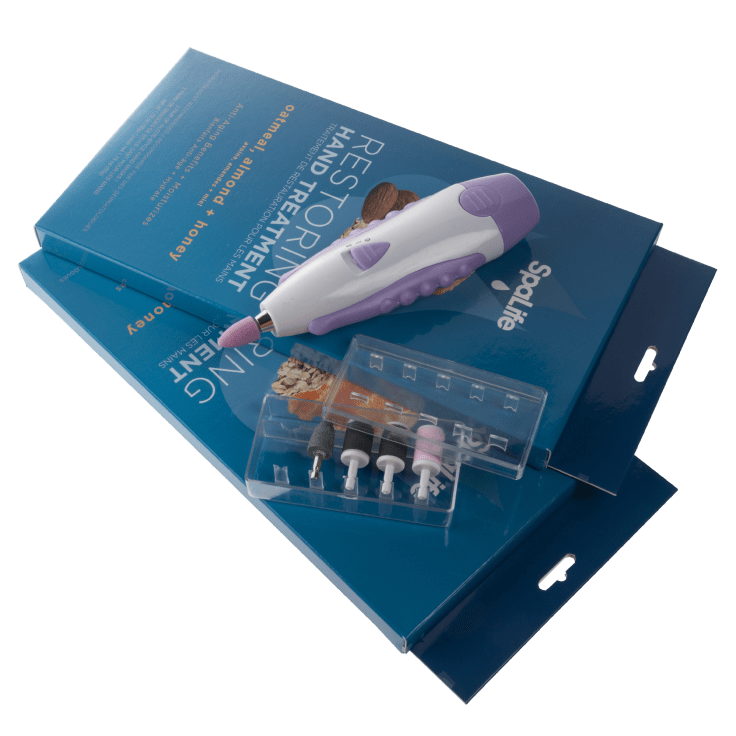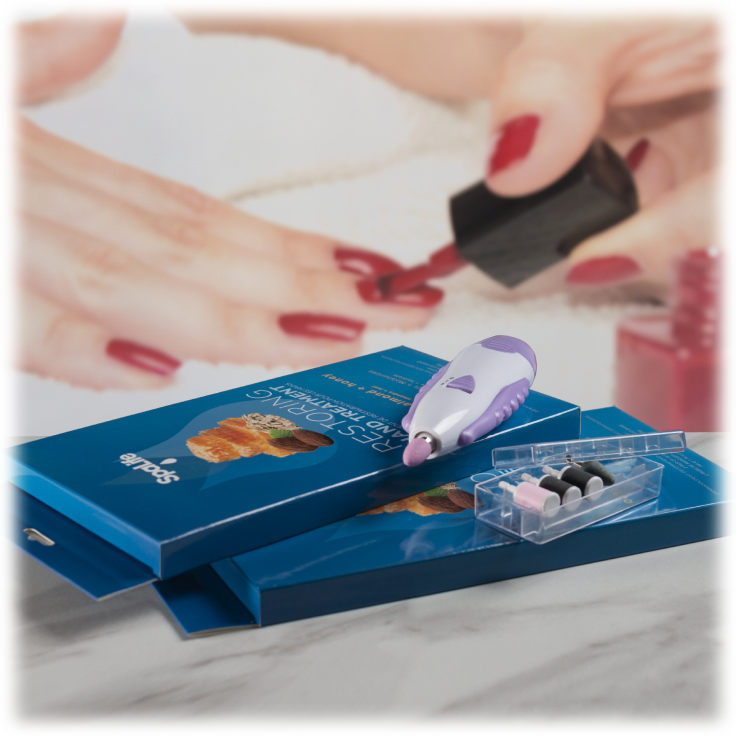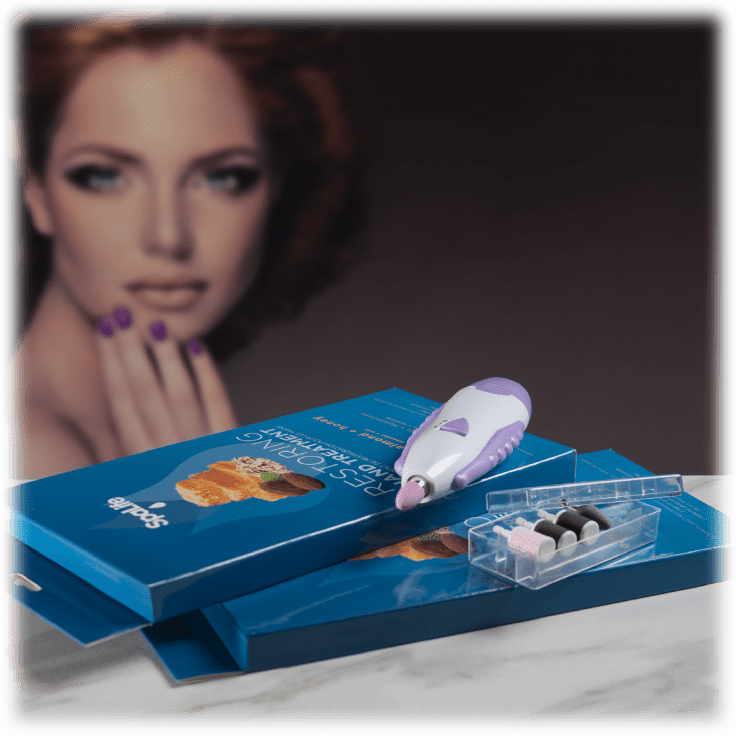 SpaLife Electric Manicure Set with 4-Pack Restoring Hand Masks
Features
Professional 5-in-1 Manicure/Pedicure Set
Lightweight, portable, and precise, the 5-in-1 Manicure/Pedicure Set comes with a complete set of tools for a professional nail treatment
Requires 2 AA batteries (not included)
The pink tip softens the surface, the grey tip shapes, and contours, the black polisher softens edges and removes stains from nail polish, the grey polisher polishes nails to a matte smooth finish, and the pink polisher polishes nails and gives them a natural-looking finish
Restoring Hand Treatment Oatmeal, Almond, and Honey Masks
4 hand masks; use once weekly, one month supply
Turn back the hands of time, or better yet turn back the time on your hands!
Restore them to their once smooth, soft, supple state
Repair skin and lock in moisture
With these wearable glove-like masks, your hands will be left soft and youthful again!
Instructions:

Wash hands with warm water. Open packet and slip-on gloves. Leave on for 20 to 30 minutes, then remove gloves. No need to rinse hands after treatment
Included In The Box
1x Professional 5-in-1 Manicure/Pedicure Set (with 5 attachments)
4-Pack Restoring Hand Masks
Warranty
Estimated Delivery Date
Standard: Tuesday, Nov 10 - Monday, Nov 16.
Enhanced: Monday, Nov 9 - Thursday, Nov 12.
Reviews
Verified Purchase
It better then the nail salon nail buff
Written by @Ladylady12 - September 20th 2020
Verified Purchase
Professional 5-1 manicure/ pedicure set
When it arrived in the package it was open After I put the batteries in it it would not stay closed so I have to hold it close in order for the device to work it keep popping open
Written by @kleepope4 - September 19th 2020
Verified Purchase
Written by @eartherine - October 28th 2020
Verified Purchase
I only received the battery operated manicure machine but didn't receive the hand mask. Not impressed at all
Written by @SadEyes626 - October 11th 2020
Verified Purchase
Doesnt work!!
The batteries do not match up to the lid
Its doesn't work
VERY DISAPPOINTED
Written by @poohhappens - September 10th 2020