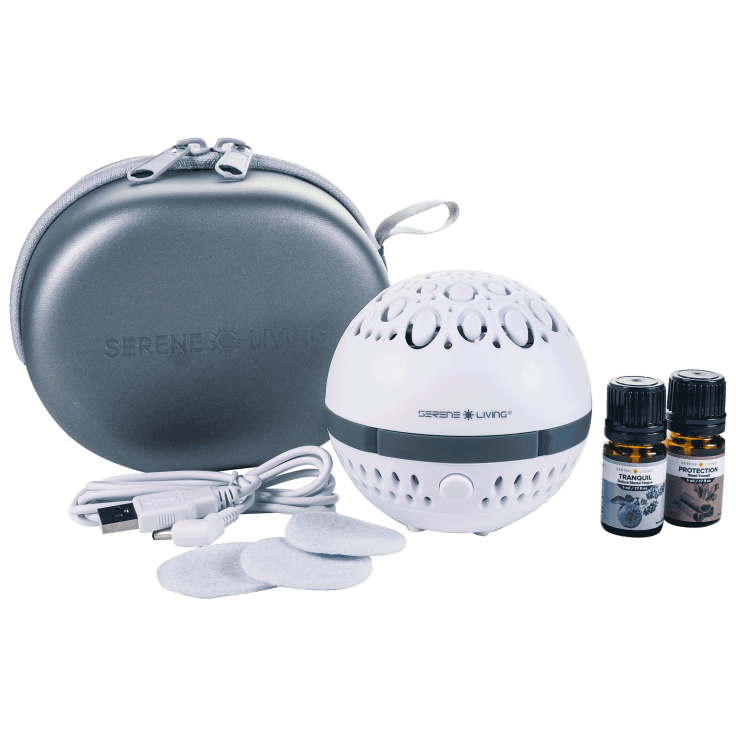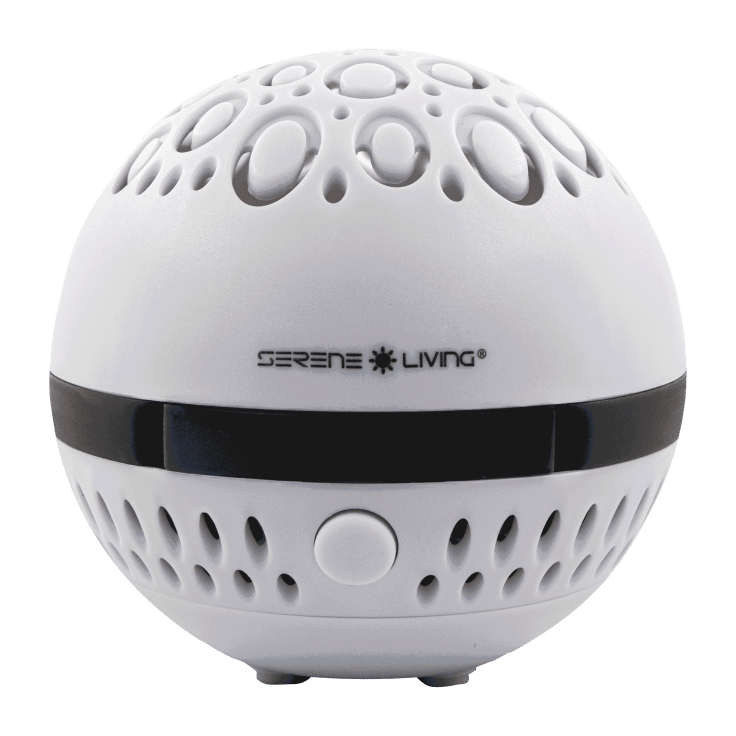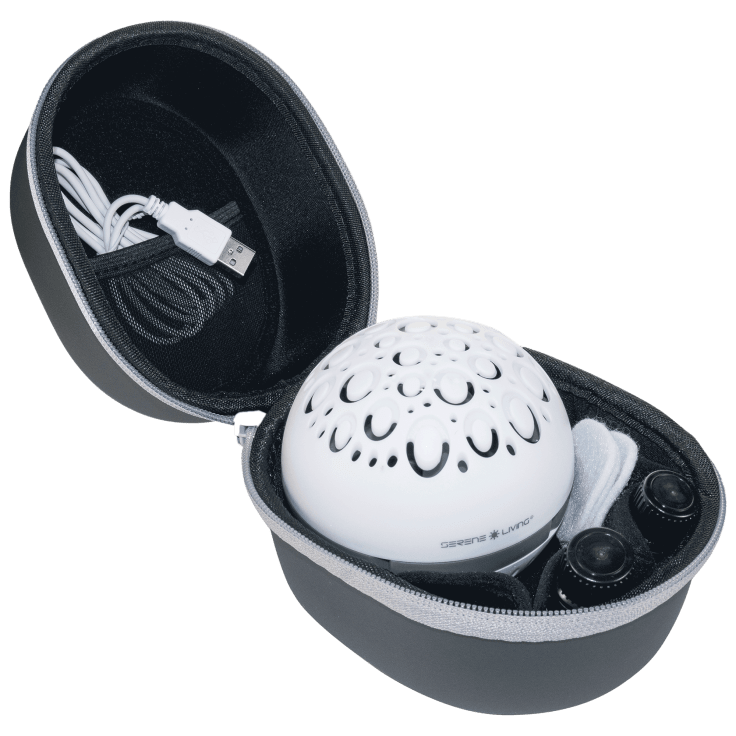 Serene Living Portable Aromatherapy Diffuser with Essential Oils and Travel Case
Features
The Serene Living portable diffuser kit is ideal to take on the go or move from room to room. This set includes a waterless diffuser and essential oils to enjoy continuous aromatherapy.
Aromasphere Diffuser Dimensions- 4" L x 3" W
Coverage- up to 200 square feet
Capacity: 10-15 drops of essential oil
2, 5ml bottles of essential oils included (Protection and Tranquil)

Tranquil Blend: basil, bergamot, lavender, and spearmint
Protection Blend: orange, cinnamon leaf, lemon, and fragonia

Powered by USB cord (included) or 2 AA batteries (not included)
Operating modes- continuous/ off
Zippered EVA storage case is perfect for travel use
BPA Free Plastic
Wipe Clean
what's included
1x zippered travel case, USB cord, 2- 5ml essential oils
WARNING - Do not use any power adapter, charger or cords other than those included with your product, using incompatible, counterfeit or non-certified accessories can cause fire or accidents, contact the manufacturer for replacements
Warranty
Reviews
Verified Purchase
Written by @naanaa8211 - May 18th 2021
Verified Purchase
so easy to place...
I love that finally there's a diffuser that's affordable & works without electricity! It's the perfect size to hide in small places, and the 2 bottles of fragrances smell divine!
Written by @luv2fly4ever - April 15th 2021
Verified Purchase
Written by @shank07 - April 13th 2021
Verified Purchase
More powerful then I thought
I didn't think it would do much but I was surprised. I put the batteries in and the oil on the pad. Turned it on and the sent filled my house. Bought it to travel with. Glad I did
Written by @praying4deb - November 24th 2020
Verified Purchase
Essential Oil
Just perfect size for traveling & cabin life.
Written by @Primadonna12 - November 22nd 2020
Verified Purchase
Not very good quality device.
Written by @ATK415949 - March 17th 2021
Verified Purchase
DISAPPOINTED WITH PRODUCT
I was truly disappointed with the size of this product! Appeared so much larger when I ordered it
Written by @LSSREAL812 - November 24th 2020
Verified Purchase
CHEAP!
I like it but it looks extremely cheap. The box it came in looks more valuable than the actual product. Wish I had not ordered 4 of them as gifts.

Written by @Kinsley14 - June 22nd 2021
Verified Purchase
Not Satisfied
Battery stabilizer broke off when I installed battery and one of the feet where missing from the bottom…for $20 the quality could have been better.
Written by @Ladyg35 - May 11th 2021
Verified Purchase
Not as advertised!
No USB cord as listed & only 1 bottle of fragrance
Written by @danilyn - November 26th 2020