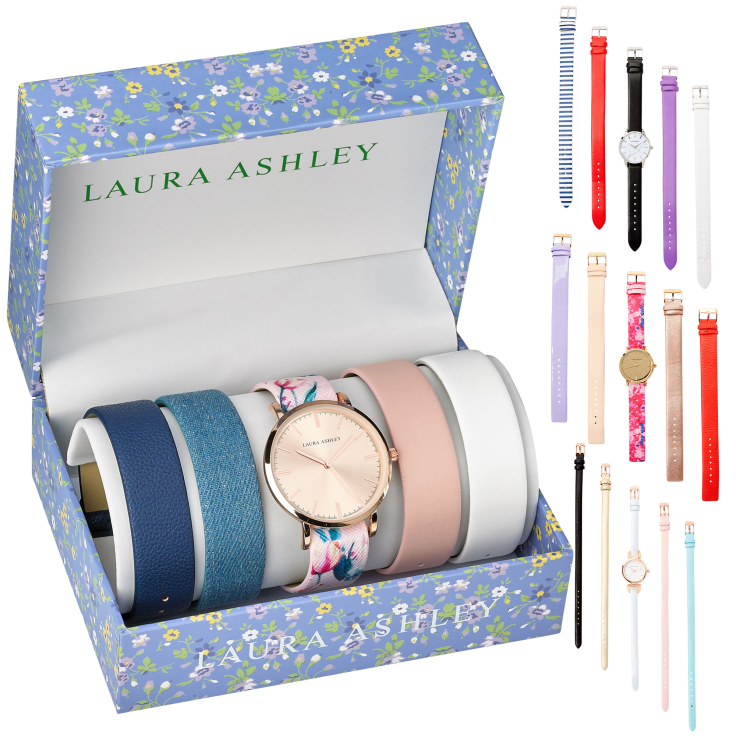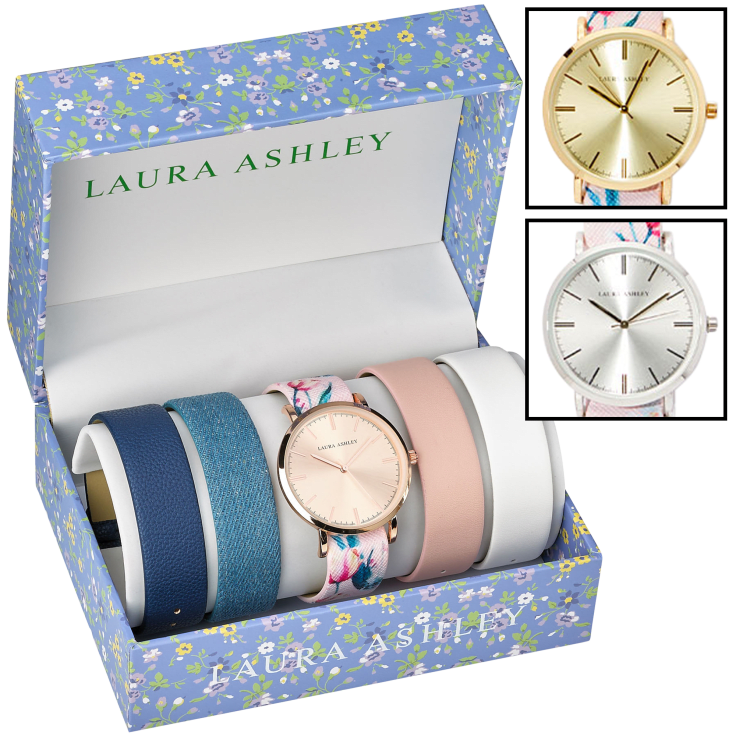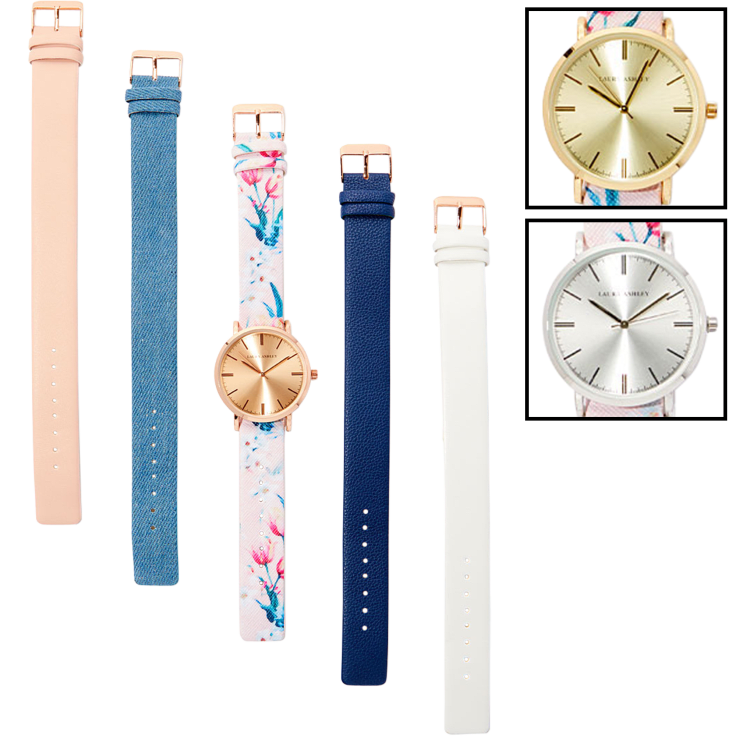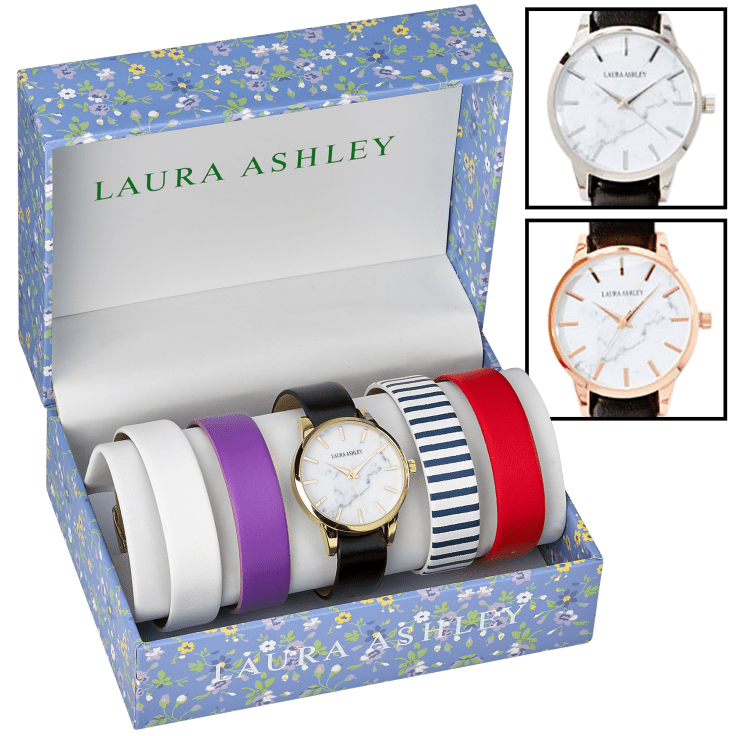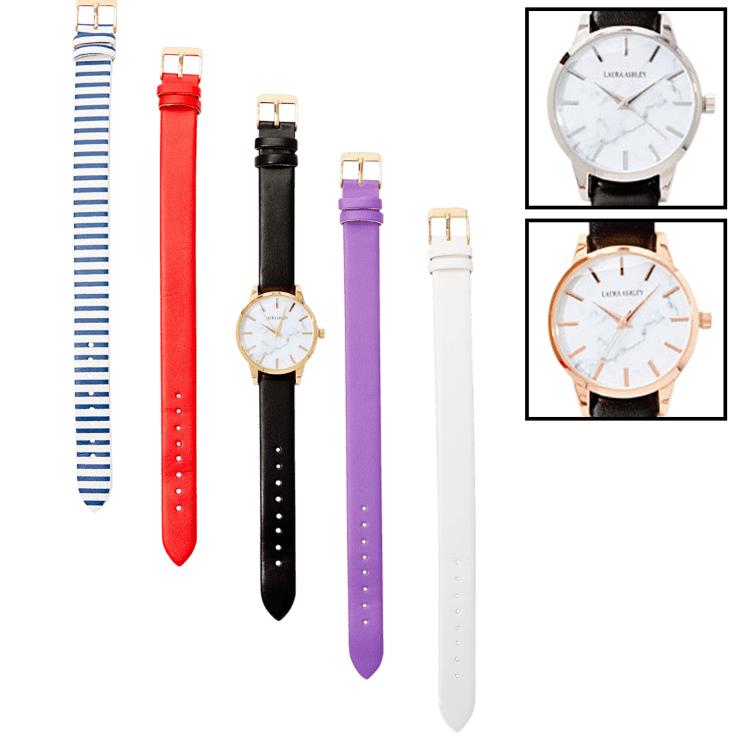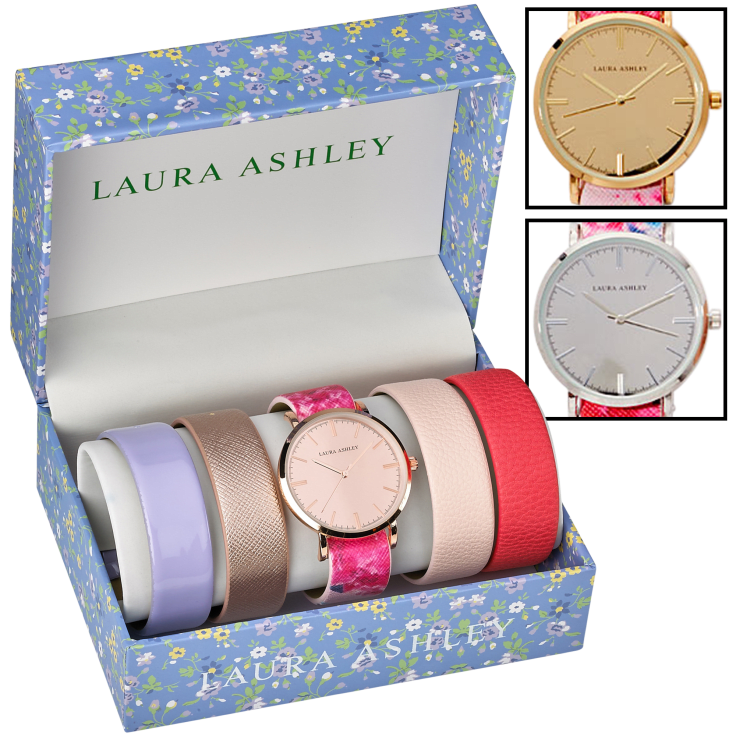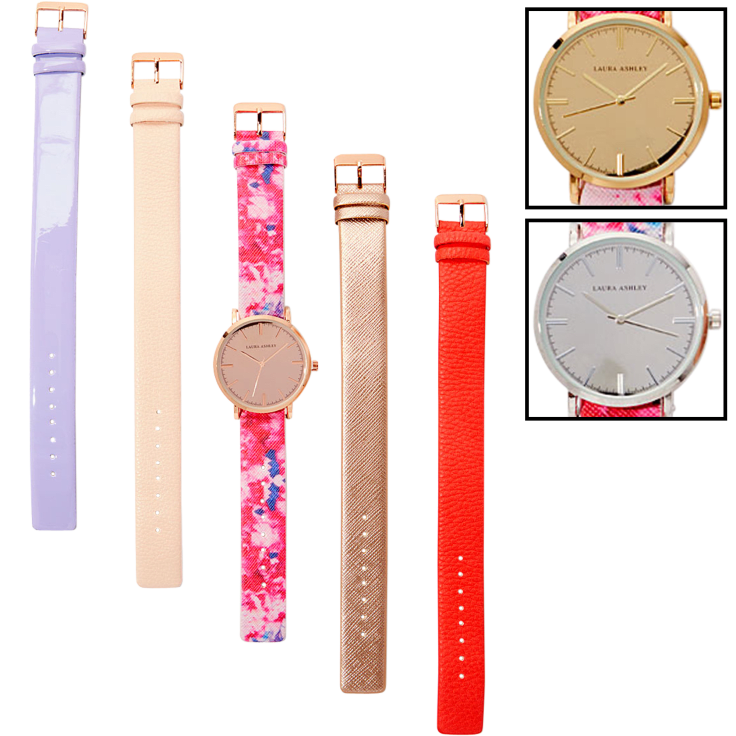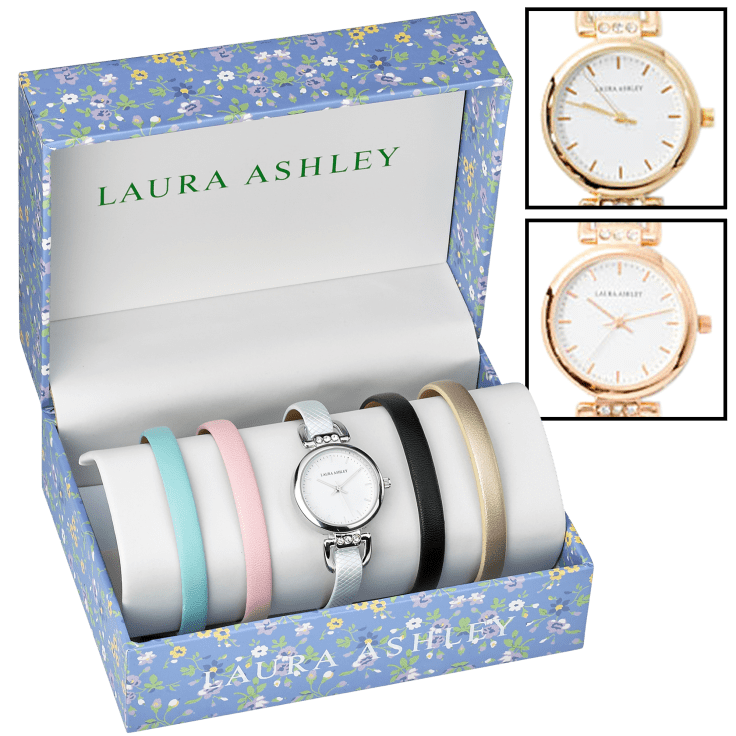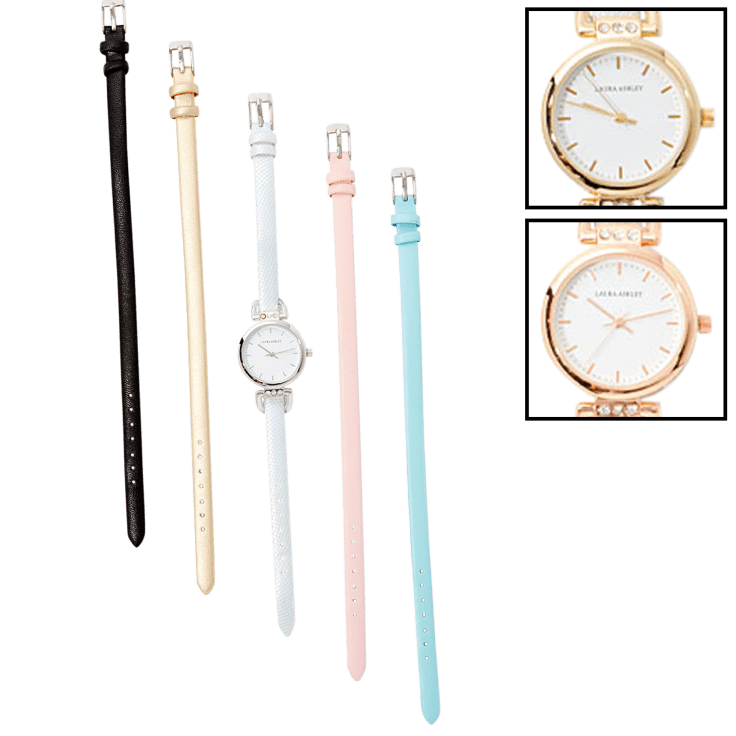 Laura Ashley Watches with Interchangeable Band Sets
Features
Available in 4 style sets
Each Style is available in 3 different watch case colors (Rose Gold, Yellow Gold, or Silver)
Sleek Dial Cool Neutrals Set Watch (Style: Sleek Neutrals)
Laura Ashley watch set featuring 5 straps and a Silver, Rose Gold, or Gold clean case
Dimension: 9" length
Round Case: 41 mm
Japanese quartz movement
Multicolor straps with Buckle closure
Moisture and dust resistant
PU Strap, Alloy Case, Stainless Steel Case back
Wipe Clean
Marble Dial Set Watch (Style: Marble Dial)
Laura Ashley watch set featuring 5 straps and a Silver, Rose Gold, or Gold clean case
Dimension: 9" length
Round Case: 36 mm
Japanese quartz movement
Multicolor straps with Buckle closure
Moisture and dust resistant
Mother of Pearl
PU Strap, Alloy Case, Stainless Steel Case back
Wipe Clean
Sleek Dial Bright Spring Set Watch (Style: Sleek Spring)
Laura Ashley watch set featuring 5 straps and a Gold, Silver, or Rose Gold clean case
Dimension: 9" length
Round Case: 41 mm
Japanese quartz movement
Multicolor straps with buckle closure
Moisture and dust resistant
PU Strap, Alloy Case, Stainless Steel Case back
Wipe Clean
T-Bar w/ Crystals Skinny Strap Set Watch (Style: Skinny Strap w/Crystals)
Laura Ashley watch set featuring 5 straps and a Silver, Rose Gold, or Gold clean case
Dimension: 9" length
Round Case: 28 mm
Japanese quartz movement
Multicolor straps with Buckle closure
Moisture and dust resistant
PU Strap, Alloy Case, Stainless Steel Case back
Wipe Clean
Included In The Box
1x Laura Ashley Watch
5x Interchangeable Bands
Warranty
Estimated Delivery Date
Monday, June 8th - Monday, June 15th. We're temporarily prioritizing shipping some items to help customers stay at home during the COVID-19 pandemic. As a result, some deliveries will be longer than usual.
Reviews
Verified Purchase
EST delivery was Jan 2nd and I got it on Dec 23rd!
Extremely happy with the expedited delivery just before Christmas Eve! It's a beautiful set:)
Written by @DiedraF - December 23rd 2019
Verified Purchase
D Anderson
This was a very nice watch set, I brought it for myself, may go back for another for a Christmas gift, looks way more expense than what I paid, I seen it another place for more money, the price was a steal and no shipping. Thanks Morningsave.
Written by @deanderson - November 20th 2019
Verified Purchase
Watches
I just received my watches today 8/20/2019. Can't wait to wear each one. Thank you for making these watches affordable
Written by @berniej56 - August 20th 2019
Verified Purchase
Love them, came quick too.
Written by @ChrisBarnard - August 13th 2019
Verified Purchase
Very Versatile Watch
Have a simple watch that slips into a selection of watch bands allows you to wear one watch multiple ways. No hassle of watch band pins, just slide one band off and slide on another, what could be easier? I'd buy this again!
Written by @mslflemming - July 20th 2019
Verified Purchase
VERY NICE WATCHES
I have a watch with interchangeable bands and have worn out the bands because I like changing the bands to match my clothes. These are very nice, lady like sleek, and I love the colors. Very nice and very worth the deal.
Written by @UniqueIzMe - July 22nd 2019