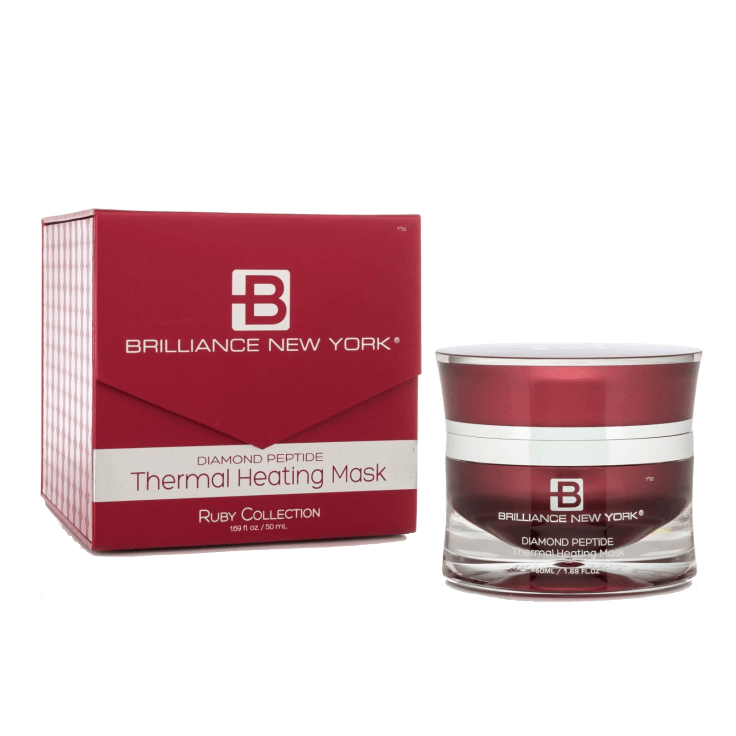 Brilliance New York Rubies Collection Thermal Facial Mask
The Ruby Thermal Heating Mask by Brilliance New York helps you achieve younger healthier looking skin.
Features
This exclusive Brilliance New York product couples LXIR, a newly developed diamond peptide complex, with micronized Ruby crystals that help diminish the appearance of fine lines and wrinkles
The unique warming properties of BNY's Ruby Thermal Heating Mask help massage the skin and gently open pores so dull and dry skin is replenished and impurities can be removed
Natural botanicals derived from honey and apple along with vitamins A, B, C & E transform motion and heat into energy to reveal visibly younger and more radiant looking skin
This innovative mask purifies, rejuvenates, and firms your skin providing essential cleansing for age-defying results
Directions for use:

For best results apply to clean and dry skin
Using the enclosed spatula, apply a thin, even layer of the mask onto your face
Wet fingertips and activate mask by gently massaging skin in circular motions
Warm sensation will last for seconds
Allow 2-3 minutes for the active ingredients in the mask to set and rinse with lukewarm water
Specifications
Weight: 1.69 fl.oz / 50 ml
Included In The Box
1x Ruby Thermal Heating Mask
Warranty
Reviews
Verified Purchase
IF IT'S GOOD ENOUGH FOR MOVIE STARS, ITS BETTER FOR ME!
I love using Brilliance skin products whenever they are on sale! They work just as they promise, and a little goes a long ways!
Written by @victoriayohe - June 6th 2020
Verified Purchase
Cleans really well and face feels firm.
Written by @tricianq - February 6th 2021
Verified Purchase
I think this product was tampered with prior to my receiving it.
The small jar had some white powder on the outside top of the lid. It also had some dried crusty product on the side. Not thinking anything was wrong I just wiped it off. When I took off the lid there was no safety seal. The gritty white cream did not feel luxuriant on my face. I would like to have my money refunded. I have pics I could send u but I don't see a place to attach them. Thx
Written by @janetthurston42 - April 16th 2021
Verified Purchase
HIGHLY DISAPPOINTED
First of all the packaging was sent a cheap bubble bag and was wet.Secondly, upon opening the package the box was no longer sealed to the container with the jar in it. The jar had a dusty look to it. I am returning it. I am guessing it is old!
Written by @nicnva - May 30th 2021
Verified Purchase
Seller has a F rating with BBB
It looks and smells like Elmer's glue! I won't use it!!
Written by @WEhatetrump - May 22nd 2020
Verified Purchase
Very disappointed
Was very separated and would mix together!
Written by @raygen730 - June 20th 2021