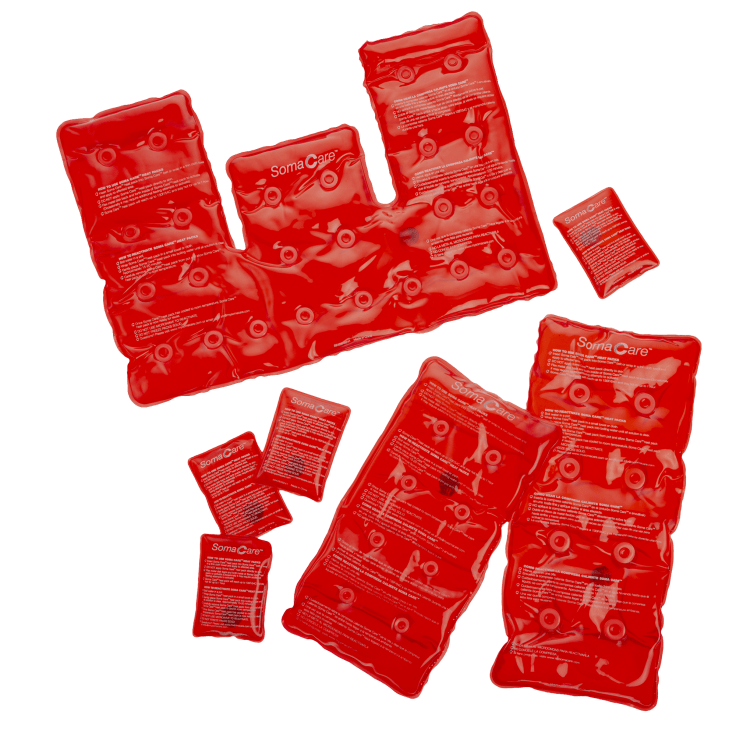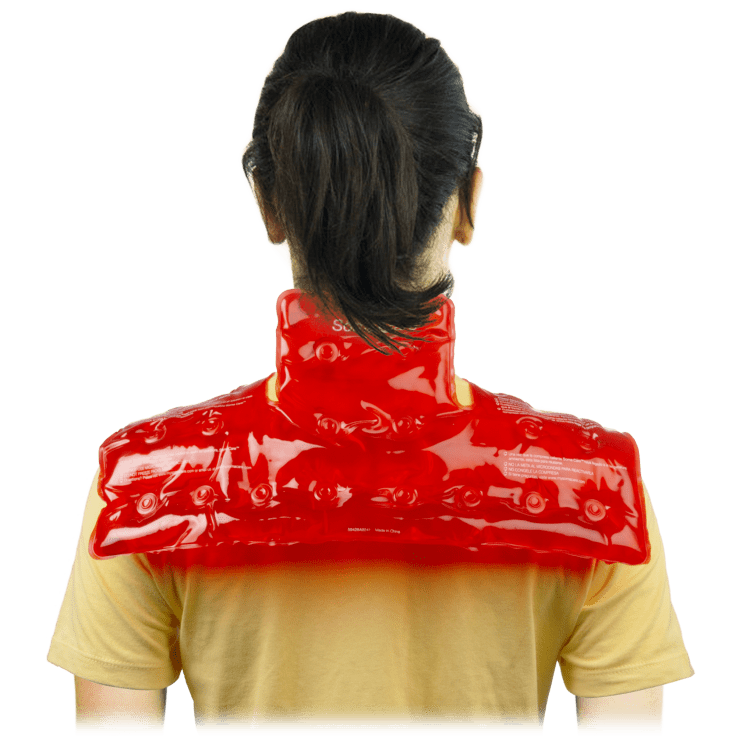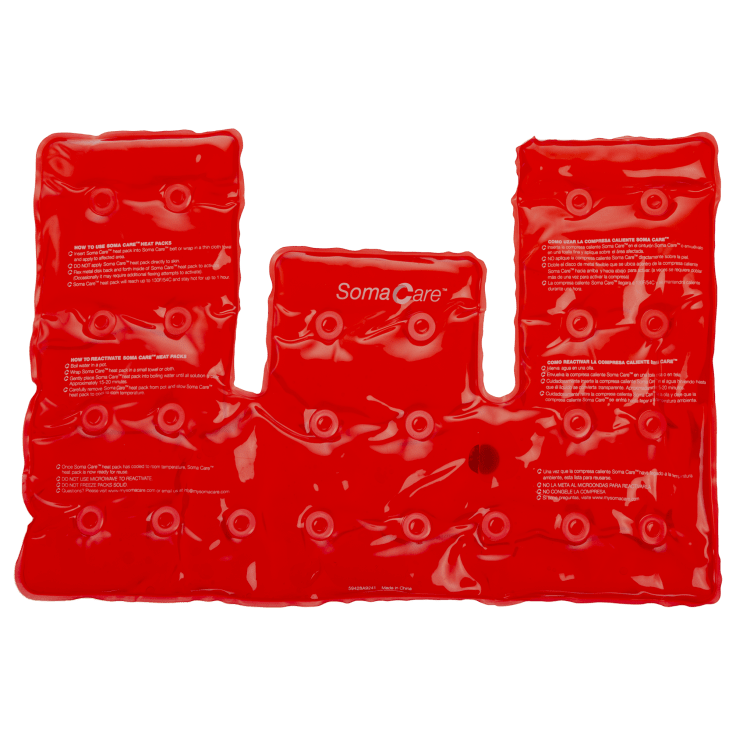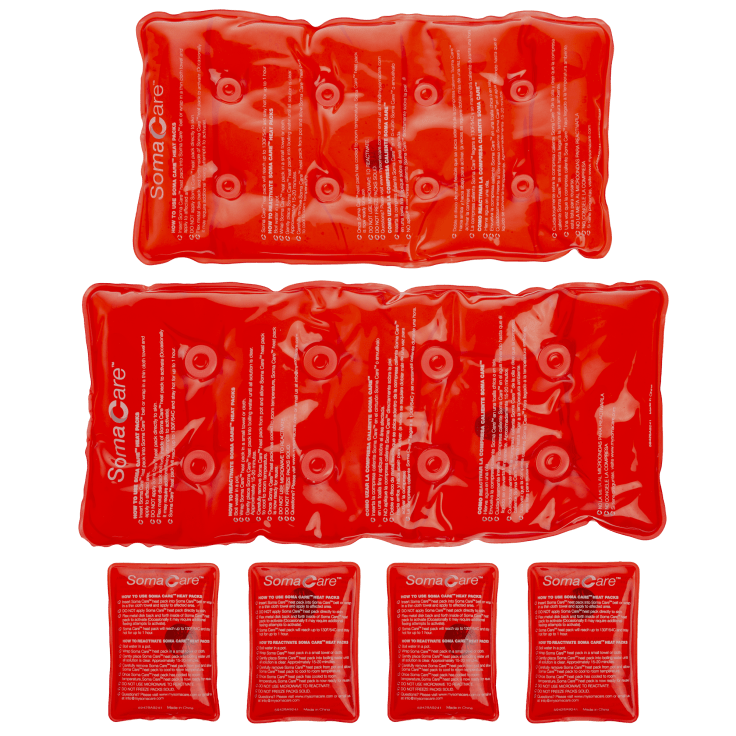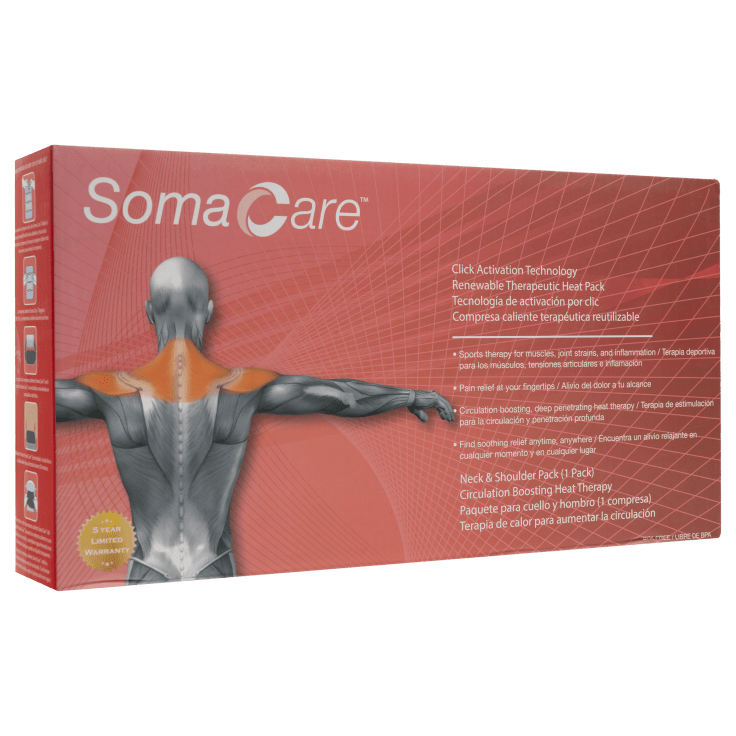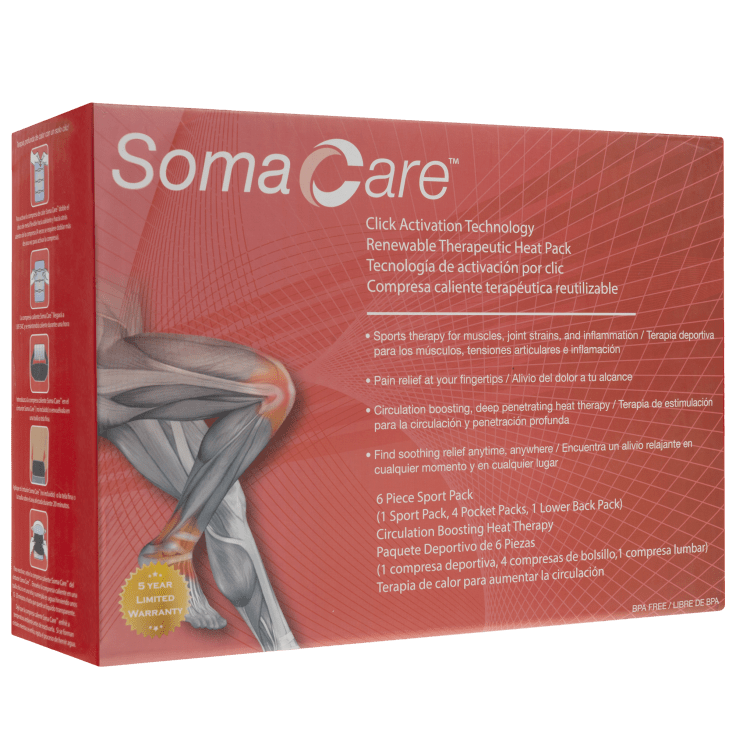 7-Piece SomaCare Reusable Heat Pack Combo
Features
Deal includes 7 therapy heating packs of assorted sizes
Wrap your tension-filled body in comforting warmth with our Soma Care Renewable Therapeutic Heat Packs
Whether you've spent too much time at a desk or experience chronic pain because of an old injury, you'll love how quickly our heat therapy breaks down the stress you hold in your body
Using the penetrating heat of our hot packs on knotted, aching neck and shoulder muscles will give you soothing release from tightness
Sports Heat Pack (6 Piece)
Perfect For:

Sports injuries anywhere in the body
Muscle tenderness and spasm
Sore tendons

6 Pieces Included:

1 Sport Pack
4 Pocket Packs
1 Lower Back Pack
Bpa-Free
Reusable
Neck and Shoulders Heat Pack
Perfect For:

Chronic lower/upper back pain
Abdominal cramps
Muscle tenderness
Muscle spasms

1 Piece Included
Specifications
Here Are Some Tips For Using Your Soma Care Heat Pack:

Apply your heat back to muscles for 15-20 minutes prior to physical exertion to maintain limber muscles and tendons.
Use your heat pack where you experience pain for up to 20 minutes.
For swollen areas, apply cold first, then heat.
Avoid using on areas where the skin is broken or you have an open wound or stitches.

Direction:

Please follow these instructions carefully to ensure you get the most out of your heat therapy pack.
To activate heat therapy, find the metal disk inside the pack and flex it back and forth. The pack will reach a temperature of 130°F/53°C and stay hot for up to 1 hour.
To reset the pack after use, wrap it in a cloth towel and place it in a container of boiling water for 15-20 minutes. Allow cooling.
What's included?
7-Piece Somacare Reusable Heat Pack Combo
Warranty
Reviews
Verified Purchase
LOVE this
I hurt my knee and this product has been great and good for shoulder stress after work LOVE it 100%
Written by @nwolf12 - May 1st 2021
Verified Purchase
HEATING PAD AT YOUR FINGERTIPS
HAVE ONE FROM YEARS AGO AND DECIDED TO SPREAD THE AMAZING HEATING PADS TO PEOPLE I LOVE.
Written by @dkwalding - November 15th 2021
Verified Purchase
I love this...
You click the tab the product heats up and your comfy… the out in boiling water to refresh and sanitize. Ready to use again!
Written by @rmcgrew2 - March 17th 2021
Verified Purchase
This is Awesome
I love these and the price is perfect I purchased 4 sets…
Written by @angie7684 - May 3rd 2021
Verified Purchase
Awesome 👌
A.W.E.S.O.M.E. So needed for arthritis in my neck. Highly recommend

Written by @ANTIQUE - May 2nd 2021
Verified Purchase
I didn't open it it's a Xmas gift! I'm sure it's fine
Written by @wiltrout - December 12th 2020
Verified Purchase
Thank for it arrived last week just waiting on speakers
Written by @Boyshere - December 16th 2020
Verified Purchase
Written by @fsdefi - May 22nd 2021
Verified Purchase
Excellent item works very well
Written by @freemeez - April 25th 2021
Verified Purchase
Great for the value
Several different sizes very handy in a pinch
Written by @Alex1300 - August 19th 2021
Verified Purchase
Product is hard to use
I have a similar product with a small disc to active the liquid. The product I already have is very easy to use, one click is all it takes. With this product the disc is hard to find and once you locate it it takes several clicks to activate it. The smaller the pad the harder to use.
Written by @mari3911 - July 19th 2021
Verified Purchase
Too much chemical smell!
This was not what I expected! The smell is too much. They do not hold heat long and are very strong chemical smell! They were not at all what I expected. Please tell me how to return and get a refund
Written by @Bonnielee151 - February 13th 2021
Verified Purchase
Not impressed. Instructions make no sense. Waste of money
Written by @jeanniex2 - July 16th 2021