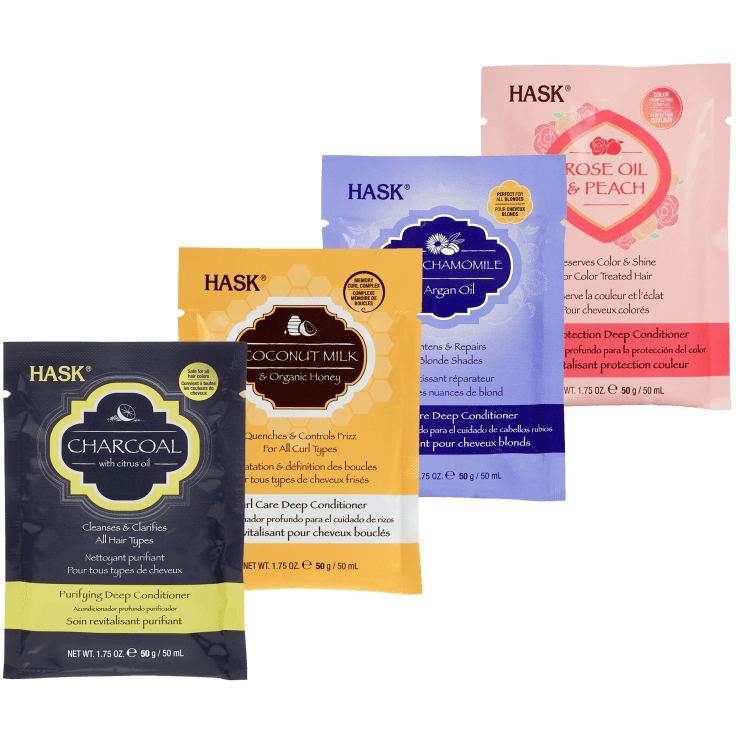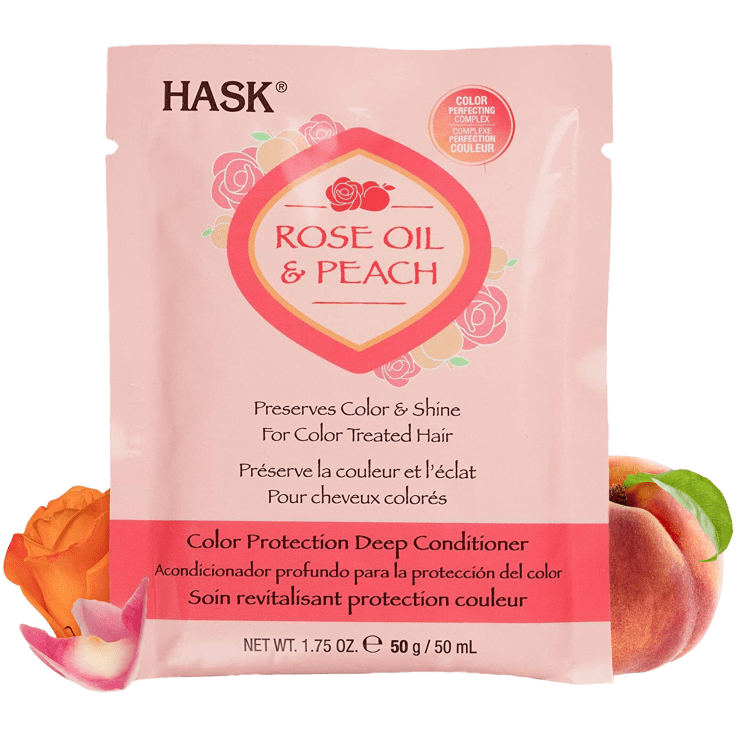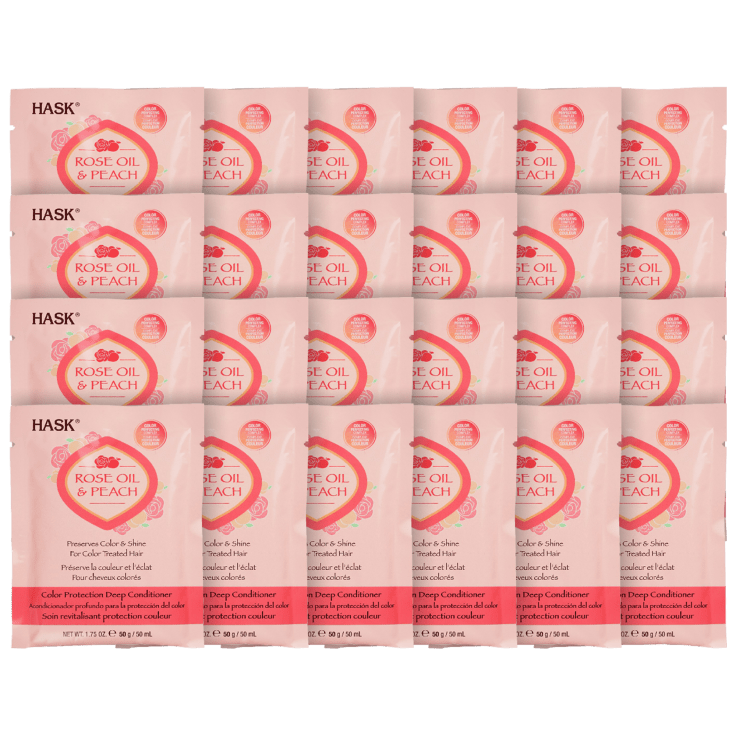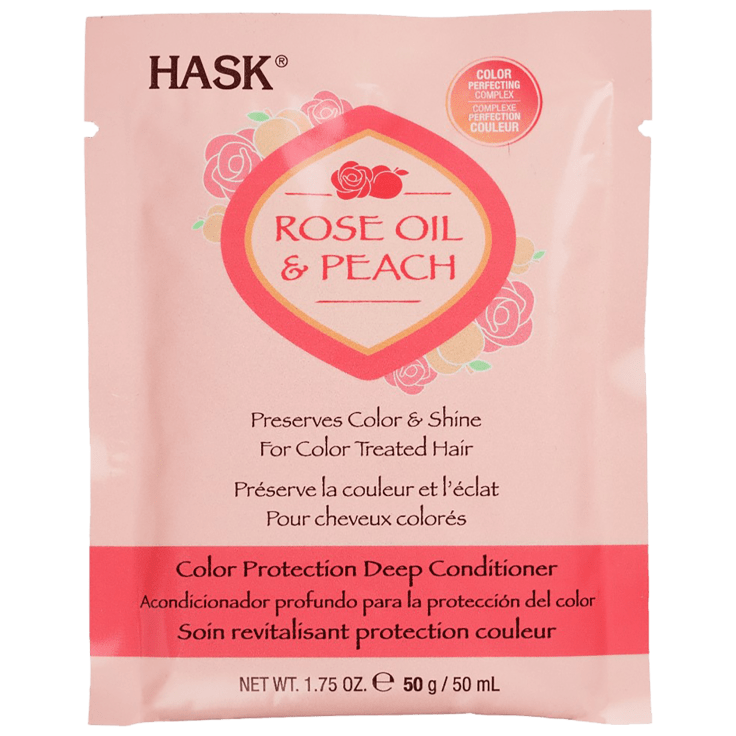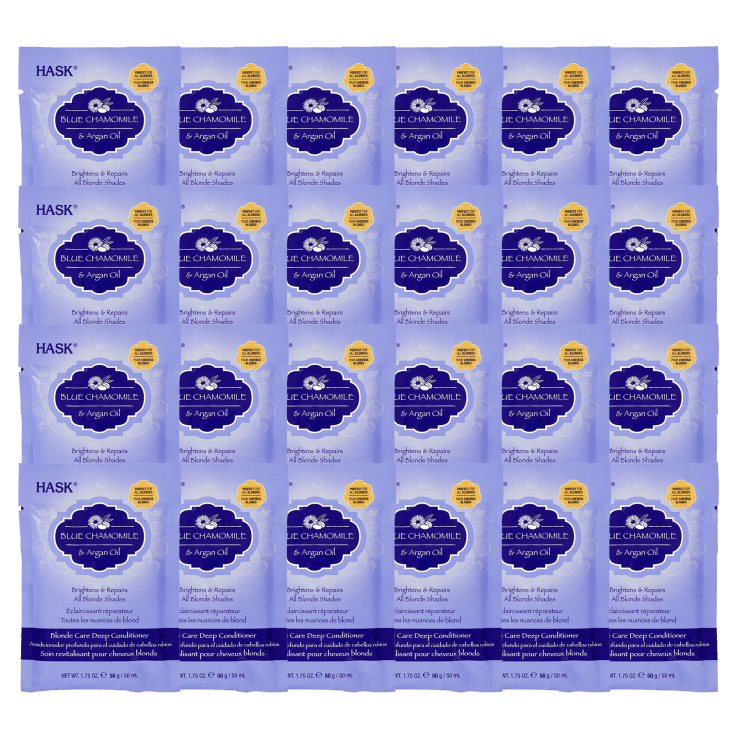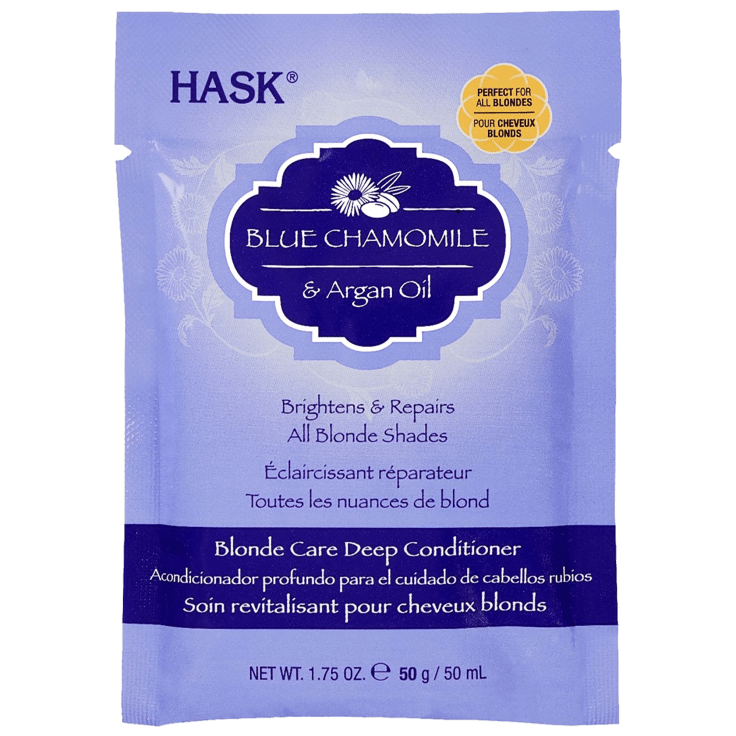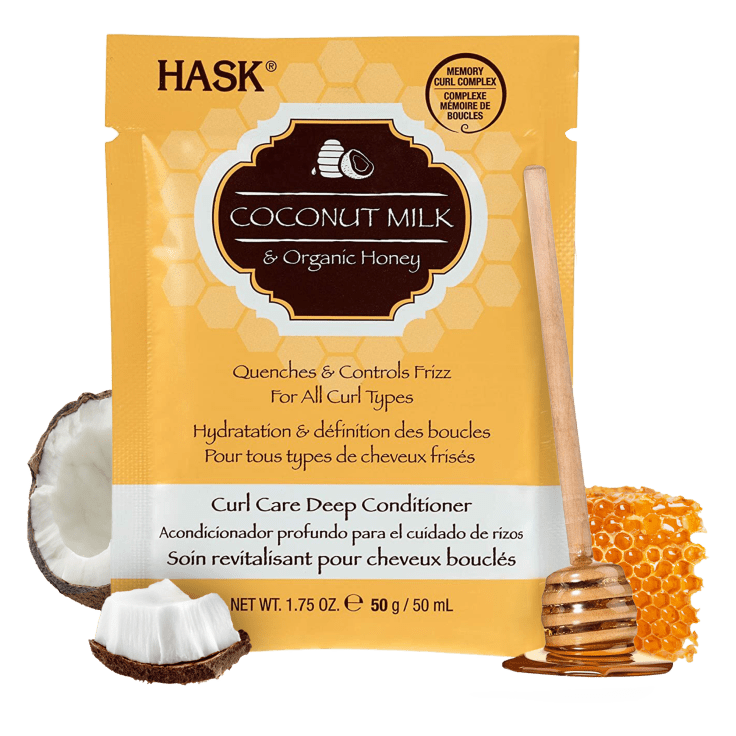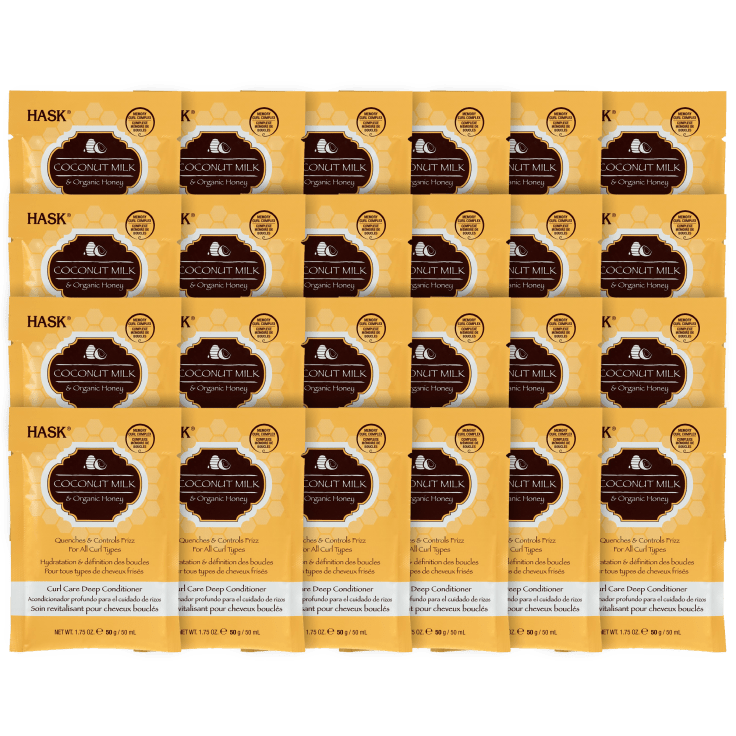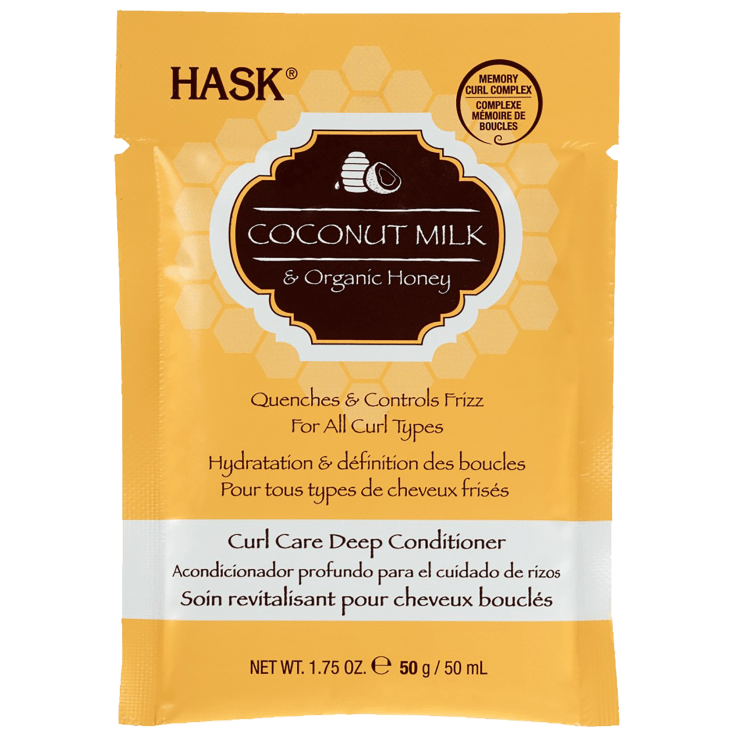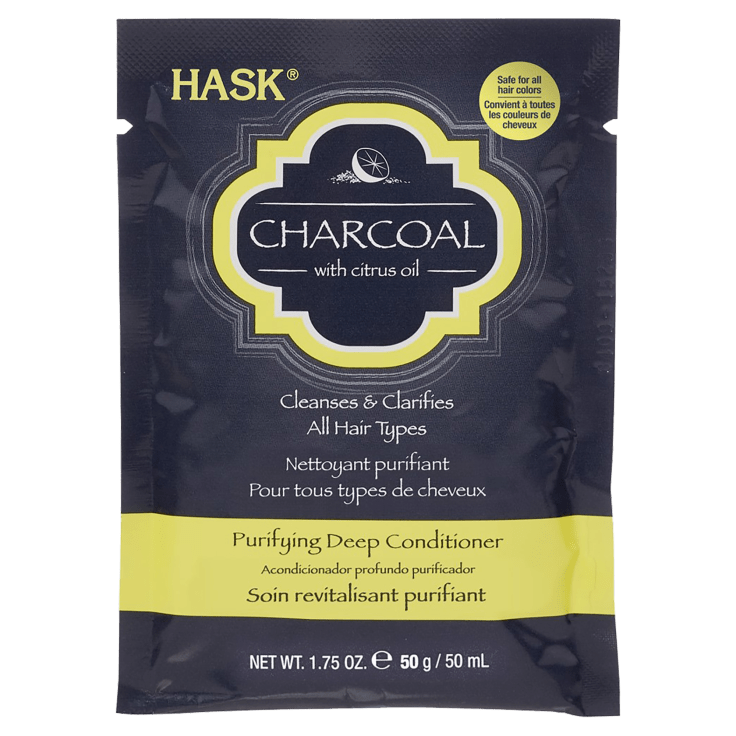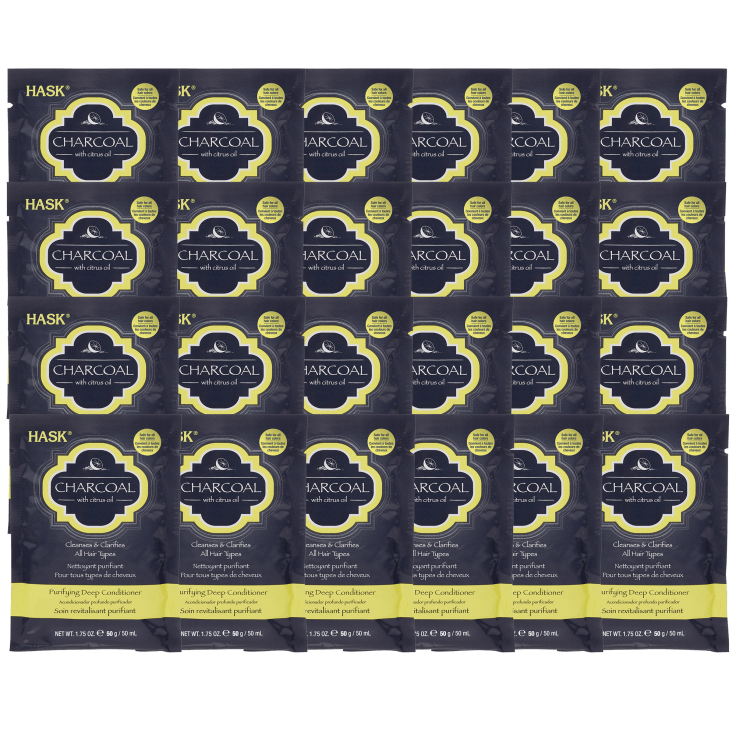 24-Pack: Hask Deep Conditioning Hair Mask Treatments
Features
Hydrate your hair with these deep conditioning masks!
Using 1 or 2 a week, this deal will last you 3 - 6 months!
Includes 24 of one mask type best suited to your hair type
Rose Oil & Peach Color Protection Deep Conditioner
Preserves color & shine with color perfecting complex

A moisturizing blend with hydrolyzed quinoa to help fight fading and seal in shine

Free of sulfates, parabens, silicones, phthalates, gluten, drying alcohol, and artificial colors
Don't let color fade away!
Perfect it with this nourishing blend of rose oil and juicy peach to help replenish moisture and restore radiance
Helps to strengthen strands, smooth frizz, and boost shine to maintain a vibrant color
Size (Per Mask): 1.75 OZ. ℮ 50 g / 50 mL
Coconut Milk & Honey Curl Care Deep Conditioner
Quenches & controls frizz for all curl types with memory curl complex

A curl enhancer that helps define every twist and turn with perfect frizz-proof control

Free of sulfates, parabens, silicones, phthalates, gluten, drying alcohol, and artificial colors
This deep conditioning treatment hydrates curls for frizz-control and definition
Nourishes, softens and keeps unruly curls in line while delivering extra bounce and shine
Size (Per Mask): 1.75 OZ. ℮ 50 g / 50 mL
Blue Chamomile & Argan Oil Blonde Care Deep Conditioner
Brightens & repairs blonde hair
Free of sulfates, parabens, phthalates, gluten, and drying alcohol
This blue-violet treatment helps reduce brassiness and provides intense moisture to coarse, dry hair
Formulated with blue chamomile to help boost blonde tones and argan oil to help repair soft, silky strands
Size (Per Mask): 1.75 OZ. ℮ 50 g / 50 mL
CHARCOAL with CITRUS OIL REPLENISHING DEEP CONDITIONER
Restores & detangles all hair types
Non-staining & safe for all hair natural or dyed
Free of sulfates, parabens, silicones, phthalates, gluten, drying alcohol, and artificial colors
This deep conditioner is a super-moisturizing, replenishing treatment that will nourish and soften all hair types (including color-treated hair)
Charcoal, derived from coconut shells, combined with citrus oil, absorbs impurities and helps restore moisture
We promise, the charcoal washes out!
Size (Per Mask): 1.75 OZ. ℮ 50 g / 50 mL
What's included?
24-Pack: Hask Single Use Deep Conditioning Treatments In Your Style Choice
Warranty
Available States
AL, AZ, AR, CA, CO, CT, DE, DC, FL, GA, ID, IL, IN, IA, KS, KY, LA, ME, MD, MA, MI, MN, MS, MO, MT, NE, NV, NH, NJ, NM, NY, NC, ND, OH, OK, OR, PA, RI, SC, SD, TN, TX, UT, VT, VA, WA, WV, WI, WY, AK, HI
Reviews
Verified Purchase
ABSOLUTELY PERFECT!!!
I "KNEW" they would be PERFECT!! Rose Oil and Peach Conditioners are the BEST, and "even though" I don't have color-treated hair, I LOVE using them on mine! 'TWO THUMBS UP!'
Written by @Monilive - June 15th 2021
Verified Purchase
Looks great
Haven't tried it yet.
It's something my hair and scalp has been calling for. Thick full pouches

Written by @DAILYTV - June 12th 2021
Verified Purchase
Soft and luxurious hair
I absolutely love this hair mask. My hair is so soft and shiny and healthy looking
Written by @campbellland - November 17th 2021
Verified Purchase
Great hair conditioning treatment
I liked these a lot, and one package goes a long way, so there are plenty of packets to share with family & friends.
Written by @wnt2save - July 30th 2021
Verified Purchase
This stuff WORKS!!
My second order. "They're the BOMB!!"
Written by @Monilive - July 9th 2021
Verified Purchase
Haven't use this either just got it this morning but it smells good and I hope it does the trick for what I need it for for I hope it works for dry hair so I'm going to give it a try thank you
Written by @anniesApple3348 - January 8th 2022
Verified Purchase
Written by @kshieldskim - December 12th 2021