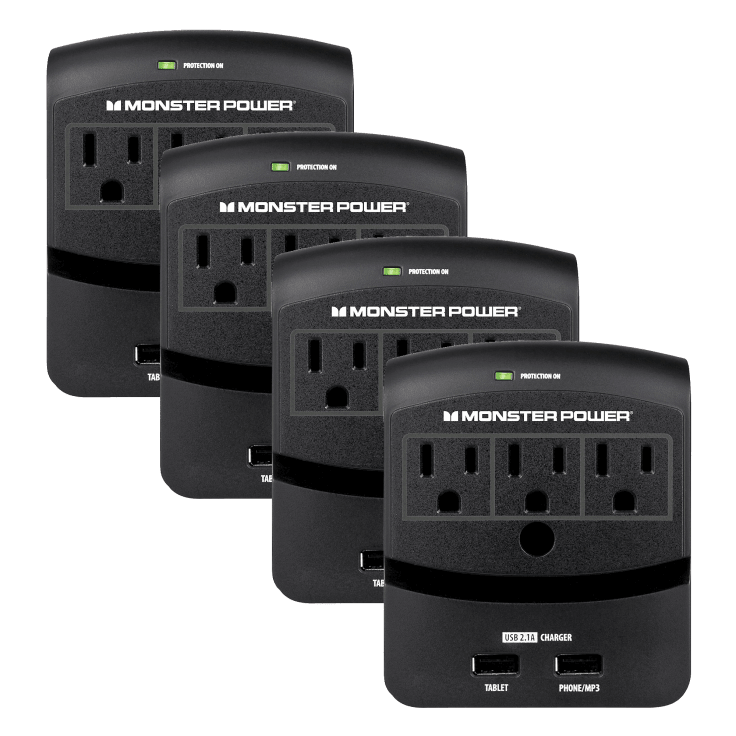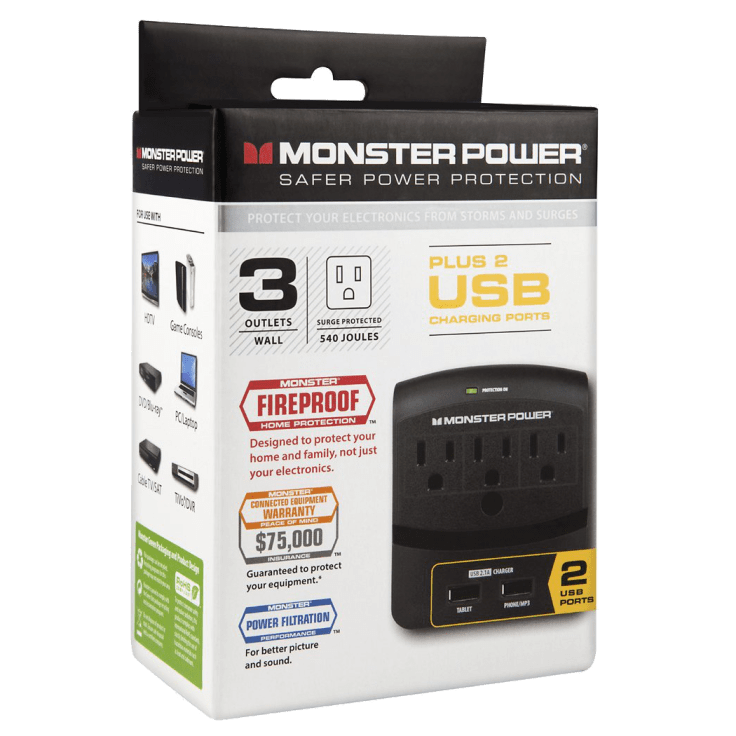 4-Pack: Monster Core Power 350 Triple Wall Outlet with 2.1A USB
Features
Monster® Fireproof Power Protects Your Home and Family
Power surges can be serious. Not only could you lose your home entertainment system and home office electronics – you could lose your home. Standard surge protectors account for 37% of all home electrical fires. Protect your electronics from storms and surges with Monster Power. Only Monster has Fireproof MOV™ Technology that protects more than just your electronics, but also your home and family. The Core Power 350 USB Wall Outlet features 540 Joules of protection.
Prolong the Life of Your Equipment
You've made a serious investment in your home entertainment system, not to mention your home. One or even both can be wiped out in an instant. At a minimum, a surge can reduce the lifespan of your electronic equipment. Sending a sudden jolt of electricity, it can easily short out–destroying all in the process. Our Connected Equipment Warranty offers $75,000 worth of coverage for any device connected to the 350 that is damaged due to negative power conditions.
Better Sound and Picture
The power in your home is subject to interference or noise that can be seen and heard on your system. Our surge protectors include Monster Clean Power® technology to help ensure that your components perform at peak levels. EMI/RFI Filtration mean better sound and better picture.
Sleek Profile
This USB Power Surge Protector plugs into the wall, making it a great option for stashing behind furniture. Where other surge protectors rest below furniture to create a cluttered aesthetic, this one stays hidden.
Charge and Protect Mobile Devices
Featuring USB charging, this surge protector safeguards not only your AV equipment, but powers and protects mobile devices, like a smartphone or tablet.
Specifications
Model# MP EXP 350
3 outlets
2 USB ports charge and protect mobile devices
540 joules
Wall mount design
Durable case for rugged use
EM/RFI filtration for better picture and sound
Ideal for HDTVs, computers, receivers, DVD/Blu-ray players and cable/set top boxes
Monster fireproof technology
Protection "on" indicator
Safety Agency approved
$75,000 connected equipment warranty
Warranty
Estimated Delivery Date
Tuesday, June 16th - Monday, June 22nd. Due to a high volume of orders, delivery times are longer than usual.