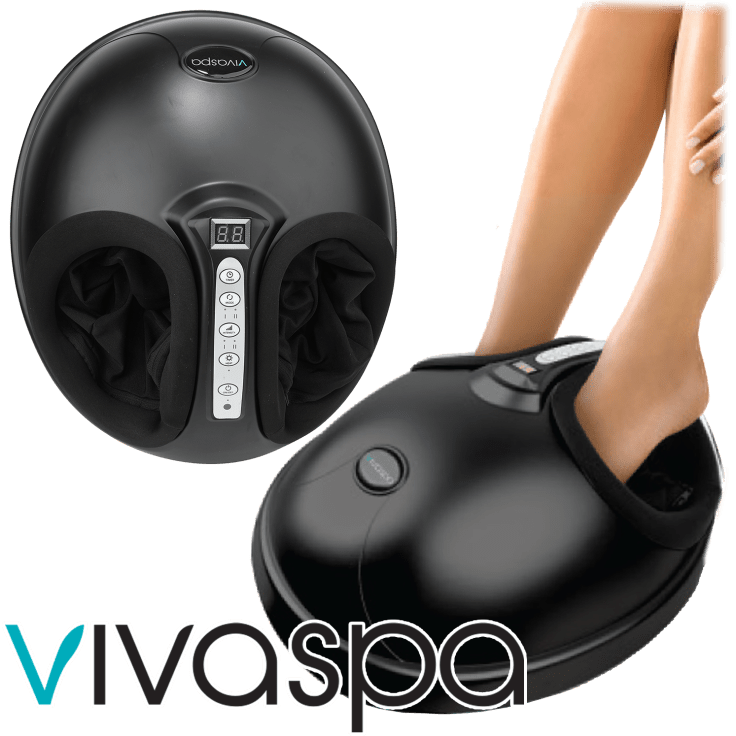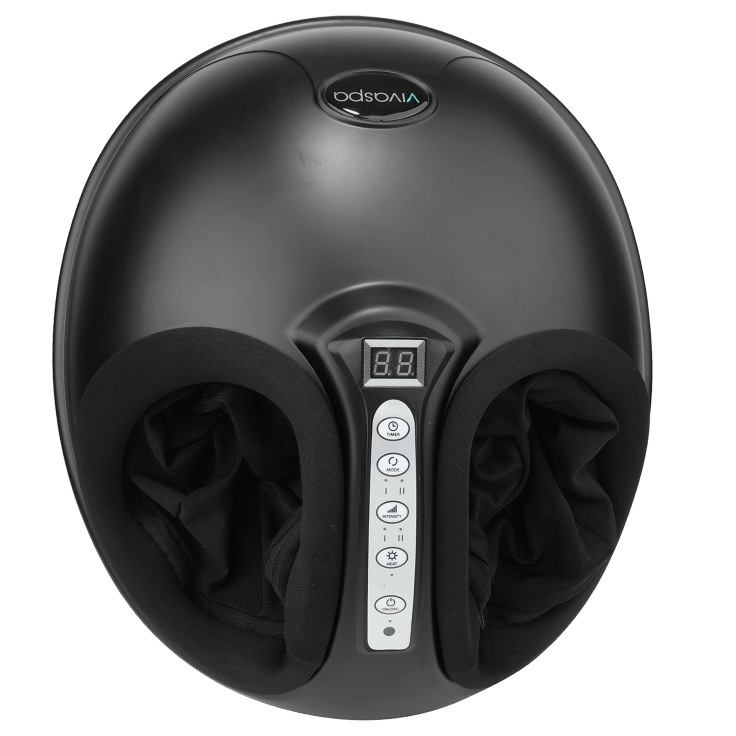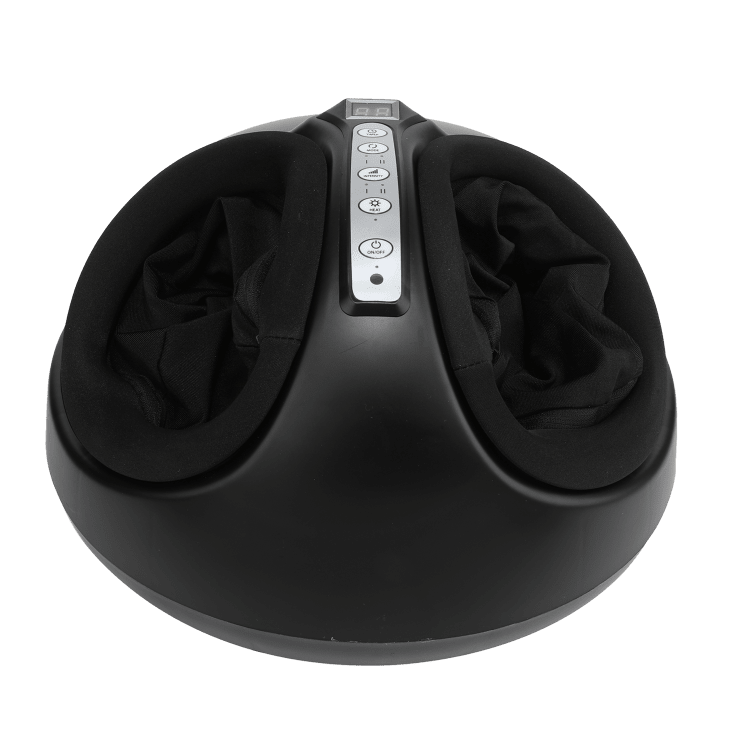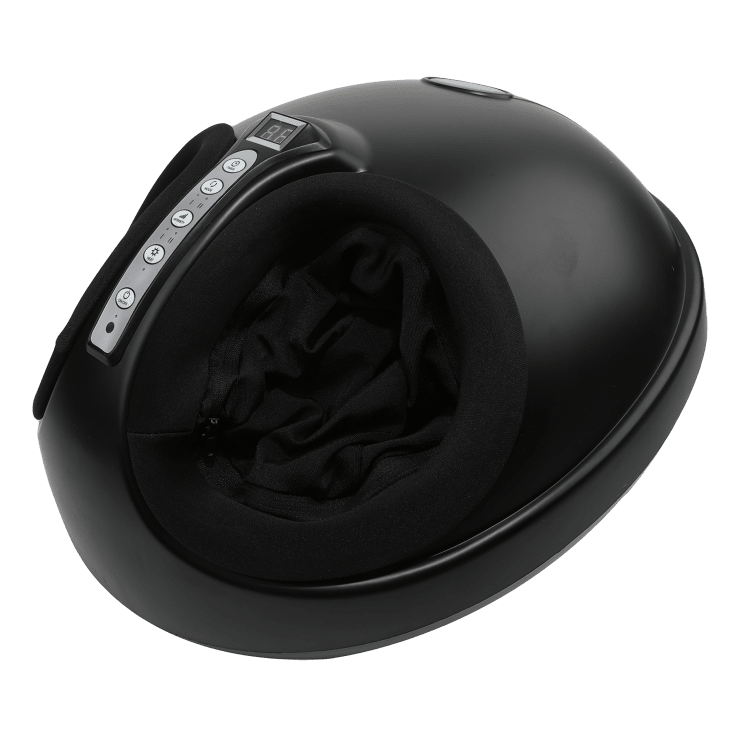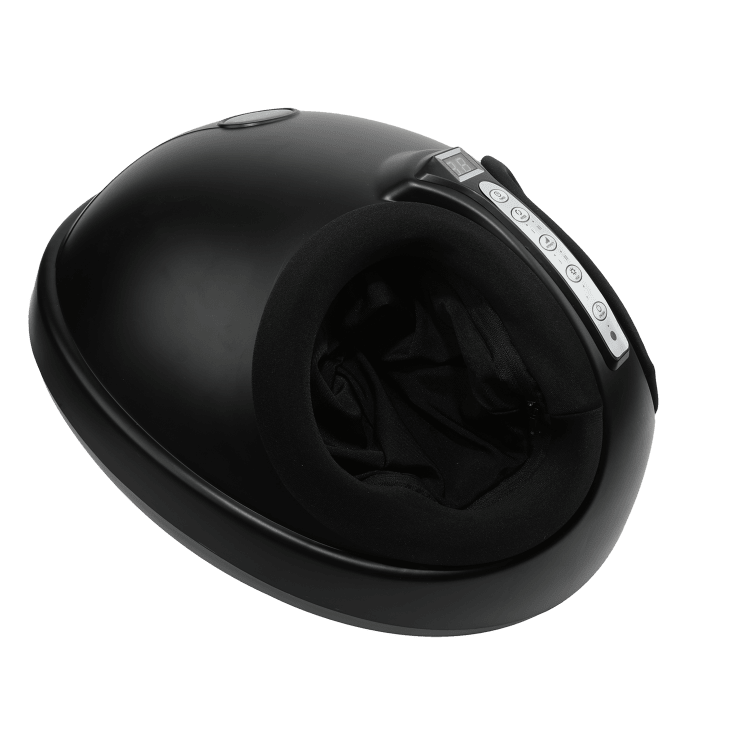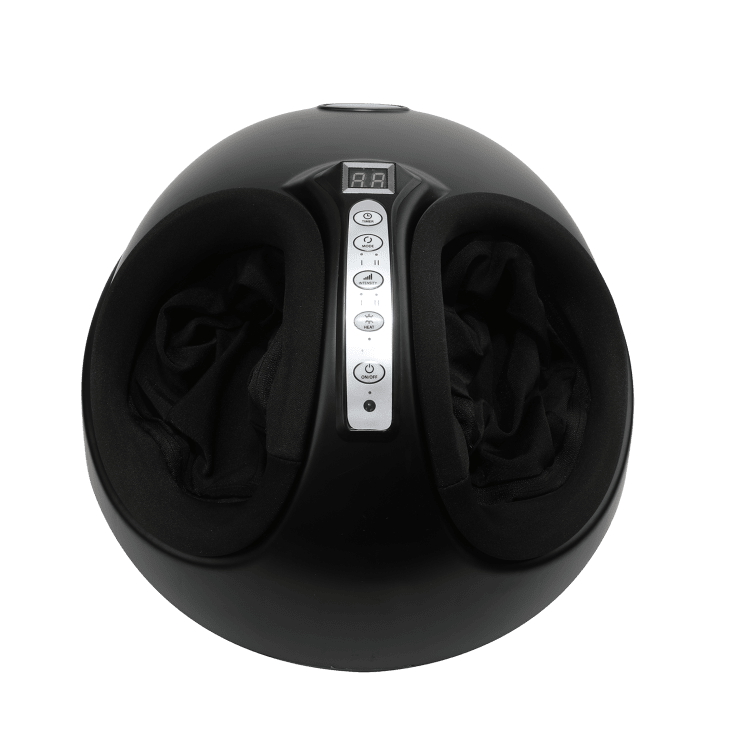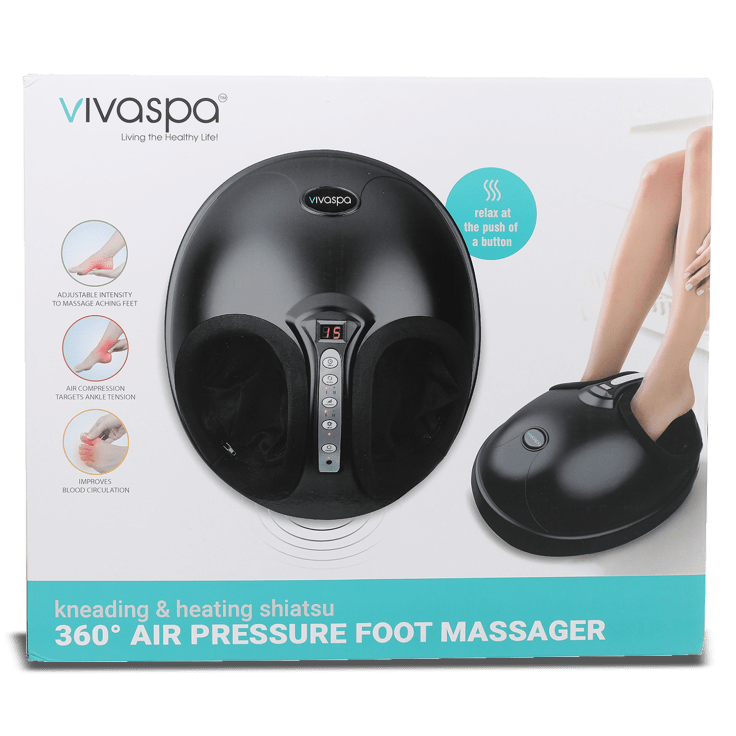 VivaSpa Shiatsu Air Pressure Foot Massager with 360 Degree Heat and Kneading
Features
Relax after a long day with an at-home massage. The air compression targets ankle
tension, the adjustable intensity massages your feet and improves circulation.
Wireless Remote Control
Washable Foot Sleeves
LCD Display & Massage Nodes
Portable & Stylish Dome Shaped Design
SWITCHING MODES
By pressing the Mode Button on the massager
or on the remote you can choose among three
different massage modes. Each mode offers
varying treatment depending on your needs.
MODE 1
This mode provides the most complete massage
experience. You will feel the massage pads rolling,
kneading and gently scratching your heels, front soles
and arches. In addition you will feel some air
compression treatment for your ankles.
MODE 2
This mode focuses primarily on treatment for the
arches and front soles with only light treatment for the
heels.
MODE 3
This mode consists primarily of treatment for the
ankles with heavy emphasis on compression.
Specifications
Rated Power: 40W
Rated Voltage: 110-250V
Timer: 5-30 minutes
INCLUDED IN THE BOX
1 x MS-1600 Kneading & Heating Shiatsu 360° Air Pressure Foot Massager
1 x User's Manual
1 x Warranty Card
Warranty
Reviews
Verified Purchase
Amazing
It feels amazing on my feet
Written by @Qutarjones29 - May 5th 2021
Verified Purchase
This really makes my feet feel so good!
Awesome! I especially like the different settings available
Written by @retired2now - December 5th 2020
Verified Purchase
I absolutely just love it!
It's so relaxing

I have never felt so relaxed…
The best foot message ever & I received my merchandise very quick
Written by @Sanderslady03 - October 8th 2020
Verified Purchase
Foot massager
Very good. Happy to have
Can I other another one
Written by @Tsimm2 - September 29th 2020
Verified Purchase
Wow so relaxing
Enjoying the foot 🦶 massage it's so relaxing and it releases the stress that's built up in your feet.
Written by @panina - August 23rd 2020
Verified Purchase
I will recommend the product to my friends and family.
Written by @SYEllis7 - August 21st 2020
Verified Purchase
Heaven!
Foot massage therapy heaven in a little black box!!
Written by @TiniSG - August 15th 2020
Verified Purchase
A deep massage with healing benefits
I've only used this Foot Massager twice, but it has relieved a lot of pain I'm experiencing in my foot from Morton's Neuroma. The deep massage it gives has a soothing effect. The heat is a plus. However, I wish I could feel more pressure in the heel and ankle area. It does reach the most significant part of my foot which is so important. There will be no therapy for me. I have it right here at my fingertips! Thank you Morningsave!
Written by @faysfavor - July 29th 2020
Verified Purchase
Best invention ever.
I can't believe how good this feels. I love it. Well worth the price.
Written by @michelletsz - July 24th 2020
Verified Purchase
I love this foot massager its great and helps my feet with circulation and pain
Written by @deeandsammy - December 12th 2019
Verified Purchase
Great product
Tried it right away and have been using it everyday
Written by @peachmelba17 - July 21st 2021
Verified Purchase
The remote control doesn't work, and it only massages the bottom of the foot.
Written by @trevensmom - August 30th 2021
Verified Purchase
I need a new one this one only has 1 foot that works
I was so excited for Christmas and only 1 foot works i need to return for a replacement massager / one NEW one. please advise. thanks Nance
Written by @atsp - December 25th 2020