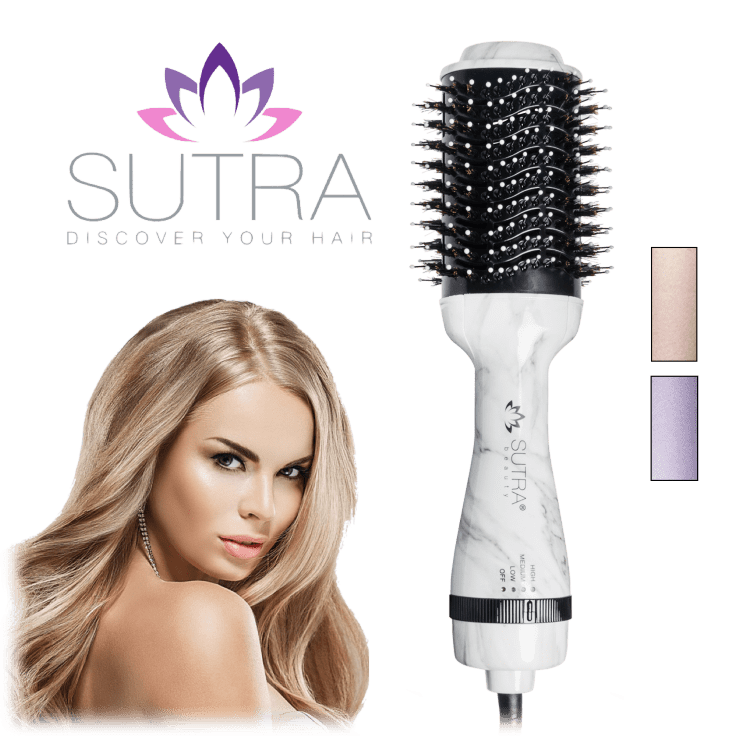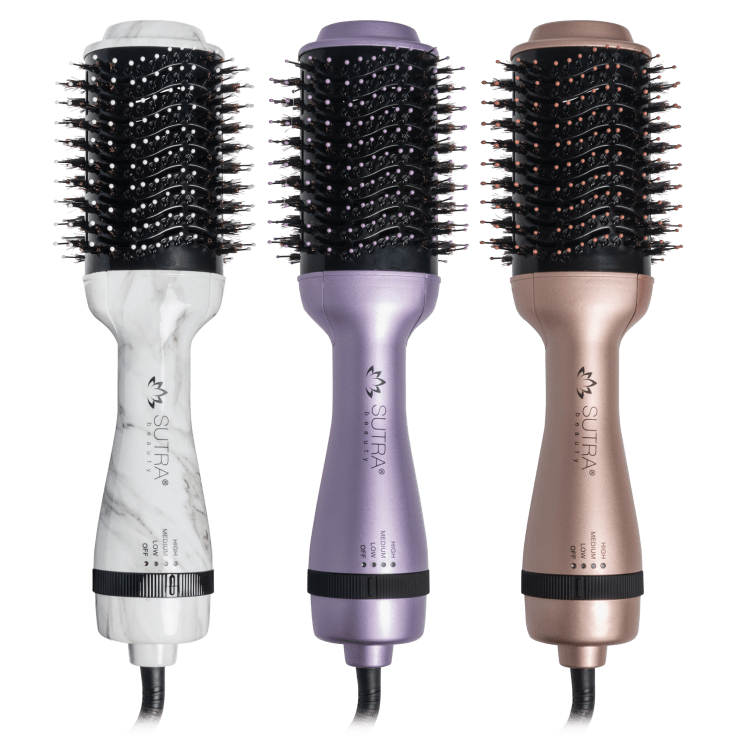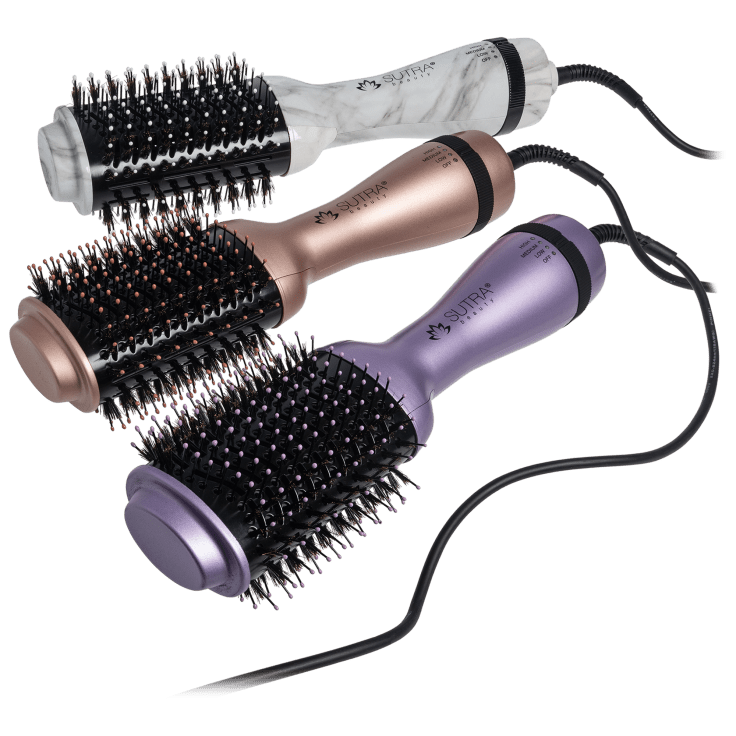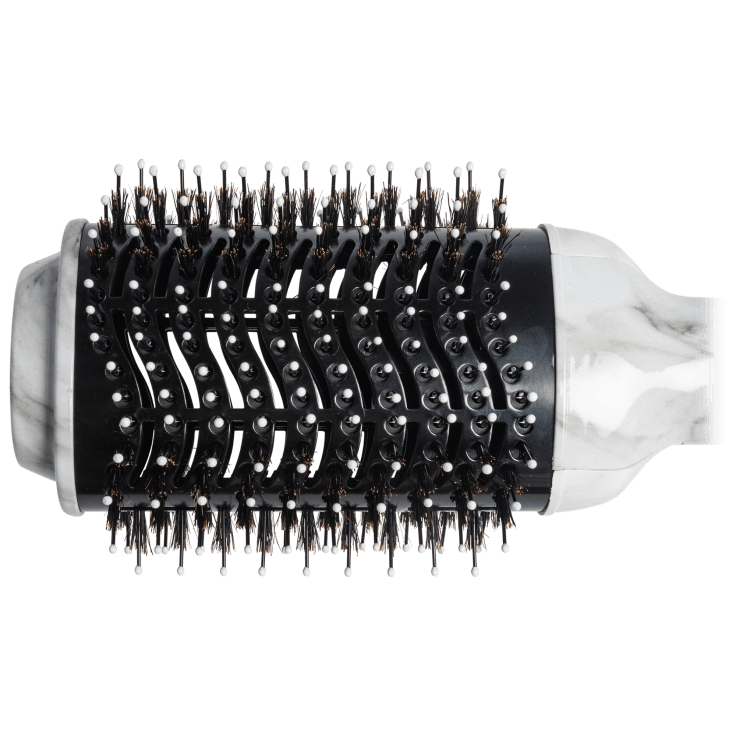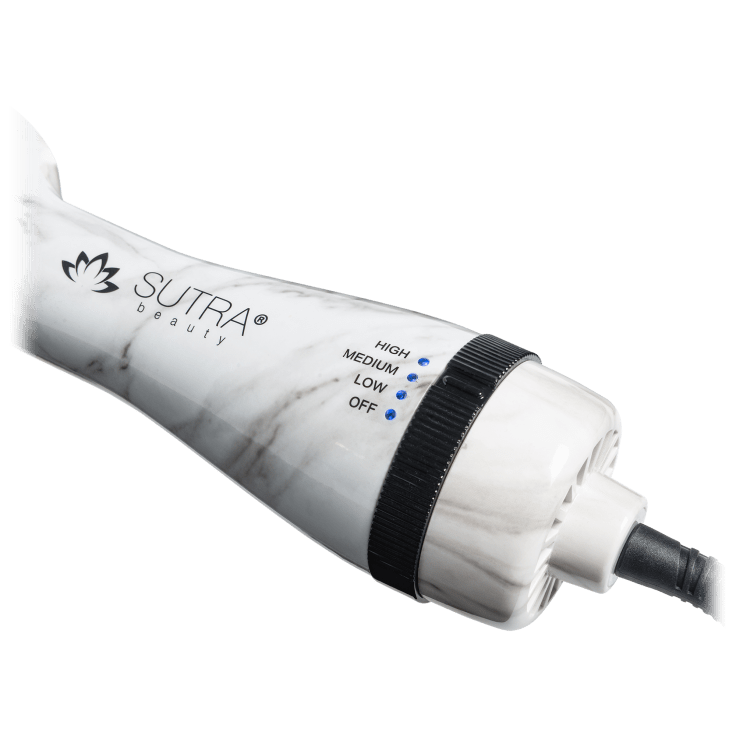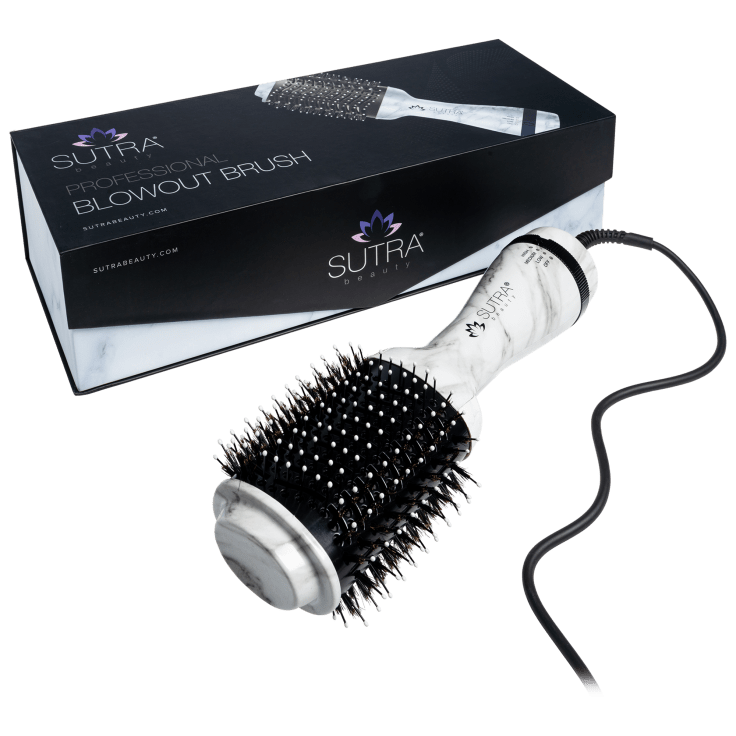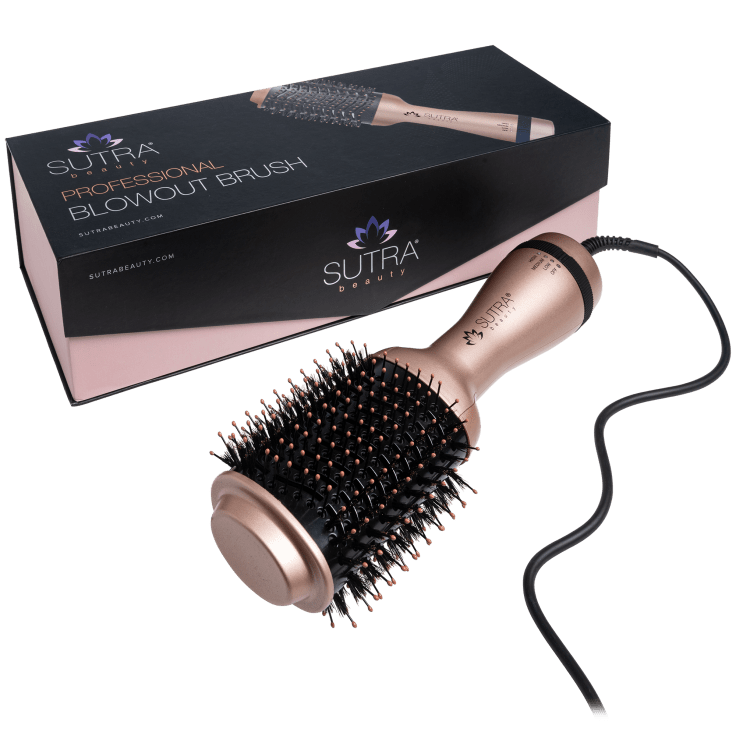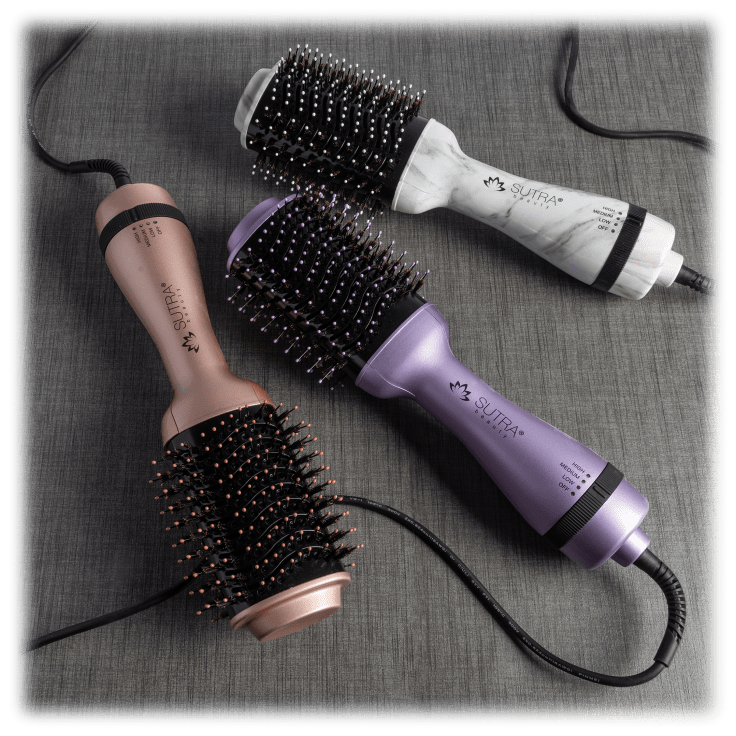 Sutra Limited Edition Professional Blowout Brush (Hair Dryer & Styler)
Features
Available in three Limited Edition Colors: Metallic Lilac, Metallic Rose Gold, and White Marble
The Professional Blowout Brush gives you a Salon quality blowout with the touch of a button
The unique design combines the powerful airflow of a dryer with the smoothing and volumizing benefits of a round brush in one tool
It'll dry, smooth and style your hair up to 50% faster than your normal routine
Helps protect your hair from heat-related damage so you get smooth, frizz-free styles and fast results every time
Tourmaline Technology: negative Ions retain hair moisture and give an added boost, resulting in silky shiny hair
6-foot long 360-degree swivel cord allows you the flexibility to style freely without tangles to the cord
Specifications
1000W Power DC Motor
Dries hair while volumizing
Lightweight design
3 Heat setting: High, Medium, or Low
3-inch barrel and widest side
Low-dry function
Easy grip handle
Features:

Detangling Bristles
Air Ventilation
Ergonomic Handle
Light Indicator
Control Switch
6-foot long 360-Degree Swivel Cord
Included In The Box
1x Sutra Professional Limited Edition Blowout Brush
Warranty
Estimated Delivery Date
Tuesday, January 28th - Monday, February 3rd
Reviews
Verified Purchase
WOW!!!!
This is a Christmas gift for my granddaughter and while it hasn't been used yet, the present definitely has that WOW factor. This is a beautiful brush. I felt the bristles and was impressed with their feel. I can't wait for her to try it!!!
Written by @heidisz - December 19th 2019
Verified Purchase
Written by @marzicast - December 11th 2019
Verified Purchase
Fast arrival, Great packaging
Bigger & better than expected. Easy, especially with one sore shoulder. I don't know how I've never seen one of these things (I'm challenged in the blow out of my medium length, thin hair). I would love to get another as a gift.
Written by @Stacytx3 - December 10th 2019
Verified Purchase
Body
Written by @debdenbleyker - December 5th 2019
Verified Purchase
I was thrilled to receive my professional blow out brushes today in the mail. I bought them as Christmas gifts for my daughter and daughter in laws. They will love them… I am pleased with the quality, price and colors. They were delivered in less than a week!
Written by @CarolOhs - December 3rd 2019
Verified Purchase
Sutra Professional Blowout Brush
Great quality and value.
Makes my morning easier.
Written by @patriciabratus - December 2nd 2019
Verified Purchase
Gives great volume to fine hair
I love everything about the Sutra Blowout Brush. I run it on medium and it does great (not too hot or too windy). Love the way it makes my hair look full and bouncy. It is not hard to operate by yourself. LOVE this product.
Written by @PATSYCORNFORTH - November 30th 2019
Verified Purchase
It's best if your hair is on the dry side and just needs a touch up. From actual start to finish on wet or damp hair product not effective enough
Written by @nmaragh - December 8th 2019
Verified Purchase
The good and the bad
It's extremely noisy, it's big and bulky. It drys fast and adds a nice shine. I would not recommend for anyone with arthritis in the hands
Written by @vickilynn56 - November 30th 2019
Verified Purchase
This has a very thick handle to hang on to! I found it very uncomfortable and awkward to be able to handle it however I do have arthritis in my hands (until god heals me). Customer service at morning save is A+++ !! Particularly, jayme at morning save !!! Please feel rest assured to make purchases from this company!! I have made many and could not be more pleased!!!
Written by @missunshine4 - January 20th 2020
Verified Purchase
This bursh is not like the picture it is 2.5 times bigger and wider than a large roll brush and it is not round.
The picture is very misleading and does not look like the picture it is 2.5 times bigger then a large round brush. what upsets me I did not get the item that I thought was purchasing that was shaped like my large round brush and this item is not like that at all. If I had seen the real picture that is not shown on this site or on tv, I would never have bought it and I paid 7.95 for shipping on top. very misleading and upsetting. I would like my money back.
Written by @saveitmorn78 - December 27th 2019
Verified Purchase
Not great...
This hair dryer/styler is HUGE and not easy to work with. The pictures do no give a realistic sense of proportion. I have long hair and it was very cumbersome to use, not to mention it was difficult to slide through the hair and caught on every miniscule tangle. It did not create any "bend" in the ends when styling. Also, extremely noisy on low and high settings. I felt that the amount of time I had to use the dryer and direct exposure to heat might cause damage to my hair. Ended up using my regular hair dryer and using other styling device. I wanted to return it, but apparently the return policy only allows for return of damaged items. Too bad…live and learn. I really wanted to like this product.
Written by @allendd - December 6th 2019