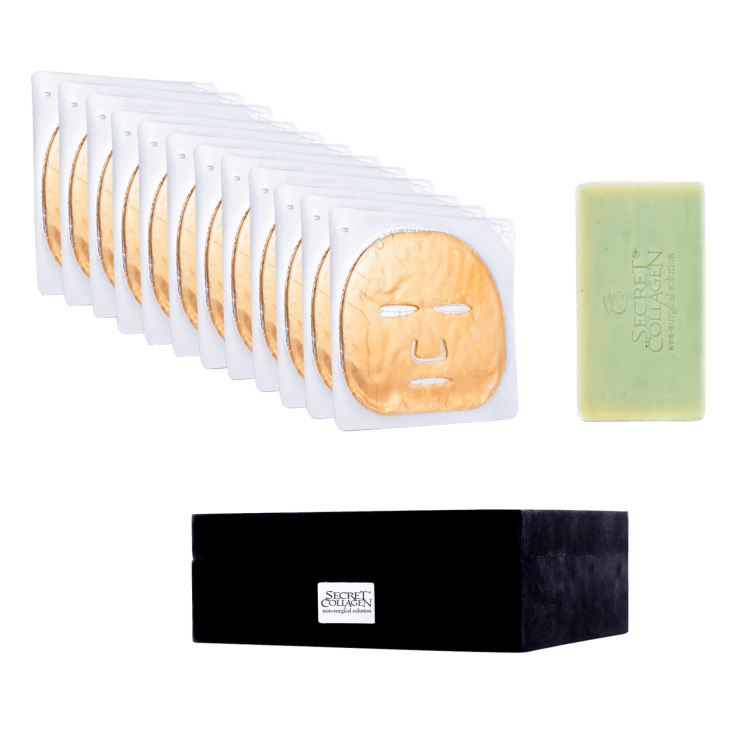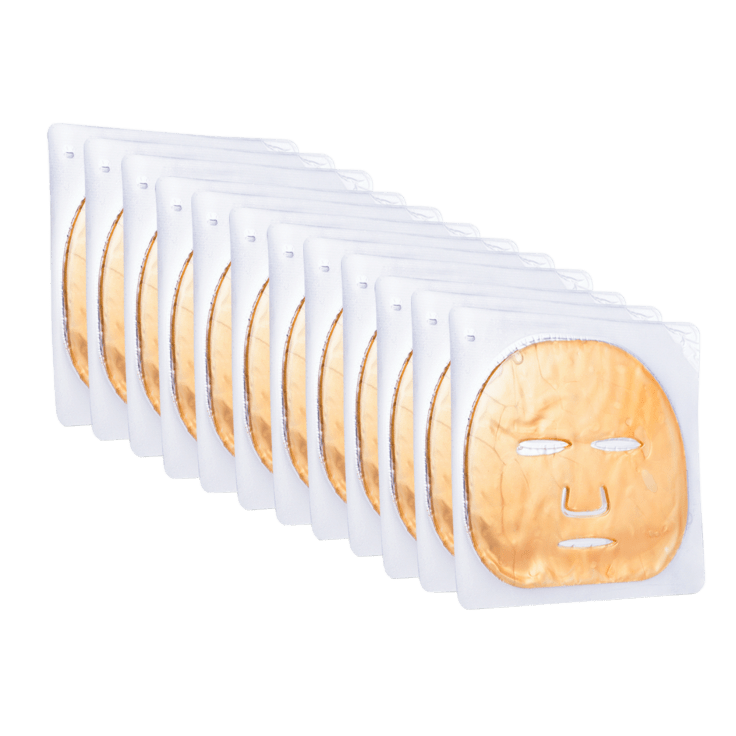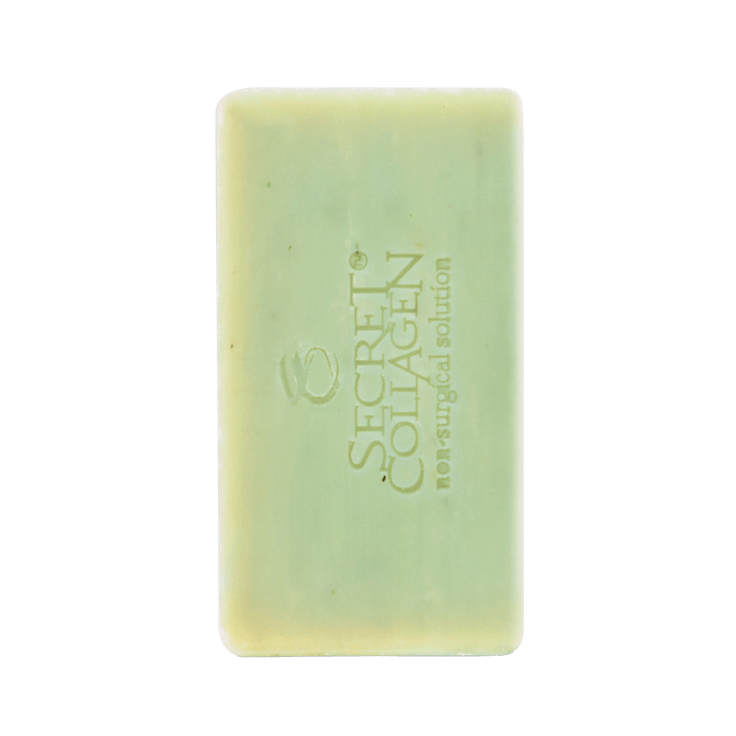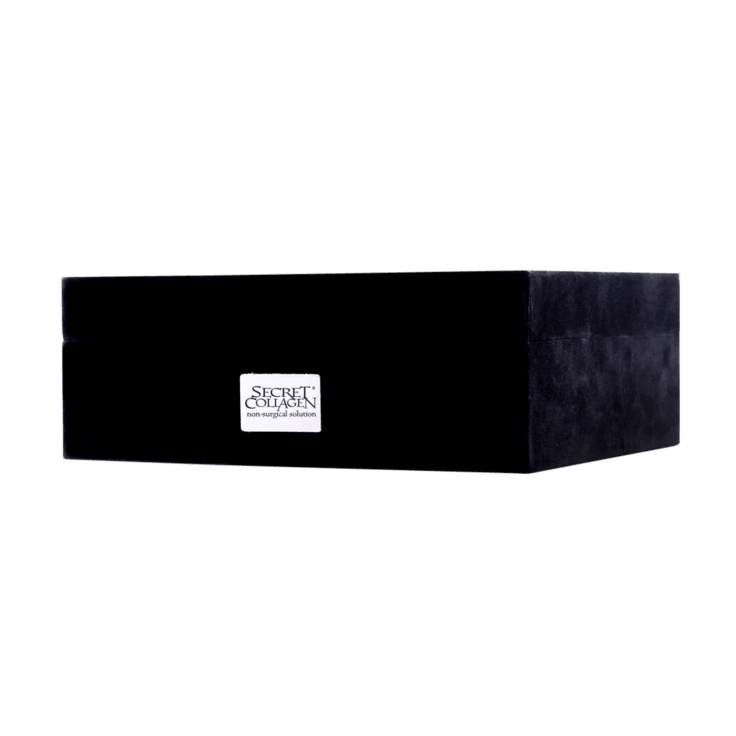 Secret Collagen Refresh & Relaxation Facial
Features
Multi-Vitamin E, A & C Facial Golden Masks - 12 Masks
This innovative Multi-Vitamin E, A & C Facial Golden Mask is formulated for use on all skin types. The breakthrough anti-aging formula provides your skin with the natural ingredients it needs to hydrate and replenish your skin keeping your skin looking youthful. This luxurious and all-natural skin treatment revitalizes your skin giving it greater definition and promotes cellular regrowth. Working beneath the top layers of skin, deep into the basal layer, this mask regenerates cells, fights damaging free radicals, stabilizes skin immunity and rehydrates the skin improving skin elasticity to reduce the appearance of premature aging. The breakthrough anti-aging formula enhances your skin by sculpting the facial tissue and even out your skin tone. The Multi-Vitamin E, A & C Facial Golden Mask is formulated with oxygen and multi-vitamins to brighten the skin's appearance and even skin tone. Vitamin E improves skin elasticity and decreases the appearance of wrinkles, reduces skin redness and helps increase skin firmness. Also, the oxygen increases blood flow and promotes faster healing as well as produces a smooth appearance of young, healthy skin while retaining healthy collagen levels. Benefits include:

Improves Skin Elasticity
Brightens
Improves circulation to the skin
Reduces redness
Reduces Fine Lines and Wrinkles
Rosemary Mint with Retinol and Collagen Soap
Hydrate and rejuvenate your skin with the bio-organic ingredients of Rosemary Mint Soap with retinol and collagen. The nutrients of rosemary can assist to protect skin cells from damage often caused by the sun and free radicals. Since rosemary has natural antiseptic properties, it's a superior disinfectant for the skin. Mint has an extremely refreshing and soothing effect on your skin. When applied to the skin, it allows it to relax while acting on any blemishes that might be present. This leaves your skin looking bright and refreshed after each use. Mint locks moisture in your skin by tightening your pores. It also softens and calms dry and itchy skin. Ensuring that your skin is nourished and hydrated is the only way to slow aging. As mint boosts the circulation of blood to your skin and hydrates it, it also delays the formation of wrinkles and fine lines.
Refresh & Relaxation Facial Routine
Step 1: Rosemary Mint with Retinol and Collagen Soap

Wet desired skin area. Massage soap into hands until a nice creamy foam has been formed. Then apply the foam to the desired skin area and leave on for about two minutes. Rinse thoroughly with warm water and pat dry.

Step 2: Multi-Vitamin E, A & C Facial Golden Mask

On a freshly cleansed face, place mask comfortably on the face aligning with eye, nose, and mouth openings. Leave mask on for a minimum of 15–20 minutes. For maximum results, you may wear the mask for up to eight hours while resting or sleeping. After removal of the mask, it is not necessary to rinse face or remaining mask solution. The solution acts as a serum. Discard mask after use. Each mask is to be used for one application only. Recommended use is 1–3 times per week.
Specifications
Non-comedogenic
Paraben-free
Included in the set
Multi-Vitamin E, A & C Facial Golden Mask -12 MASKS
Rosemary Mint with Retinol and Collagen Soap 6.17 fl oz
Warranty
Available States
AL, AZ, AR, CA, CO, CT, DE, DC, FL, GA, ID, IL, IN, IA, KS, KY, LA, ME, MD, MA, MI, MN, MS, MO, MT, NE, NV, NH, NJ, NM, NY, NC, ND, OH, OK, OR, PA, RI, SC, SD, TN, TX, UT, VT, VA, WA, WV, WI, WY
Estimated Delivery Date
Friday, July 17th - Friday, July 24th. Due to a high volume of orders, delivery times are longer than usual.