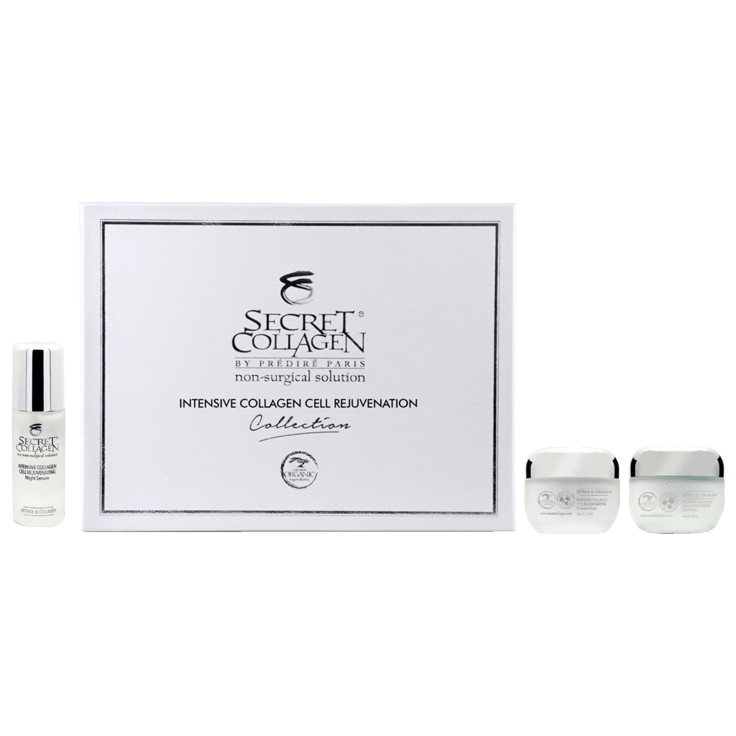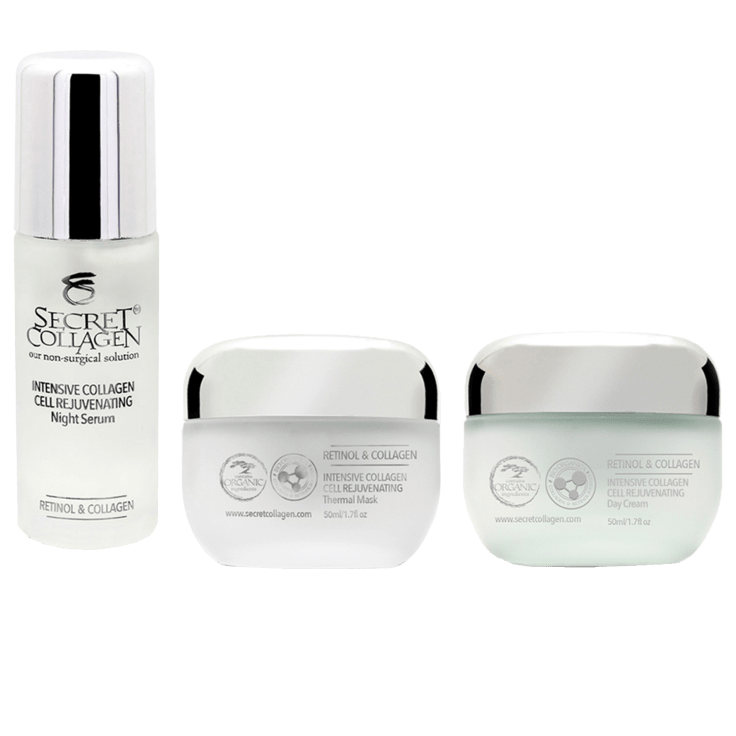 Secret Collagen Intensive Collagen Cell Rejuvenating Set
Features
A revolution in skin care, Secret Collagen is formulated for a variety of skin types. With the belief that beauty is for everyone, our customized fusion of restoring organic elements and the anti-age fighting ingredients of Retinol and Collagen, is designed to encourage intensive cell rejuvenation, reduce dark spots, help to minimize problematic blackheads, and provide the needed skin care regime that will help to protect and repair your skin from the signs of aging.
Working on a molecular level, BIO ORGANICA" COLLAGEN & RETINOL formulas assist the skin cell retinoid receptors that regulate certain skin functions. Improving skin texture and speeding up skin cell rejuvenation, which slows down as we age, Secret Collagen works to combat and assist in repairing damage, leaving your skin healthier and younger looking.
SET INCLUDES
Intensive Collagen Cell Rejuvenating Day Cream 50ml
Reduce wrinkles with our Intensive Collagen Cell Rejuvenation Day Cream! Collagen making up a high percentage of our skin, our cream penetrates deep into your skin, whisking away dead skin cells to reveal younger looking hydrated skin. Our Bio Organic fusion of Collagen and Retinol works to maintain and enhance collagen tissues and promotes cell renewal through light exfoliation.
Intensive Collagen Cell Rejuvenating Night Serum 50ml
Look younger and feel younger with our Intensive Cell Rejuvenating Night Serum! A Bio-Organic fusion of Retinol and Collagen, with other restoring ingredients, works while you sleep to rejuvenate collagen production and improve cell renewal. The breakdown of healthy collagen and the decline in collagen production leads to the development of unwanted wrinkles and the appearance of aged skin. Our revitalizing serum is designed to maximize cellular renewal during this crucial phase.
Intensive Collagen Cell Rejuvenating Thermal Mask 50ml
Refresh your pores with our Intensive Collagen Cell Thermal Mask! Heating upon application, to open up and intensively clean the pores to allow effective absorption. This innovative thermal mask purifies and refines your skin by absorbing excess oil and getting rid of pore clogging dirt and dead skin cells. Enhanced with Moroccan Argan Oil, this mask is perfect for all skin types.
Warranty
Available States
AL, AZ, AR, CA, CO, CT, DE, DC, FL, GA, ID, IL, IN, IA, KS, KY, LA, ME, MD, MA, MI, MN, MS, MO, MT, NE, NV, NH, NJ, NM, NY, NC, ND, OH, OK, OR, PA, RI, SC, SD, TN, TX, UT, VT, VA, WA, WV, WI, WY
Estimated Delivery Date
Friday, July 17th - Friday, July 24th. Due to a high volume of orders, delivery times are longer than usual.