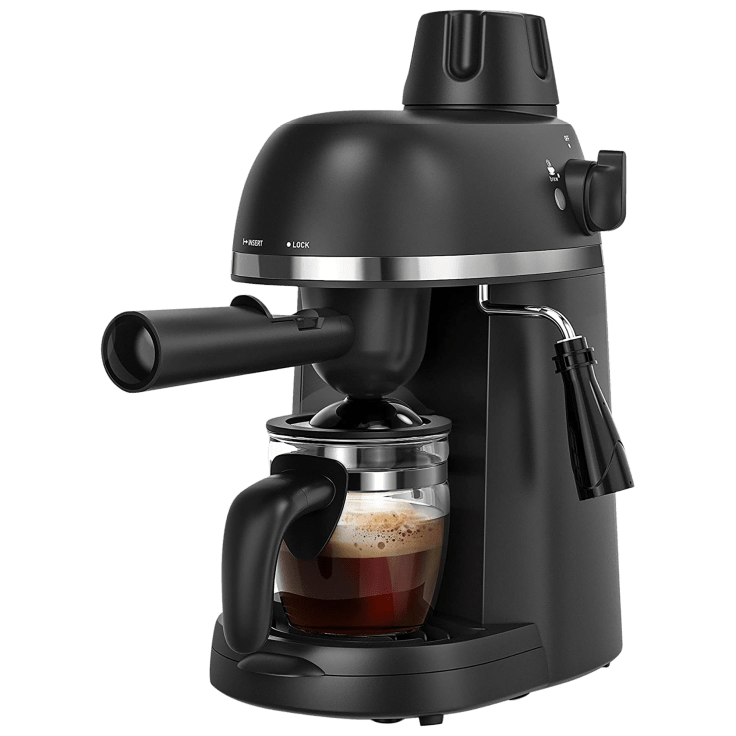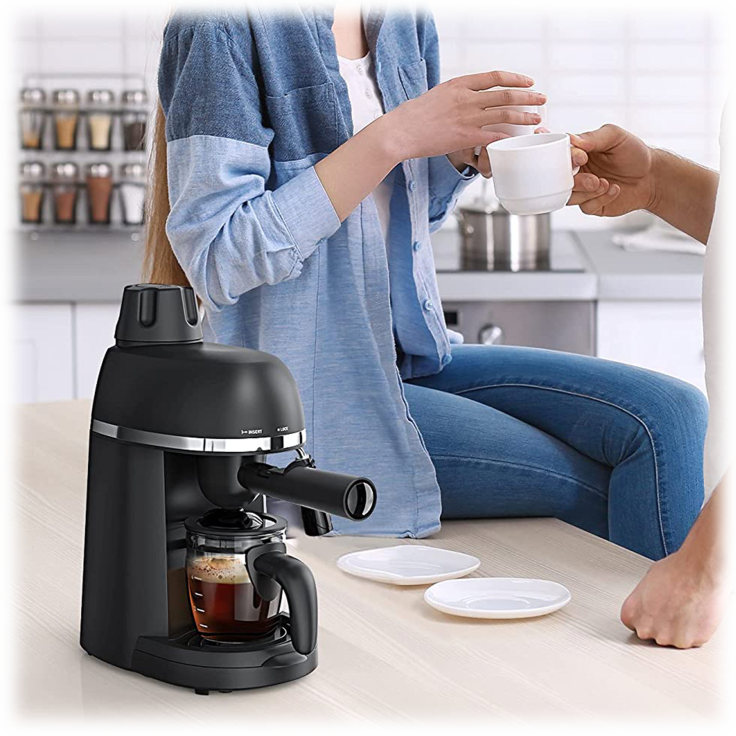 Sboly 5409 Steam Espresso Machine with Milk Frother and Carafe
Features
Quick brewing of espressos, cappuccinos, & lattes - This 3.5 Bar espresso machine is easy to use with a single knob for all operations, it rapidly and professionally extracts 4 shots of velvety smooth hot espresso (167F-199F) in 2 mins.
Expresso machine with milk frother- It enables you to enjoy your favorite kinds of coffee such as cappuccinos and lattes at home, at work, or any place you like. Never be without your favorite beverages again as it only takes one twist of a knob to enjoy your favorite hot drinks. The milk steamer turns milk or milk substitutes into a soft rich foam in 40 seconds for a creamy cappuccino and so much more.
Carafe with scale to customize 1-4 cups of coffee - This versatile latte, and cappuccino machine, also comes with a carafe to determine the ideal amount of water needed for brewing. There is also a filter basket scale built in to weigh out the ideal amount of coffee grounds needed. This coffee maker can brew four shots of espresso at once. Enjoy multiple shots in your beverages for a strong rich brew or share them with others, and enjoy a delicious coffee drink with friends.
Mini expresso maker- This compact size espresso maker's design is a perfect fit for any size kitchen (big or small), office, and RV. The Drip tray and plastic components including the frother wand are removable for easy cleaning.
Important cautions - Only use medium and coarse ground coffee (>0.02 inches). Never fill past the Max mark (4-cup scale). Do not remove the filter holder or the water reservoir cap during the operation or immediately after the brewing. Turn the control knob to the "Steam" position to release the residual pressure firstly
Specifications
Brew Time

2-3 Minutes for 4 shots of expresso
3-4 Minutes for a cappuccino or latte

Capacity: Up to 4 Cups
Dimensions: 11.6" x 5.1" x 8.3"
What's Included?
1x Sboly 5409 Steam Espresso Machine with Milk Frother and Carafe
Warranty
Reviews
Verified Purchase
Espresso machine
Love my special coffees

what a money saver this will be. Thank you!
Written by @Boggsy - June 11th 2022
Verified Purchase
Written by @mrmehrdad - August 20th 2022
Verified Purchase
This is NOT espresso machine it's a joke
Written by @atr72 - July 31st 2022