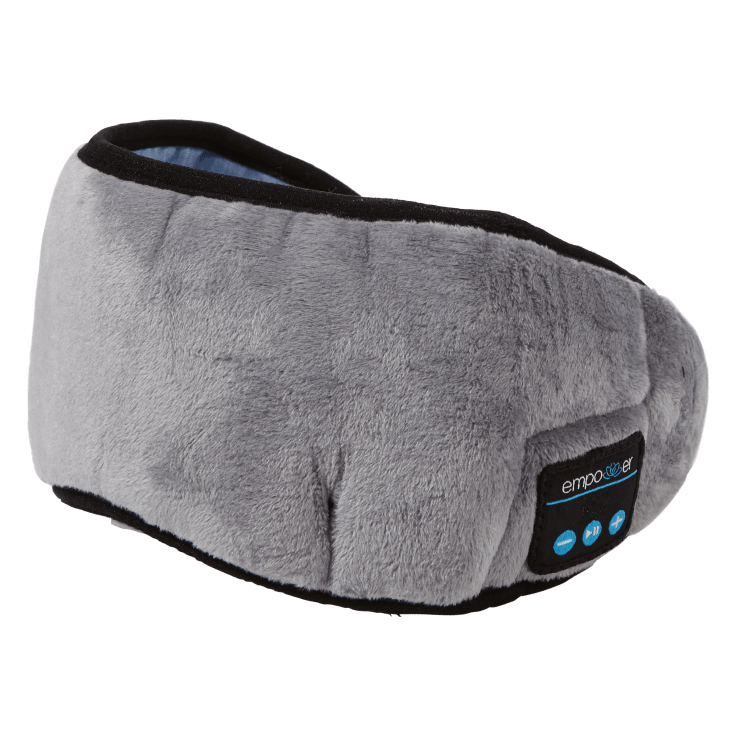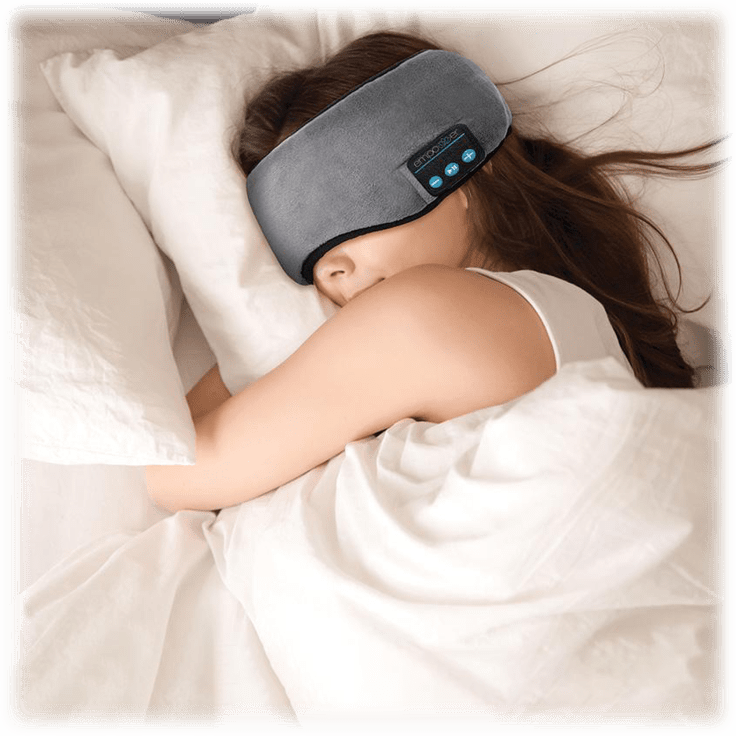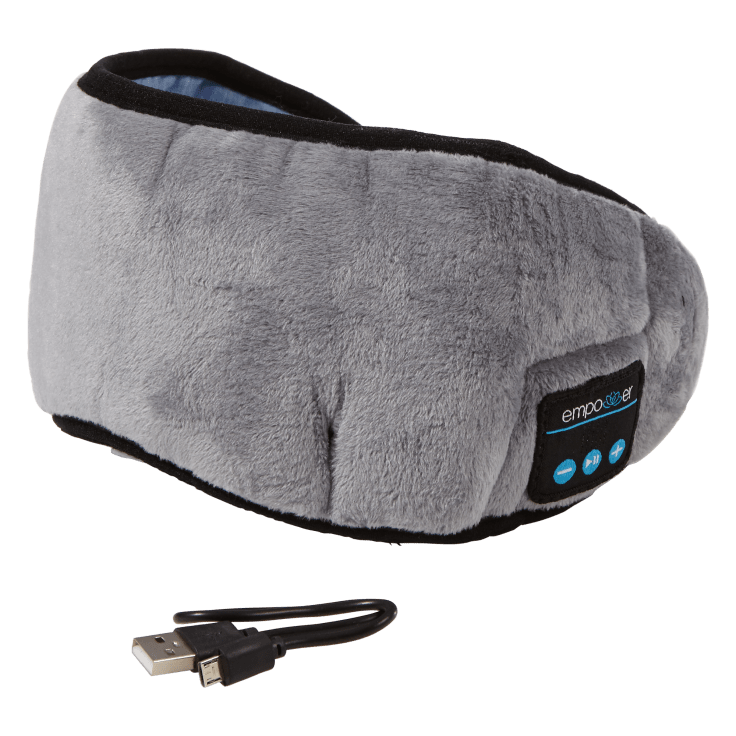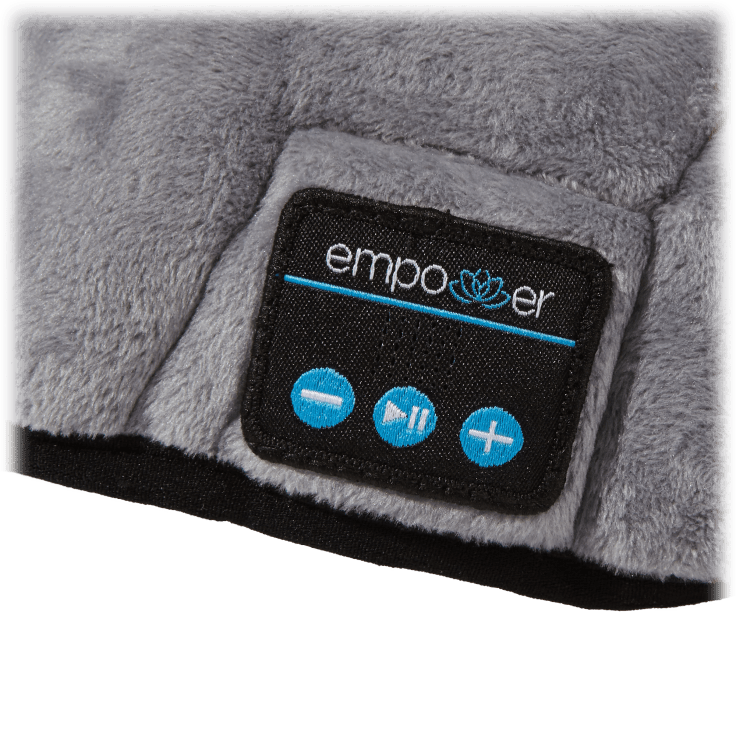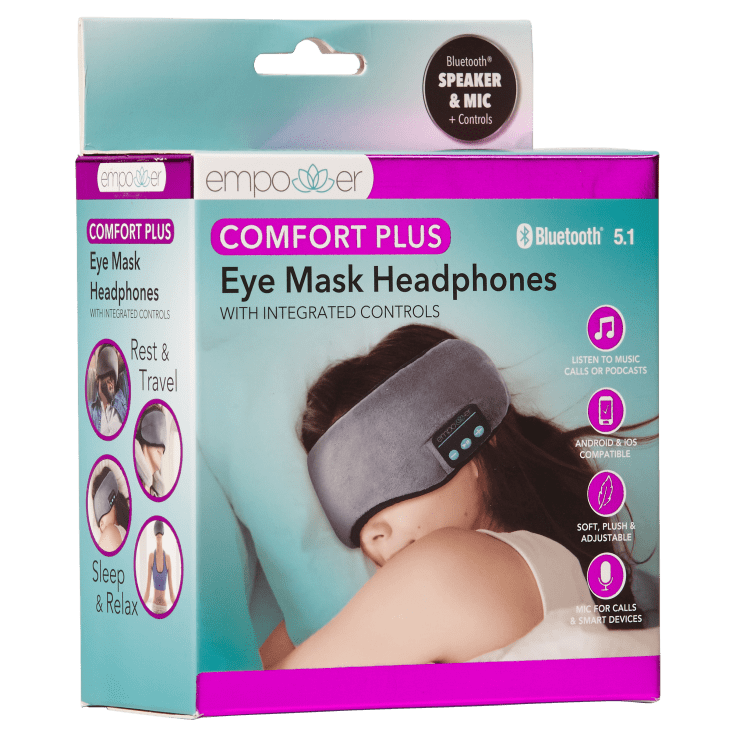 Empower Sleep Mask with Built in Bluetooth Speakers
Features
Integrated earbuds connect via Bluetooth
Ultra-plush cotton/polyester sleep mask
Bluetooth 5.1 technology with 33-foot range
Integrated controls
9-hour continuous playtime
Slim profile earbuds won't hurt your ears
Adjustable elastic/velcro sleep mask
What's Included?
1x Empower Sleep Mask with Built-in Bluetooth Speakers
1x Charging Cable
1x Manual
Warranty
Available States
AL, AZ, AR, CA, CO, CT, DE, DC, FL, GA, ID, IL, IN, IA, KS, KY, LA, ME, MD, MA, MI, MN, MS, MO, MT, NE, NV, NH, NJ, NM, NY, NC, ND, OH, OK, OR, PA, RI, SC, SD, TN, TX, UT, VT, VA, WA, WV, WI, WY, AK, HI
Reviews
Verified Purchase
Awesome
Everyone needs this comfort, especially those who travel and need assistance in sleeping. The music is crystal clear and the wrap is comfortable. Don't have it GET IT
Written by @justanother2 - December 10th 2021
Verified Purchase
Like Changing the channel to "Sleep Now"
It's as comfortable as they make it look and completely blocks out any light. I'm tempted to by these for all of my Christmas gifts this year and it's only January! Everyone would love it!
Written by @Jeanneology - January 14th 2022
Verified Purchase
Poor product
I have cancer and have difficulty sleeping. I thought this would help. Not so. It doesn't hold a charge and a small one at that. I want a refund, please. Thank you.
Written by @sharonlough - January 28th 2022
Verified Purchase
Empower sleep Mask
I love this sleep mask. Highly recommend it.
Written by @paisleyp - January 16th 2022
Verified Purchase
Beautiful eye mask
Great product for my granddaughter.
Written by @elnorahalton - January 19th 2022
Verified Purchase
Looks Good
Written by @henryqueta - December 11th 2021
Verified Purchase
Eye mask headphones
Written by @deb2435 - January 29th 2022
Verified Purchase
I just got it yesterday. It was easy to setup and quite comfortable.
Written by @gingermuckelroy - December 13th 2021
Verified Purchase
Written by @msbrandy19666 - February 3rd 2022
Verified Purchase
Written by @ArdaviusQ - December 8th 2021
Verified Purchase
Nice looking
It is a gift so it hasnt been used but looks good
Written by @Mamajo120 - February 20th 2022
Verified Purchase
Not New Product Delivered
I really wanted to be a member and shop regularly with you. But the 2ed product I bought from you arrived and embarrassed me when my mom opened it. The item was USED, forced back in the box making box bulge out…SO OBVIOUS, what kind of quality control do you have? WHO EVER PUT IN MAILING PLASTIC BAG must be blind or just gives a shit about customers and YOU, THEIR EMPLOYER! I'm so ready to have myself and 17 Senior Center members go on a campaign against you. I saw you on tv advertising special prices for some products on a National Show… so why trat customers like this??? I will send pictures of item in box bulging if you want as we didn't even open it since not originally packed or wouldn't be bulging box!!! And this by FDA is another violation as said item can't be resold as new due to health and FDA laws… So send me a return label if you want back and credit me in full. I'm done with your company. Also cancel my membership of monthly charges for postage. I tried but could find where on account to cancel. Thanks. THE END
Written by @CindyBrady - December 20th 2021