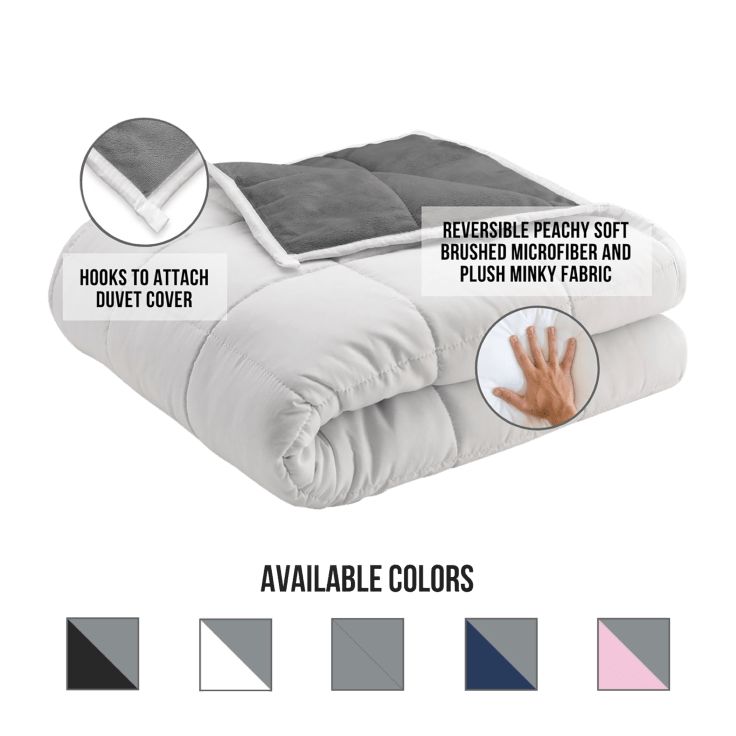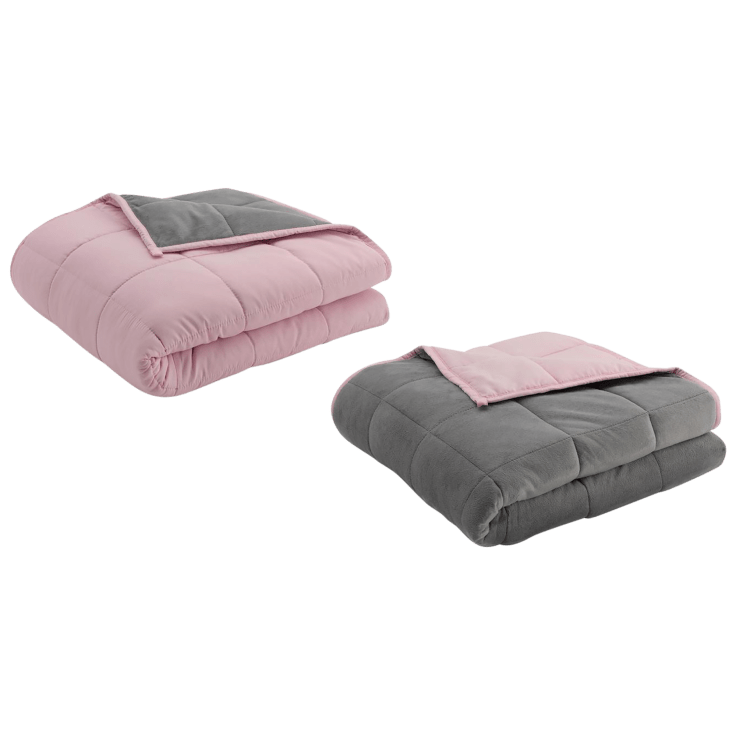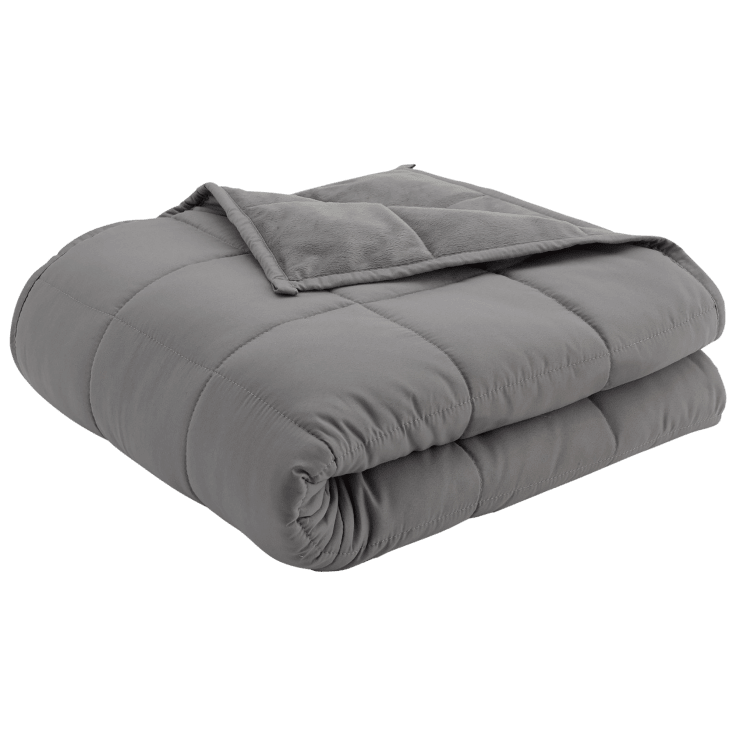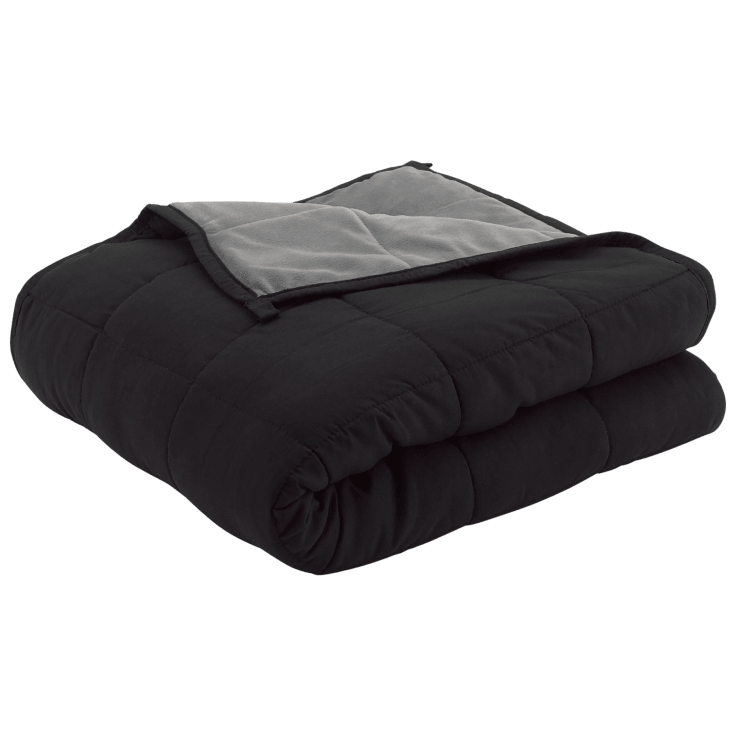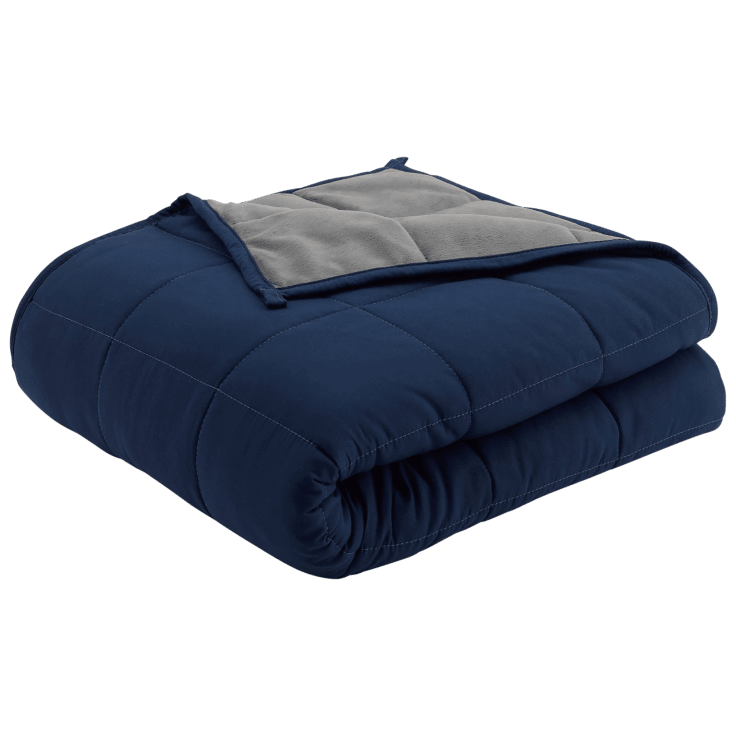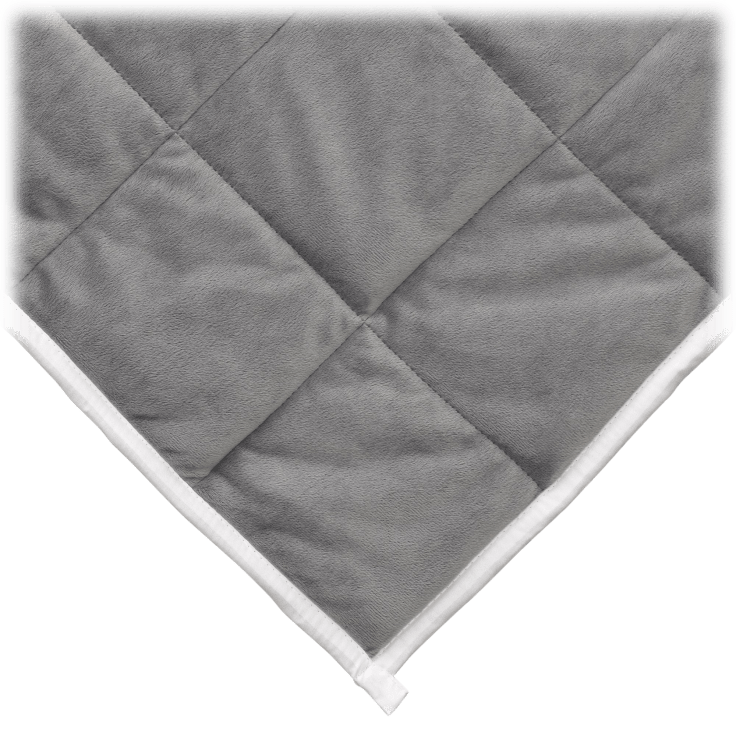 Ella Jayne Reversible Anti-Anxiety Weighted Blankets (12lb, 15lb, 20lb)
Features
The Ella Jayne Home Collection brings the beauty and sophistication of inspired bedding to your home, so that you can get a relaxing, rejuvenating night's sleep every single night.
Make restless sleep a thing of the past with this Weighted Blanket Featuring one side that is a minky velvety soft, and the other side is a comfortable microfiber fabric. Glass beads and polyester weigh down the blanket with 12, 15, or 20 pounds of pressure.
Available in five colors; each with reversible grey minky fabric

Includes 1 Weighted Blanket

One Side Minky Soft

One Side Soft Microfiber

Great for Soothing and Reducing Anxiety

Aids in relief from insomnia, sensory disorders and more

May improve sleep quality

May help focus

Filled with Tiny Glass Beads and Polyester Fibers

Includes Edge Tie/Hoops to hold Inside a duvet cover (sold seperately)

Box Quilted to Prevent the Fill From Shifting

Best to Hand Wash and Hang Dry.
Machine Wash Cold if necessary

Weight: 12lbs - 48x72 inches

Weight: 15lbs - 48x72 inches

Weight: 20lbs - 48x72 inches
Included In The Box
1x Ella Jayne Reversible Anti-Anxiety Weighted Blanket In Your Choice
Warranty
Estimated Delivery Date
Thursday, April 16th - Monday, April 20th. We're temporarily prioritizing shipping some items to help customers stay at home during the COVID-19 pandemic. As a result, some deliveries will be longer than usual.
Reviews
Verified Purchase
Got the pink/gray 12lb and pink/gray 20 lb. These are super soft. I think the squares are small enough to keep contents from shifting. I LOVE them!
Written by @tanabristow - April 4th 2020
Verified Purchase
Wonderfully comforting
Definitely lives up to its name!
Written by @hauserca - March 26th 2020
Verified Purchase
Wonderful
This blanket is wonderful it makes you really feel warm and very comfortable. It really does help with anxiety.
Written by @Buddyshop - March 25th 2020
Verified Purchase
Comforting.
Written by @alioopoop - March 23rd 2020
Verified Purchase
I had a restful sleep when I used this. I told my granddaughter about it and she is going to order it
Written by @valorieeason - March 17th 2020
Verified Purchase
Very comfy
Blanket is very beautiful and really comfortable.
Written by @Buddyshop - March 15th 2020
Verified Purchase
ADHD item?
Bought it for my son to help him with his figitness at bed time. He loves the heavy weight of the blanket. I myself don't it's really heavy,lol but it's not for me. It's his blanket and he loves it that's all that matters.
Written by @Wendy1235 - March 14th 2020
Verified Purchase
Written by @Motion62 - March 13th 2020
Verified Purchase
Written by @2reunited - March 12th 2020
Verified Purchase
Great experience
Got the blanket very quickly and it's amazing! Got it for my daughters birthday. Can't wait to give it to her. Just amazing all around.
Written by @Lisaw1 - March 11th 2020
Verified Purchase
Written by @vlblankinship - March 5th 2020
Verified Purchase
A-Mazing💜
I wish I would have ordered more than one. I loved it and for the first time in a long time I didn't wake up more than 6 x's. Did wake up twice in the middle of the night but this blanket surely helped me fir using it just once. My daughter suffers from anxiety too and now it's too late for me to order another one. I pray it cubes back so I can get her one too


Written by @Mimi8983 - March 2nd 2020
Verified Purchase
Love this blanket it is so comfortable, makes you feel warm and safe takes away your anxiety for sure.
Written by @Buddyshop - February 29th 2020
Verified Purchase
Written by @mamorrow - February 26th 2020
Verified Purchase
Weighted blanket
Check the dimensions because this is for a child's bed/twin bed! But it is beautiful , soft, well made and fantastic find but again for a very small bed.
Written by @toinette1953 - March 10th 2020
Verified Purchase
Arrived early and as described, but...
I really like many features of this blanket: it is well-sewn, the fabric quality seems to be good, it's comfortable and soft, and it's not 'noisy' like some weighted blankets can be. But, it is very warm, even though it is described as breathable. This will be a great blanket for the winter, but it's not quite Spring yet and this blanket is unfortunately way too warm to use regularly any other time of year, for me.
Written by @CyndyLu65 - February 27th 2020