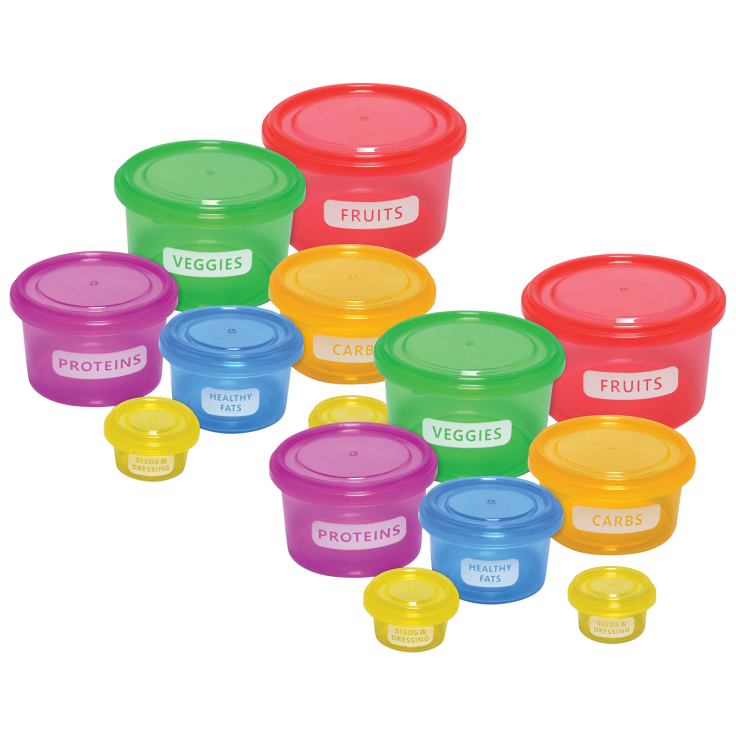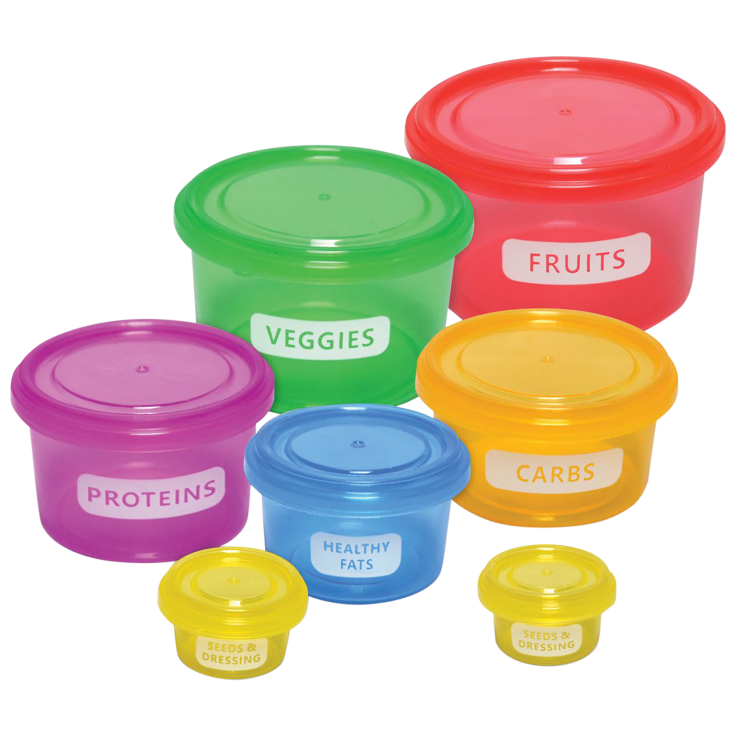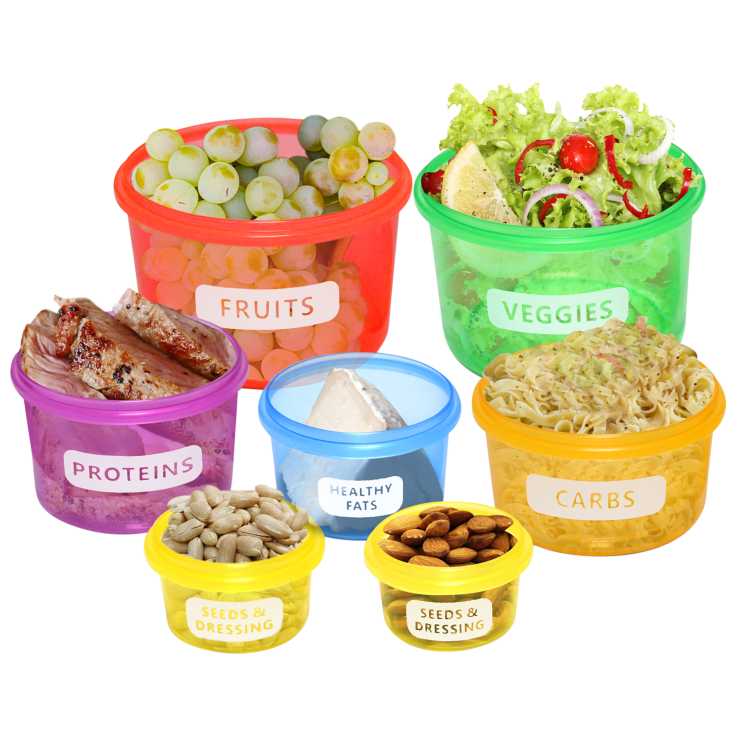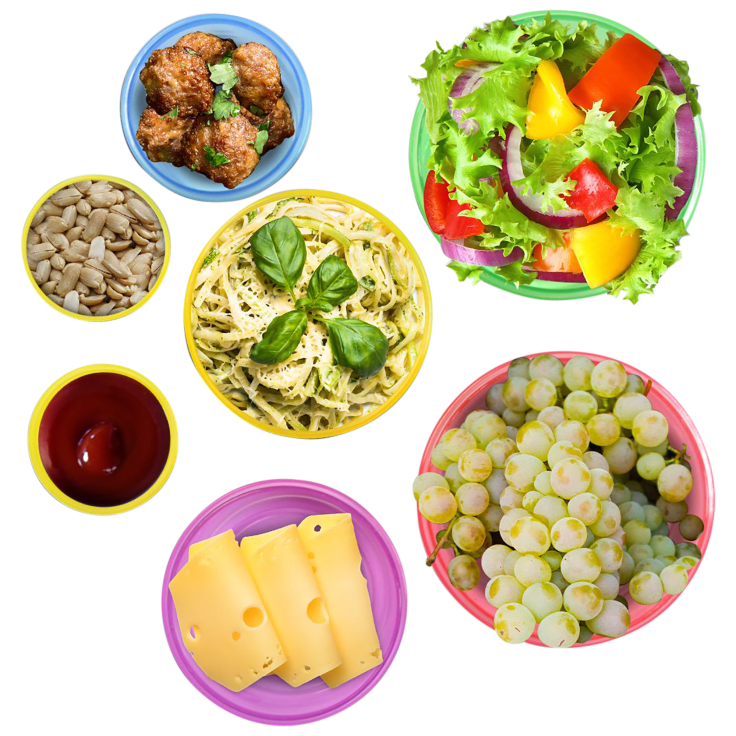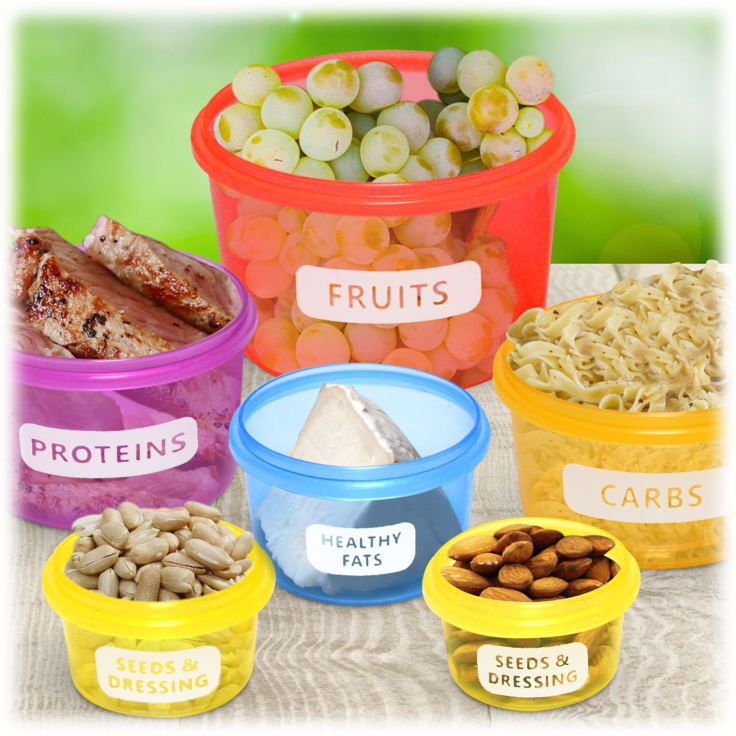 28-Piece Eternal Home Nesting Portion Control Containers
Take the guess work out of your balanced diet goals by using these perfectly portioned storage containers.
Features
Portion control made easy
Color-coded for different food groups
Leak Proof and Stackable
Nests for easy storage
BPA Free
Dishwasher safe
Microwave Safe
What's Included?
1x 28-Piece Eternal Home Portion Control Containers (14 containers / 14 lids)

2x Fruits container
2x Veggies container
2x Proteins container
2x Healthy fats container
2x Carbs container
4x Seeds & dressing container
Warranty
Reviews
Verified Purchase
Love them
They r perfect for what I need them for. Thank yall!!
Written by @debbiecolbert - April 8th 2022
Verified Purchase
Nesting containers
I like the product and shipping was prompt.
Written by @DionBose - March 13th 2022
Verified Purchase
Just what I needed
Written by @orangetheory - October 14th 2022
Verified Purchase
Small portions or items
I thought what I ordered was a lot bigger, so I was bummed at first. But actually, I can't seem to find containers with tight lids in these very small sizes. I love it! My daughter has rabbits, so these are perfect for treats, meds, special diets, etc. And of course, small amounts of leftovers we can't throw out, OR our meds, oz's of creams or oils, liquid soaps, shampoos, etc. for traveling. Screws, nails,
Written by @MaggeeMcCarney - October 7th 2022
Verified Purchase
28 piece containers
I thought they were bigger.
Written by @kycl - July 20th 2022
Verified Purchase
Containers are not what I expected
The containers are all too small to put anything in them. The biggest one might fit a small bag of nuts in it ! This product was a waste of my money!
Written by @shangov - March 24th 2022
Verified Purchase
Storage containers
Your kidding!! I was so disappointed when I saw the actual size of these containers. Like kid toys

They will be returned.
Written by @Edenvalley1950 - January 1st 2023
Verified Purchase
ETERNAL Portion Control Container Set
Containers are not labeled as shown, could have gotten a better quality set at the DOLLAR STORE!!!
Written by @LizStanton - December 10th 2022