Estimated Delivery Date
Standard Shipping: Friday, Dec 11 - Wednesday, Dec 16.
Enhanced Shipping: Thursday, Dec 10 - Monday, Dec 14.
Orders for this deal should arrive by Christmas.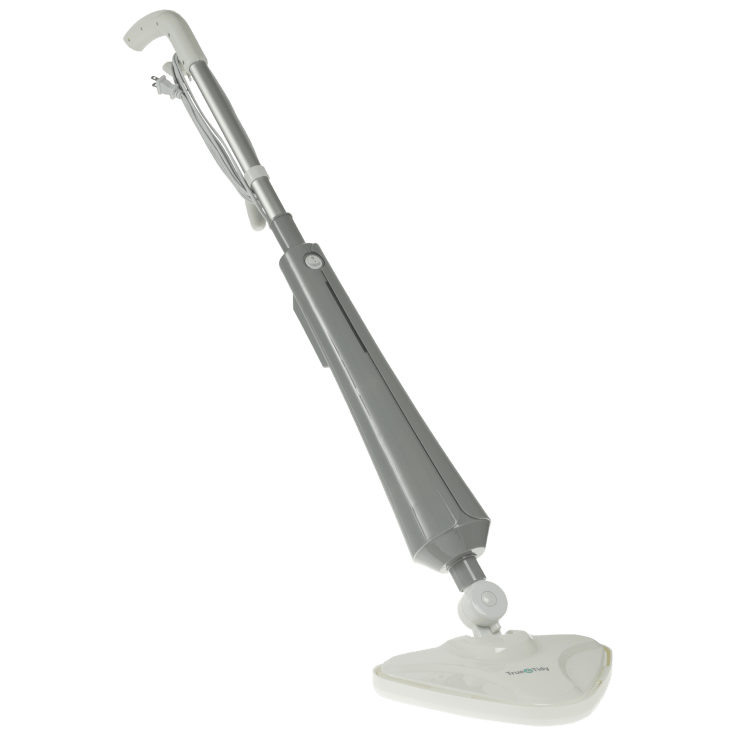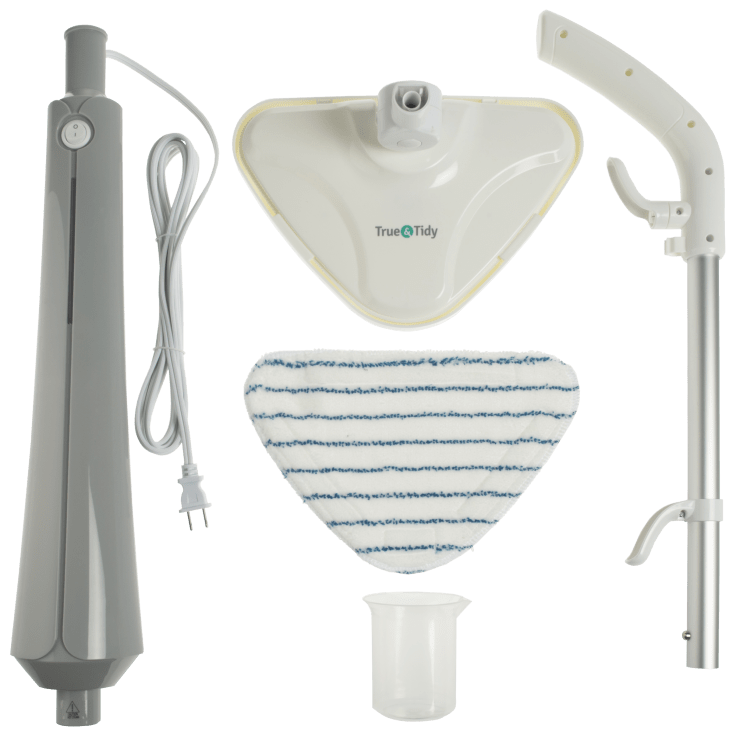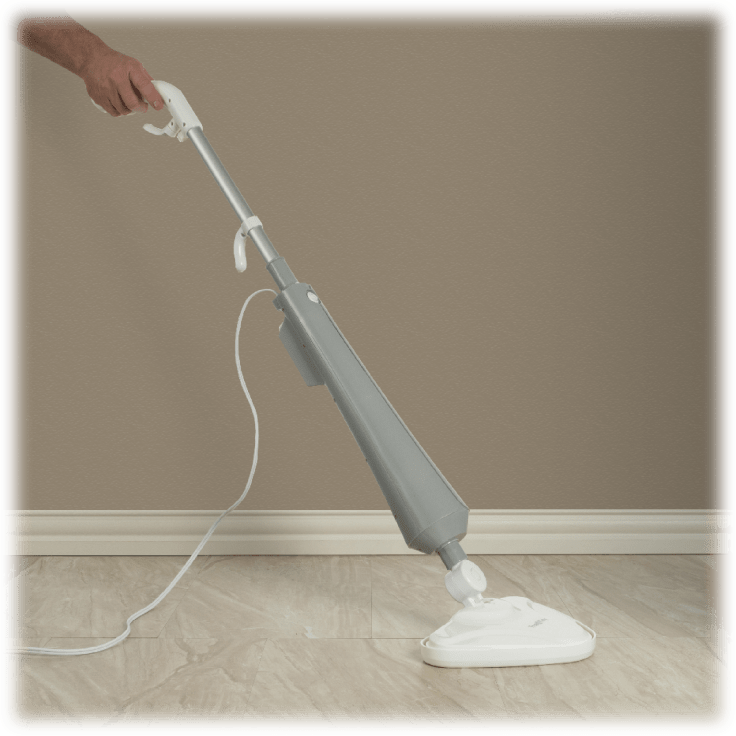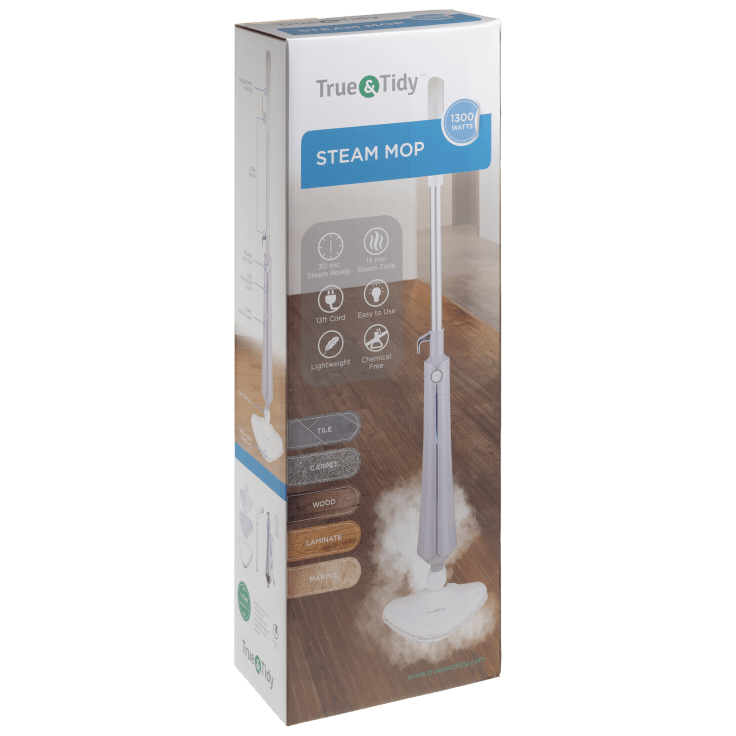 True & Tidy Multi Surface Steam Mop
Features
The STM-300 Steam Mop provides effective, chemical-free floor care with industry-leading steam technology
Wide surface mop head helps deliver 1300 watts of powerful, space chemical-free steam to clean your floors quickly & efficiently without using any chemicals or detergents

For an ecologically green and naturally healthy way to keep your home clean

The ergonomic design has a soft-grip handle and is easy to maneuver without physical strain
Specifications
1300 watts
Steam ready time: 30 sec
Continuous steam time: 15 minutes
Large mop pad surface makes cleaning quick and easy
Power Cord Length: 13 ft.
Swivel Mop Head
Power button with indicator light
Light indicator:

Red: Heating up
Blue: Ready to steam

Distilled water recommended
Included In The Box
1x Steam Mop
1x Microfiber
1x Mop Pad
1x Carpet Glider
1x Water Cup
1x User Manual
Warranty
Estimated Delivery Date
Standard: Friday, Dec 11 - Wednesday, Dec 16.
Enhanced: Thursday, Dec 10 - Monday, Dec 14.
Reviews
Verified Purchase
I just received this package and I haven't opened it yet
Written by @holyspirit14 - October 23rd 2020
Verified Purchase
steam mop
I just got it late today when I came home and haven't used it yet.
Will use tomorrow:) Thanks
Written by @nanamarian - October 6th 2020
Verified Purchase
I love that it does not leaves water on floor after moving back an forth motion.
Written by @bettybryant - August 26th 2020
Verified Purchase
AWESOME SAUCE!!!!!
Efficient gets the job done.
Written by @Karyl225 - August 25th 2020
Verified Purchase
I find it to be a good quality, and it heats up fast.
Written by @5girlsfive - June 16th 2020
Verified Purchase
Does not work
After putting together and following instructions, does not turn on. I have notified Side Deal and if they handle this situation appropriately, i will change my review accordingly.
Written by @CARPETMAN54 - September 14th 2020
Verified Purchase
Doesn't clean well at all
Easy to fill with water, very little in the way of instructions, small and plasticy feel, not very sturdy and most important doesn't clean at ALL, it just smears floor.
Written by @suzhuski - August 21st 2020
Verified Purchase
Carpet Glider
The plastic carpet glider that is around the microfiber pad keeps it from cleaning floors. Only part that did touch my floor was where the Velcro strips were that hold the cleaning pad in place. The plastic piece around pad keeps this from cleaning and it's to thick, pad should be over this plastic piece.
Written by @blondie52 - June 24th 2020
Verified Purchase
Unbelievably cheap plastic
I was so surprised how light the box was when I received it. Once I opened the box, I couldn't believe how cheap this mop was. I would have thought that the companies/tv shows, etc. would atleast look at or try products they are allowing to be advertised/discounted and/or promoted on their shows. I can promise you, this won't last long before it either breaks or stops working. Good steam and cleaned the floor well. I will be sending this back. I would rather spend another $40 and get a well made product from Bissell. This is my first product I have bought thru this subscription. I will try again, but if I get another cheap product, I will be cancelling my subscription. I am so dissapointed.
Written by @shelly066463 - June 6th 2020