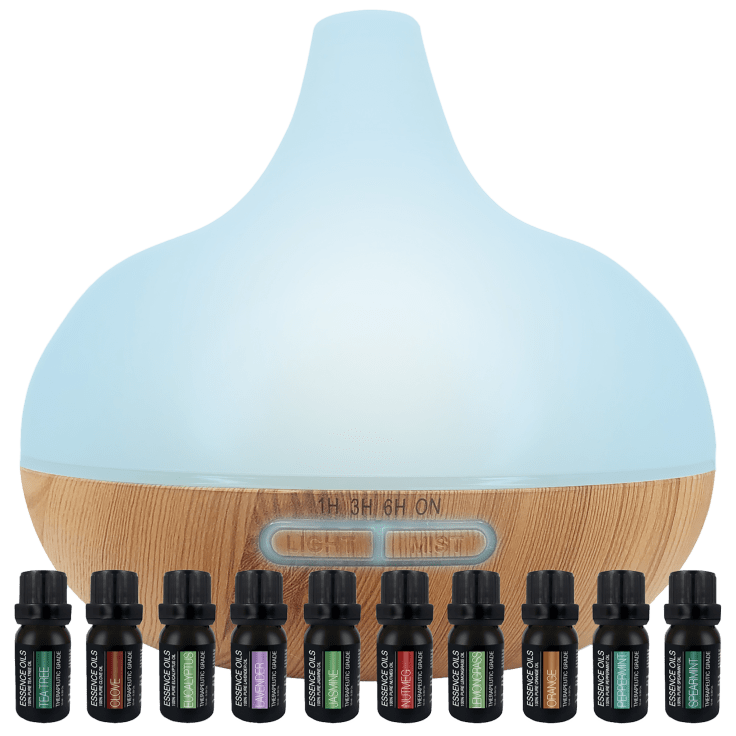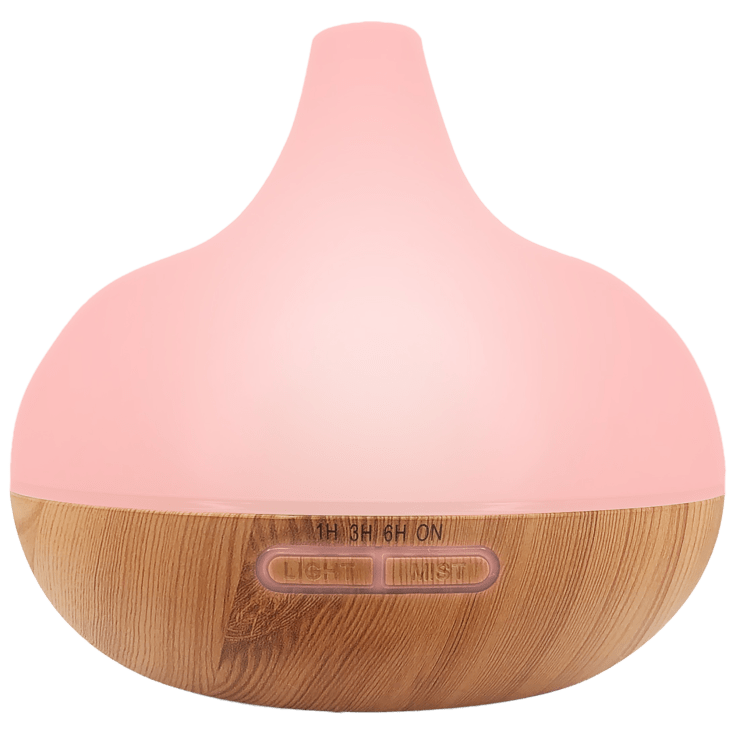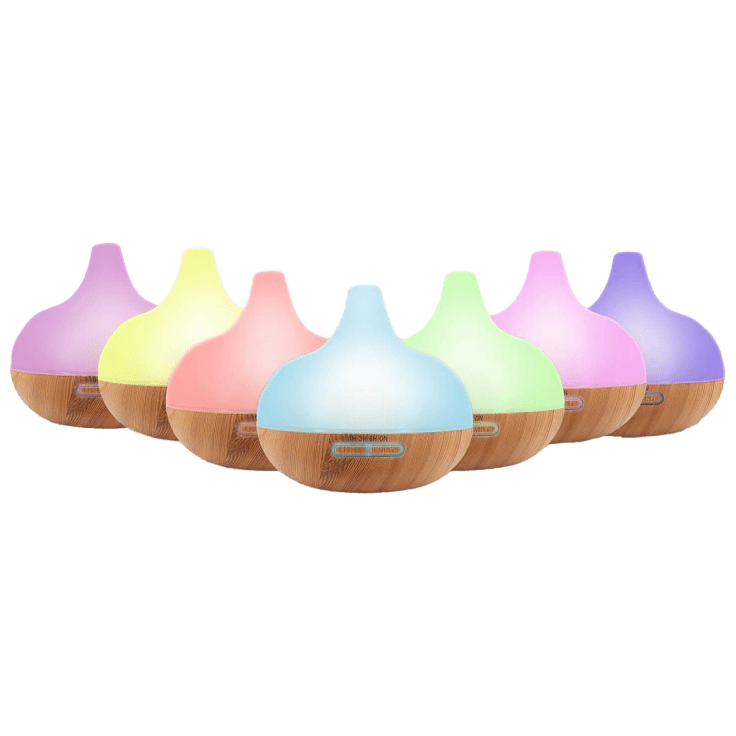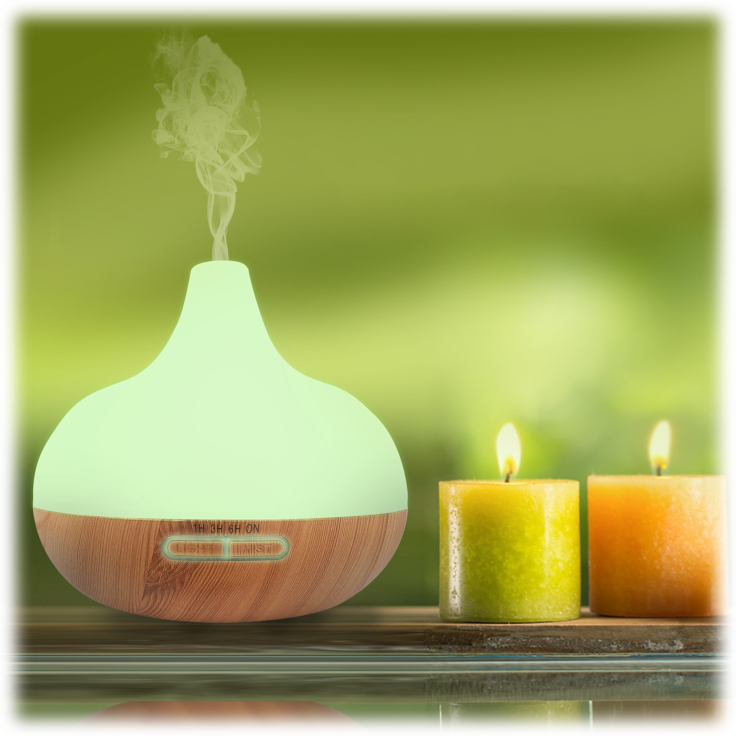 Pure Daily Care Translucent Top Aromatherapy Diffuser & Essential Oil Set
Features
THE COMPLETE BUNDLE: Our Essence Diffuser has a 300 ml capacity and uses state-of-the-art wave diffusion technology to atomize essential oils for ultimate wellness. The Essence diffuser includes 7 ambient light modes with two intensity settings for 14 different light combinations. It also includes 4 timer settings and a convenient auto-shutoff feature for low water levels. The essence is made of BPA-free plastic with a beautiful printed wood grain design.
ANCIENT FORMULAS PROVEN RESULTS: Our oils are formulated using the highest quality plants, such as lavender from France, Indonesian Cumin, and Roman Chamomile. Our oil blends mix specific ratios of our essential oils to create powerful effects on the mind, body, and overall well-being. Our oils have no added fillers and absolutely zero additives. Simply add 6-8 drops into the water tank to add a light scent to any room.
10 ESSENTIAL PLANT OILS: Our Top 10 essential oils include lavender, eucalyptus, tea tree, orange, peppermint, lemongrass, jasmine, nutmeg, clove, and spearmint oils. All oils are therapeutic grade come in amber 10ml jars to protect from sun degradation
NO ADDITIVES NO FILLERS - Absolutely zero cheap additives or fillers are used in creating our oils. We use local harvest (when possible). It takes longer but is better for the environment and creates a better essential oil. We employ a variety of extraction processes such as steam distillation and cold press depending on the plant harvested.
Specifications
300 ml capacity
7 ambient light modes
4 timer settings
Auto shut-off feature
what's INCLUDED
1x 300ml ultrasonic essence diffuser
1x 10ml lavender essential oil
1x 10ml eucalyptus essential oil
1x 10ml tea tree essential oil
1x 10ml orange essential oil
1x 10ml peppermint essential oil
1x 10ml lemongrass essential oil
1x 10ml jasmine essential oil
1x 10ml nutmeg essential oil
1x 10ml clove essential oil
1x 10ml spearmint essential oil
1x Power cable
1x Product manual
Warranty
Reviews
Verified Purchase
Diffuser and essential oils
I just received it and was happy to see it's smaller than it looked in your ad. It's the right size. So far so good I'm trying the jasmine oil it smells amazing. Thanks
Written by @tingalings - July 17th 2021
Verified Purchase
Smells so great
I am happy that I had all of this from the talk show morningsave.com many things I have boughten and never had any problems I will keep on buying from them thank you so much
Written by @rosemaryallen - March 28th 2021
Verified Purchase
Great buy
This diffuser is very nice and Iove the oils that came with it. Shipping was fast as well
Written by @lkrusejm - March 23rd 2021
Verified Purchase
Great buy
Pretty, can be placed anywhere. Nice fragrance.
Written by @LIGHT54448 - March 15th 2021
Verified Purchase
Love it
Written by @sarahbenezue - March 26th 2021
Verified Purchase
Written by @chillwill2021 - July 17th 2021
Verified Purchase
Written by @harris1971 - July 17th 2021
Verified Purchase
it was given as a mother day gift.
Written by @plfeacher - May 7th 2021
Verified Purchase
Just got
Really like the selection of oils good price
Written by @mahlonstone - March 20th 2021