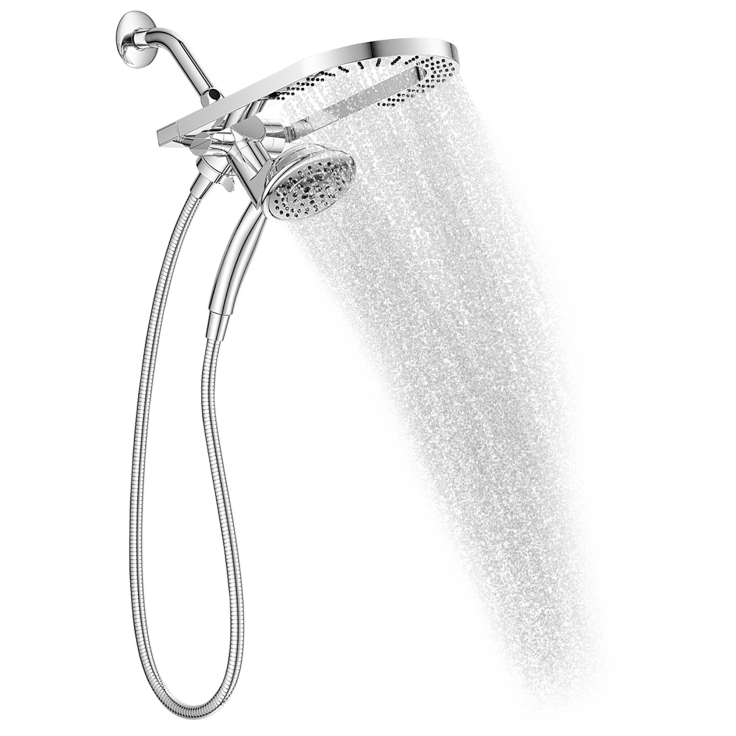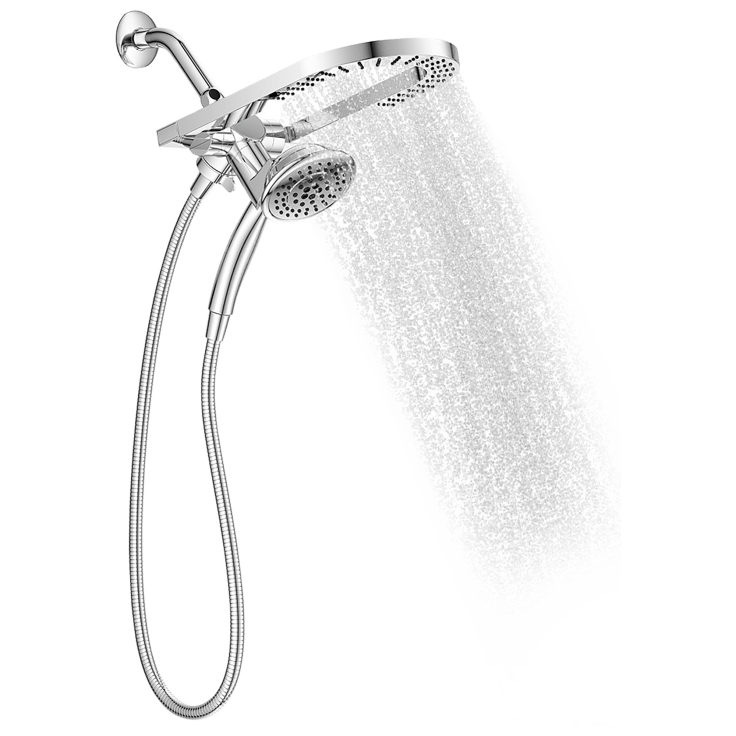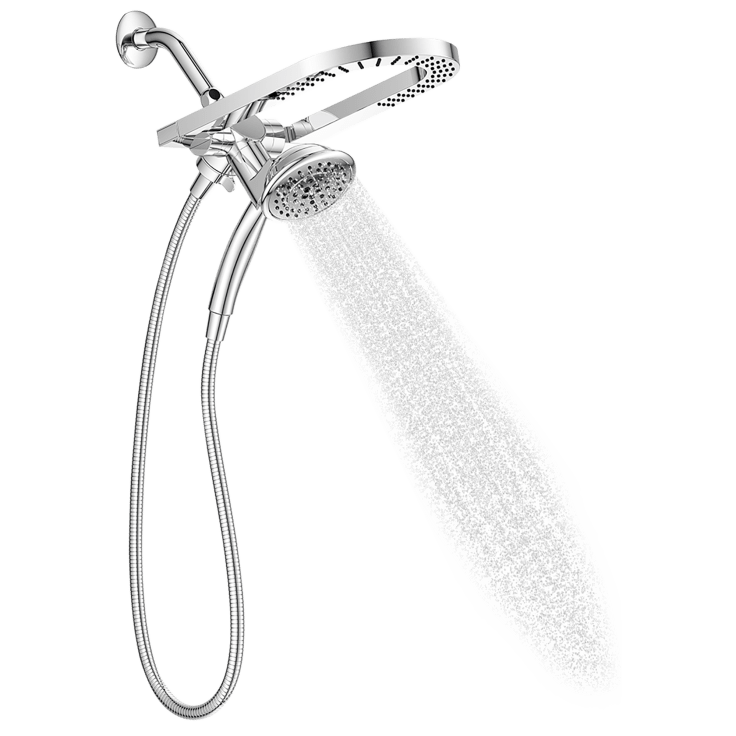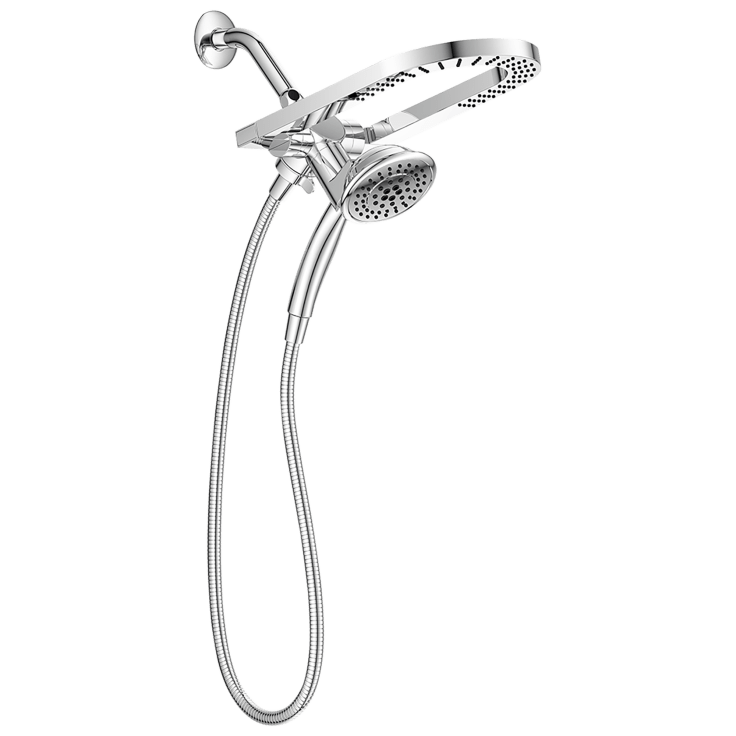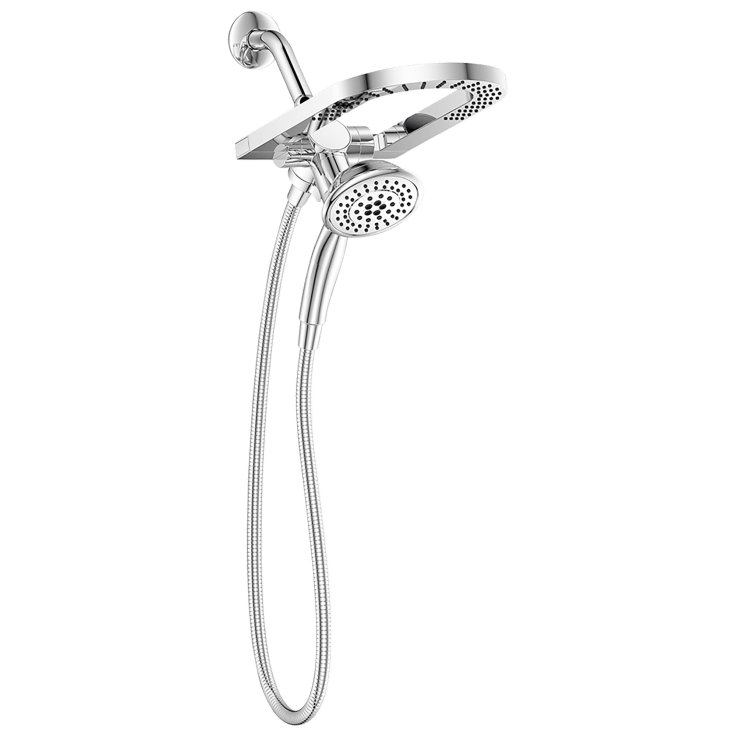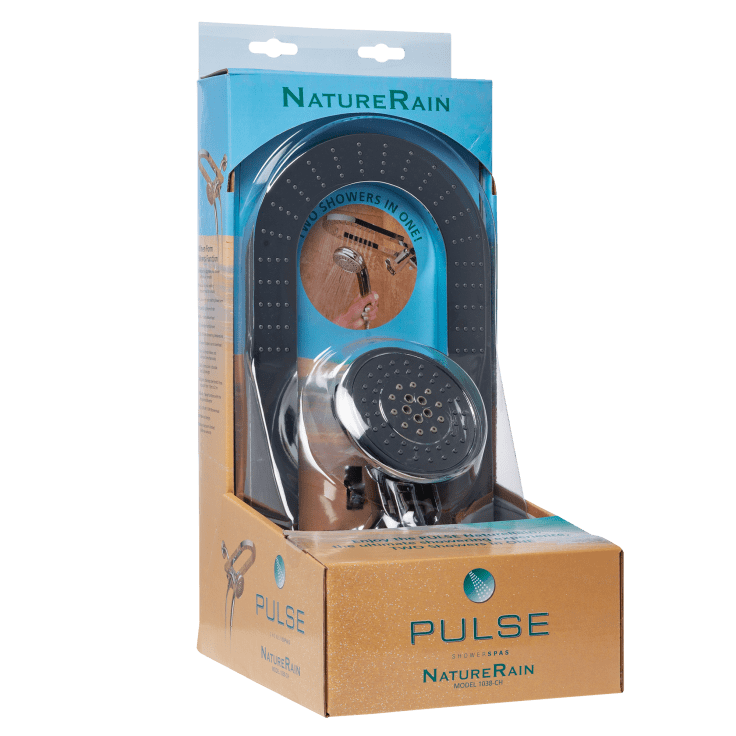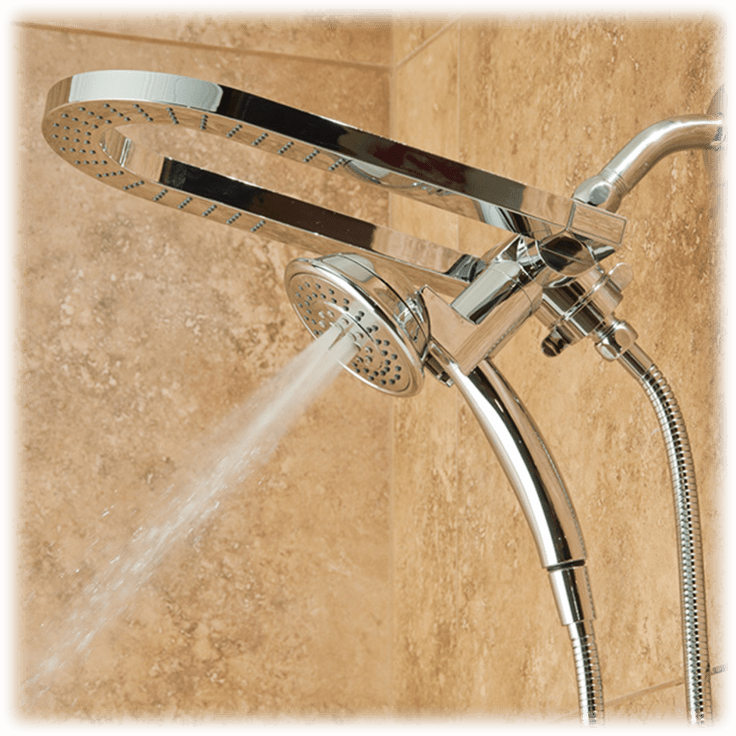 Pulse NatureRain Dual-Head ShowerSpa
Features
It's got a traditional hand shower head and an additional rain head, allowing for 11 distinct shower settings.
Super easy to install, and even easier to stand under.
No-kink stainless steel stretch hose expands from 1.5m to 2.1m
'Silicone rub-clean soft tips' mean you don't have to worry about mineral build-up.
Rain Showerhead
The rain showerhead has a unique crescent shape. This allows you to soak yourself in a soothing rain shower while still being able to get your face out of direct contact as needed. Use the rain showerhead alone, or with a half turn of the diverter, in tandem with any of the five hand shower functions.
Hand Shower
The hand shower has five different functions that give you ultimate control of your shower experience. There is a wide spray, concentrated spray and pulsating massage as well as two combination functions that mix either the pulsating massage or concentrated spray with the wide spray. You can use the hand shower in place or remove it from the holder to reach any part of your body. The hand shower can be utilized in place either on it's own or in combination with the rain showerhead.
Diverter Combo Functions
The Diverter is located on the bottom of the ShowerSpa, just above where the shower hose connects. The diverter switches from the rain showerhead to the hand shower. You simply turn the diverter by pressing on the "wings" until it stops to change functions. The NatureRain Combo ShowerSpa allows for the rain showerhead and the hand shower to work independently or in tandem. Position the diverter between stops to enjoy both functions simultaneously. This diverter allows for 11 different showering combinations, giving you ultimate control. of your showering options.
Optional Hand Shower Hanger
Included is an optional hand shower hanger that attaches to the wall with a suction cup (may not be suitable for all surfaces). Position on the wall so marks on surrounding are horizontal. Apply pressure to the post while rotating clockwise until it stops (hook should be vertical). Hanger must be periodically reset to maintain suction (1-2 Months).
Specifications
Model: 1038-CH
Condition: New
Material: ABS, Brass
Type: Shower System
Finish Type: Chrome
Assembly Required
Face Diameter: 6.1" - 7"
Flow Rate: 2.5 GPM
Top Mount Installation
Showerhead Type: Rain Shower
Number of Pieces: 7
Hand Shower has stainless steel hose stretching from 59" to 78"
Hand Showerhead and Rain Showerhead able to run simultaneously or individually
Dimensions: 12" x 36" x 7"
In the box
1x Pulse NatureRain Dual-Head ShowerSpa
Optional Hanger
Warranty
Estimated Delivery Date
Thursday, Nov 5 - Tuesday, Nov 10
Reviews
Verified Purchase
Dual head shower spa
We just received this shower head and it is not installed yet but yje delivery was great…
Written by @lillnmickjohn - December 20th 2019
Verified Purchase
Shower head
Written by @papito - October 25th 2019
Verified Purchase
I really enjoyed my shower. The rain feature is amazing.
Written by @kathy4437 - October 22nd 2019
Verified Purchase
Nothing to be excited about
Written by @trininickb1 - October 22nd 2019