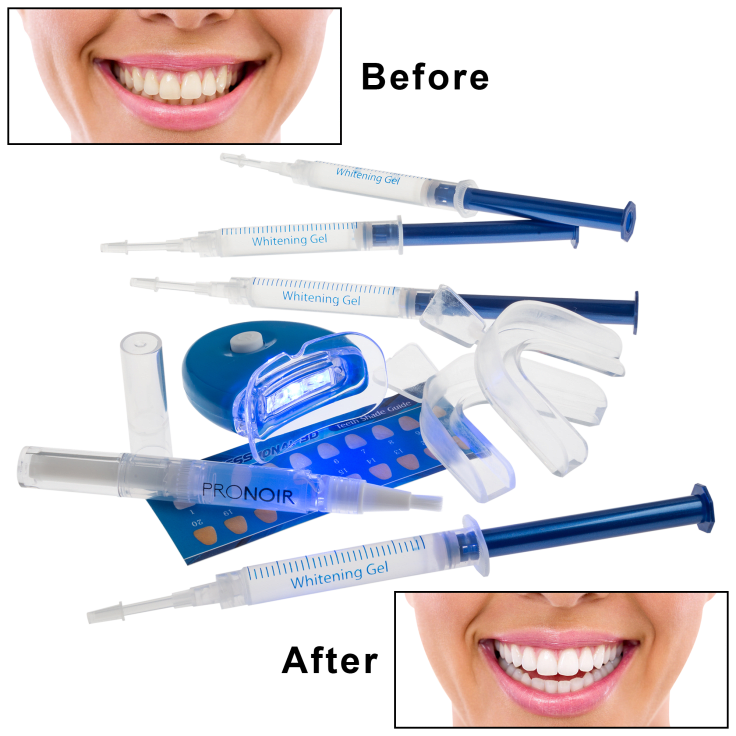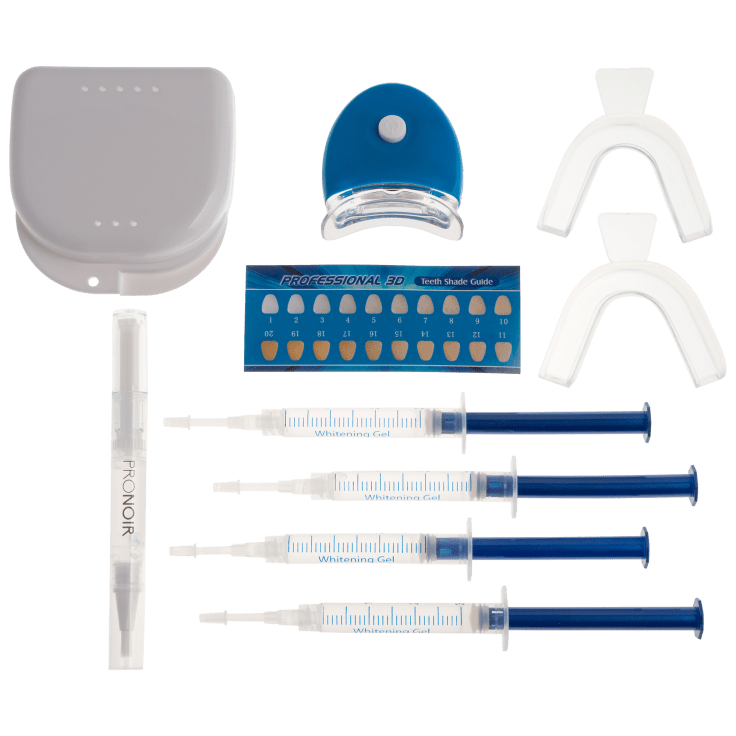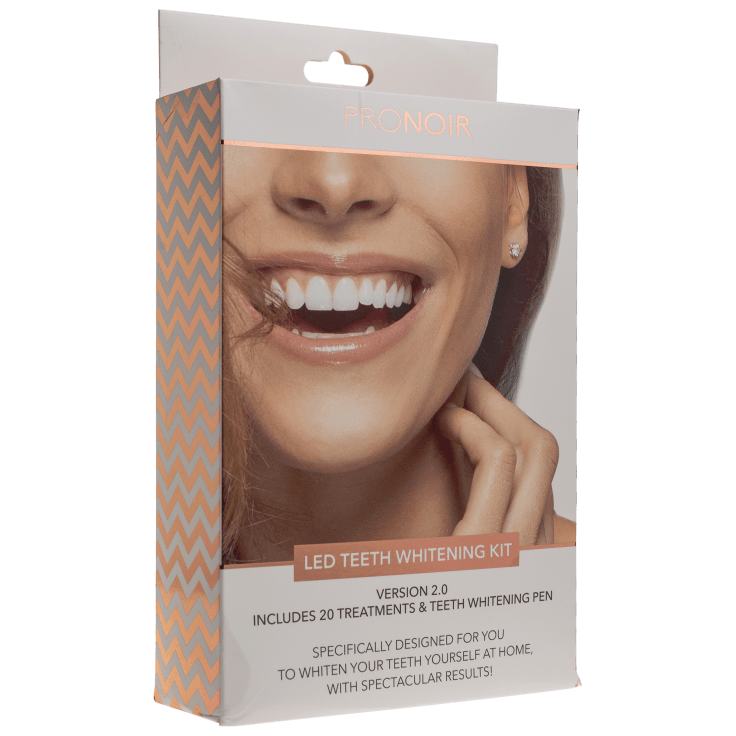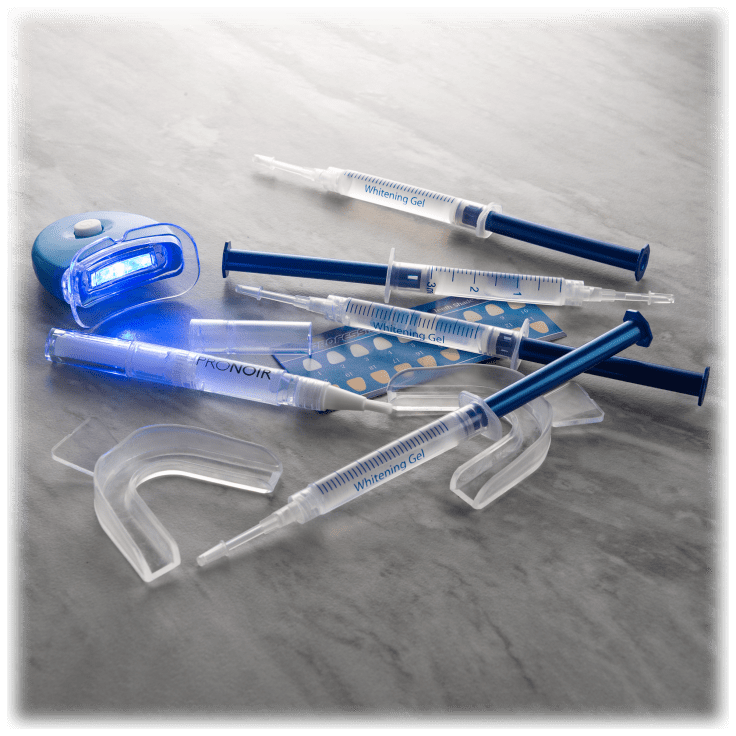 ProNoir LED Teeth Whitening Kit with "On the Go" Whitening Pen
A few moments in the morning or at night can give you whiter, shinier teeth. It's that simple.
Features
Specifically designed for you to whiten your teeth yourself at home, with spectacular results!
Comes with a Teeth Whitening Pen (3ml) so you can easily touch up any discoloration on the go
Benefits:

Designed to whiten teeth at home
Water-based gel aims to brighten the teeth
Formulated to hydrate teeth and prevent discomfort during treatments
Mini LED light activates the gel to accelerate the process

How to Use:

Mold the mouth tray to the dimensions of your teeth
Use the LED lamp to activate the gel
Track the results with the included shape guide
Specifications
Gel Ingredients: 22% Carbamide Peroxide, Water
Ingredients: Carbamide peroxide, glycerol, propylene glyeol, deiomized water, triethanolamine, carbomer, carboxymethyl, menthol
Size: 20 Treatments
Dimensions: 8"x5"x2"
Included In The Box
4x Gel Syringes (3ml)
Teeth Whitening Pen (3ml)
2x Mouth Trays
Mini LED Lamp
User's Guide
Warranty
Reviews
Verified Purchase
Seems like a good product.
The price was reasonable,and I think it might work. The only thing is waiting the 20 minutes or more.
Written by @Haldayne - March 19th 2020
Verified Purchase
Right on time!
I received my order faster than expected! I can't wait to use it!
Written by @greenelesa - May 4th 2021
Verified Purchase
Owner
Haven't tried it yet. Waiting to see the results.
Written by @Christinehodge - June 13th 2020
Verified Purchase
I didn't think they would get here this early
Written by @debracross - January 1st 2021
Verified Purchase
Written by @skolitz - July 19th 2021
Verified Purchase
Written by @luclezin - August 11th 2020
Verified Purchase
better packaging needed
how can i give these messed up boxes as
Christmas gifts???
Written by @lindaebretz - July 2nd 2020
Verified Purchase
Poor Product
The package came and the LED light kit came with the battery in it which was dead. The battery needs to be kept separate from the LED light kit when shipped. Plus, the directions did not warn against melting the mouth guard.
Written by @ktestmanbenskin - May 9th 2020
Verified Purchase
Lights DO NOT WORK
I bought 4 kits for myself and as gifts at Christmas. As of now, 3 of the 4 lights DO NOT WORK. The other gift has not been tried yet.
Written by @Kdannenbring - December 31st 2020
Verified Purchase
Does not work
Can't even form the plastic tray after 8 minutes in hot water. Will not get soft to form around teeth
Written by @cpbkabatcomcast - August 24th 2020
Verified Purchase
No user manual
Written by @Knucklehead55 - June 8th 2020
Verified Purchase
Light broken
Written by @kbussard - May 12th 2020
Verified Purchase
Written by @ladyjo48 - April 14th 2020