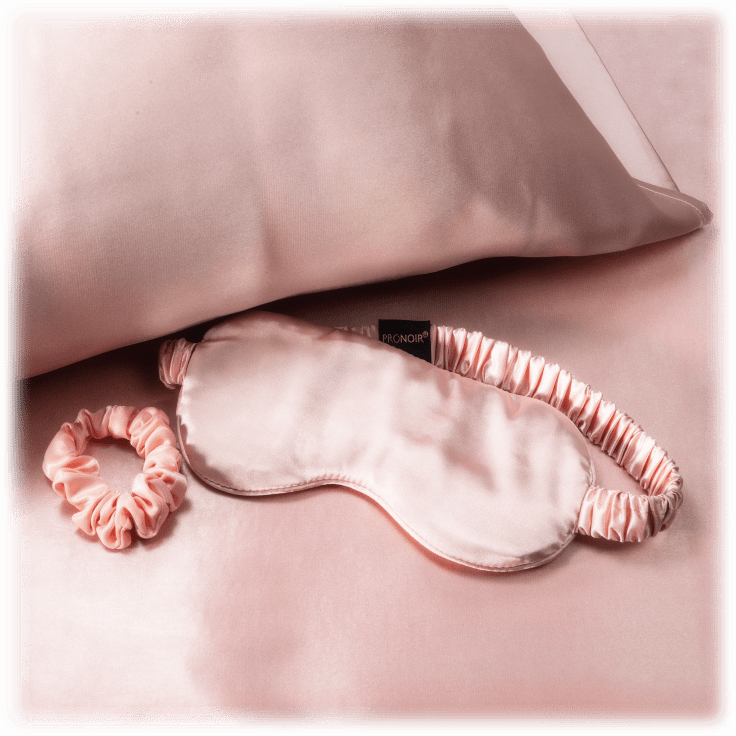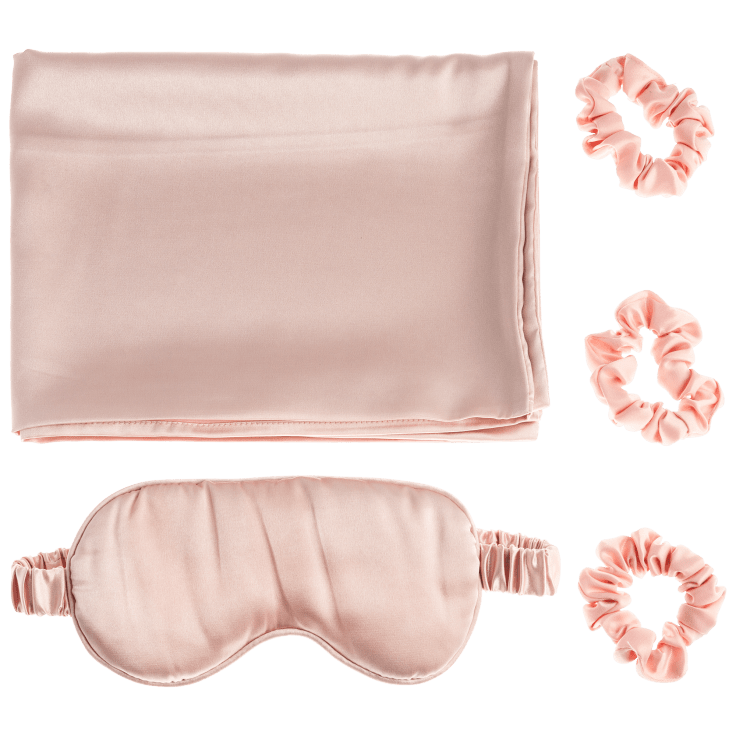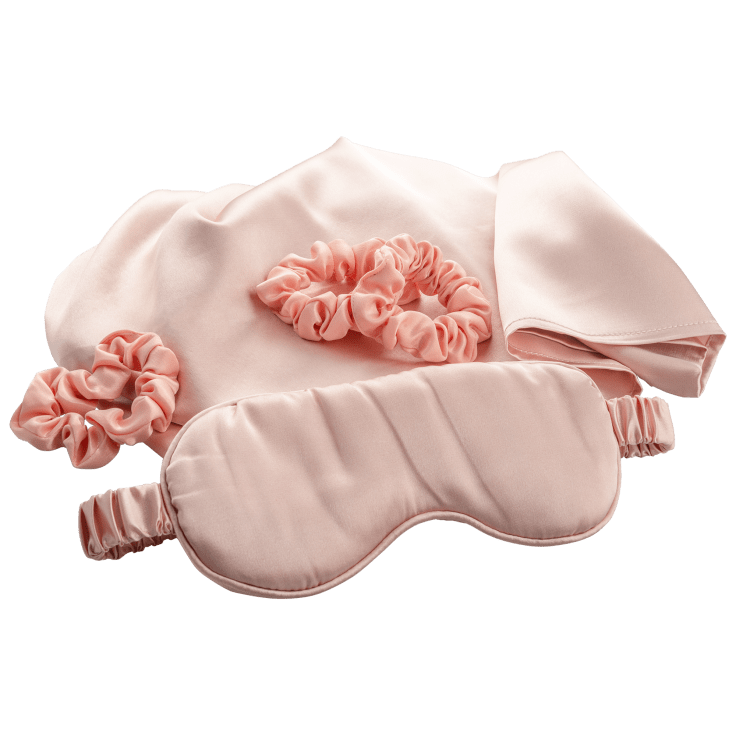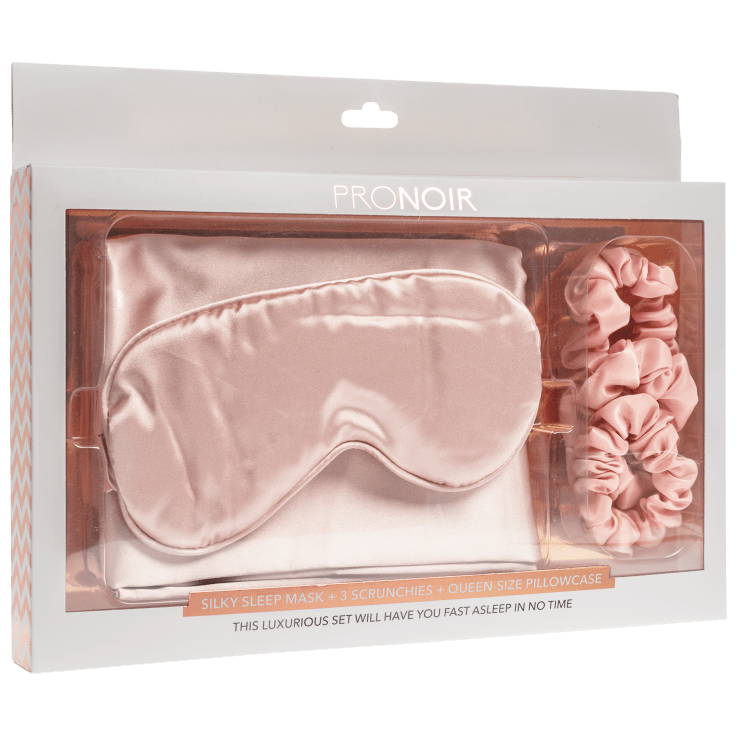 Pronoir Beauty Silky Sleep Set (Pillowcase, Sleep Mask, Scrunchies)
Infused with anti-aging hyaluronic acid, this sleep set is designed for the ultimate beauty sleep.
Features
Designed with the ultimate combination of shine, thickness, softness and durability
Premium set comes with a hyaluronic acid infused silky eye-mask, a silky 20x30 queen sized pillowcase, and three silky sleep scrunchies
Pillowcase helps with resistance of hair creases and facial impressions in the skin that can occur with cotton pillowcases
Delivers anti-aging benefits as they don't tug at delicate parts of the face
Fall asleep in no time
Benefits

Designed for ultimate comfort and softness
Delivers anti-aging benefits
Ultimate soft & silky feel
Hydrates your skin
Included In The Box
1x Silky Sleep Mask
1x Silky Pillowcase
3x Silky Hair Scrunchies
Warranty
Estimated Delivery Date
Standard: Friday, Nov 6 - Wednesday, Nov 11.
Enhanced: Tuesday, Nov 3 - Monday, Nov 9.
Reviews
Verified Purchase
Satin pillow case
I had I good night's sleep. Slept like a baby. I don't think I changed positions all night long.
Written by @marleengrace - October 2nd 2020
Verified Purchase
Silky sublime
Written by @MissAundrea - September 3rd 2020
Verified Purchase
I LOVE THESE!!
My eyes have never been sooo happy!
Written by @karenshere - August 30th 2020
Verified Purchase
Love this Silk
This pillowcase is so soft to sleep on. I really believe it helps my hair and my skin. Love the matching hair ties and sleep mask too!
Written by @kswallace2 - August 14th 2020
Verified Purchase
Very high quality, I was very impressed the minute I opened the package. The color is beautiful and the sleep mask is the most comfortable mask I've ever had. I use a sleep mask every night.so I have owned quite a few! I definitely made the right choice when I ordered this.
Written by @NancyCecil - May 29th 2020
Verified Purchase
Silk Pillowcase, Eye Mask, Scrunchies SET
Very happy/pleased with all the items & the nice packaging. If still available at same price, I'd like to reorder as Gift(s).
Written by @1968cher - May 5th 2020
Verified Purchase
Pretty
I'm very impressed with everything!
Written by @shawneej007 - April 16th 2020
Verified Purchase
Awesome silk pillowcase without costing a fortune.
I just love this pillowcase! I ordered additional ones so I always have a clean one. I wake up without creases on my face. Love it !!
Written by @RwpSap102580 - March 24th 2020
Verified Purchase
Good sleep the quality it awesome! Pretty
Love it

Written by @phreeb - February 5th 2020
Verified Purchase
Written by @Rvondera - January 28th 2020
Verified Purchase
Great Value
I love the quality of the items ordered from MorningSave. All items were received in a timely manner. Very happy.
Written by @cwomaryc - January 26th 2020
Verified Purchase
Feels Great
The material feels wonderful however the face mask is a little tight. Watch out large head women

Written by @dcarteril - January 24th 2020
Verified Purchase
Bought this for my daughter and it's amazing! She loves it!! Wish I would have bought one for myself!
Written by @Mommas65 - December 25th 2019
Verified Purchase
DELIGHTED!
This is a lovely bed or nap time set scented with beautiful lavender flowers.


OMG, I really enjoy this. Plus, it's perfect for gifting too.



. Highly recommend



Written by @ANTIQUE - October 29th 2019
Verified Purchase
The product is great I wish it care instructions ???
Written by @JennyBear1 - October 26th 2019
Verified Purchase
Silk pillow cover
Written by @blaandee - January 29th 2020
Verified Purchase
it isn't silk
they are saying it was silk but the tag 65% Rayon 35% cotton that isn't silk. when you advertise silk you are thinking it ia 100% silk so it really is misleading.
Written by @Betty1963 - June 12th 2020
Verified Purchase
Cheap
I thought they were going to be silk. It's satin like silk. My first purchase with this site and I'm so not happy. This is not worth $20! Let alone the $43 I paid since I chose to get two when I ordered. Very disappointed. Stuck too since their return policy is not customer friendly. I'm never buying from this site again.
Written by @TessQutie - October 25th 2020
Verified Purchase
Poor quality
The packaging arrives beat up and the material is not good quality.
Written by @mmvazquez - October 26th 2019