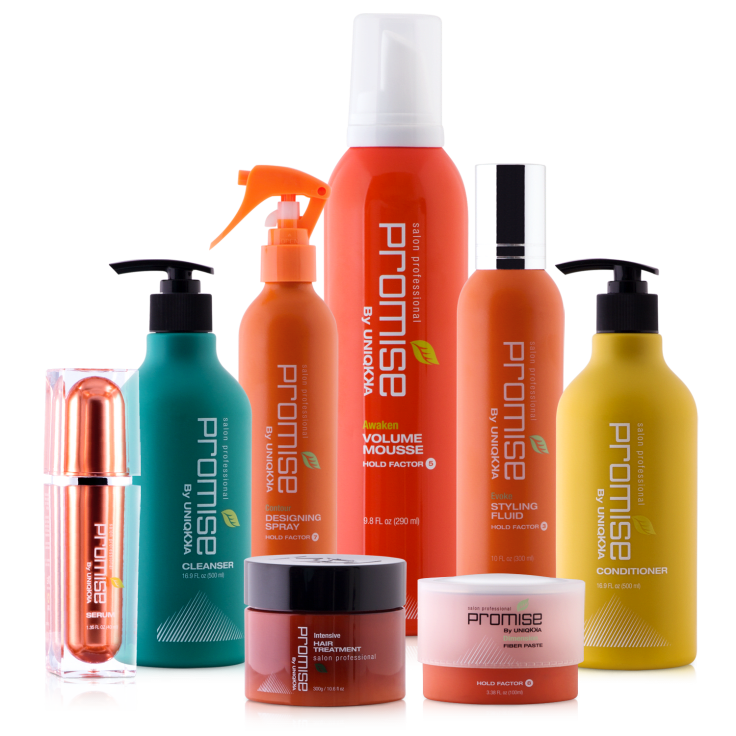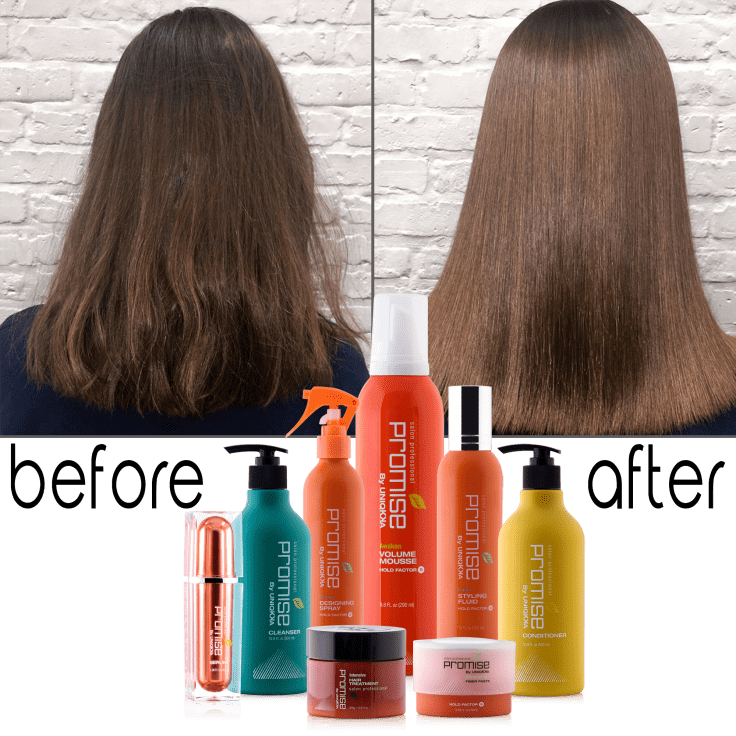 Promise by Uniqkka Ultimate Growth & Protect Hair Care Collection
Evoke your inner beauty. Maintain and treat your hair with our remarkable product bundle. Inspire your hair!
Features
Promise Cleanser
We promise you'll never need another shampoo. One formula can do it all; cleanse, moisturize, repair, protect, volumize, prevent frizz, add sheen, prevent hair loss and inspire your hair to look healthier and shinier with every use.
Promise Conditioner
Promise conditioner reduces static, prevents dryness and gets weary strands back in shape. Symforce Microalgae builds strength while organic Argan oil helps balance moisture and improves the hairs texture.
Promise Awaken Volume Mousse
Root awakener Plus Humidity Resistant Volumizing Mousse is a humidity-resistant volumizing spray mousse that helps you create big volume by pumping up the root with extra hold.
Promise Dimension Fiber Paste
Pliable high fiber-forming cream that gives body and tames fly-aways for a more natural look. Good for any hair length and texture. Dimension Fiber Paste has a matte finish.
Promise Serum
Promise serum, quite simply promises to be the best serum you have ever used taming your hair instantly with control over frizz and fly-aways while adding luster, shine and strength. Promise Serum provides 24 hour protection from humidity, heat and styling tools.
Promise Intensive Treatment
A highly developed, effective formulation for the treatment of damaged, dehydrated and thinning hair. Re-grow your hair with this hair treatment.
Promise Evoke Styling Fluid
Create natural style and smoothness with this delicate lotion that adds shine, repairs, moisturizes, tames fly-aways and protects from the heat of styling tools.
Promise Contour Designing Spray
A brushable, humidity resistance working hairspray. Momentum is the ultimate professional tool delivering the promise of great hold, touchable feel, and easy brushability, so you can change your look as often as you want.
In The Box
Promise Cleanser by Uniqkka – 16.9Fl oz/500ml
Promise Conditioner by Uniqkka – 16.9oz/500ml
Promise Awaken Volume Mousse 10floz/290ml
Promise Dimension Fiber Paste – 3.38Fl oz/100ml
Promise Serum by Uniqkka – 1.35oz/40ml
Promise Intensive Treatment by Uniqkka – 10.6oz/300g
Promise Evoke Styling Fluid – 10Fl oz/300ml
Promise Contour Designing Spray – 10fl oz/300ml
Warranty
Available States
AL, AZ, AR, CA, CO, CT, DE, DC, FL, GA, ID, IL, IN, IA, KS, KY, LA, ME, MD, MA, MI, MN, MS, MO, MT, NE, NV, NH, NJ, NM, NY, NC, ND, OH, OK, OR, PA, RI, SC, SD, TN, TX, UT, VT, VA, WA, WV, WI, WY
Estimated Delivery Date
Monday, June 15th - Thursday, June 18th. We're temporarily prioritizing shipping some items to help customers stay at home during the COVID-19 pandemic. As a result, some deliveries will be longer than usual.