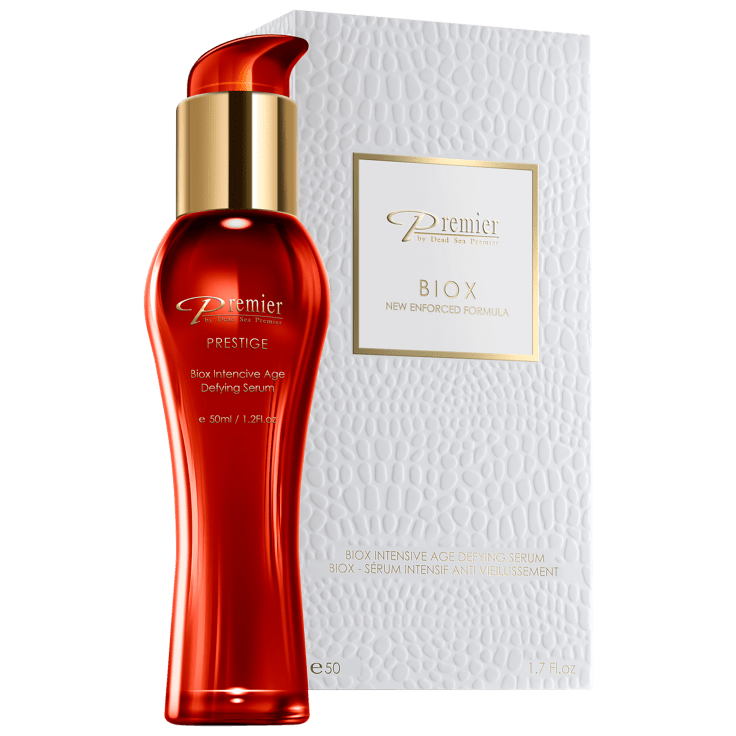 Premier Dead Sea BIOX Intensive Age Defying Serum
Generate a long-lasting, anti-wrinkle effect with the BIOX Intensive Age Defying Serum.
Features
Rebuild your skin with regenerative skin cell growth
Reduces the appearance of fine lines, wrinkles, and sagging
Allows skin to feel firmer, younger, and more supple
Key Ingredients
Watercress Extract: Rich in Vitamin A & Vitamin C, watercress serves multiple functions in this lifting mask. Watercress can alleviate any inflammation, redness, or imperfections that reside on skin's surface while it sinks deep into the skin to remove any sneaky impurities that can cause aging. Finally, it also works to lift and firm skin that's starting to lose its brightness.

Vitamin E: This regenerative vitamin is essential to renew and soften skin. In anti-aging treatments, vitamin E can do everything from erasing the appearance of wrinkles, fight depigmentation, and smooth-over rough skin.

Aloe Vera: Nature's miracle healer. Aloe Vera has been known to heal scar tissue, depigmentation, irritation, and rough skin texture. In anti-aging solutions, aloe can help reduce the appearance of wrinkles, age spots, and dull skin.
Application
Apply the product twice daily, morning and evening. Gently massage the serum into your skin in soft, upward motions. Avoid getting the serum into your eyes. This formula forms the base for the cream.
Included in the Box
1x BIOX Intensive Age-Defying Serum
Warranty
Available States
AL, AZ, AR, CA, CO, CT, DE, DC, FL, GA, ID, IL, IN, IA, KS, KY, LA, ME, MD, MA, MI, MN, MS, MO, MT, NE, NV, NH, NJ, NM, NY, NC, ND, OH, OK, OR, PA, RI, SC, SD, TN, TX, UT, VT, VA, WA, WV, WI, WY