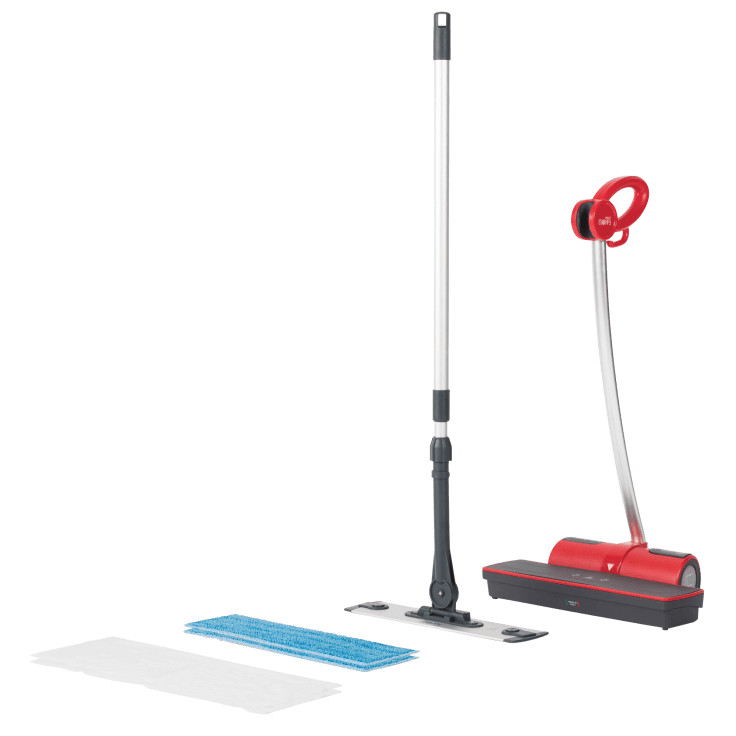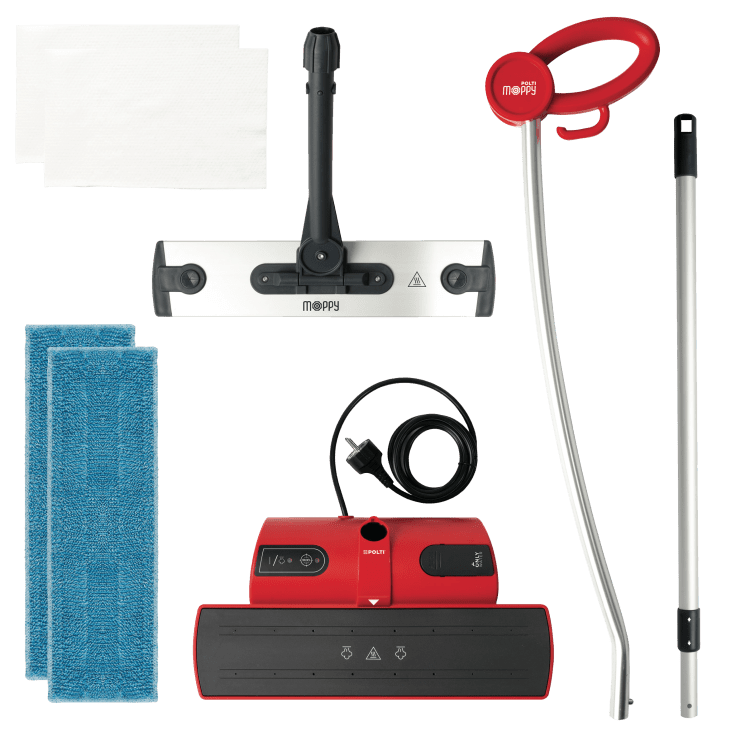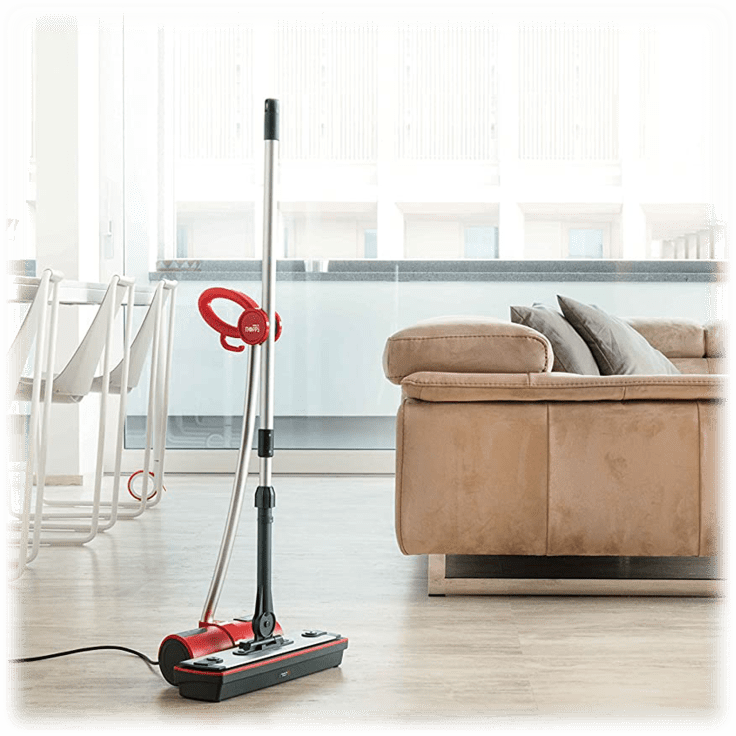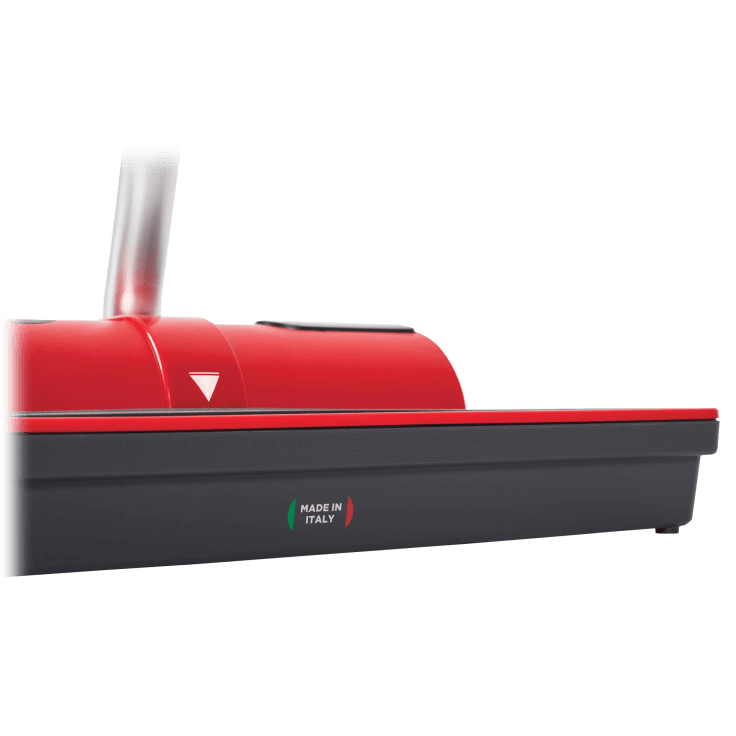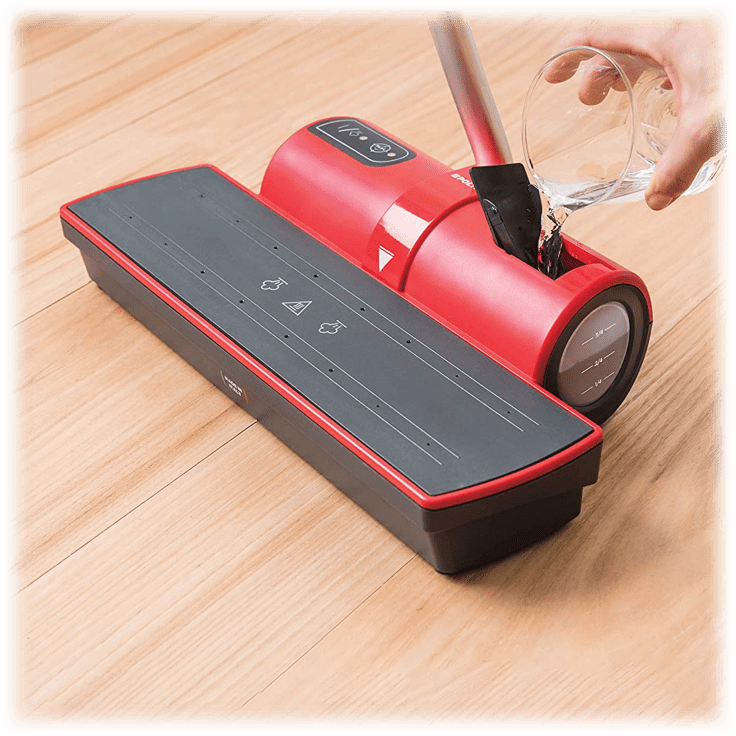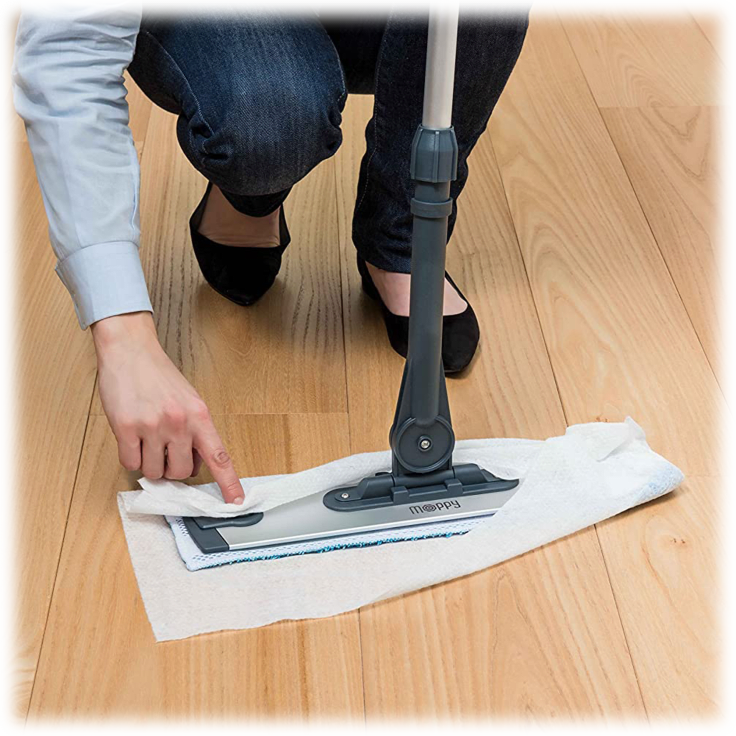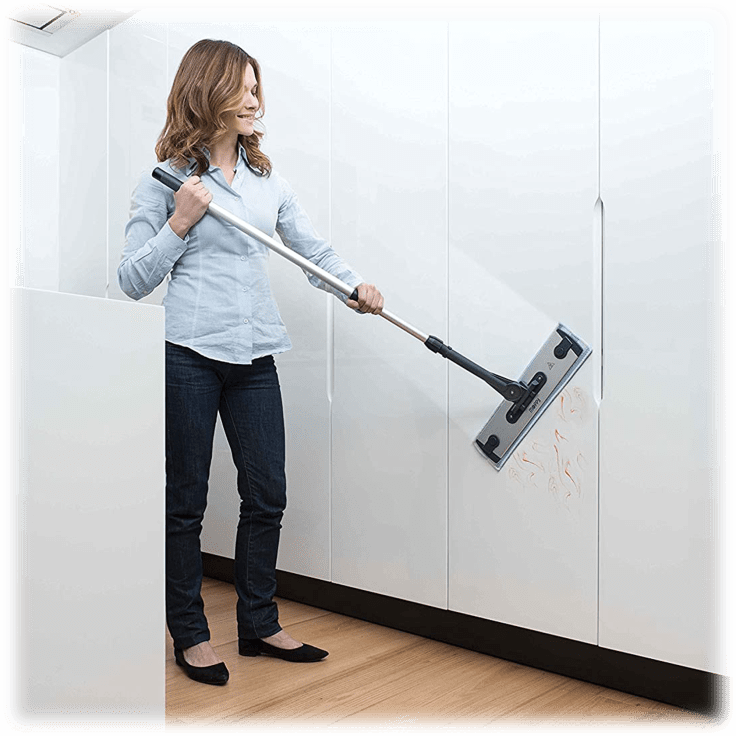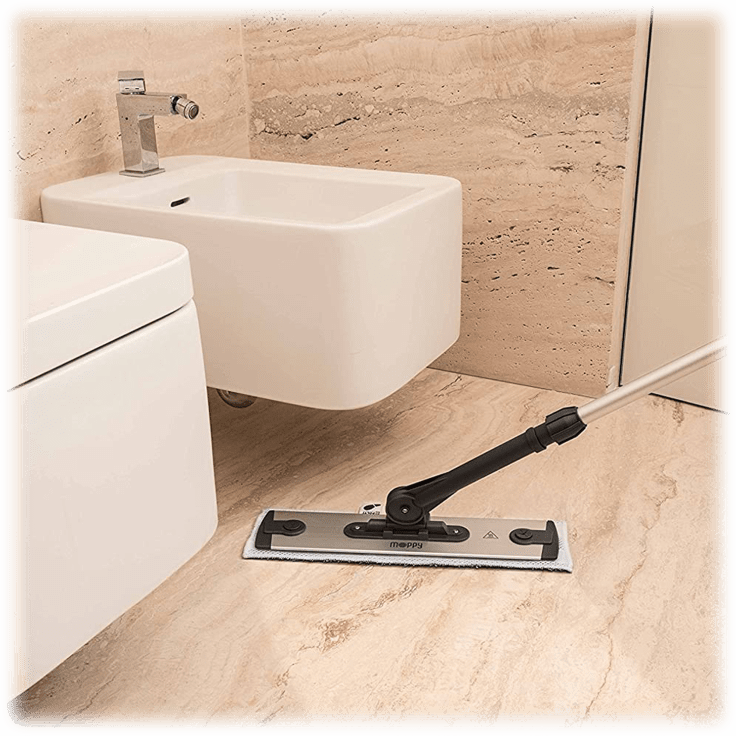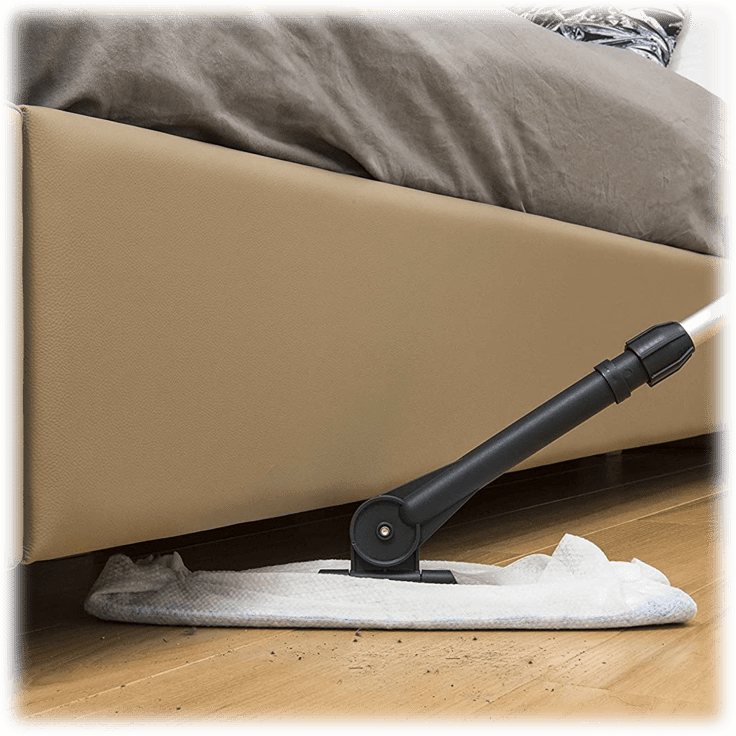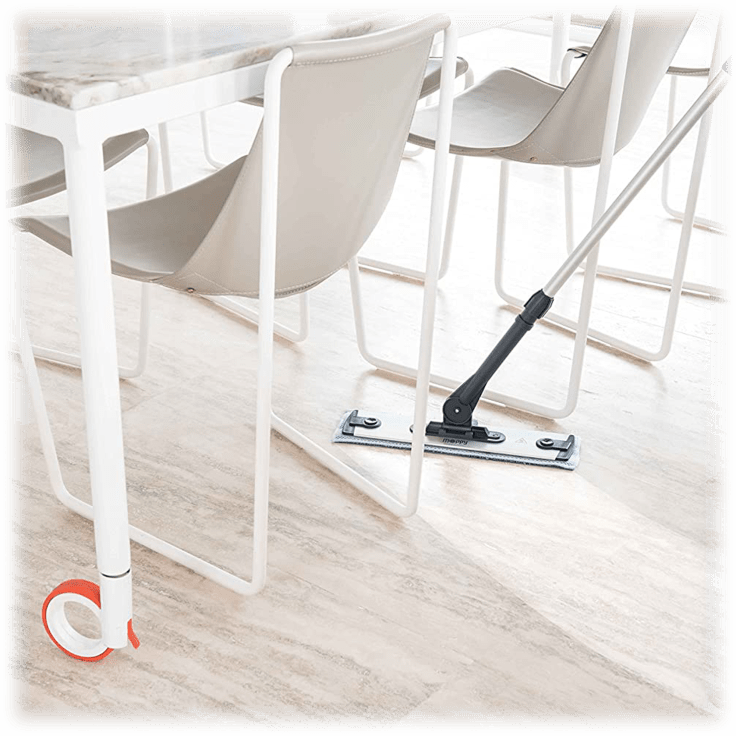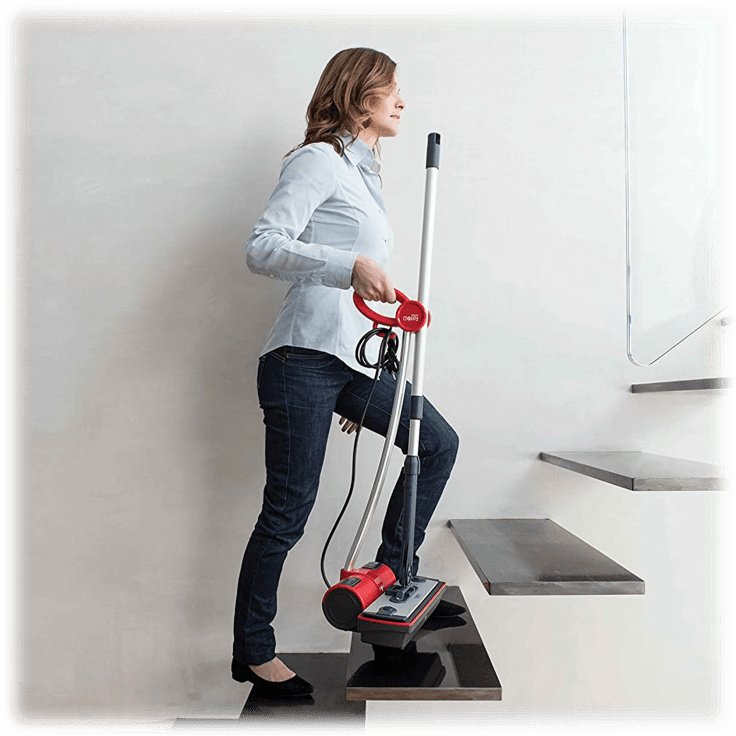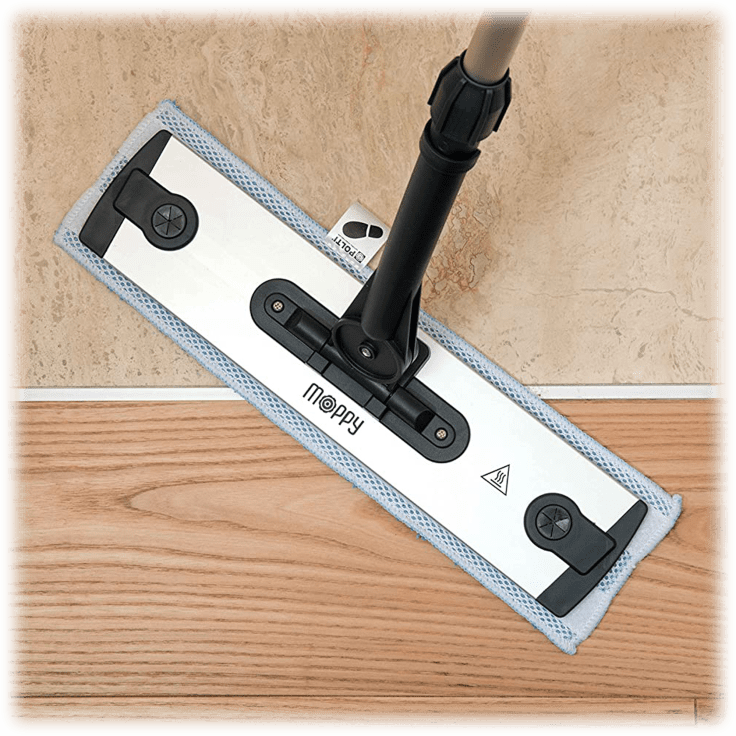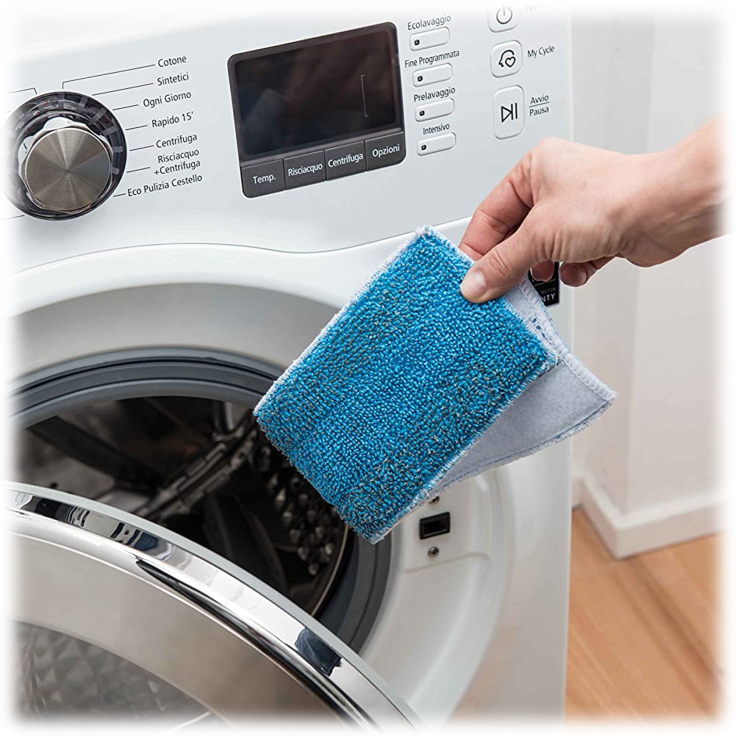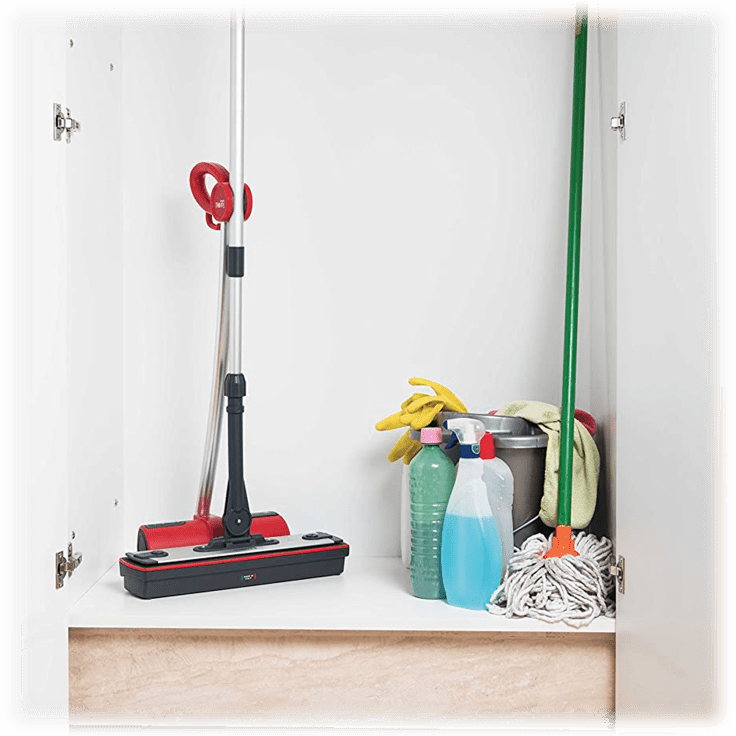 Polti Cordless Sanitizing Steam Mop
Features
Cleanliness and Sanitation In 5 Steps:

Fill the tank with tap water and in just 10 seconds Moppy is ready
Steam the microfiber cloth on the base and clean: the hot steam-charged cloth retains and removes easily all dirt and bacteria
The cordless mop is agile and ultra-light, reaching the most inaccessible places with maximum comfort
Return to the base and steam the cloth again to eliminate 99.9% of germs and bacteria

Easy And Effective:

Laboratory tests have confirmed Moppy's double efficacy: it removes 99.9% of germs and bacteria from all surfaces and subsequently eliminates them thanks to the natural force of the steam
The green indicator light on the charging base clearly indicates the successful destruction of germs and bacteria and the sanitation of the cloth

For All Floors And More:

You can clean all kinds of floors (tile, marble, parquet) and also vertical surfaces such as tiled walls, doors, cupboard doors, etc.
In addition, the large size of the mop plate reduces the timing for complete sanitation of the surface

Lightweight And Handy:

Is lightweight and compact, easy to move using just one hand thanks to its ergonomic grip
The ultralight cordless mop in anodized aluminum guarantees maximum flexibility
The telescopic handle adjusts to the height of the user, while the 360° articulation and the wide and thin plate make it possible to reach the most hidden corners and clean even vertical surfaces easily

Dries Surfaces Immediately With No Streaks:

Surfaces are quickly and evenly dry, without annoying streaks or "halos", thanks to the combined action of steam with the special microfiber cloths

Keep Hands Always Clean And Dry:

You don't have to bend or use your hands to apply the microfiber cloth on Moppy's cordless mop: just stand the mop's plate directly onto the cloth to secure it
After cleaning, put your foot on the label and lift the mop to remove the dirty cloth

Safeguard The Environment:

Cleans with tap water that, turned into steam, sanitizes naturally without chemicals, protecting your health and the environment
Moreover, Using Moppy you only need 24 ounces of water to clean over 2,000 square feet with a significant reduction in consumption compared to the amount of water required by traditional cleaning tools

The Effectiveness Of Microfiber Cloths:

Microfiber cloths have a high capacity to collect and retain dirt, germs, and bacteria from all kinds of floors and vertical surfaces; they are made from thin flexible, and resistant filaments, characterized by a high absorbency and the ability to lift the dirt and trap it until machine washed

Easily Catch The Dust:

Captures also the dust thanks to the electrostatic cloths whose particular structure and thickness trap dust, hair, animal hair, or cobwebs
Insert the dust catching cloth on the corresponding buttons situated on the mop plate, over the microfiber cloth, and start dusting: the ultra-agile mop will reach even the most hidden corners and its large plate will help you clean up in a few wipes
Specifications
System: Cordless Mop with Base
Working Autonomy: Limited
Tank capacity: 3 Cups (24 oz)
Heating time: 10-30 seconds on the heating time, depending on how saturated you want the mop head with steam
Charging Base Power: 1500 W
Cable Charging Base Length: 70in
Charging Base Size: 16 x 8.6 x 38.6 in
Telescopic Mop Material: Anodized Aluminum
Mop Weight: 1 lb
Mop Height: 27.5 to 49 in
Mop's Plate Size: 15.4 x 3.5 in
Includes:

2 Microfiber Cloths (With high absorption power to collect and retain dirt from all types of surface. They are easy to fasten and are machine washable.)
2 Electrostatic Dust Cloths (2 electrostatic disposable cloths XXL size (30x50 cm) useful to capture dust and dirt)
Included In The Box
1x Polti Cordless Sanitizing Steam Mop
1x Charging Base
2x Microfiber Cloth
2x Electrostatic Dust Cloth
Warranty
Estimated Delivery Date
Monday, June 15th - Thursday, June 18th. Due to a high volume of orders, delivery times are longer than usual.
Reviews
Verified Purchase
Very easy to use. I can eliminate several other cleaning items. What a blessing.
Written by @MyCourage57 - June 3rd 2020
Verified Purchase
So easy to use
Have used the Steam mop only once, but was very impressed and does a great job. Highly recommend for the value!
Written by @Alcarrico - June 2nd 2020
Verified Purchase
Mop
I just got it so as soon as I use it I'll get back to you that I just want to let you know that I got the delivery
Written by @lucilledrew - May 21st 2020
Verified Purchase
I have had it for 3 hrs. 30 minutes to assemble, seems to work adequately. I am glad I had the 67% discount when I ordered.
Written by @RichardCPalmer - May 27th 2020