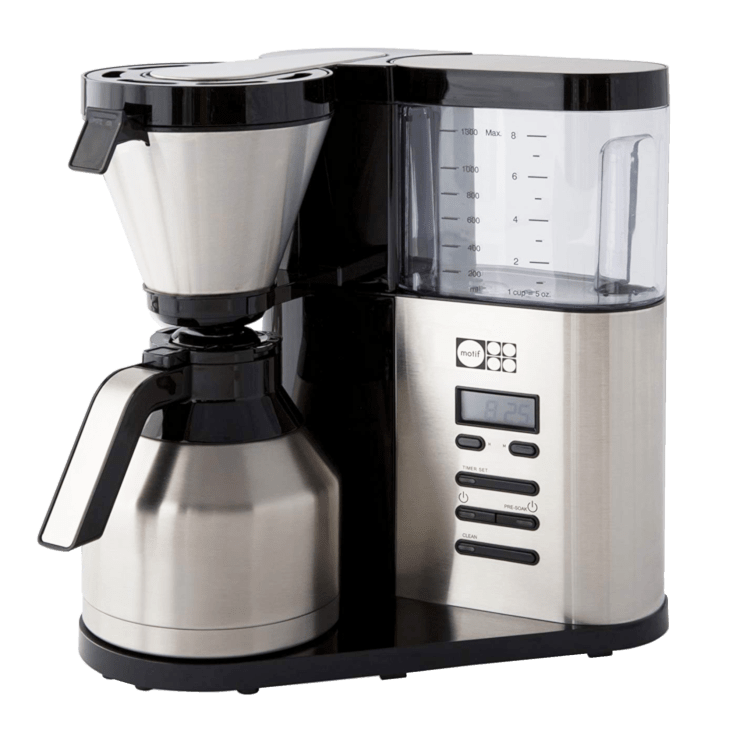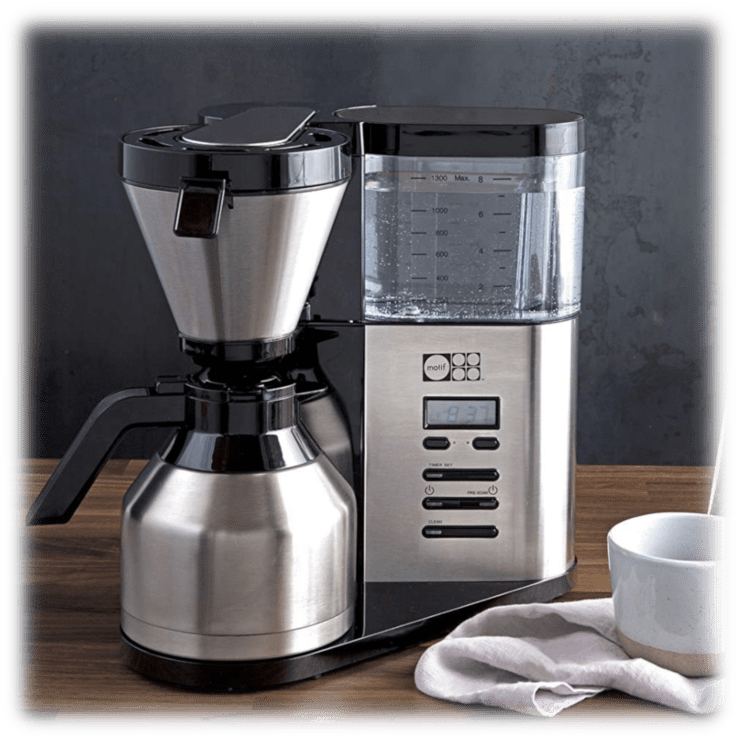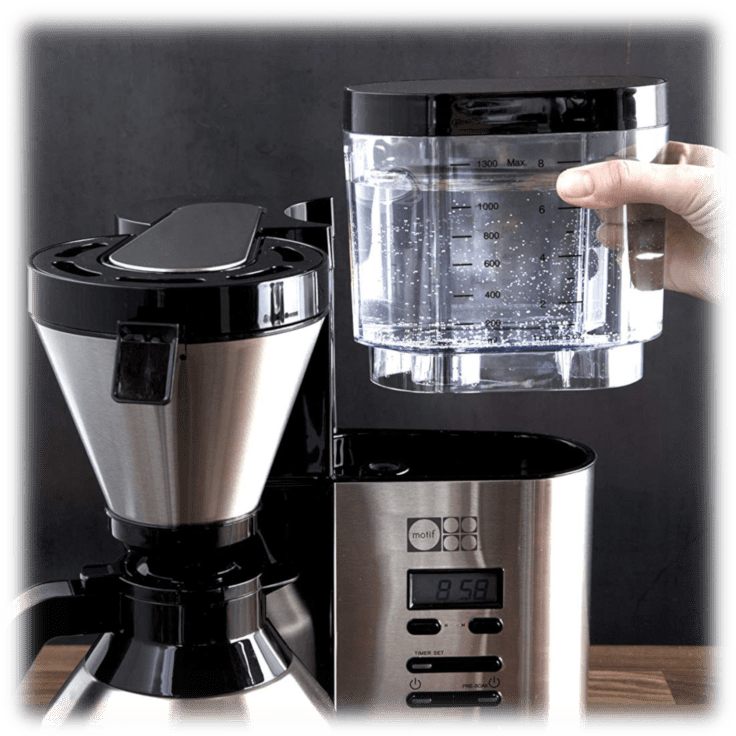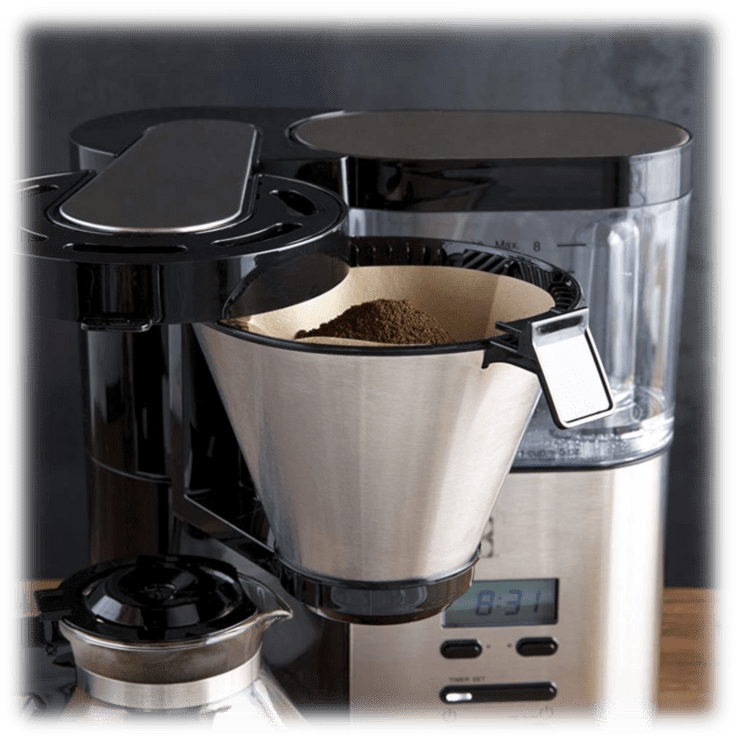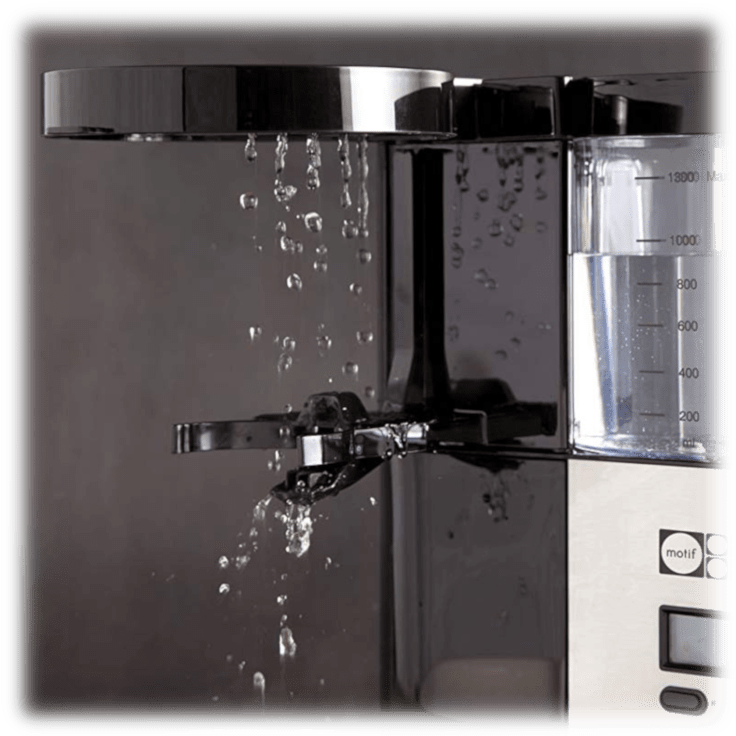 Motif Elements Pour-Over Style Coffee Brewer with Thermal Carafe
Your home experience is enhanced with precision brewing for ultimate flavor. This programmable brewer's elbow-shaped design fits any kitchen counter.
Features
Includes five Melitta® #4 paper filters in starter pack
Specially designed showerhead ensures even saturation of coffee grounds
Superior water heater ensures ideal brewing temperature
Pre-infusion mode releases the unique flavors of your coffee
Audible tones indicate when the brewer starts and completes the brew cycle
Brew through lid and filter basket are designed to allow the user to remove carafe in mid-brew cycle
Advanced decalcification sensor
Programmable timer (military time only)
8 cup double-walled stainless steel thermal carafe
2 year limited warranty
- Unique elbow-shaped design: The Elements brewer's corner design allows easy filter basket and water reservoir removal while efficiently fitting into kitchen counter space.
- Ideal brewing temperature ensures optimal coffee extraction: We follow industry-recognized ideal brewing standards for excellence. Our brewing temperature is reached within 60 seconds before coming in contact with the ground coffee, then is maintained between 198ºF to 205ºF throughout the brewing cycle for optimal coffee flavor extraction.
- Pre-infusion mode reveals each coffee's unique characteristics: Our pre-infusion mode simulates the manual Pour-Over Method. During this critical step, the shower head precisely dampens the coffee grounds for 20 seconds. This then triggers the "blooming" process during which gasses are released from the grounds allowing them to absorb the water, which in turn initiates the flavor extraction process. The water flow pauses for 30 seconds to enable the coffee to fully bloom bringing out the unique flavor characteristics of your coffee. The showerhead is then reactivated and the brew cycle is completed.
- Advanced decalcification sensor indicates when brewer needs cleaning: The Motif™ decalcification notification is based on the actual performance of your brewer rather than on a pre-set number of brew cycles. The brewer measures the amount of power required to heat and pump the water used. As calcium builds up the amount of power increases. The brewer monitors that power measurement so we can let you know precisely when decalcification is needed.
- Heating system provides perfect brewing temperature: Our internal design allows rapid coffee brewing without overheating. Once brewing is completed the stainless carafe maintains your coffee's temperature without the need for re-heating. Brewer uses 1465 watts.
- Our quality commitment to you: Each Motif™ coffee brewer meets our exacting standards of brewed coffee quality based on our extensive industry experience and coffee knowledge development over 25 years. These stringent requirements include brewing time and temperature, consistency of brew cycle performance, and uniformity of flavor extraction.
Specifications
Timer - Programmable (24-hour Military Time only)
Carafe - Premium double-walled stainless steel for superior warmth retention
Filter basket - Removeable swing out filter basket
Water Reservoir - 8 cups, removeable
Brewer On/Off - Auto shut off after brew cycle completes
Carafe plate - Non-stick
Care - Dishwasher top rack-safe stainless steel thermal carafe and lid
Clean button - Advanced decalcification
Warranty