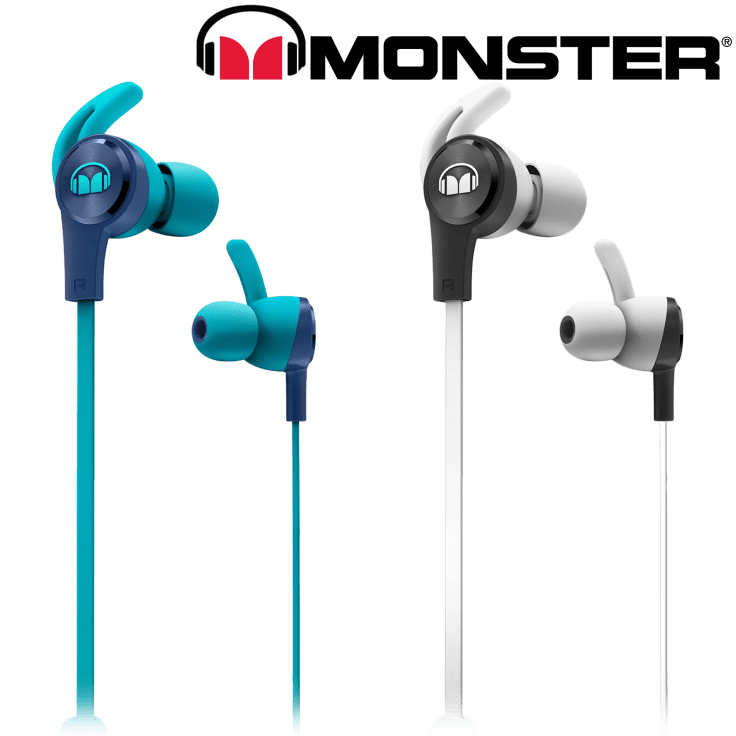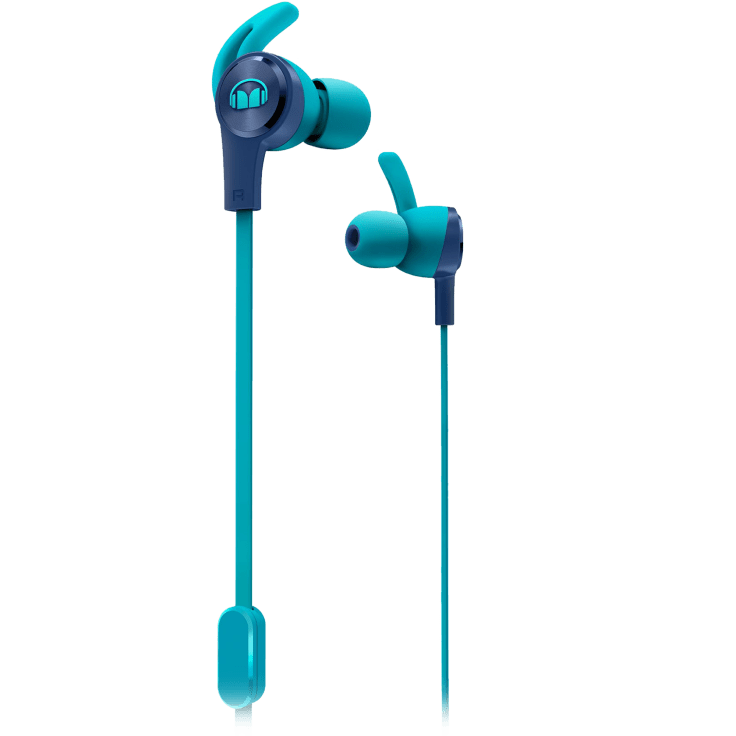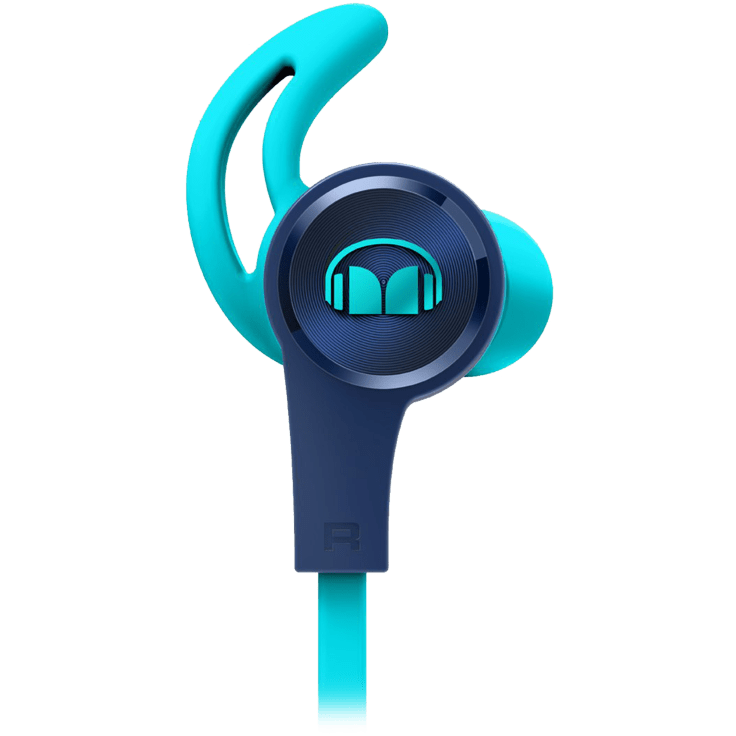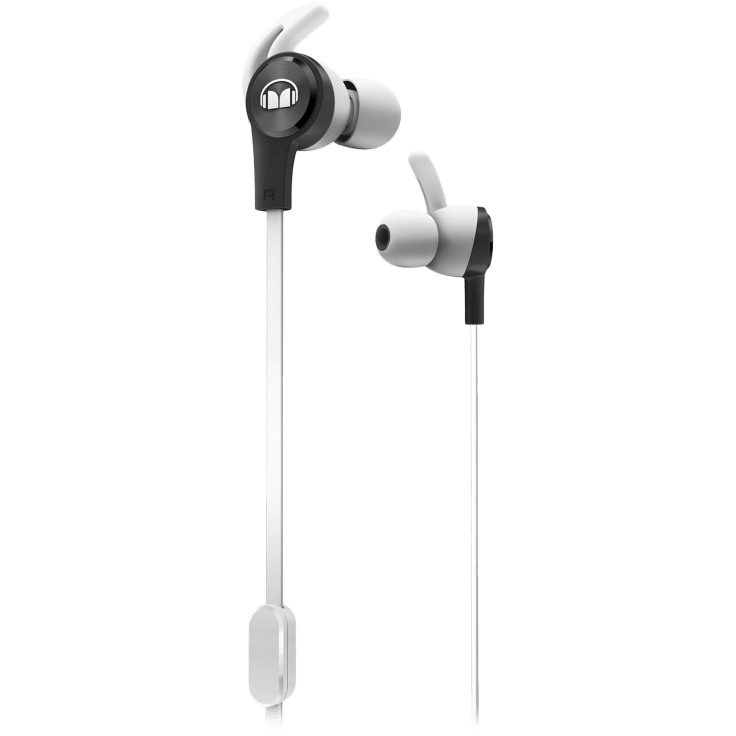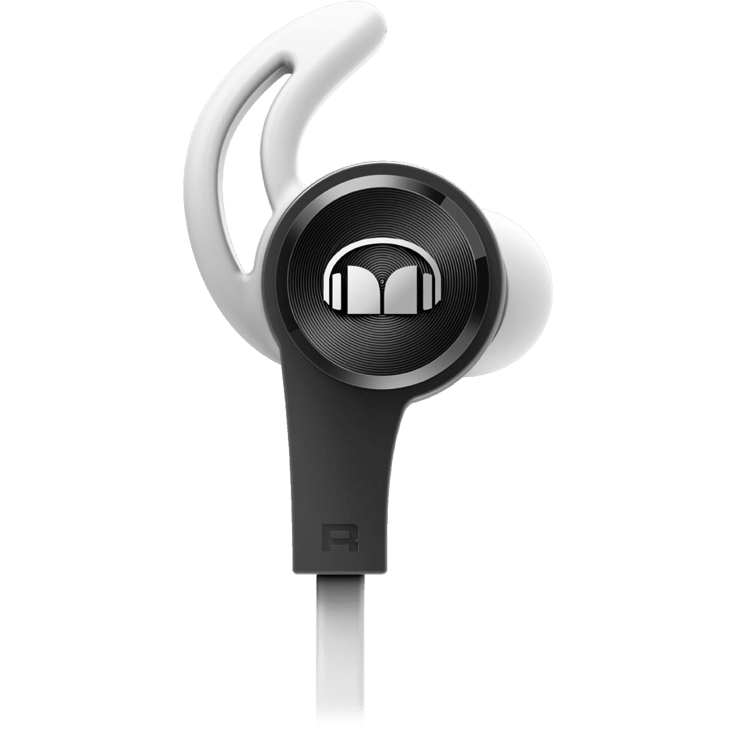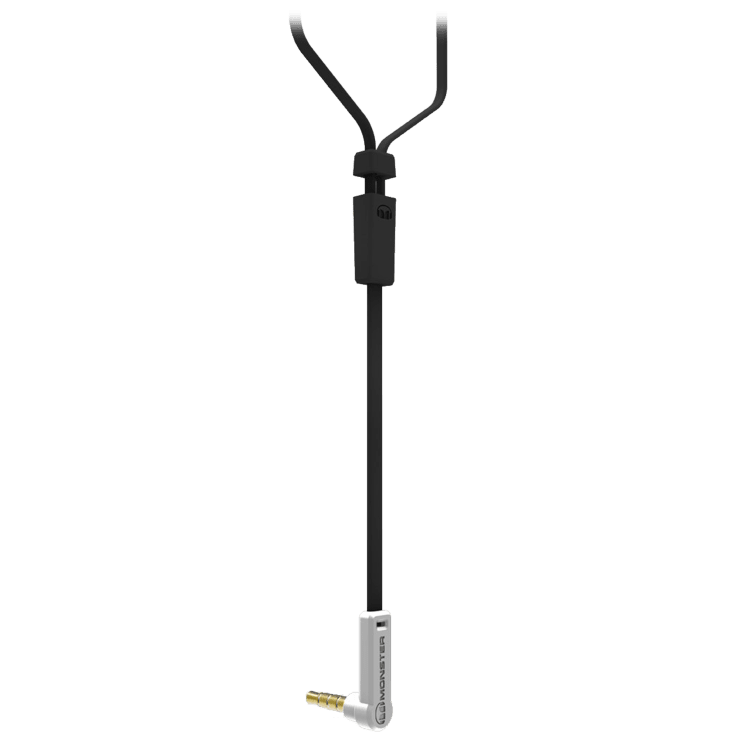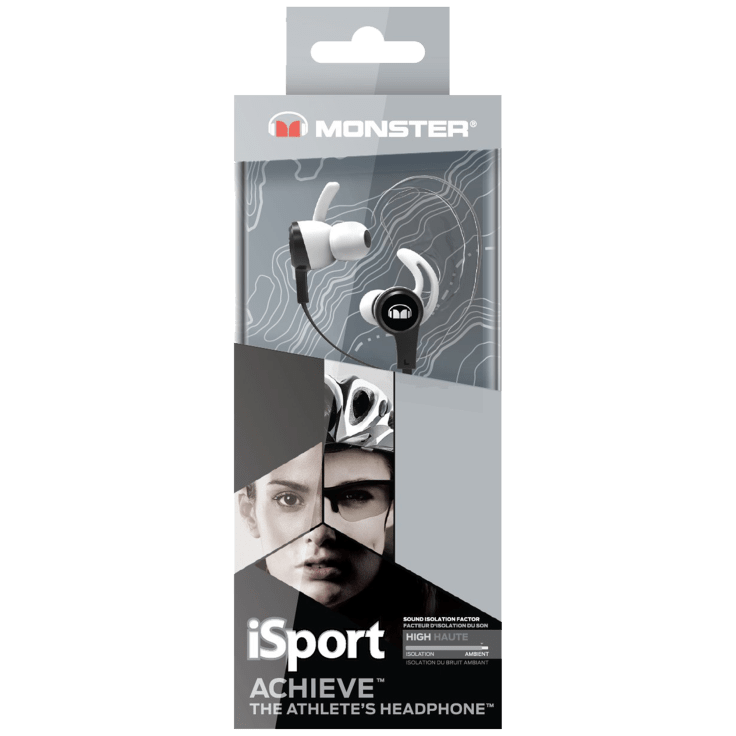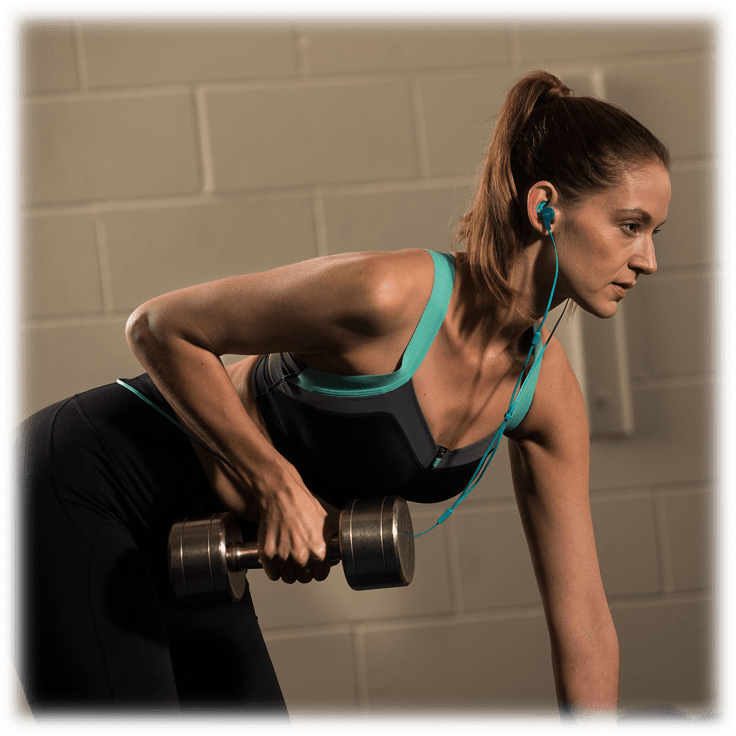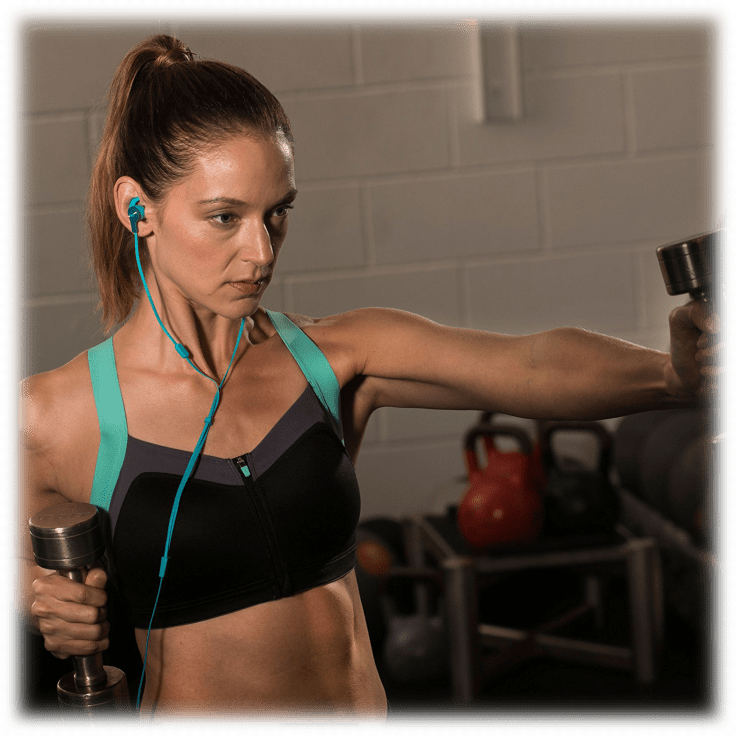 Monster iSport Achieve Sweatproof In-Ear Wired Sports Headphones w/Microphone
Features
Features a tangle-resistant cable, so you don't have to spend precious, frustrating minutes before your training untangling them. The secure fit of the iSport Achieve gives you 90% noise isolation. A higher level of noise isolation means you won't be distracted by noises around you, allowing you to focus all your attention on your personal goals.The Achieve headphones feature Monster's patented Sport Clip system, with one universal clip included that fits any ear shape. The cut-out shape ensures maximum flexibility while still being robust enough to keep the headphone in your ear, no matter how vigorous the activity. Achieve is fully sweat proof, meaning that the audio components won't be damaged by the minerals and salts contained in sweat.
SecureFit SportClip stays in your ear
High-performance microphone for hands free calling
Durable and sweat-resistant
Convenient right angle connectors
Tangle-resistant cable
Secure fit ear-hooks
Multiple ear tips for perfect fit
High isolation for focus
Specifications
Sound Mode: Stereo
Style: Sports and Exercise
Microphone Operation Mode: Mono
Controls: Call, Volume
Cable Length: 1.2 m
Jack Connection: 3.5 mm
Headphone Fit: In-Ear
INCLUDED IN THE BOX
1 x Monster iSport Achieve In-Ear Sport Headphones with Mic
1 x Monster 1 Universal Sport Clip
3 x Sets of In-Ear Tips
Monster iSport Fitting Guide
Monster Quick Start Guide
Warranty
Estimated Delivery Date
Friday, Nov 6 - Wednesday, Nov 11
Reviews
Verified Purchase
Great sound
Written by @Ljsalinas - July 31st 2020
Verified Purchase
Shipping is fast! And I like the fact that we're always told when something's delivered
Written by @karen5150martin - July 12th 2020
Verified Purchase
These are amazing!!
I was amazed at the sound quality!! I did have to get an iPhone 10xs adapter but these were only $6! The adapter was 10! Still an amazing deal and super great quality!!
Written by @rubyannmtz - June 10th 2020
Verified Purchase
Amazing headphones!
The sound is so amazing from these headphones! This is my second order wanted to pick some up for Christmas gifts at this amazing price! I'm in love with all MONSTER headphones and speakers! These sound better then my Bose I over paid for.
Written by @Luckylizolisous - June 10th 2020
Verified Purchase
High Quality Sound
Non-canceling, nice fit, and high quality sound
Written by @marty331965 - June 2nd 2020
Verified Purchase
Written by @gootsy57 - May 28th 2020
Verified Purchase
Best fitting earbuds I've ever had!
I have bought countless earbuds over the past 2 years and most of them don't stay in at all when you are doing something. I have to say these monster earbuds are by far the best product I found out there for active use. they truly fit like a glove and don't come out at all. Glad I bought two of these.
Written by @Jeffrey1965 - May 19th 2020
Verified Purchase
Love this
This set is great! I can't hear a thing come out of them when my family members blast their music threw these
Written by @Luckylizolisous - March 19th 2020
Verified Purchase
Great Christmas gift!!
I received these as a Christmas gift from Morning Save, and they work great. The sound is very good, and they stay in my ears. Thank you for the gift

!!
Written by @bwest90 - January 4th 2020
Verified Purchase
Monster i sport.
Free is always wonderful. Love these
Written by @hensonpatricia - January 3rd 2020
Verified Purchase
Thank you love it merry Christmas
Written by @Blessing20 - December 17th 2019
Verified Purchase
Very clear audio.
The sound is awesome. Noise cancelling input and output. The mic is very small, but picks up speech very well. The only problem is the mold of the earpiece is extremely large. I wish it was smaller and the these would be perfect. I just got them so we'll see how long they last.
Written by @armybrat077 - June 9th 2020
Verified Purchase
They kept falling out every time I walked, I had to switch them to the other ear to see if that made any difference but not really helpful either.
Written by @brett77769 - June 3rd 2020
Verified Purchase
Haven't even tried the product. Never again will I order from morning save. Delivery took way beyond Corona virus as an excuse
Written by @pdeters - May 29th 2020
Verified Purchase
I asked for blue but instead was sent black headphones.
Written by @NChambersBaby - February 26th 2020