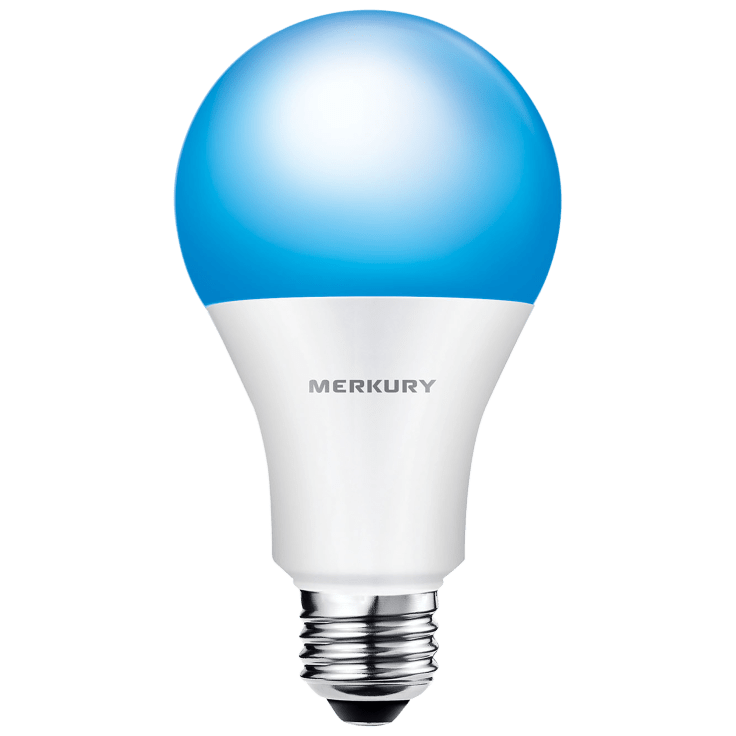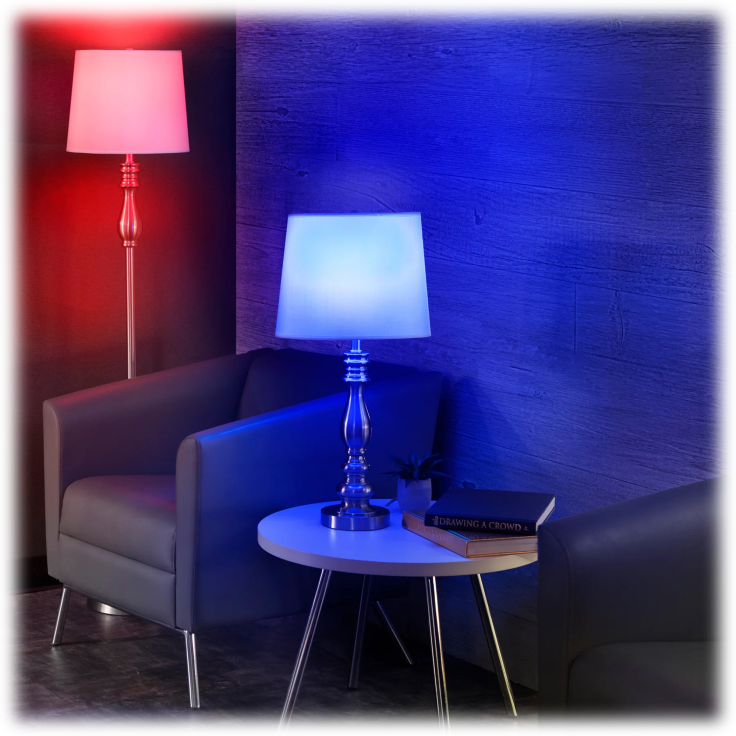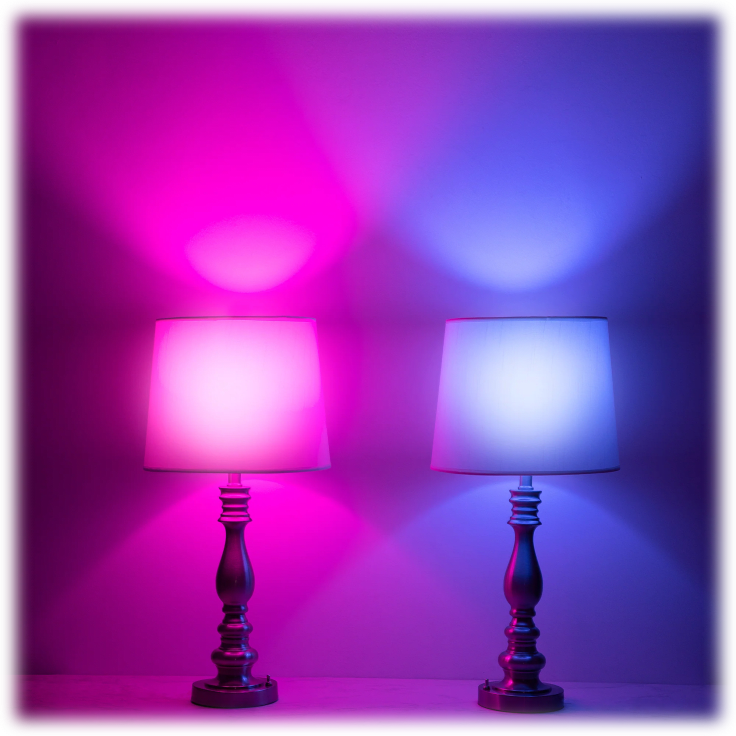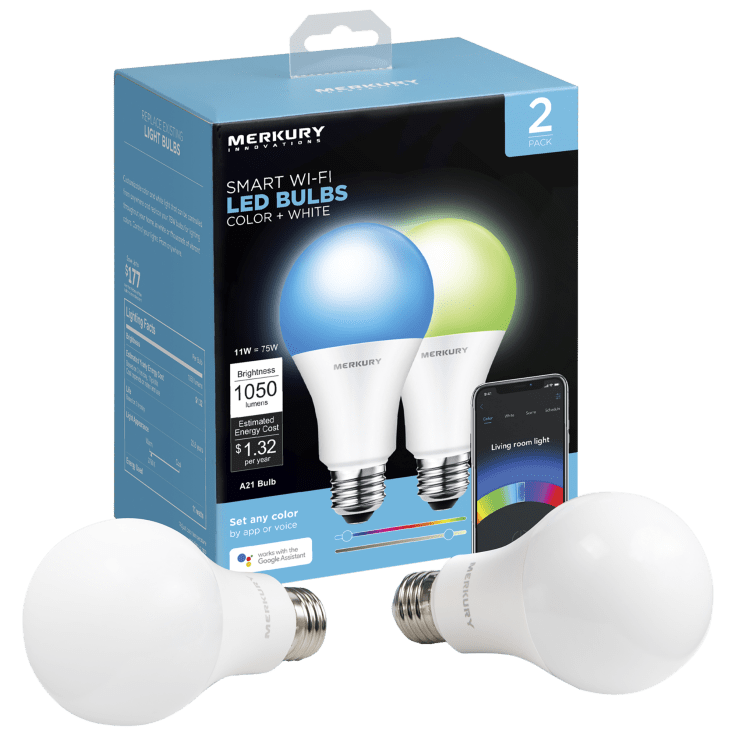 Merkury Innovations Smart Wi-Fi LED Bulb (Color + White)
Features
Customizable color and white light that can be controlled from anywhere and replace your 75W bulbs for lighting throughout your home, in white or thousands of vibrant colors. Turn your lights on/off automatically, make it seem like you're home when you're not. Control multiple bulbs at once with one tap. Set any color by app or voice - works with Hey Google and Alexa.
Easily control millions of colors and dimming options with your voice or the Geeni app
These multicolor smart light bulbs have Wi-Fi built right in so you can choose soft white or the perfect color for any occasion
NO required hub or gateway to set up or use. Simply download the app twist in bulbs and connect!
An energy-efficient lighting option at only 11-Watt but still bright at 1050 lumens, the equivalent of a 75-Watt incandescent bulb
With the Geeni app (iOS or Android) you can control your hubless smart light bulbs from anywhere. Set a schedule, adjust color brightness, and turn on/off with a touch of a button.
Lights can be grouped together or kept separate
In addition to the smartphone app Geeni smart bulbs are also compatible with Alexa and Google Assistant, so they can be controlled by voice creating a totally customized home lighting experience
Specifications
| | |
| --- | --- |
| Brightness: | 1050 lumens |
| Wattage: | 11W (75W equivalent) |
| Form Factor: | E26 base, A21 Shape |
| Voltage: | 120V, 60Hz |
| Life Span: | 22.8 years (based on 3 hrs/day) |
| Default Color Temp: | 2700K |
| WiFi Frequency: | 2.4GHz (not compatible with 5GHz networks) |
Works with the Geeni App
What's Included
1x Smart Wi-Fi LED Bulb
User Manual
Voice Control Guide
Available States
AL, AZ, AR, CA, CO, CT, DE, DC, FL, GA, ID, IL, IN, IA, KS, KY, LA, ME, MD, MA, MI, MN, MS, MO, MT, NE, NV, NH, NJ, NM, NY, NC, ND, OH, OK, OR, PA, RI, SC, SD, TN, TX, UT, VT, VA, WA, WV, WI, WY
Reviews
Verified Purchase
Excellent choice
This product is worth the money. Its really simple and easy to work once you download the app. The bulbs are bright but you can adjust them if necessary. I'm glad I bought this product.

Written by @Mandie51 - May 17th 2023
Verified Purchase
Awesome
I got 4 of these bulbs and wish I could get more! Easy to program and the results are beautiful.
Written by @Clbrzy - May 17th 2023
Verified Purchase
Easy setup
Took maybe a minute to setup the first light and the ones after were even easier. If they last it is a good deal.
Written by @jacburt - June 2nd 2023
Verified Purchase
Great deal! Love them!
When I ordered 10, I didn't realize they were 2 to a pack! I got 20 bulbs!
Written by @kimslavik - June 2nd 2023
Verified Purchase
See the future on wifi!
Written by @DarleneMccarthy - June 3rd 2023
Verified Purchase
Written by @ydb0044 - May 24th 2023
Verified Purchase
Written by @Squirt1920 - May 22nd 2023
Verified Purchase
Written by @ClintMCogginsJr - May 27th 2023
Verified Purchase
Works well, not too bright
Downloading the app was easy and it works well. The bulb is very responsive and has lots of choices. My tech is iPhone while my wife is Android, but the bulbs respond to both perfectly. My only complaint is they are not as bright as I would like.
Written by @lcarmichael64 - June 2nd 2023
Verified Purchase
Great Customer Service
Great customer service satisfaction
Written by @GISMITH23 - May 25th 2023
Verified Purchase
The bulb does what you sT it should. Neat.
Written by @Melvin6500 - May 27th 2023
Verified Purchase
Can't pair
I was so excited to receive, but on my iPhone I cannot pair the light
Will do more research research afraid my Norton 360 is interfering with it. Please help if you can.
Written by @txccrn54 - May 20th 2023
Verified Purchase
Color light bulbs
I contacted website listed to learn activation of color changing bulbs. VERY CONFUSING to say the least. Would like to return product. Please advise by return!
Written by @JMPretzer - June 7th 2023
Verified Purchase
Doesn't work!
Written by @shopw00d - May 22nd 2023