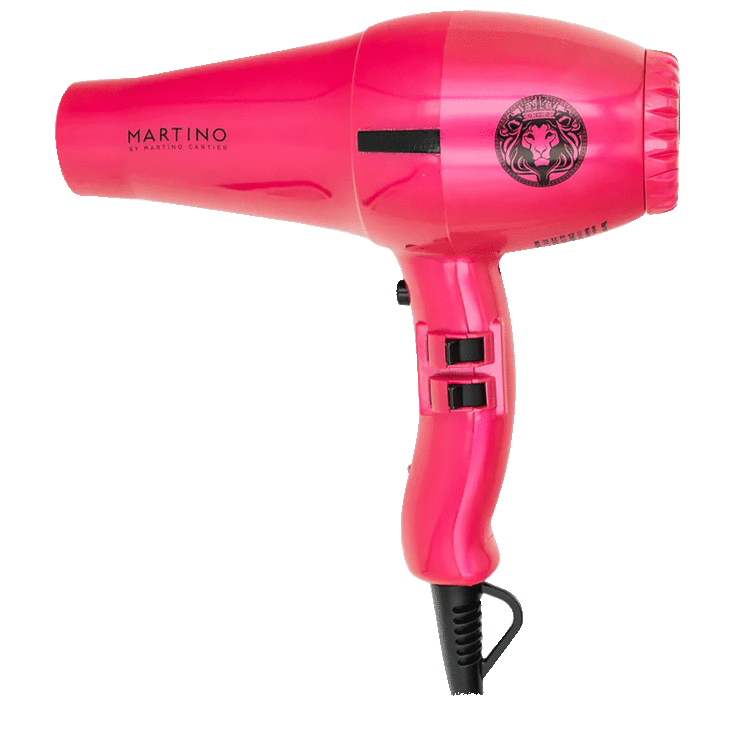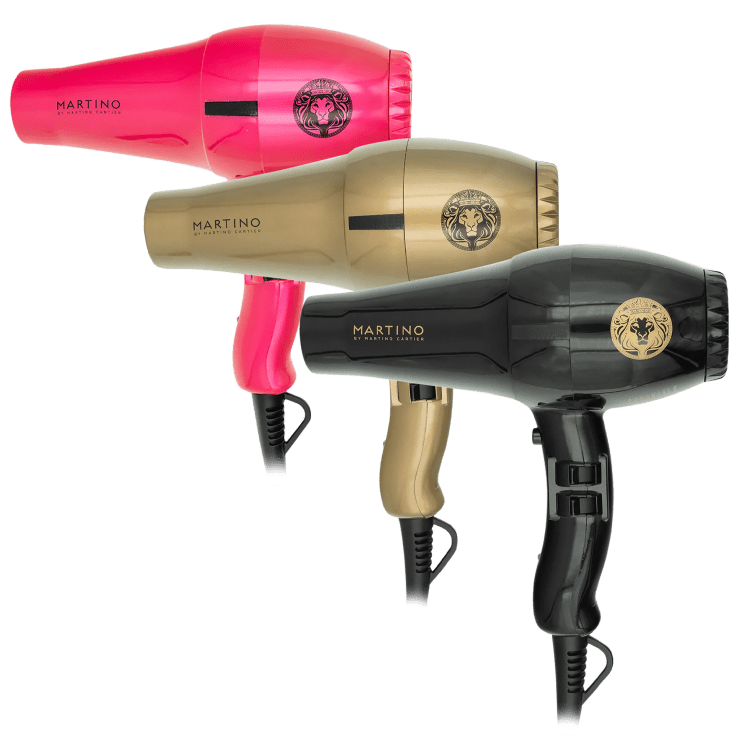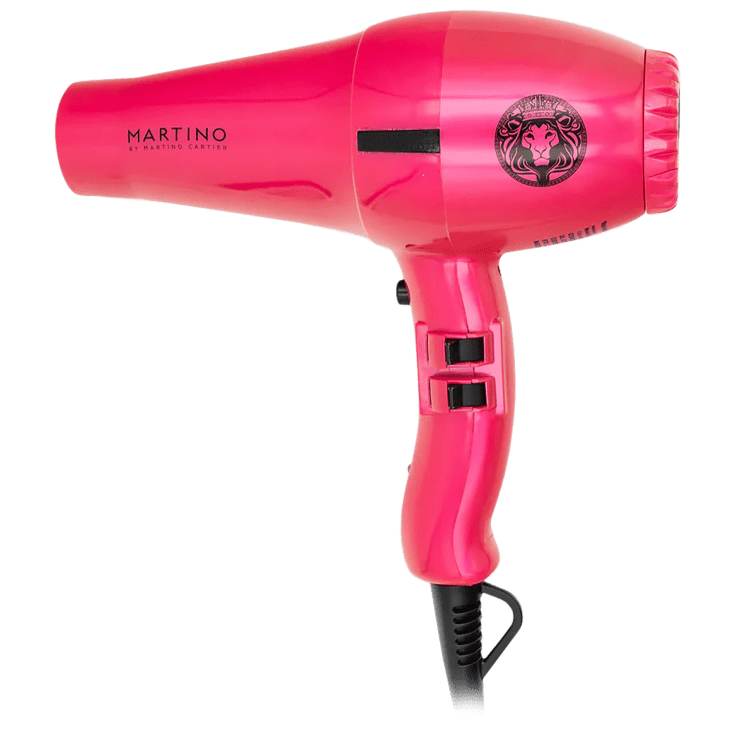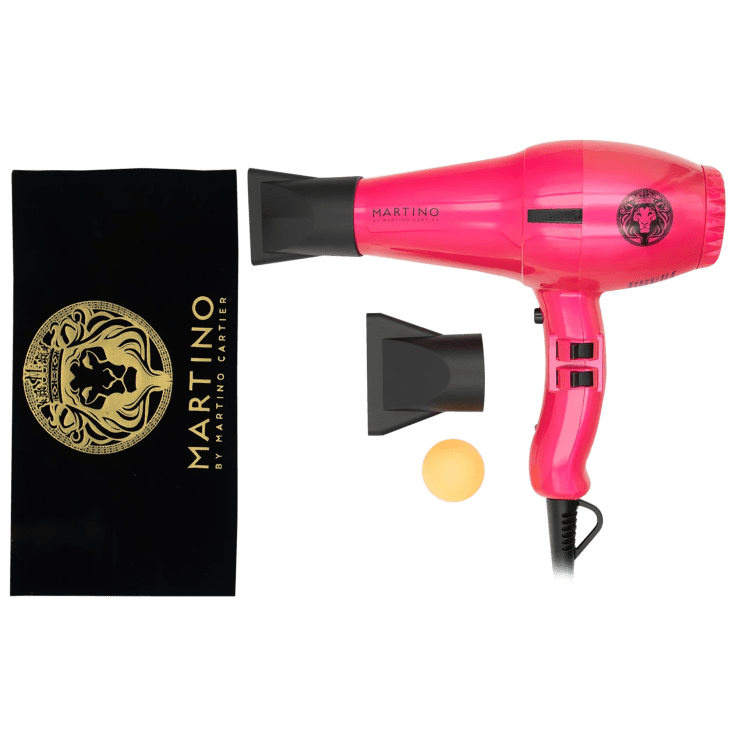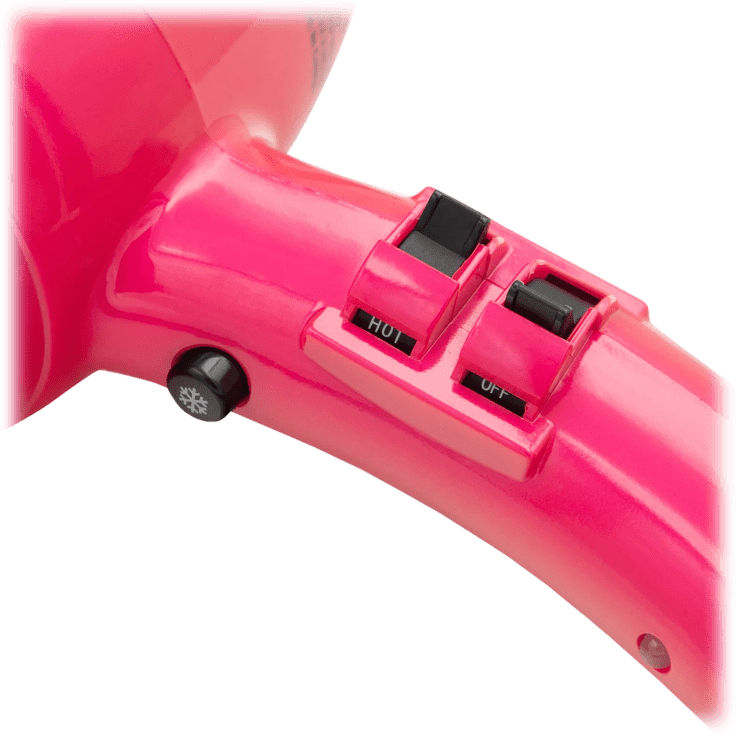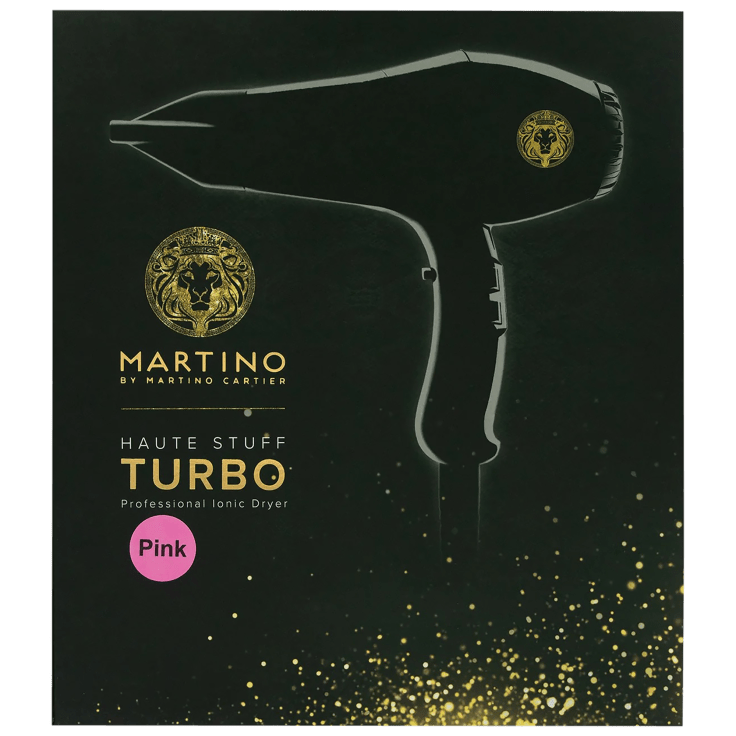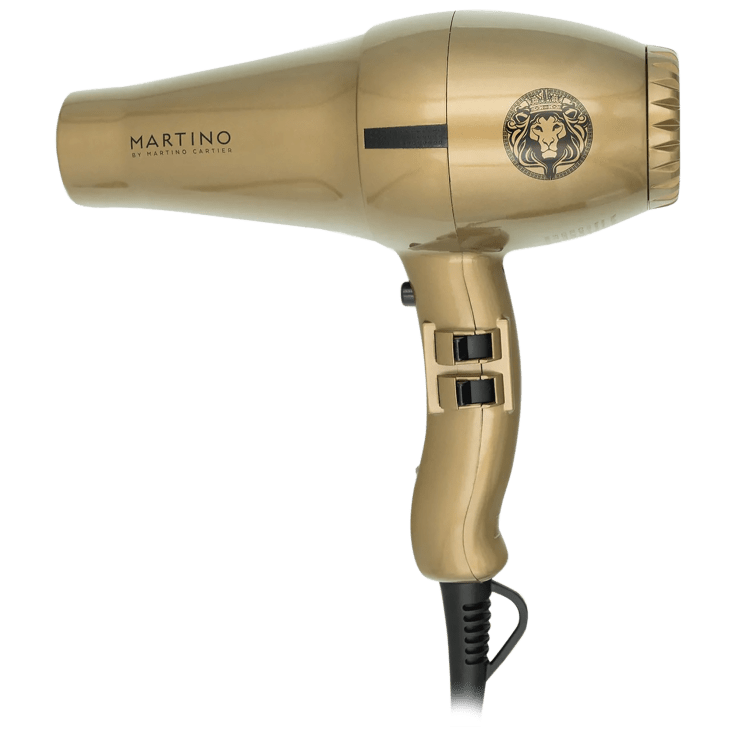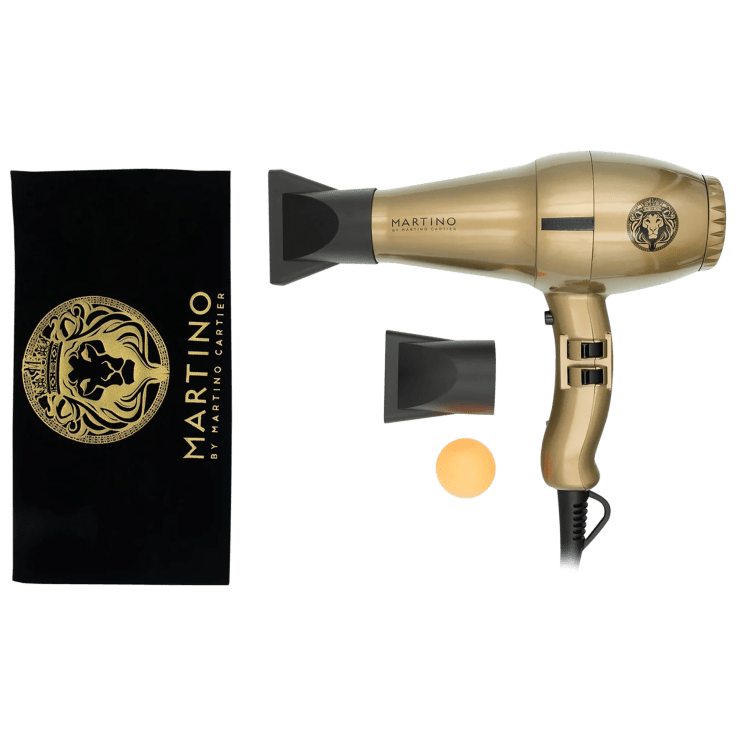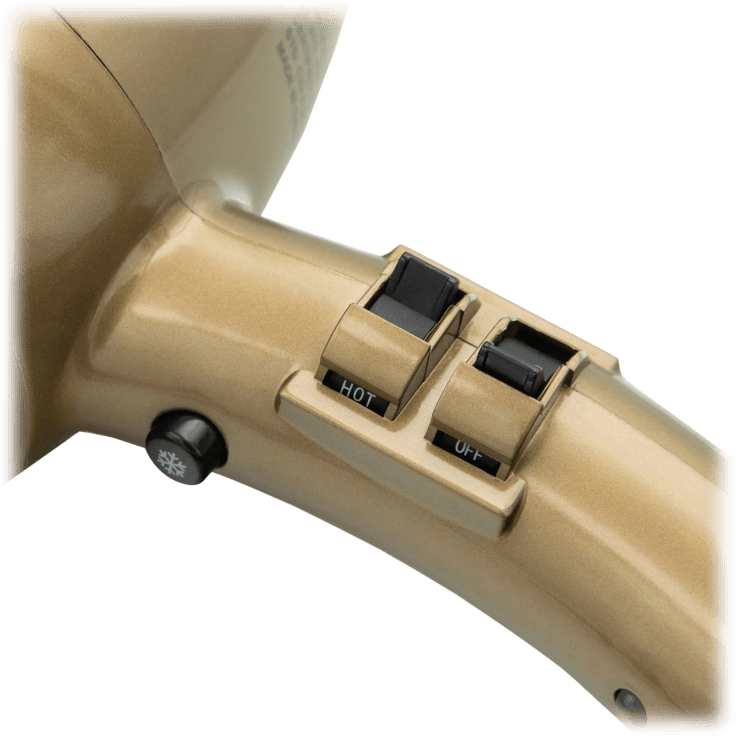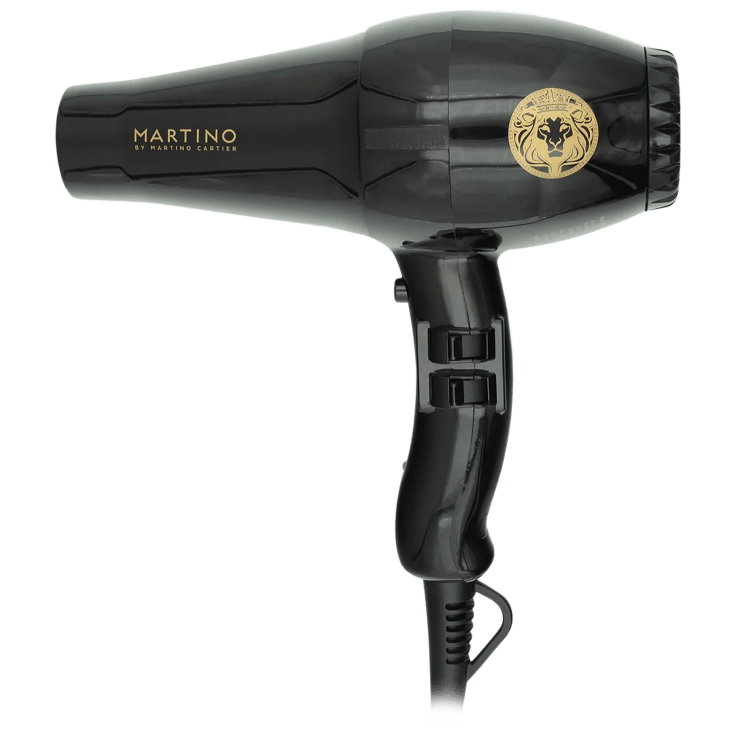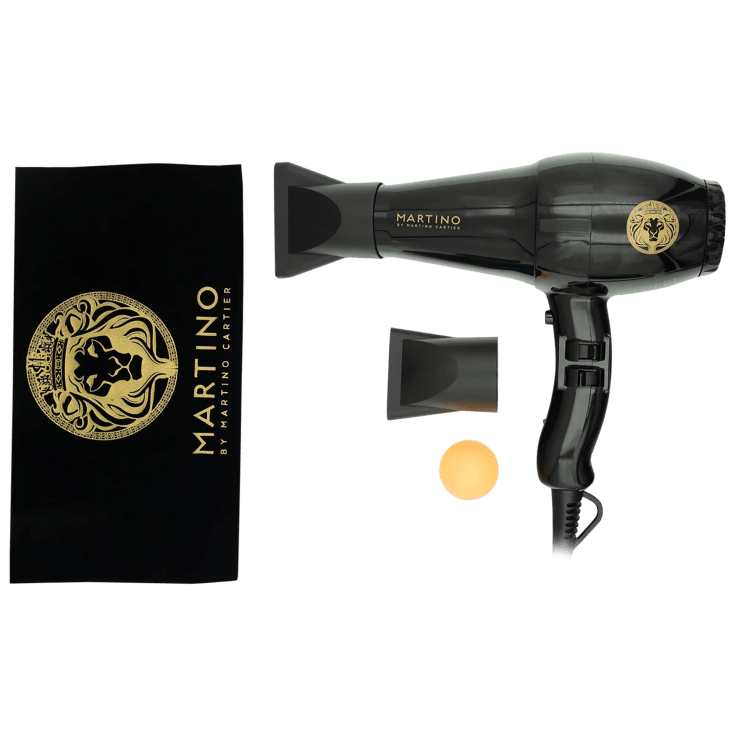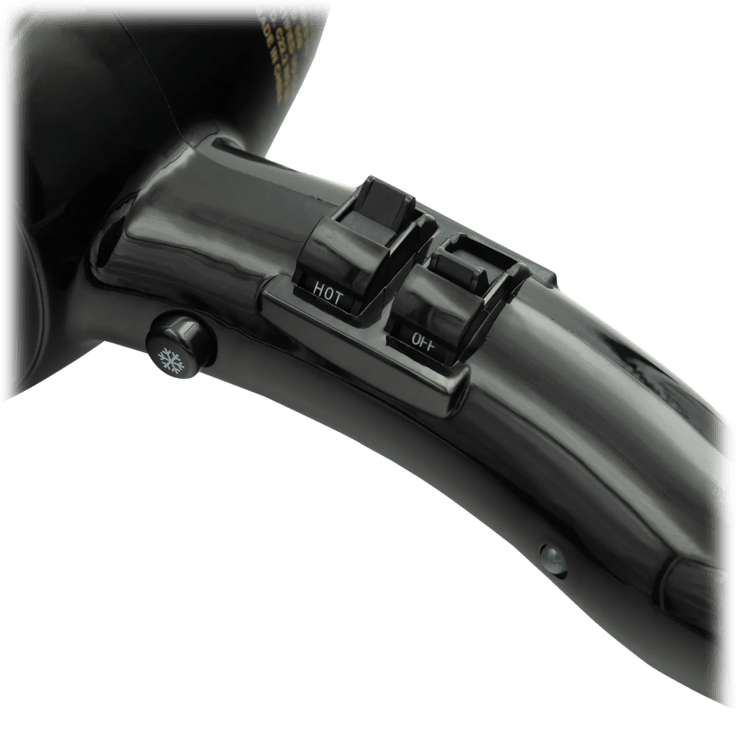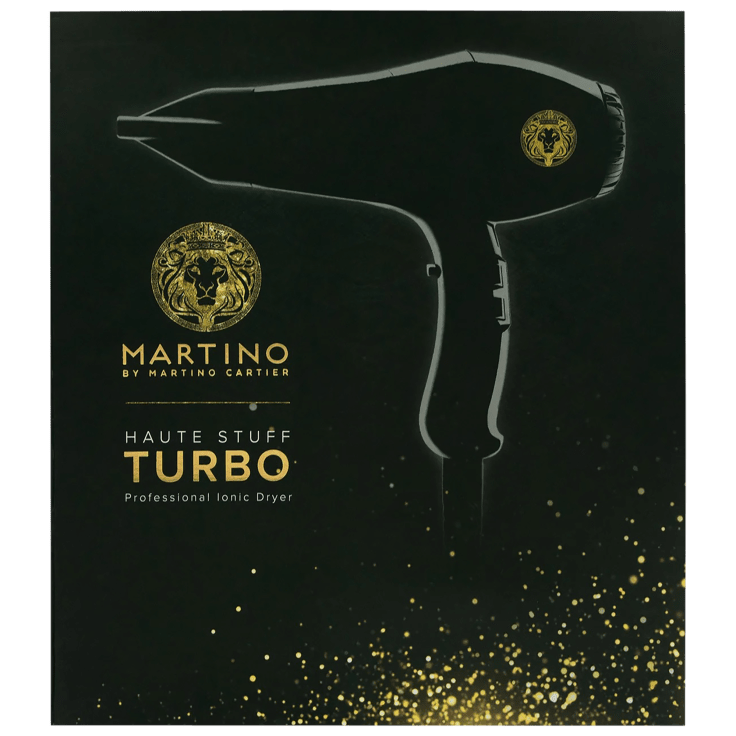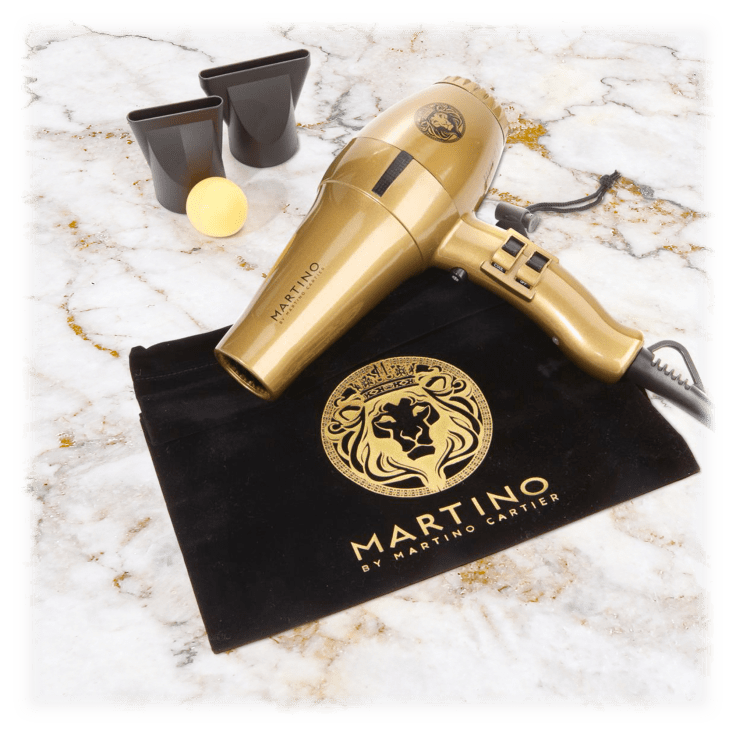 Martino by Martino Cartier Haute Stuff Turbo Pro Ionic Dryer
Features
Extreme power with Ionic technology in the form of a professional, ergonomic dryer
Coupled with ionic generating capabilities, this blow dryer offers turbo-fast drying with incomparable smoothing performance
Ionic technology aids in breaking up water quickly through the emission of negative ions that smooth hair reducing drying time and increasing shine
Healthy-looking, frizz-free, hydrated hair is the result of the moisture being sealed within the cuticle
Effortless styling in a fraction of the time
Cool Shot button
3 temperatures and 2 speeds
Available in Black, Gold, or Pink
- Directions
Blow dry hair in sections with hair tilted sideways
At the nape, start at the root of the section and pull downward using a round bristle brush or paddle brush
Aim dryer downward for a smoother look, or upward at the root for more volume.
As you pull the brush through the hair, follow it closely with the dryer to evenly distribute the heat
What's Included?
1x Martino by Martino Cartier Haute Stuff Turbo Pro Ionic Dryer in the color of your choice
Warranty
Reviews
Verified Purchase
Awesome hairdryer!
Your hair dries in minutes! Bought this for my niece who has thick, heavy hair. She is so thrilled with this product! I already own this dryer but paid much more. This is a professional dryer with so much power. No matter the price, this is worth every penny, but so happy I was able to purchase it at this fabulous price. It also came quickly. I highly recommend this item! Thanks Morningsave!!!
Written by @rmilosheff - September 13th 2022
Verified Purchase
Super Hair Dryer!
This hair dryer is chic, stylish and sturdy! I LOVE the gold color! The only thing I'm worried about is the weight of the hair dryer…it's heavier than most, which would make it hard to handle with one hand over your head. Overall it looks like it's well worth the price! I'm happy with my purchase
Written by @sandraseid - September 12th 2022
Verified Purchase
Blow you away
So my speed I now have three. So now can travel ,be at home and back up. It can be difficult to find a strong blowing blowdryer; not here. All the blow you desire at any temperature and it sleek design can make you look good doing it. Also adaptable with straightener accessory/extension. So many elements to make it the perfect dryer at an incredible price that are pra tically giving it away. A must have!
Written by @mariemerrill - October 5th 2022
Verified Purchase
Great Hair dryer
Priced right and this a a powerful little hairdryer that drys hair fast and helps calm any frizz you might have! Totally recommend!!
Written by @susieq812 - September 19th 2022
Verified Purchase
Great Buy
It's a present for my daughter. I'm sure she'll like it.
Written by @BrendaSu - November 17th 2022
Verified Purchase
Nice!
Wish they were not SOLD OUT so I could order three more for daughters.
Written by @sambone7 - October 20th 2022
Verified Purchase
Written by @Michelle2006 - September 16th 2022
Verified Purchase
Too heavy
I like everything about this product, except the weight of it! Way to heavy!
Written by @careoil - November 20th 2022
Verified Purchase
Sting sturdy blow dryer
Written by @1850Deanway - October 21st 2022