Meet the World's Most Adaptable Couch™
Sactionals adapt to any new space, style or need with changeable covers and the ability to rearrange their shape, locking tight with no slipping or sliding. Made with patented, infinitely rearrangeable "Seats" and "Sides," you can change up your configuration anytime! They're easy to keep clean thanks to washable covers, and they're made of materials to last a lifetime – solid hardwood frames, tongue-and-groove corners and wood screws. They'll never tilt, warp or slide apart, and the seats will never drop or lose their bounce thanks to sinuous steel springs and Italian webbing in the seat frames. Best of all - Everything to configure your Sactional is delivered to your door. No tools required!

The More Pieces You Buy, The More You Save
While individual seats are already discounted 75%, bundled configurations like the G Lounger with 10 Seats & 12 save yet another 25% off. Stack up for your living room, theater room and game rooms alike - the possibilities are endless!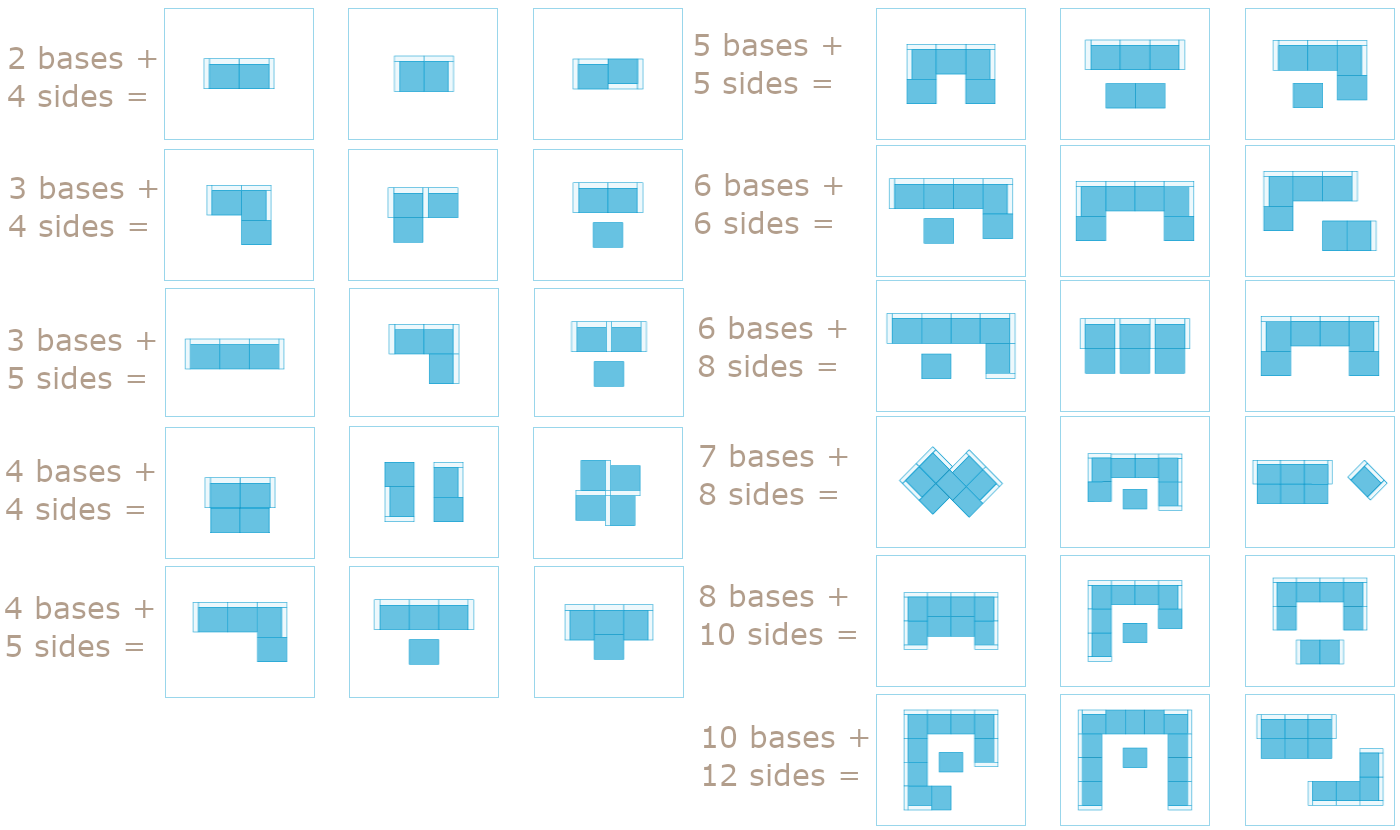 Your choice of fabric
Combed Chenille - Chenille is a 100% combed polyester chenille fabric that is as stain-resistant and machine-washable as it is soft and luxurious. As much as it looks like terry, there are no loops in these strands. It comes with all of the desirable texture of a corduroy, only it is has a much deeper nap and is softer than most, combined with a proper upholstery weight with plenty of loft beneath its soft, fluffy surface.
Micro Velvet - With a velvety hand, and deep suede-like nap, Micro Velvet is more resilient and stain-proof than traditional velvet, and thicker and loftier than Microsuede. Made from 100% polyester resin on a woven cotton backing, Micro Velvet is also the toughest of the fabrics in our line. With rub counts that are many times higher than even the durable Microsuede, Micro Velvet is a great choice if you are looking for a tough yet very soft fabric.
Accessorize It
You can turn any arm, back or seat into a wooden surface great for drinks & decoration, available for purchase below:
You-Drink | You-Table | Deep You-Drink

What's a "5 Series" Sactional?
5 Series Sectionals are known as "Metro" Sectionals for their slightly smaller size compared to their Series 6 oversized counterparts. At 98" long for a 3-cushion sofa however, they are still larger than most other sofas on the market.