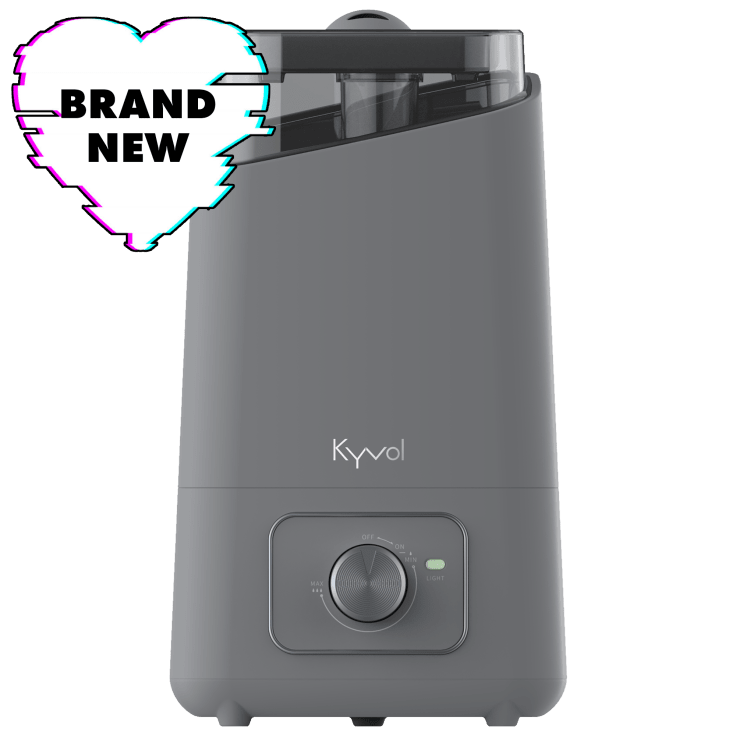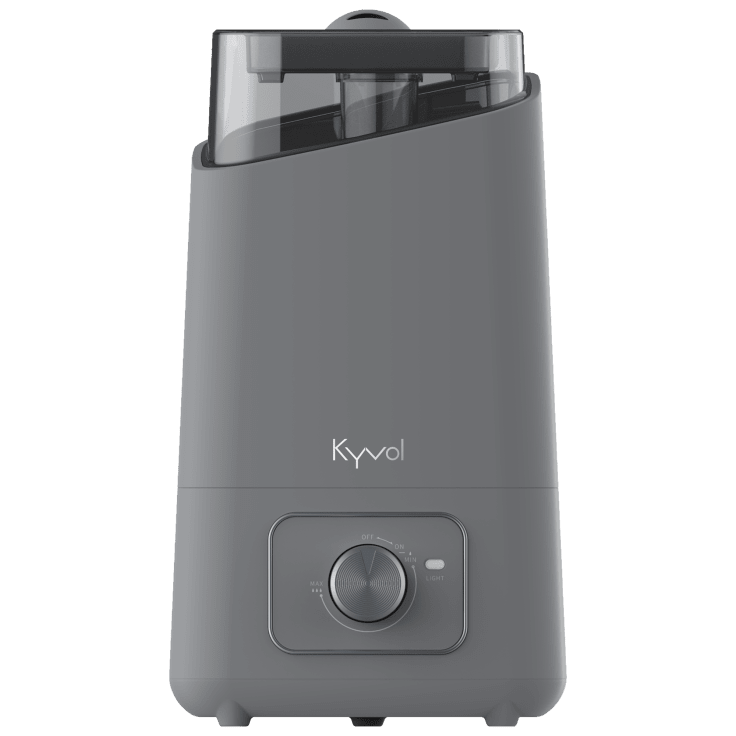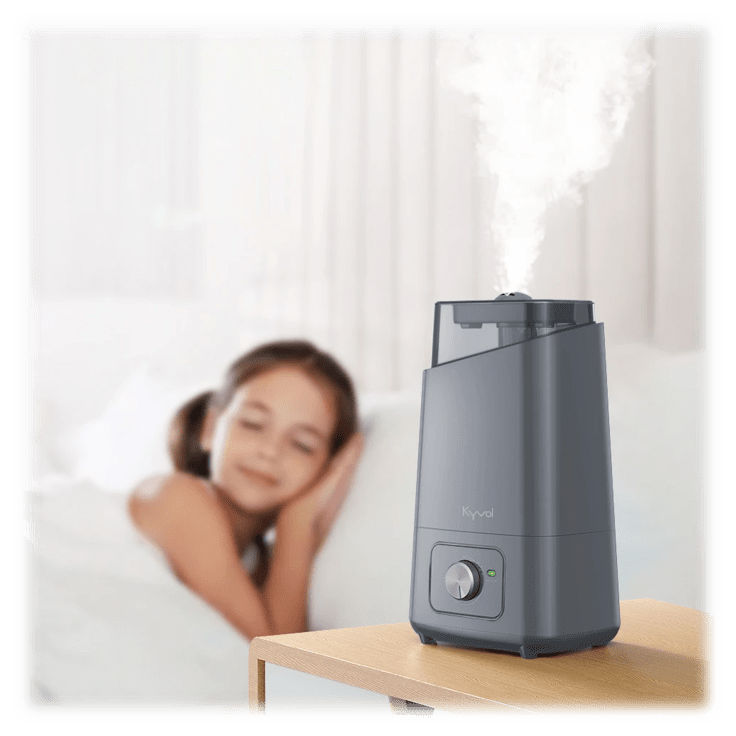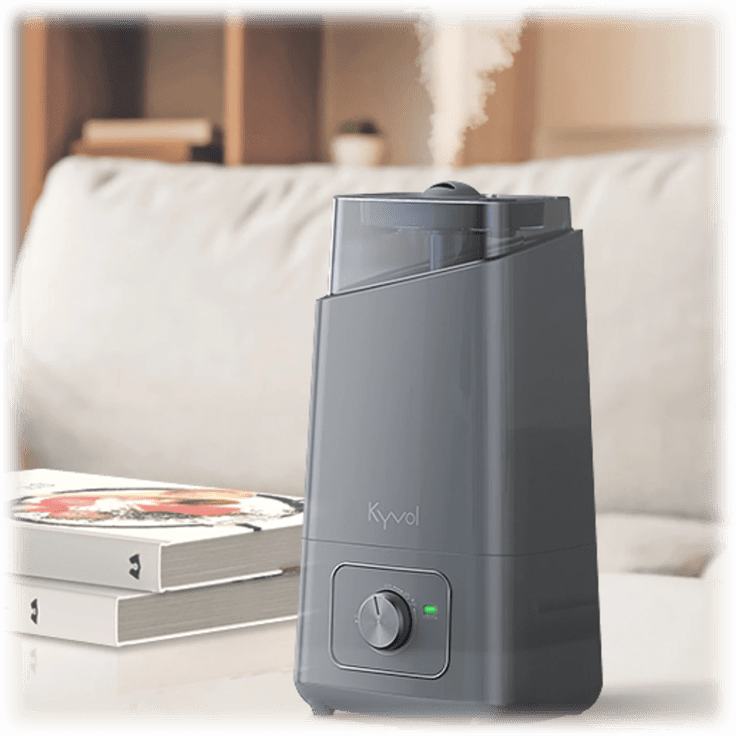 Kyvol Vigoair HD3 4.5L Ultrasonic Cool Mist Humidifier
Features
Vigoair HD3 humidifier comes with a 1.2Gal/4.5L large tank and super long runtime of up to 75 hours, saving you the trouble of frequent refilling.
HD3's flexible 360° nozzle helps evenly distribute the fine mist to a large room of up to 430 ft².
HD3 humidifier works at a super-quiet sound level of only 26dB, which is almost as quiet as a whisper. Enjoy the comfortable cool mist in your sound sleep.
The water tank of the HD3 humidifier is made of durable BPA-free material, making it safe for baby nursery and kids' room.
No expensive filters are needed thanks to HD3's advanced ultrasonic technology, saving you much time, money, and energy.
Specifications
Color: Grey
Control Type: Control Knob
Water Tank Capacity: 1.2Gal/4.5L
Refilling Type: Refill From Bottom
Mist Amount: 60-300
Runtime: 13-75H
Mist Modes: Flexible Adjustment
Mist Height: 65cm
Spray Nozzle: 360°+Detachable
Water Tank Diameter: 47mm
Noise Level: <26dB
Product Size: 375 x 208 x 168mm
What's Included?
1x Kyvol Vigoair HD3 Ultrasonic Cool Mist Humidifier
1x User Manual
1x Charger
Warranty
Available States
AL, AZ, AR, CA, CO, CT, DE, DC, FL, GA, ID, IL, IN, IA, KS, KY, LA, ME, MD, MA, MI, MN, MS, MO, MT, NE, NV, NH, NJ, NM, NY, NC, ND, OH, OK, OR, PA, RI, SC, SD, TN, TX, UT, VT, VA, WA, WV, WI, WY, AK, HI
Reviews
Verified Purchase
A Good Night"s Sleep
Small, quiet running and perfect for adding a mist to the air. The result is a good night's sleep for me and my sinuses.
Written by @pdprimus - December 9th 2021
Verified Purchase
Good Value
This is my third Mist Humidifier. Love IT!
Written by @maarden60 - December 23rd 2021
Verified Purchase
Great Value!
I liked it so much went and re ordered 2 more.
Written by @maarden60 - December 15th 2021
Verified Purchase
Easy to operate
Written by @Sandra1247 - December 19th 2021
Verified Purchase
Just got it
Written by @PeanutCJ - January 14th 2022
Verified Purchase
Could I order another kyvol humidifier please
Written by @elvisfanalways - January 15th 2022
Verified Purchase
I think it's just what I wanted
Written by @robery - January 20th 2022
Verified Purchase
Written by @ozanich1968 - January 17th 2022
Verified Purchase
Written by @lodown1563 - November 17th 2021
Verified Purchase
Ultrasonic Cool Mist Humidifier
The humidifier works well, however, the mist creates a white chalky residue all over the furniture/walls.
Written by @BoomerOlson - November 26th 2021
Verified Purchase
Written by @lejean - January 16th 2022