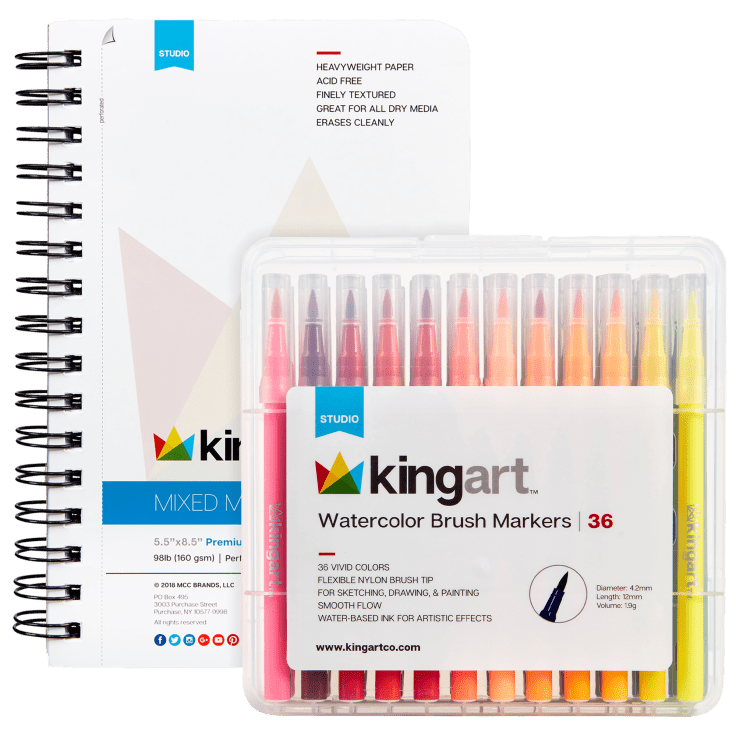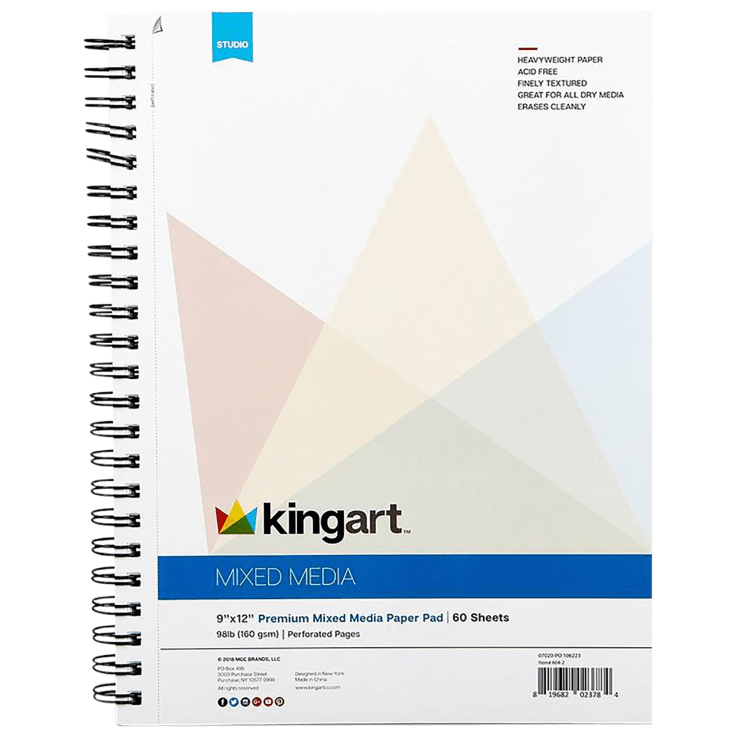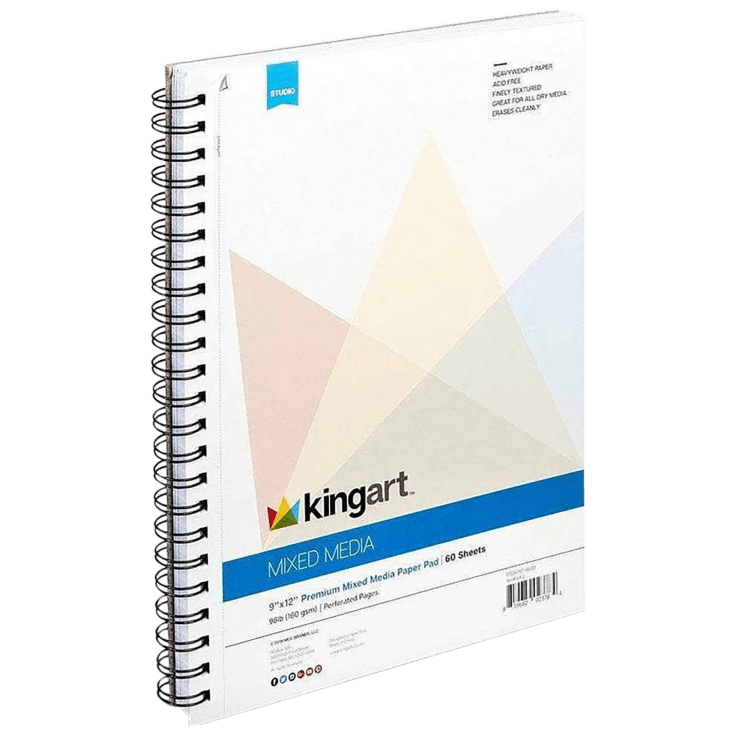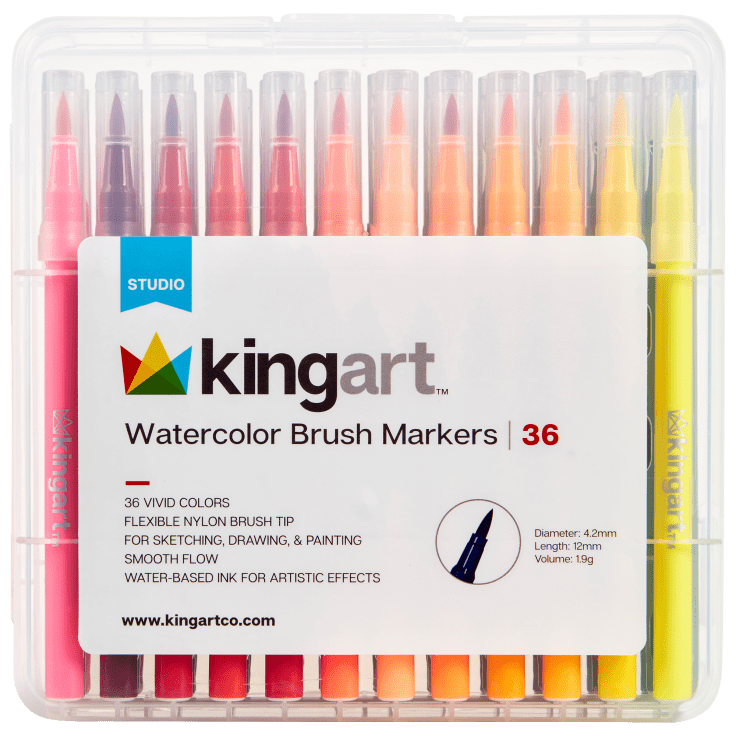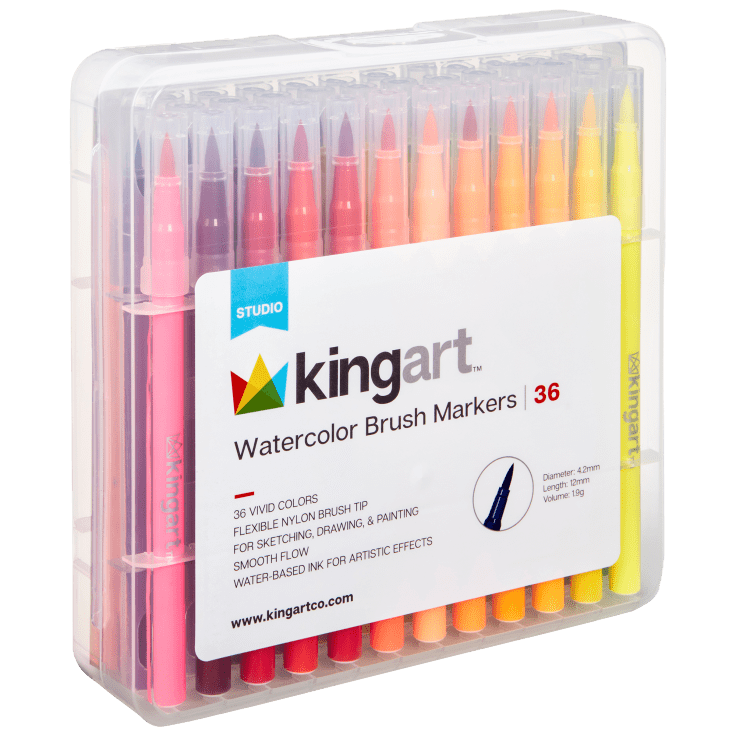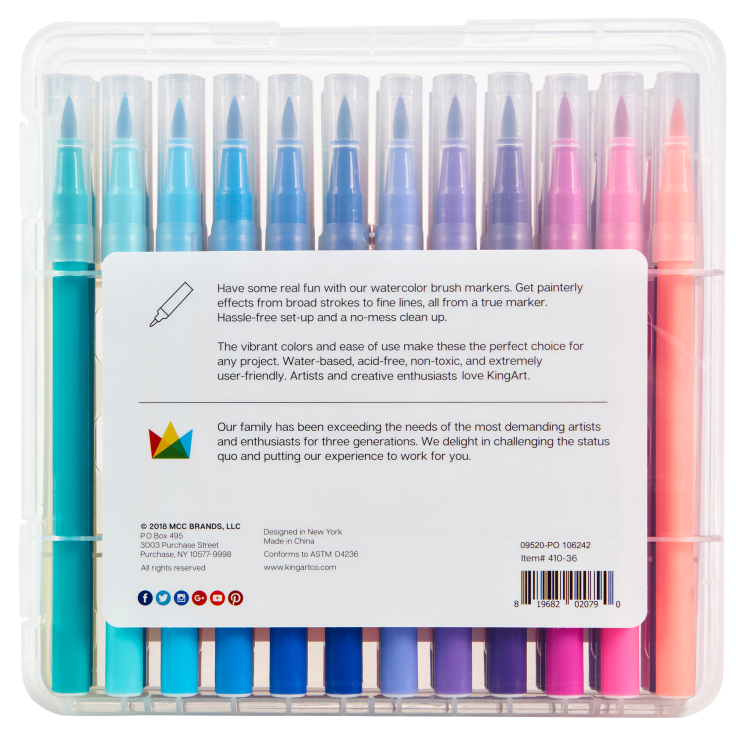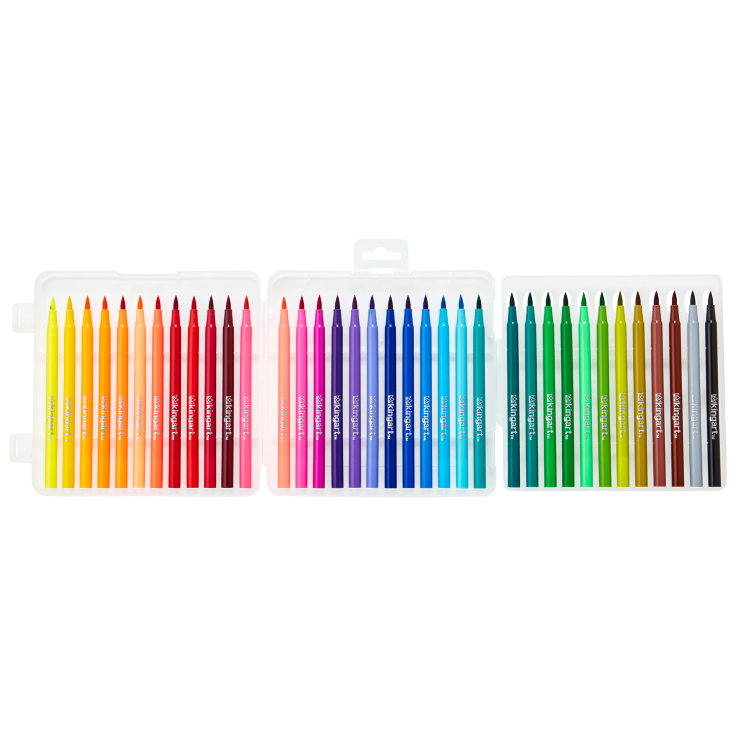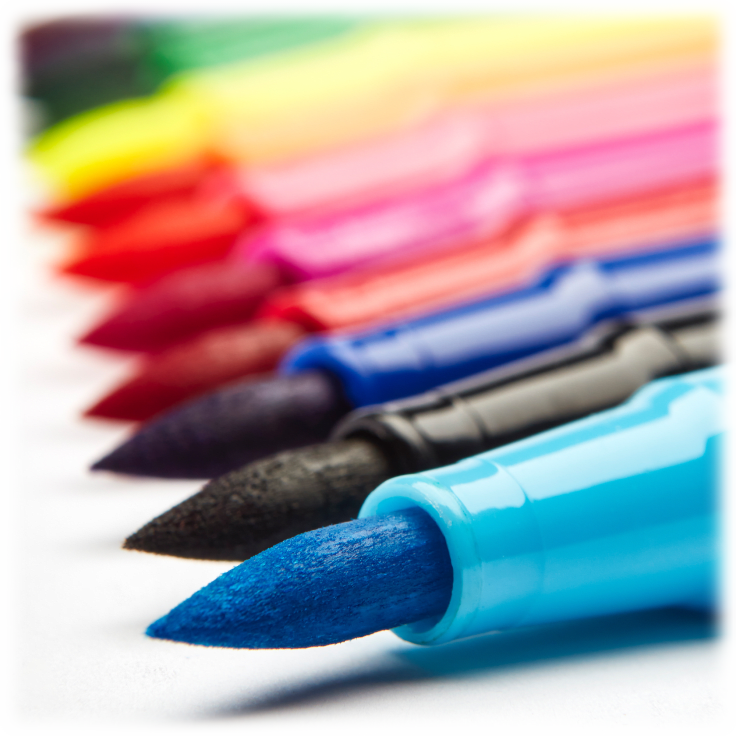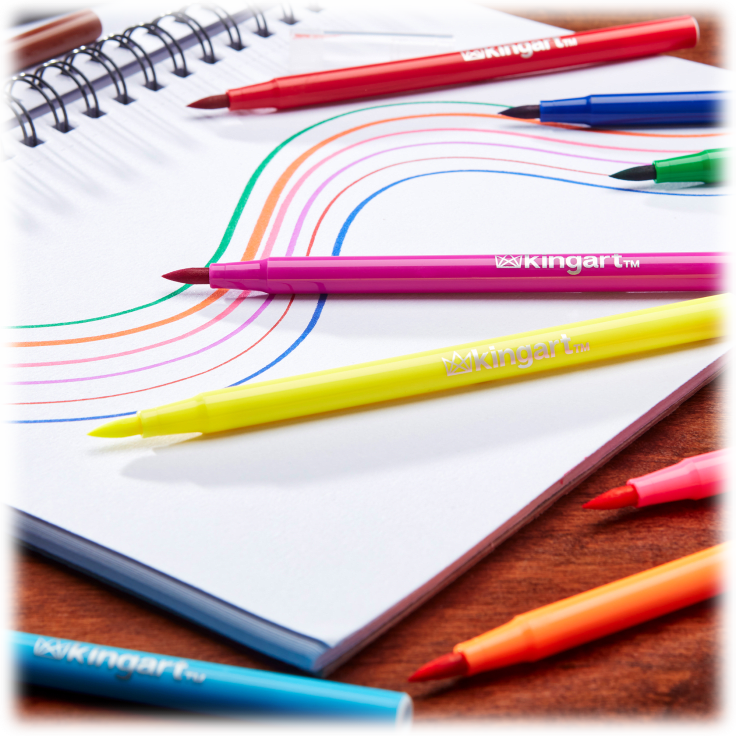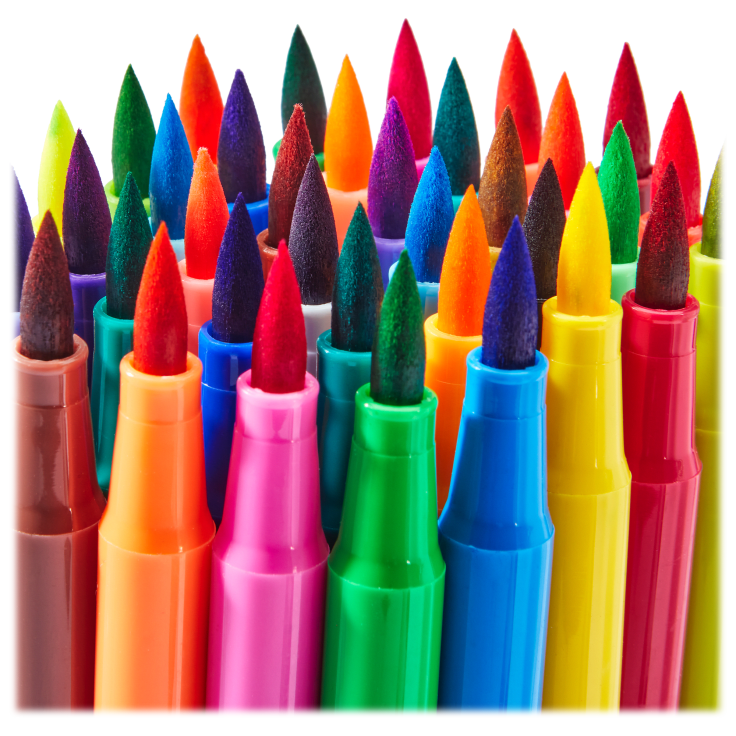 KingArt 36 Watercolor Brush Markers and 9"x12" 60 Page Mixed Media Paper Pad
Features
Watercolor Brush Marker Set
KINGART® Studio Watercolor Brush Markers are perfect for beginning and aspiring artists looking to hone their techniques. The flexible nylon tips are great for creating both fine lines and broad strokes in a smooth flow of water-based ink that is odorless, acid-free, and non-toxic.
Comes with 36 unique vivid colors
ABS pen holder is sturdy and comfortable, easy to hold
Designed for sketching, drawing, and painting
Water-based ink for artistic effects
Non-toxic, odorless, & acid-free
One tip creates fine lines & broad strokes
Pens are organized in a reusable storage case individual spots for each marker
With good elasticity and no branching, the brush flows smoothly, perfect for your painting and writing
Set of 36 includes one each of color:
Fluorescent Yellow, Yellow, Yellow Orange, Orange, Peach, Dark Orange, Dark Peach, Carmine Red, Crimson Red, Fuchsia, Plum, Bright Pink, Light Pink, Rose, Violet, Purple, Light Purple, Lavender, Dark Blue, Blue, Light Blue, Sky Blue, Bright Blue, Turquoise, Sea Green, Teal, Kelly Green, Green, Light Green, Bright Green, Yellow Green, Olive Green, Light Brown, Brown, Gray, and Black
2 Pack Mixed Media 9" X 12" Inch Pad with Heavyweight Perforated Paper
This sketchbook can be your go-to for any style of creativity that you're in the mood for. Use your favorite sketch pencils, colored pencils, pastels, ink pens, and more! These pages can even withstand light washes of paint. This smooth thick paper is perfect for combining different techniques. It erases, absorbs, and blends well, so you won't have to worry about smudges or blotches. From watercolor to collage to basic sketching, this pad can do it all.
60 Sheets/120 Pages
Finely textured, heavyweight paper for mixed media sketches and drawings
Perfect for all wet media; watercolor paints, acrylic, ink-line markers, gouache, and graphite, as well as dry media; colored pencils, charcoal, and pastels
Each sheet is free of acid, meaning your colors won't deteriorate over time
Comes bound with a twin wire loop binding for easy page turning
Premium paper erases cleanly allowing the artist to work on longer and refine work
Versatile - These medium weight sheets are suitable for a variety of dry media as well as light washes of wet media
The perforations on each page allow you to easily tear out true-to-size sheets
Blends easily creating gradual transitions and soft line
what's included?
1x KingArt 36-Piece Watercolor Brush Marker Set
1 x Mixed Media Paper Pad
Warranty