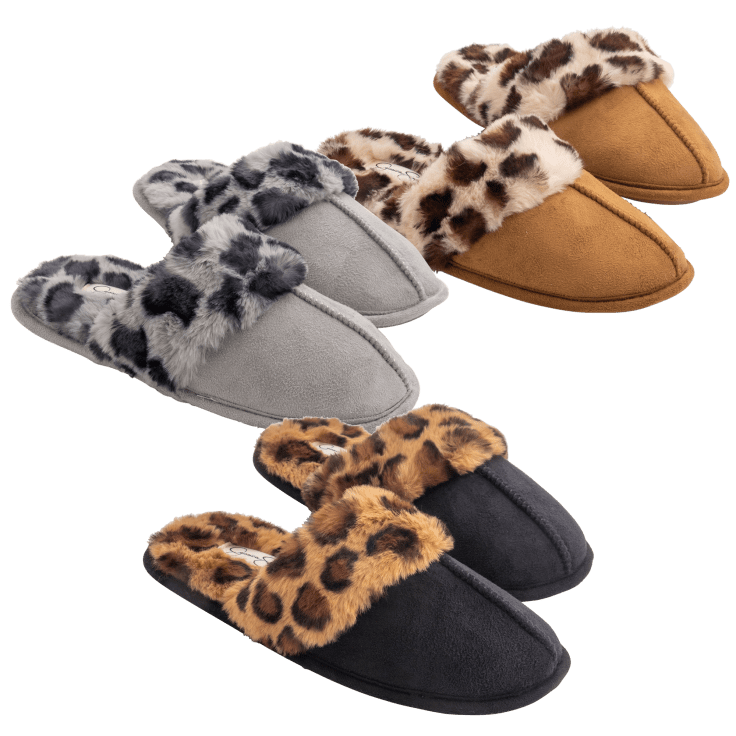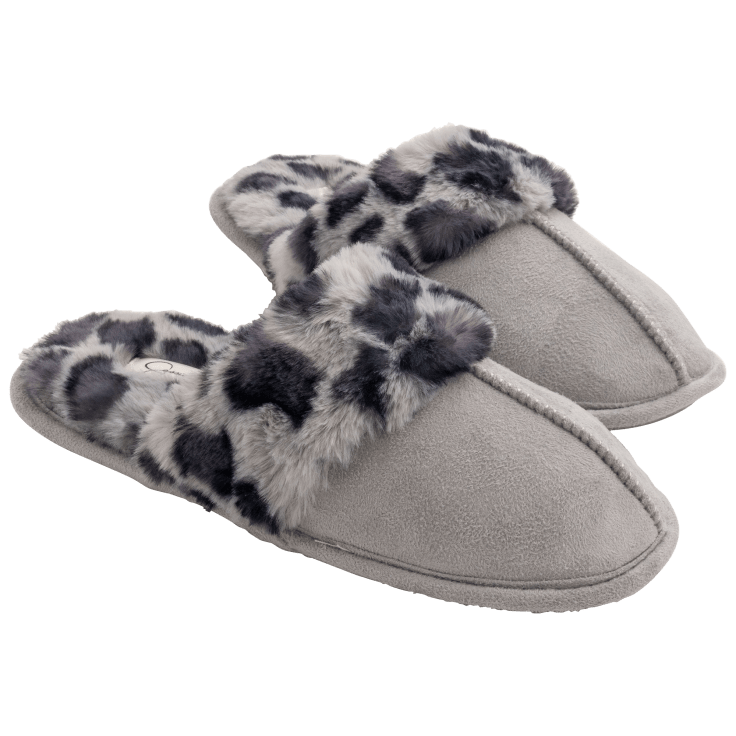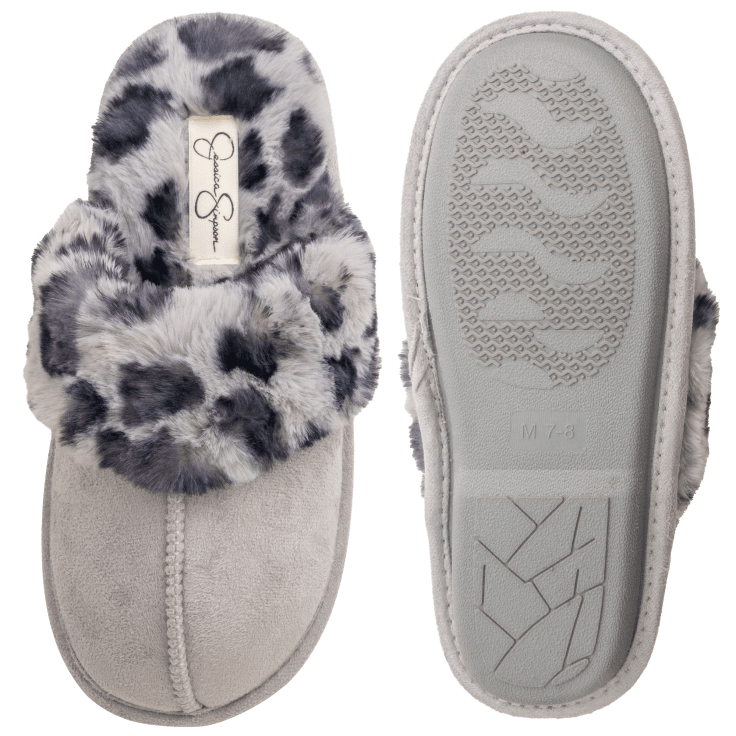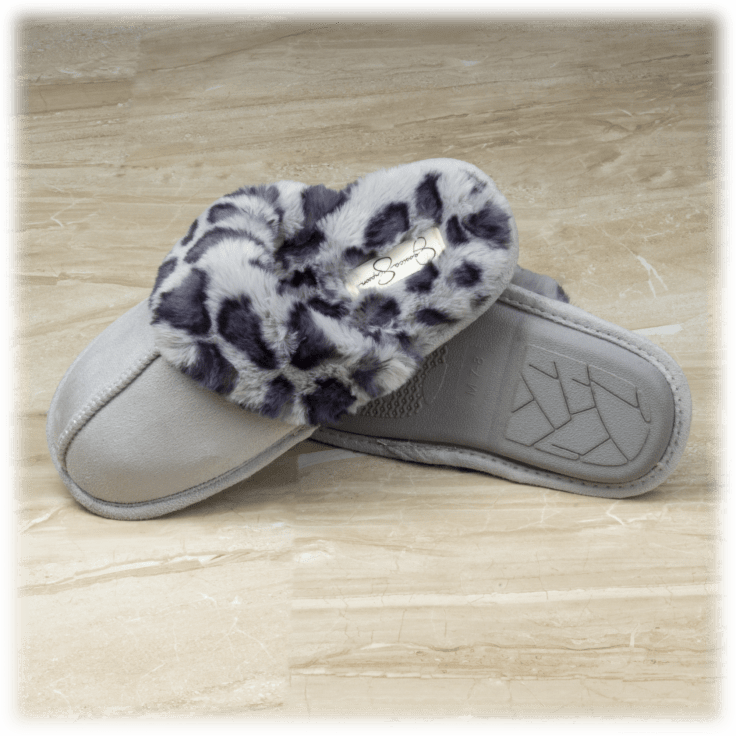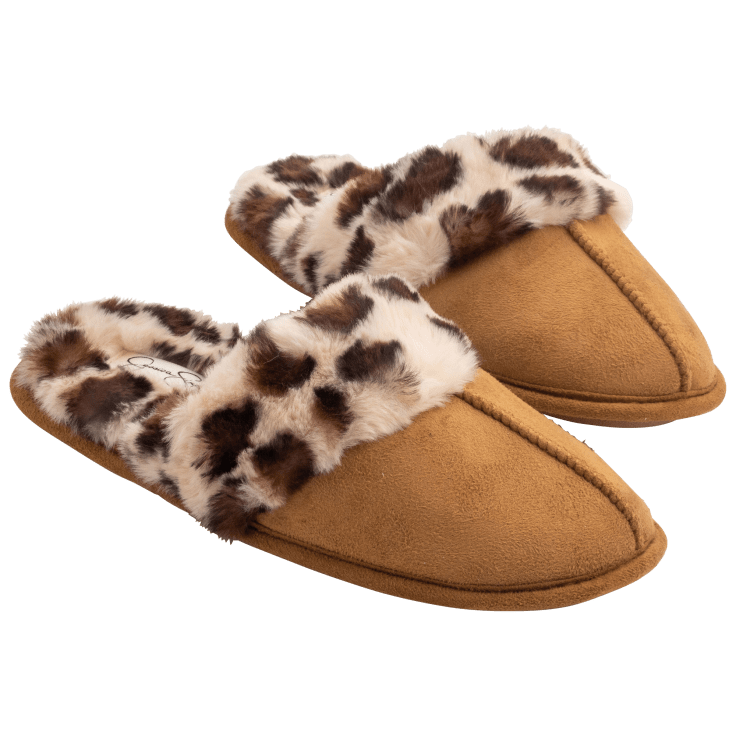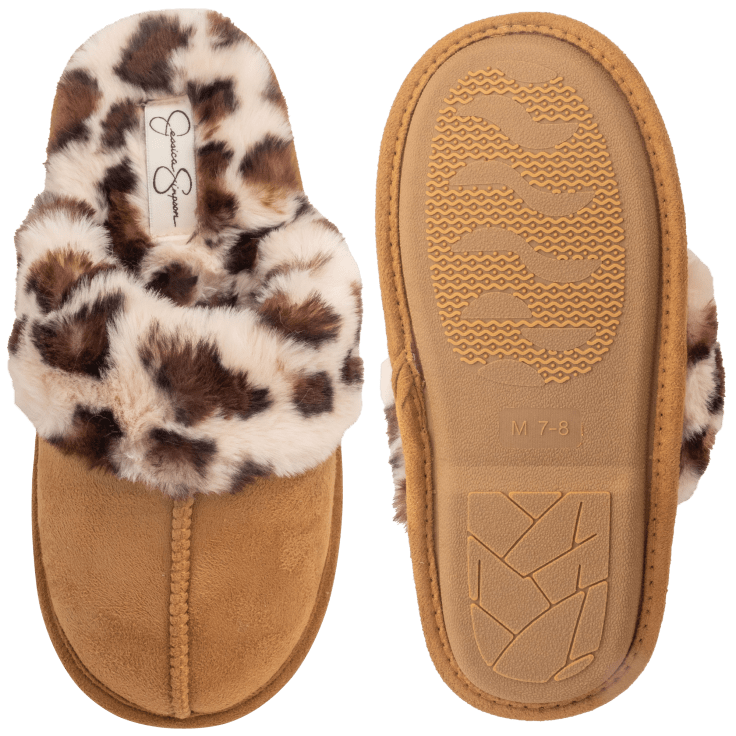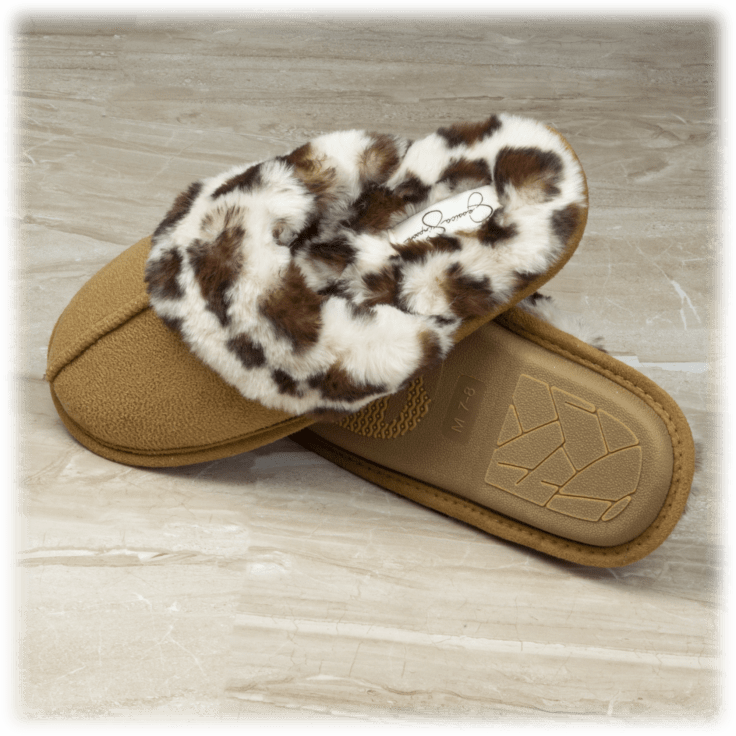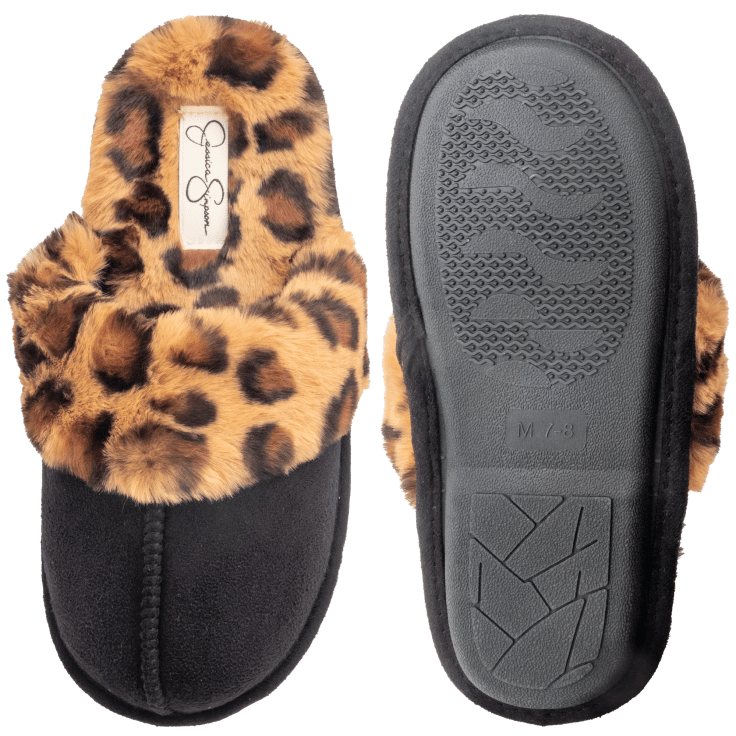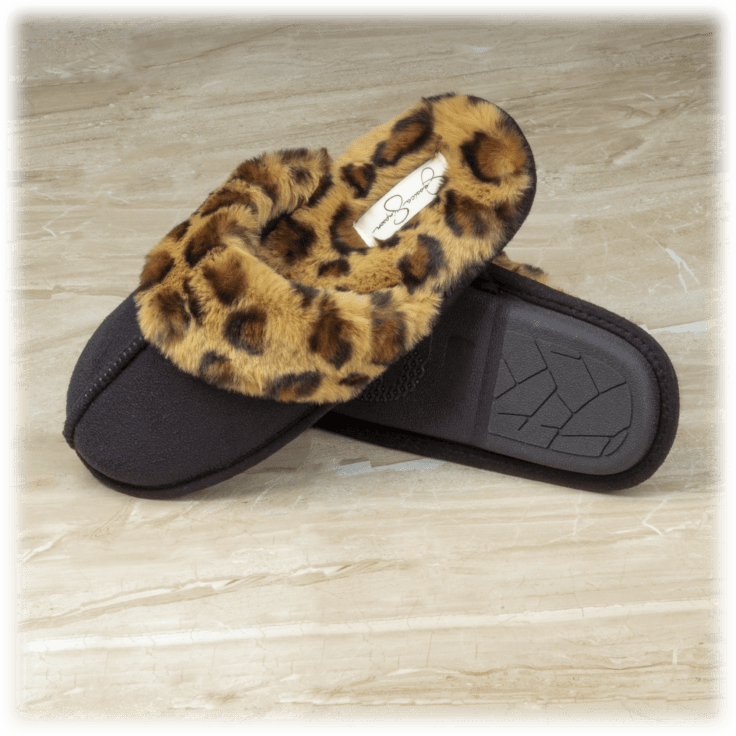 Jessica Simpson Microsuede Animal Print Scuff Slipper
Features
Available in Black, Grey, or Tan colors
Available in sizes:

Small (US 6-6.5)
Medium (US 7-7.5)
Large (US 8-8.5)
X-Large (US 9-9.5)
If in between sizes, we recommend choosing a size up.

Memory Foam:

Thick memory foam cushions add support and comfort for all-day wear.

Anti Slip Sole:

The textured bottom grips to the floor prevent you from sliding or slipping.
Specifications
Care:

Hand wash with cold water. Air dry and dry flat.

Machine Washable:

Do your slippers get dirty quickly? No problem
Simply throw your slippers in the washer to clean, and they will look as good as new
What's Included?
1x Jessica Simpson Microsuede Animal Print Scuff Slipper In Your Size and Color Choice
Warranty
Reviews
Verified Purchase
Plush they are
The shoes are very plush. They look nothing leopard at all the picture displayed. There is NO leopard pattern at all. I am a leopard diva! Nice shoe for comfort though and good sole of shoe.
Written by @maerbailey - December 15th 2021
Verified Purchase
Eye Catching!
Stunning and comfy, I love the animal print . I recommend these lovely slippers. Very affordable! Thank You!
Written by @loveladies - December 12th 2021
Verified Purchase
So comfortable
These are some of the most comfortable slippers I've ever had. I highly recommend them
Written by @kduane11 - January 21st 2022
Verified Purchase
Nice slipper
Feels good, excellent quality, good fit and color. Trey to size
Written by @ctatmon - December 26th 2021
Verified Purchase
Jessica Simpson slippers are perfect
Love them! They are so pretty as well as comfortable
Written by @heavensairy - January 9th 2022
Verified Purchase
Perfect Posh
Very soft and posh. Love the feel of these slippers.
Written by @Shawmcca - December 29th 2021
Verified Purchase
Comfy and warm
love these slippers, they are warm and comfy!
Written by @kstills - December 30th 2021
Verified Purchase
Awesome 👍😎
Beautiful

Written by @fernonb - December 12th 2021
Verified Purchase
Great
Fit great and love the color
Written by @chinkynoah1 - January 12th 2022
Verified Purchase
Exactly as shown in the picture.
Written by @dorrettl - December 19th 2021
Verified Purchase
Written by @srab0911 - December 13th 2021
Verified Purchase
They don't fit well should be correctly sized.
Written by @Morde - December 17th 2021
Verified Purchase
NOPE! Not worth the money
The first time slipping these on my feet was weird. The faux fur is pretty but it is silky soft. Having silky/slippery fur is not good to walk on. There is very little padding in these. Maybe I am use to memory foam and I expect at least comfortable padding of some sort to walk around in. I normally wear a size 10 so I ordered the 9/10 size. They are small that my heels go off over the sole. I feel as if I can't get my foot into the slipper far enough. The top of the slipper isn't long/deep enough that they feel like they are coming off from my feet. Now I do love the sole/bottom of these slippers. Thick rubber with traction ridges, they'd be good to run outside, like to grab your mail or take out the trash. I bought two pairs, one for myself and one to give as a gift. I am almost embarrassed to give these as they are not comfortable and feel cheaply made.
Written by @themismimi - December 17th 2021
Verified Purchase
Wrong Size
I ordered a large and was sent a small.
Written by @mswysiwyg - January 8th 2022