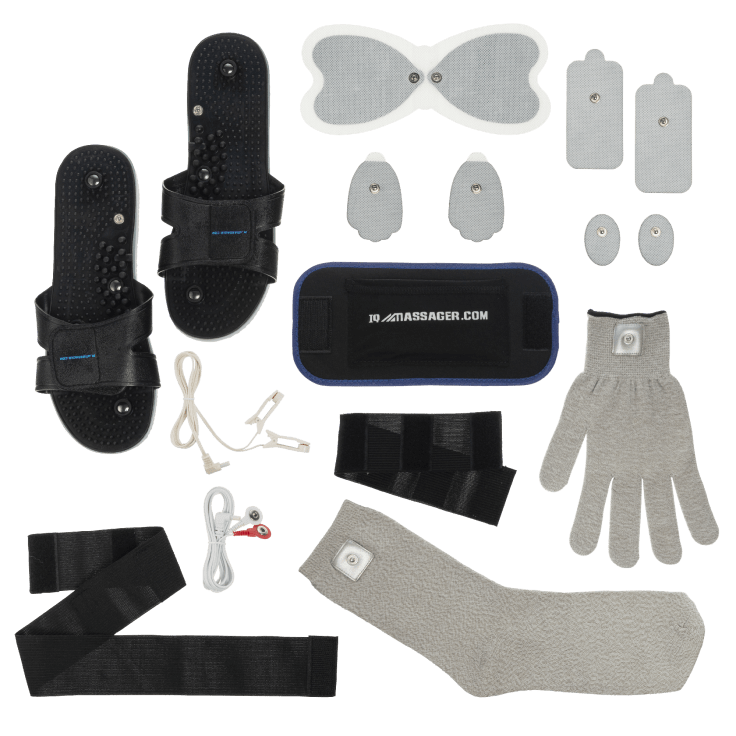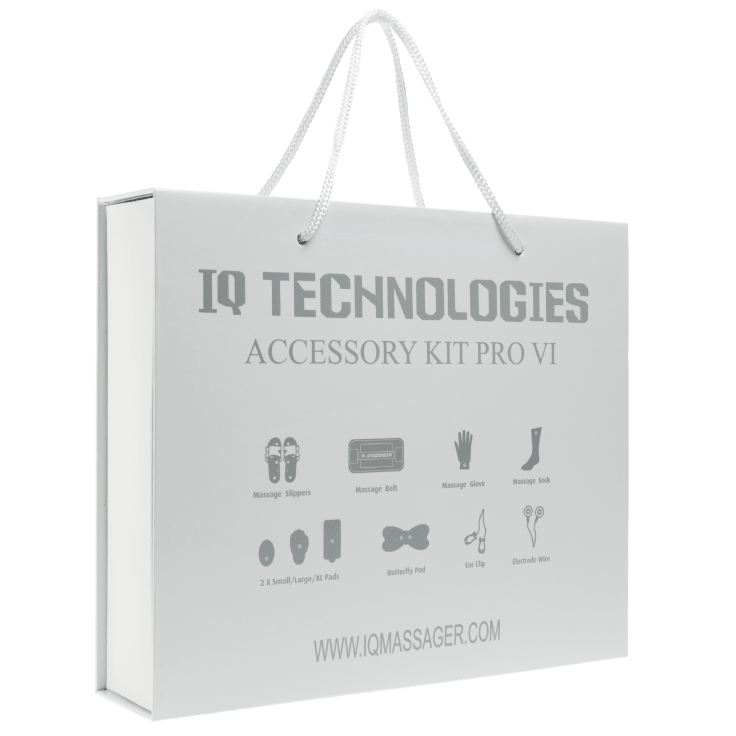 IQ 12-Piece Accessory Kit (Works with all TENS devices)
No TENS unit included. TENS unit sold separately.
Features
IQ Massager Acu-Slippers
The ultimate accessory for relieving tired and sore feet. Acu-Slippers connect to your IQ Massager TENS device.
The Acu-Slipper massaging shoe will work with any of the IQ Massager TENS units.
If your unit does not have a massage shoe function just use the first mode on your unit.

Relief from foot, ankle, or lower leg pain
Relief from foot and leg fatigue
Increased circulation
Nerve activation
IQ Massager Belt
The IQ Massager belt Tones and strengthens your stomach muscles and is used for temporary relief of pain and sore muscles in the lower back due to strain from exercise or normal household work activities.
IQ Massager Glove
IQ Gloves to connect to your IQ Massager TENS device.

Relief from finger, hand, or wrist pain
Relief from hand fatigue
Increased circulation
IQ Massager Sock
IQ Socks connects to your IQ Massager TENS device.

Relief from foot, ankle, or lower leg pain
Relief from foot and leg fatigue
Increased circulation
IQ Butterfly Pad
Extra Large replacement butterfly pads for IQ Massager.
A pad that works snap on easily to all IQ Massager products
Small/Large/XL Pads
Pads that work snap on easily to all IQ Massager products
Place where you would like a massage.
Self adhesive and conductive, easy to apply
Included In The Box
Massage Slippers
Massage Belt
Massage Glove
Massage Sock
2 Small Electrode Pads
2 Large Electrode Pads
2 XL Electrode Pads
Butterfly Pad
Ear Clip
Electrode Wire
Warranty
Estimated Delivery Date
Tuesday, August 18th - Tuesday, August 25th