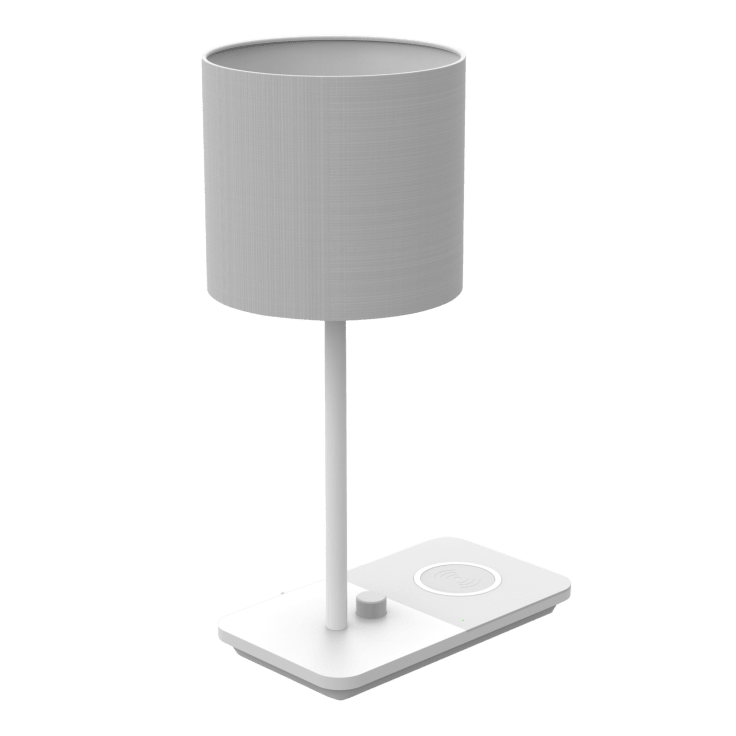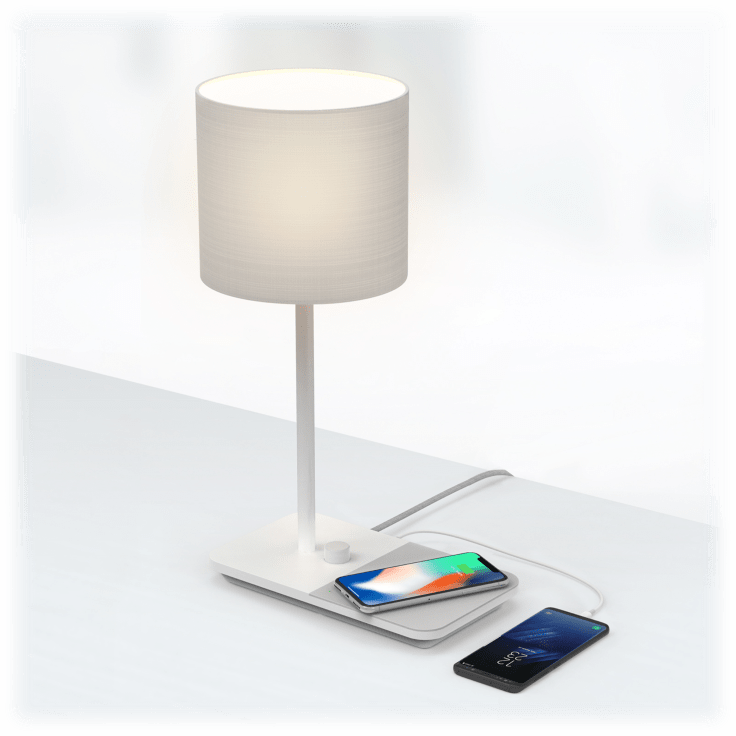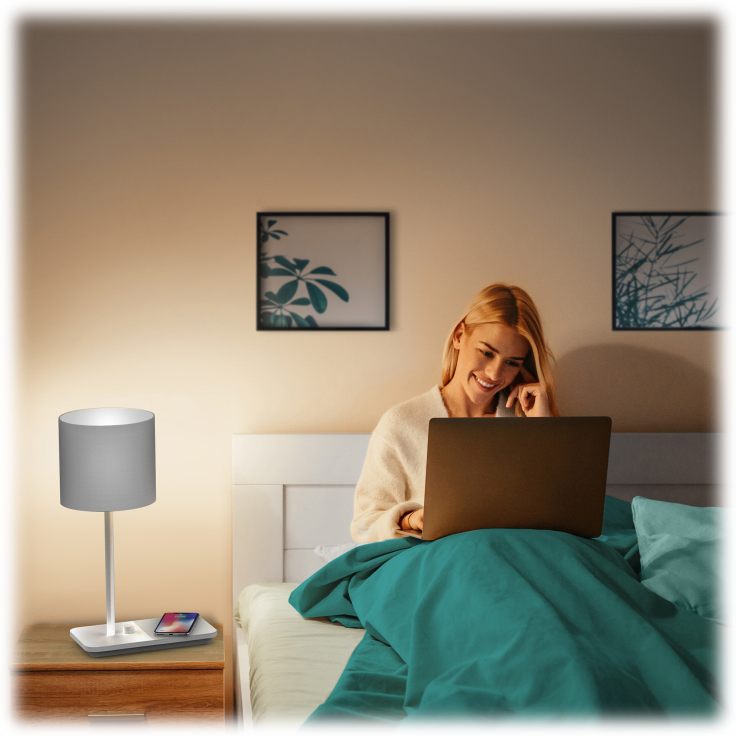 iHome Traditional Fabric Lamp w/USB and Wireless Charging
Features
3-In-1 station:

Swap out your power strip and tangled cords For a remarkable all-in-one solution - the iHome LED lamp + Wireless charging Station! This dock is a single baseplate with an attached touch-control LED lamp, Qi charging pad, and 1 USB port. Along with the unit, you'll also receive a user manual and an AC power adaptor.

Compatible with:

Place your wireless charging capable device face up on the Gray charging pad - it's that easy! The Qi charging plate is compatible with iPhone X, 8 Plus, 8, Samsung Galaxy S8, Note, 8, and other Qi wireless-enabled smartphones. The charger is designed and tested with overcurrent protection and foreign object detection to ensure safe, efficient charging for all your devices. You may need to remove your phone case to use.

Smart USB ports

Wirelessly charge your phone while using the additional smart USB Port that has a combined power output of 5V/4.8A. The port automatically detects the power consumption of your electronic devices to Adapt to the most efficient charging speed. Two times faster than traditional 1A ports, This port provides a maximum power output of 2.4A.
Specifications
Dimensions: 12.5x12.4x17.4 in
Weight: 4.8 lbs
Wireless Charging
Dimmable Light
Cool White Light
included in the box
1x iHome Traditional Fabric Lamp w/USB and Wireless Charging
Warranty
Reviews
Verified Purchase
Fabric lamp within port and wifi
I bought one of these for my granddaughter and one for me nut my daughter wanted it and I gave it to her so I ordered myself one great gifts
Written by @dedens - January 15th 2021
Verified Purchase
Attractive packaging
These lamps arrived in perfect condition. I purchased all 3 for Christmas presents, so haven't used them myself.
Written by @kdpence - October 17th 2020
Verified Purchase
Written by @cinveney - October 6th 2020
Verified Purchase
just turned it on. works as advertised. one little wrinkle - no bulb (?)
Written by @onpointilya1 - October 2nd 2020
Verified Purchase
Nice but not very bright.
I like that it has a wireless charger. It also has a separate usb on the side.
Written by @SGRenteria - September 2nd 2020
Verified Purchase
Cute lamp
I like the lamp. The only disappointment is that the lamp shade came with a couple of dents and although you can pop it out, it does leave a mark.
Written by @vaneyala - October 26th 2020