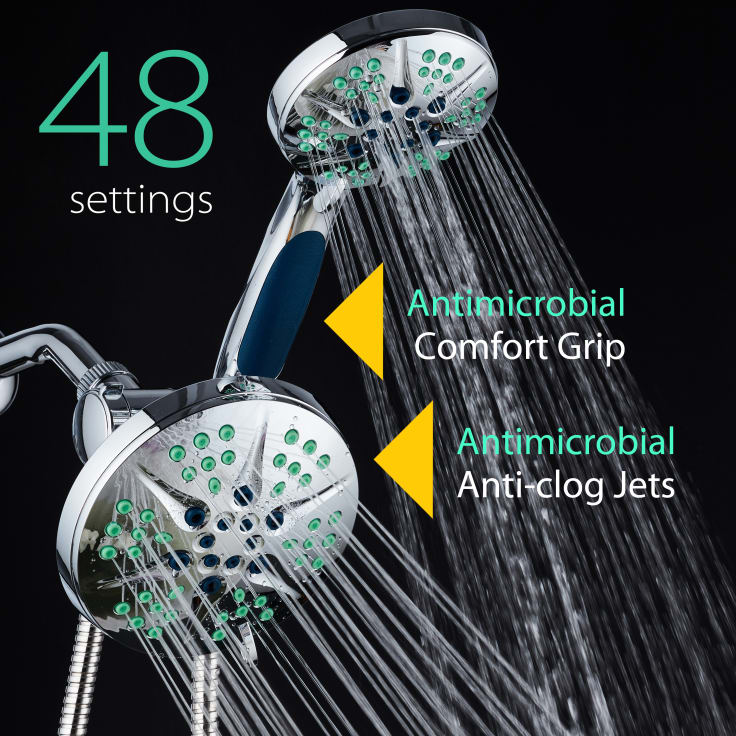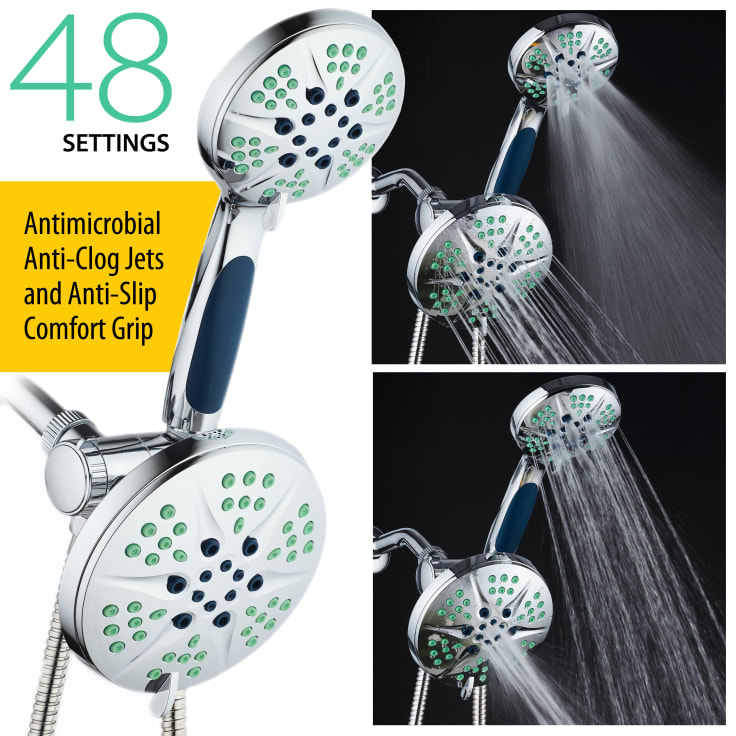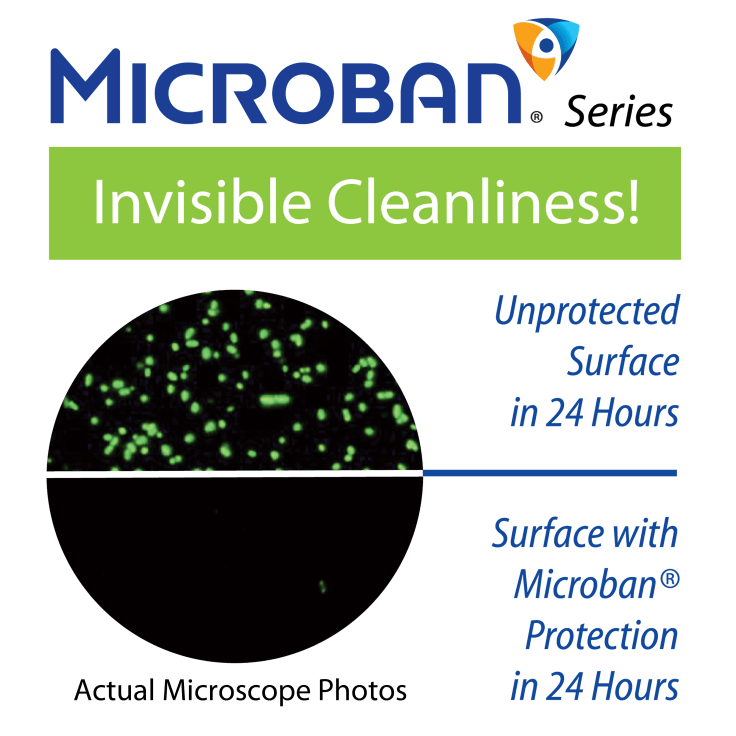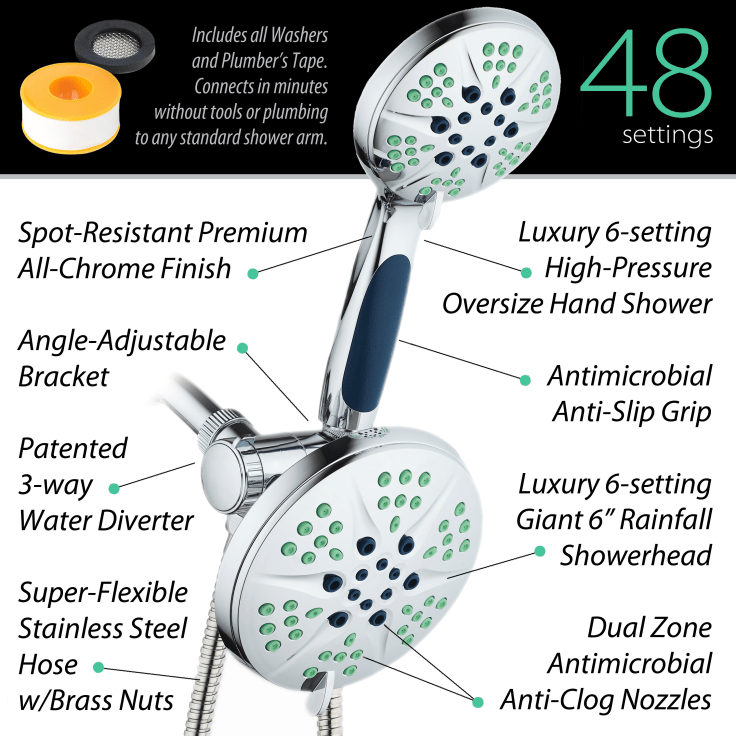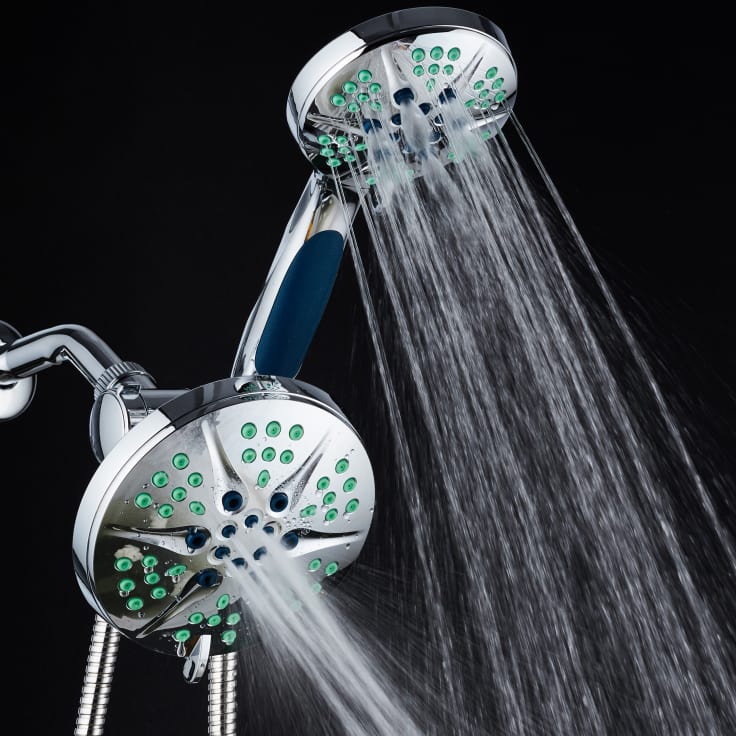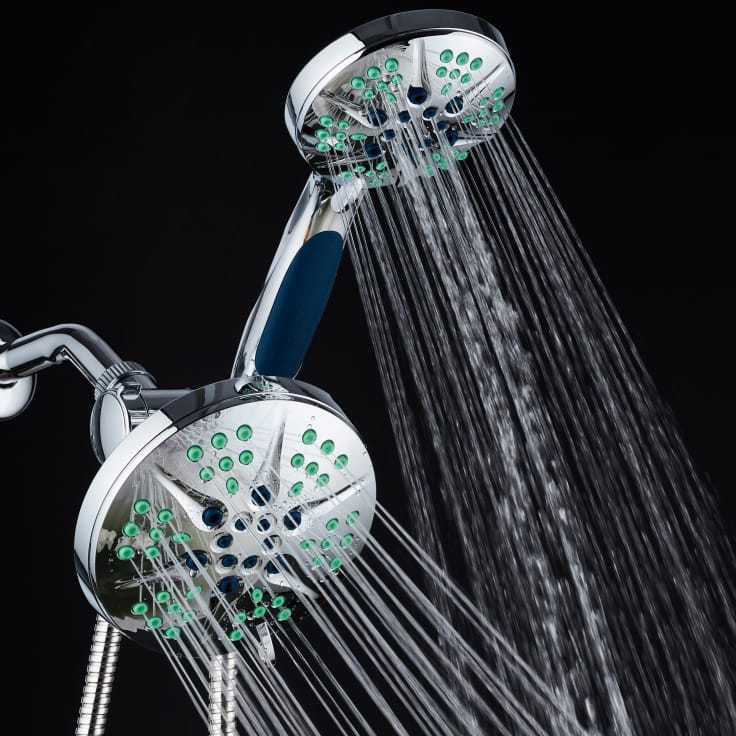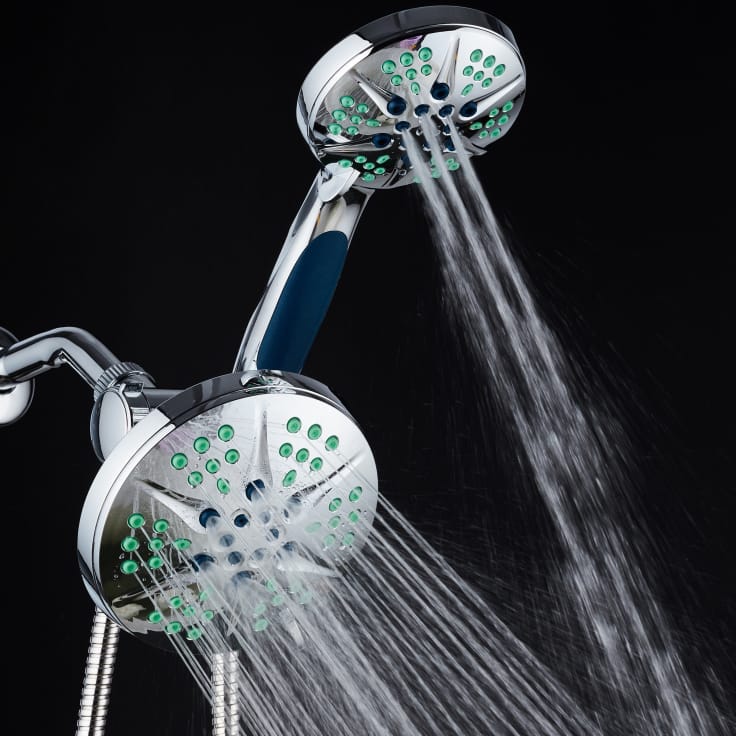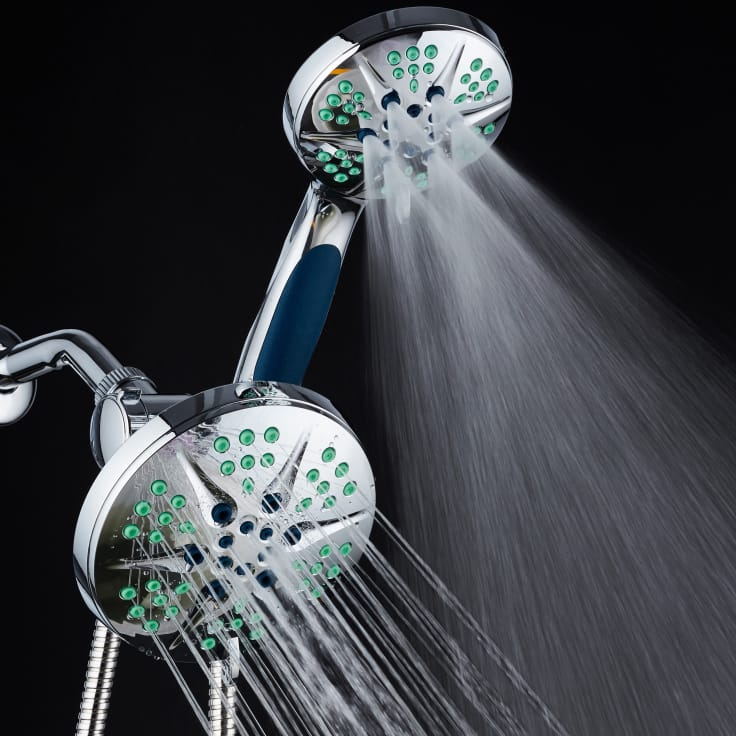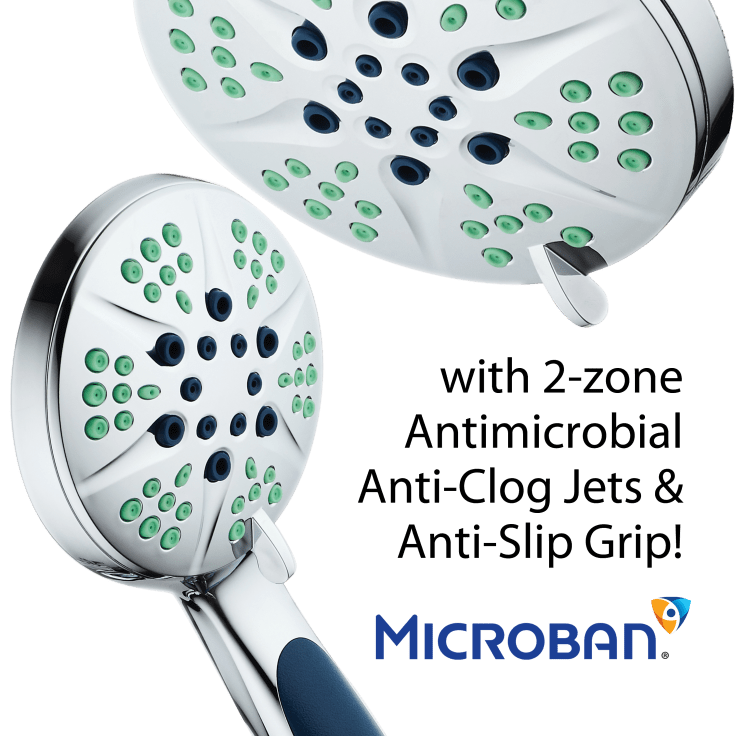 Hotel Spa NOTILUS Antimicrobial High-Pressure Dual Zone Luxury Rain Shower Head
Features
6-SETTING RAINFALL & HAND SHOWERS PLUS ANTIMICROBIAL SLIP-FREE GRIP
Use them separately or together! Enjoy Wide Rainfall, Power Rain, Pulsating Massage, Hydro-Mist, Convenient Water-saving ON-OFF Pause Mode and multiple mixed settings. Giant 6-inch and 4.3-inch Heads with Antimicrobial / Anti-clog Jets deliver amazing water pressure and extra-wide flow coverage! Antimicrobial Slip-Free Handle provides more safety and hygiene for hand-held use. Ideal for children, elderly & disabled.
DUAL-ZONE ANTIMICROBIAL ANTI-CLOG JETS FOR SUPERIOR WATER PRESSURE
Over time, other shower heads often dramatically loose water pressure due to clogged jets. Notilus Series shower nozzles are made with revolutionary EPA-registered Microban® Antimicrobial material that inhibits the growth of mold, mildew and bacteria inside and around jets. Plus, their flexible rub-clean tips help prevent the buildup of calcium deposits – so your shower head remains clean and clog-free for superior performance.
THE ULTIMATE CLEAN SHOWER FOR YOUR FAMILY
Since shower heads are known to harbor high concentrations of harmful bacteria, keeping them clean is essential. Developed by world leader in antimicrobial innovation, Microban® Technology works 24/7 on molecular level to protect product surfaces from Mold, Mildew and Bacteria. It never washes off or wears away, always keeps your shower head cleaner between cleanings and provides Life-long Antimicrobial Protection against product degradation.
TOP-QUALITY HARDWARE
Patented 3-way Water Diverter with Angle-Adjustable Bracket for hands-free pampering / Heavy-duty Stainless Steel Hose with extra-thick pressure-reinforced inner tubing for more durability / Solid Brass Metal Hose Nuts will not leak, strip or crack / 100% Spot-resistant All-surface Chrome-plated finish will not chip or scratch / Includes Removable 2.5 GPM Flow Regulator, All Washers & Plumber's Tape. EASY TOOL-FREE CONNECTION without plumber. Fits any standard shower arm.
Specifications
Model: 5545
Weight: 2.2 lb
Finish: Chrome
Flow Rate: 2.5 GPM
Included In The Box
1x Hotel Spa NOTILUS Antimicrobial High-Pressure Dual Zone Luxury Rain Shower Head
Warranty
Estimated Delivery Date
Friday, Nov 6 - Wednesday, Nov 11
Reviews
Verified Purchase
Great shower head
Written by @antdona1963 - April 23rd 2020
Verified Purchase
I have one, a very good investment, so i bough one for my brother., am going to surprise him

Written by @Gardnerhi - November 12th 2019
Verified Purchase
Love it
Written by @scos - September 26th 2019
Verified Purchase
Love
Written by @Chevy2two - September 6th 2019
Verified Purchase
Love it
Works great, love that it has several settings on both the shower head and the handheld.
Written by @luannewms - September 6th 2019
Verified Purchase
Written by @bluehair - August 27th 2019
Verified Purchase
Great, wish i had better water pressure
Written by @scos - July 28th 2019
Verified Purchase
What an improvement!
I didn't connect the hand-shower, but the shower head is a great improvement over what I had!
Written by @Save58 - July 9th 2019
Verified Purchase
It's really cheap looking - I think it's plastic. Also, not pre-warned: if you have a newer mount in your shower stall, you may have to purchase an additional replacement part from a hardware store before you are able to attach this product…no 'deal' here.
Written by @terriarmitage - July 25th 2019
Verified Purchase
The product was cheaply made and made of plastic I could go Marshal's and get one like this for $10 bucks! Do Not waste the money. I'm hoping to be refunded!
Written by @tjoe69 - July 26th 2019