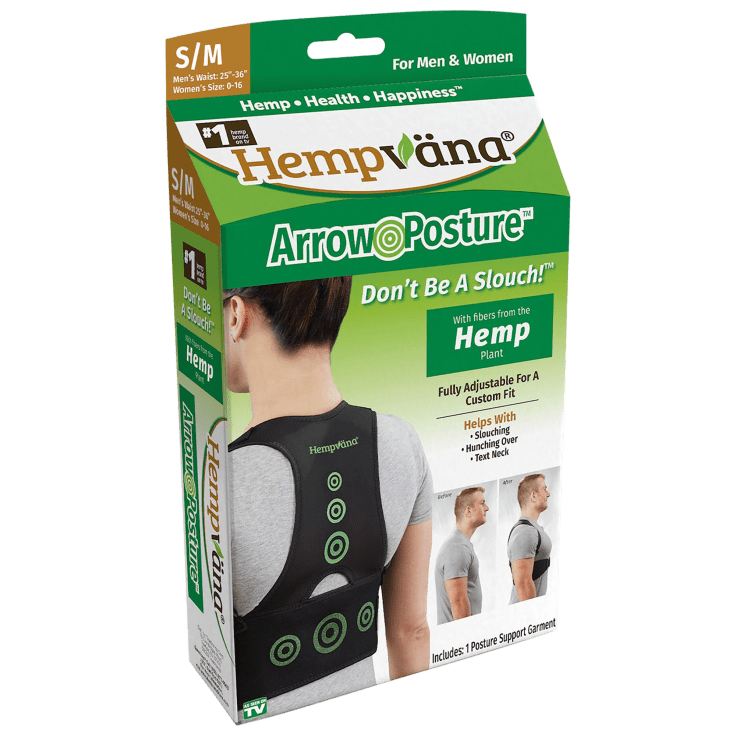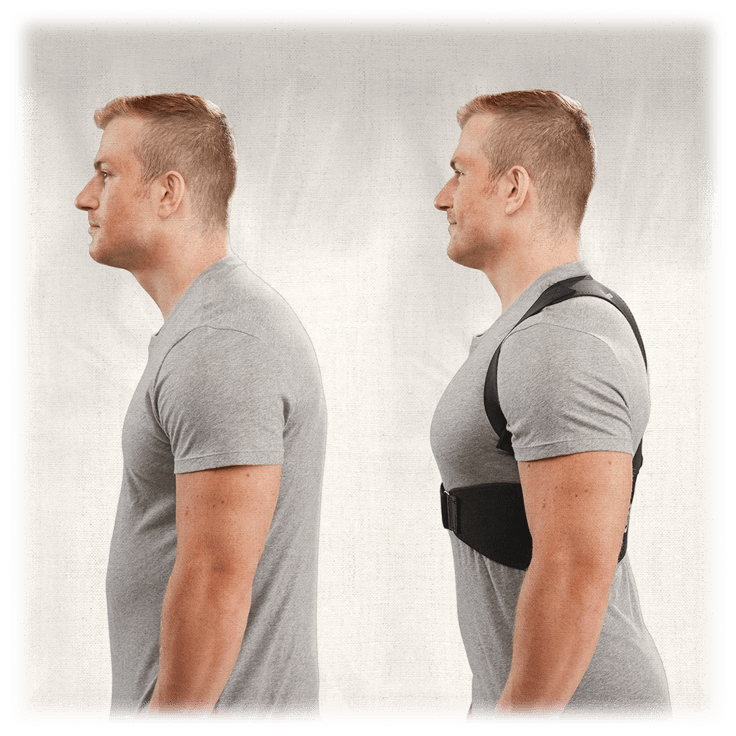 Hempvana Arrow Posture As Seen On TV
Features
FEEL YOUR BEST Your posture says a lot about you. And it affects your mind and body. We've created a special posture support brace to help alleviate pain from poor posture and slouching. Hempvana® Arrow Posture™ slips on comfortably so you can still have a full range of motion. It's a lightweight and discreet alternative to heavy back braces. Are you ready to start feeling your best with the help of Hempvana® Arrow Posture™?

EASY TO WEAR When you hear the phrase back brace, you probably think of big, bulky vest-like garments that restrict movement and that are very uncomfortable. Hempvana® Arrow Posture™ is different. It is super lightweight and comfortable. With Triple Strap Support, you'll be able to get a custom fit each time you wear it. Just slip the straps on over your shoulders, then fast the strap around your waist. Hempvana® Arrow Posture™ can be worn under or over your clothing.

PAIN RELIEF How many hours do you spend hunched over your computer or with your head bent down looking at your phone? Prolonged hunching or head bending can cause strain on your muscles and result in pain. Hempvana® Arrow Posture™ helps ease your spine into a straighter position to relieve pressure on nerves that cause pain in the upper back and neck. You can also slip on Hempvana® Arrow Posture™ to help support your posture post-injury.

WOVEN WITH HEMP FIBER We take pride in our products. That's why Hempvana® Arrow Posture™ is woven with hemp fibers. Hemp fibers are pretty amazing. They add extra durability to Arrow Posture™'s fabric while contributing to its lightweight breathability. Fibers from the hemp plant also have moisture-wicking properties, so you can stay cool and comfortable while you wear Arrow Posture™. This isn't your grandparent's old back brace!

POSITIVE EFFECTS OF GOOD POSTURE Several studies have shown a correlation between good posture and mental positivity. Posture can have to affect your thoughts, emotions, and energy levels. Have you ever noticed that when you sit upright with good posture, you're more attuned to your tasks and have better energy? It partly has to do with your posture! Plus, posture also has an influence on memory recall. Folks who sit upright are more likely to recall good, positive memories, whereas folks who slouch are more likely to recall bad, negative memories.
Specifications
Dimensions: 11x6x2
Weight: 0.6 oz
Sizes fit as follows:
S/M: men's waist 25"" to 36"" and women's size 0-16
L/XL: men's waist 37"" to 58"" and women's size 18-38"
What's Included
1x Hempvana Arrow Posture
Warranty