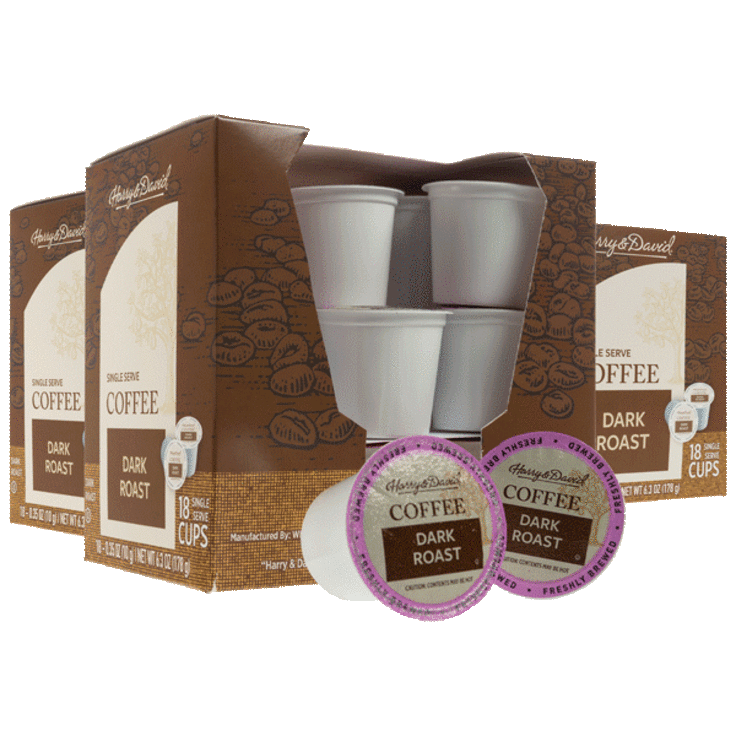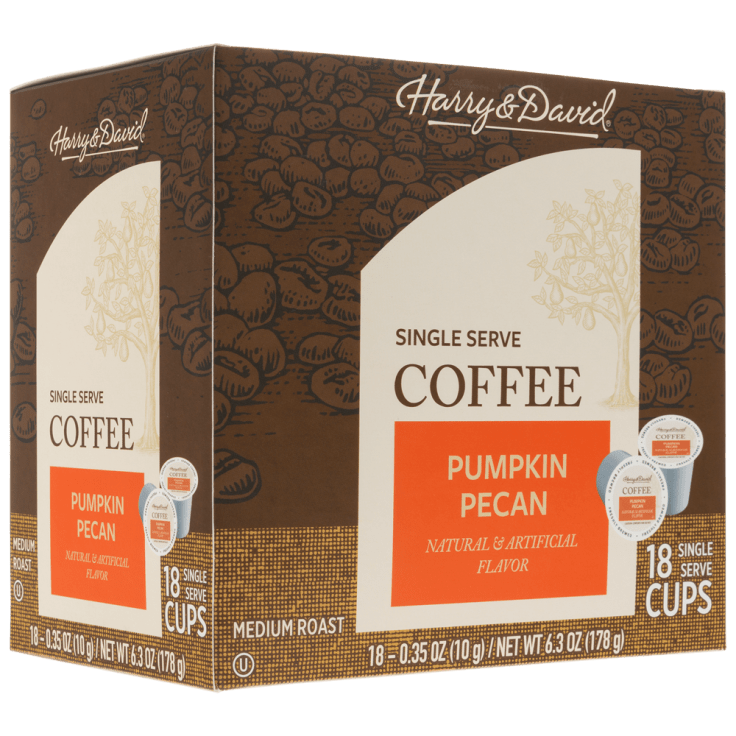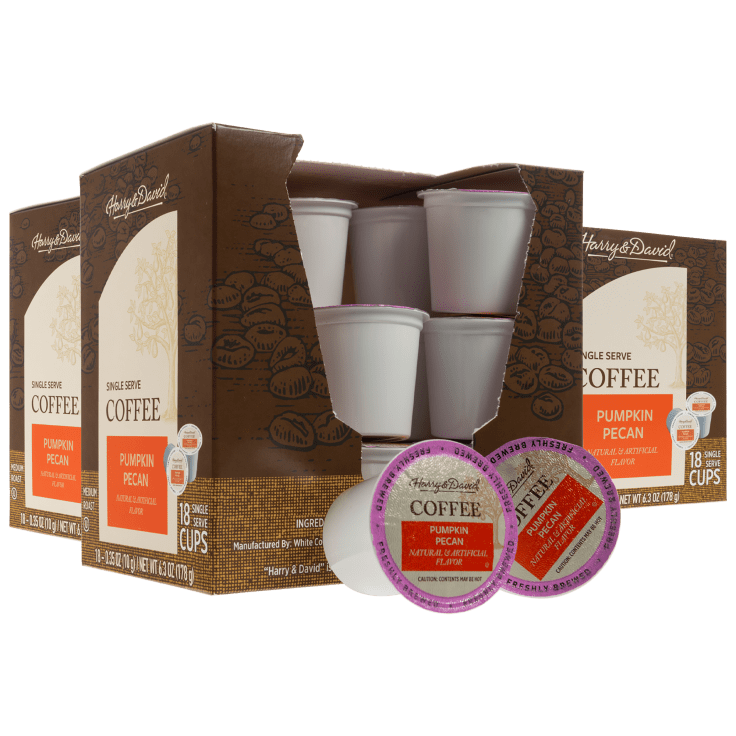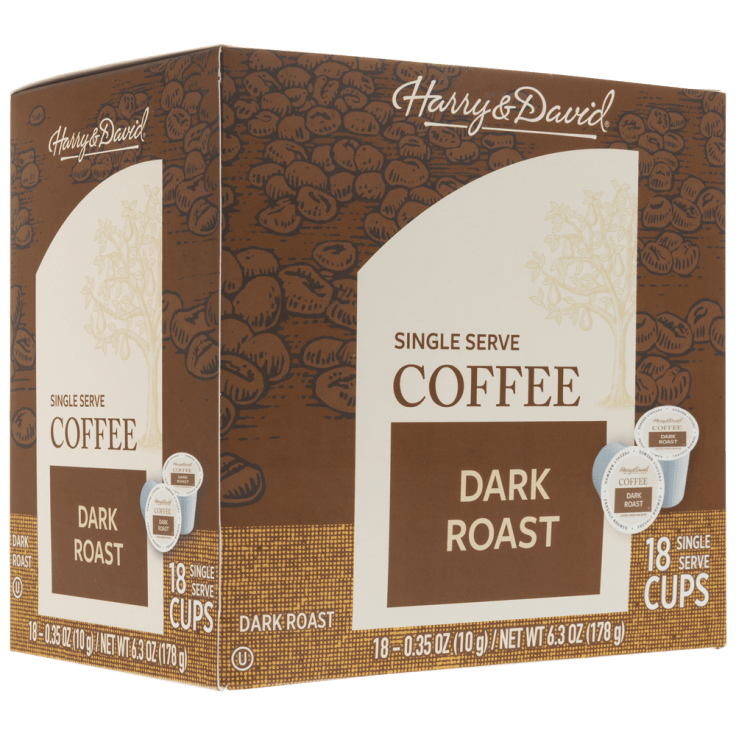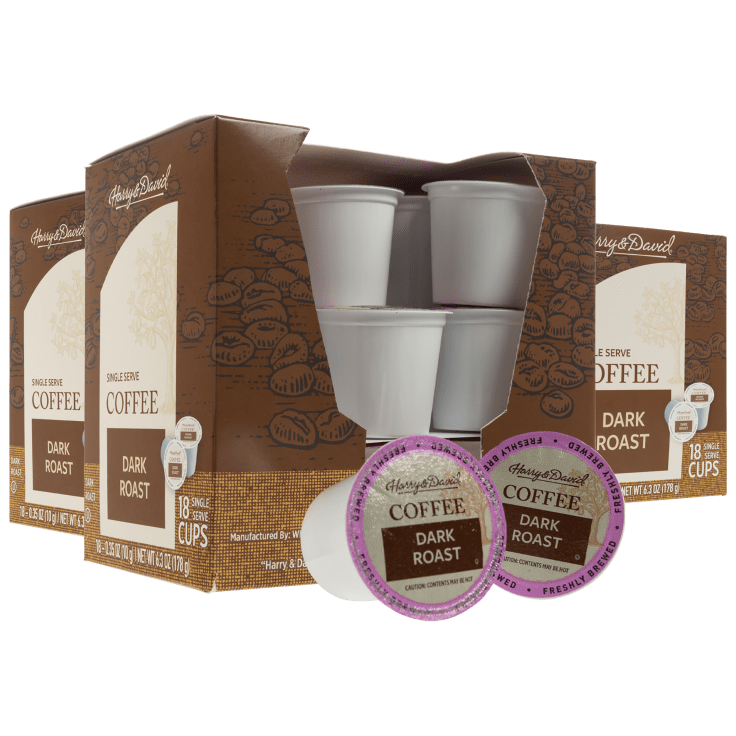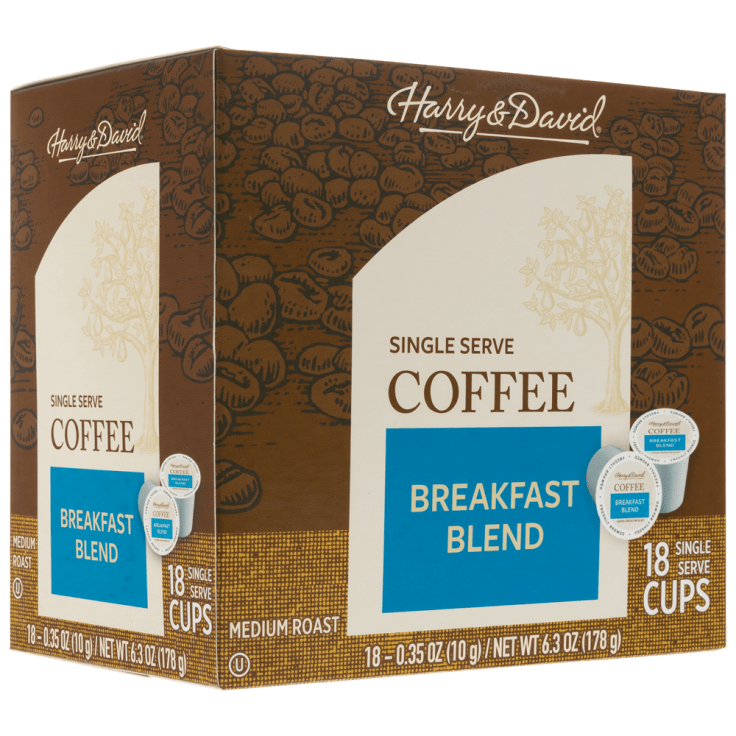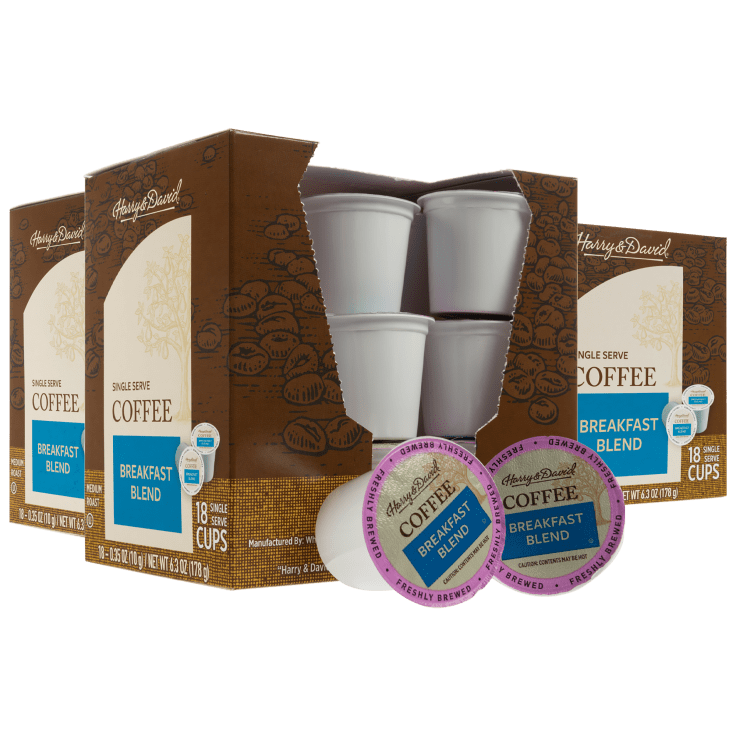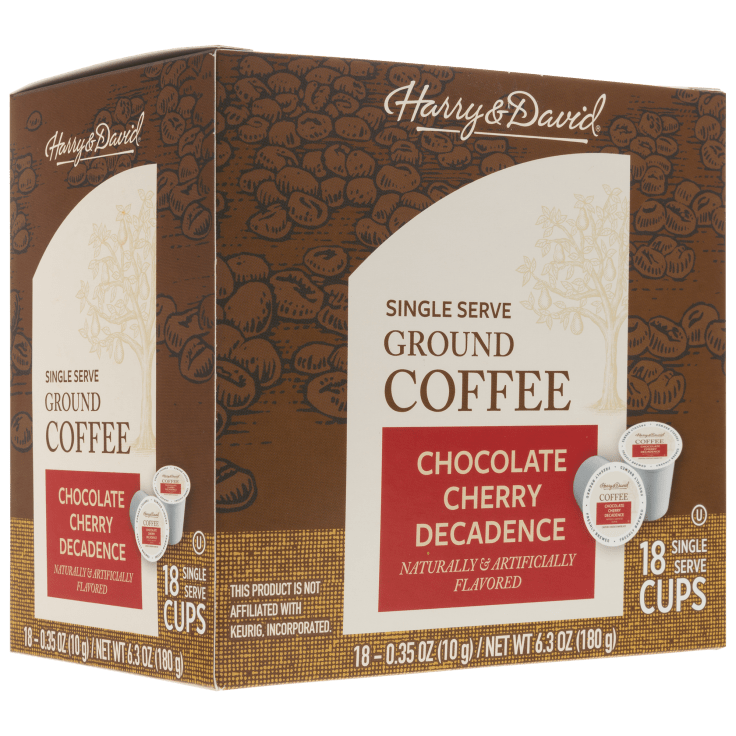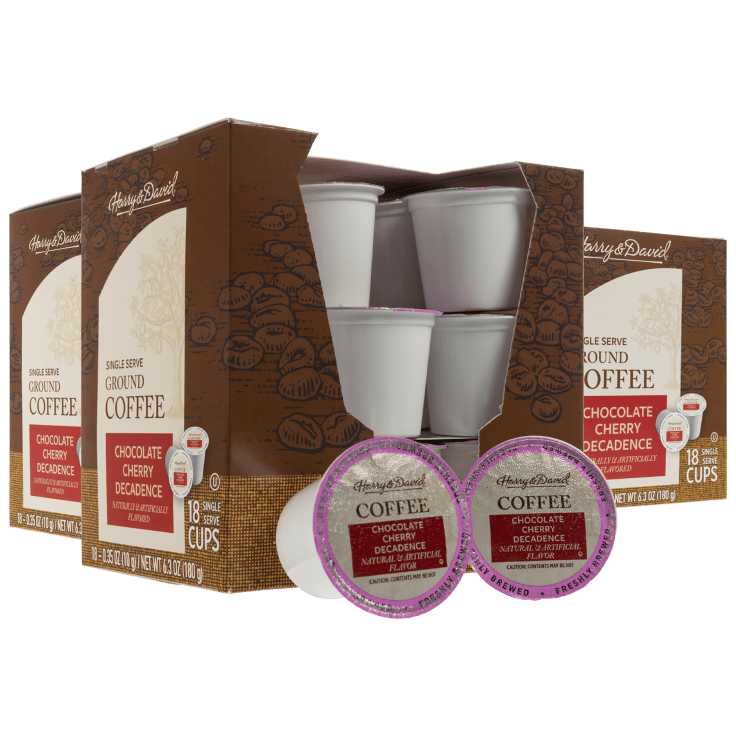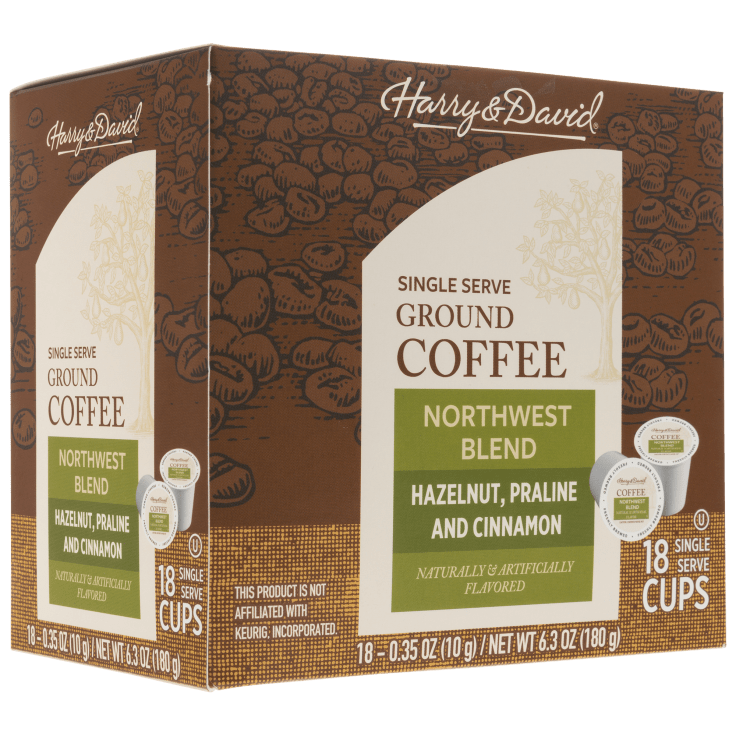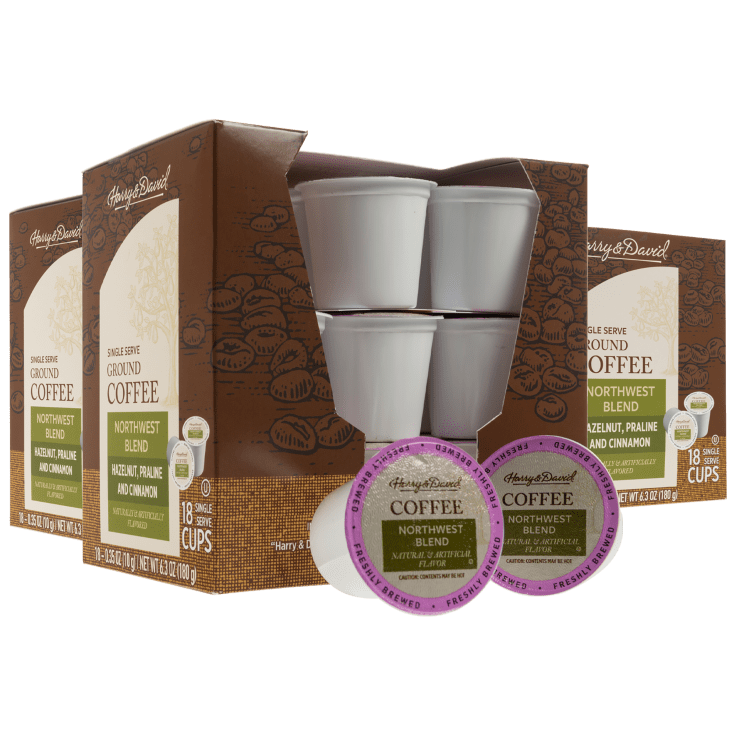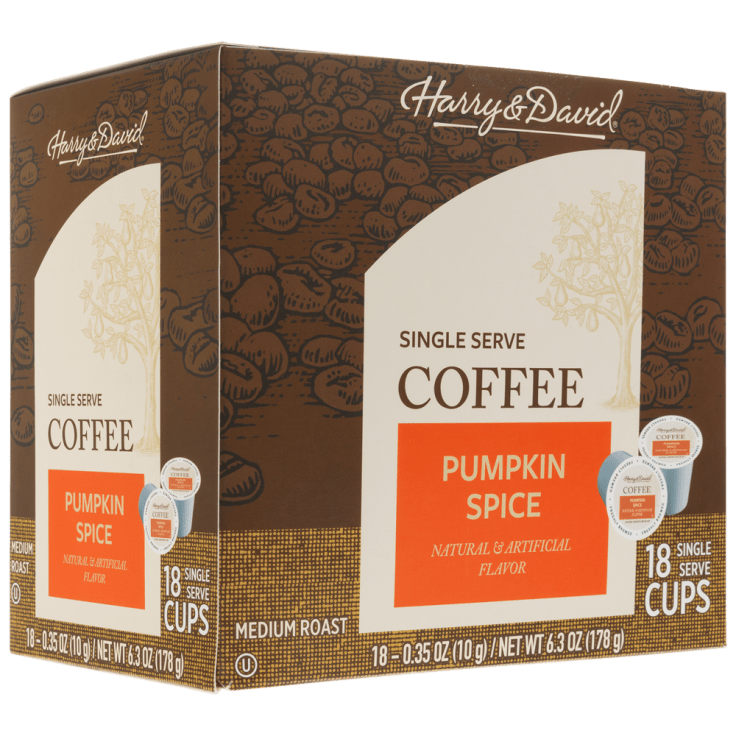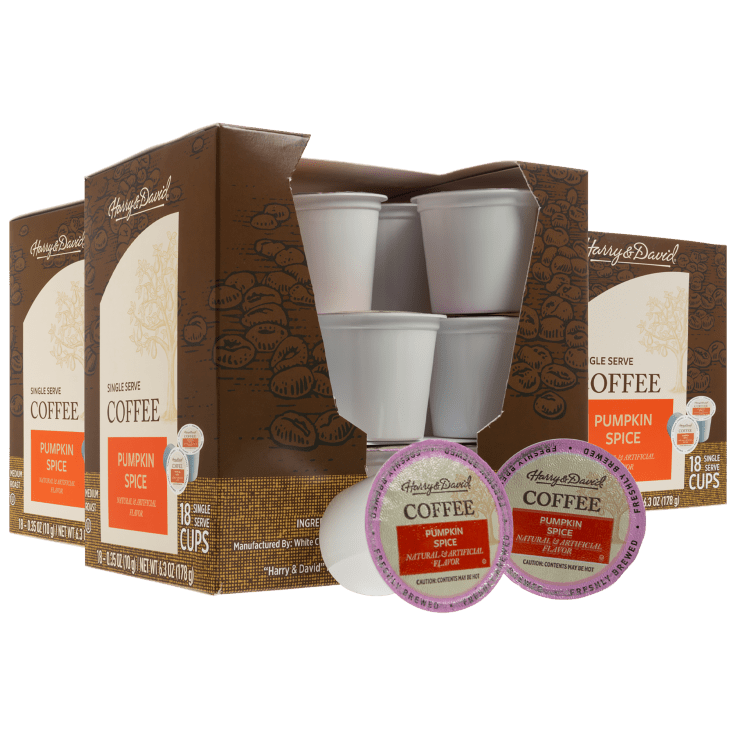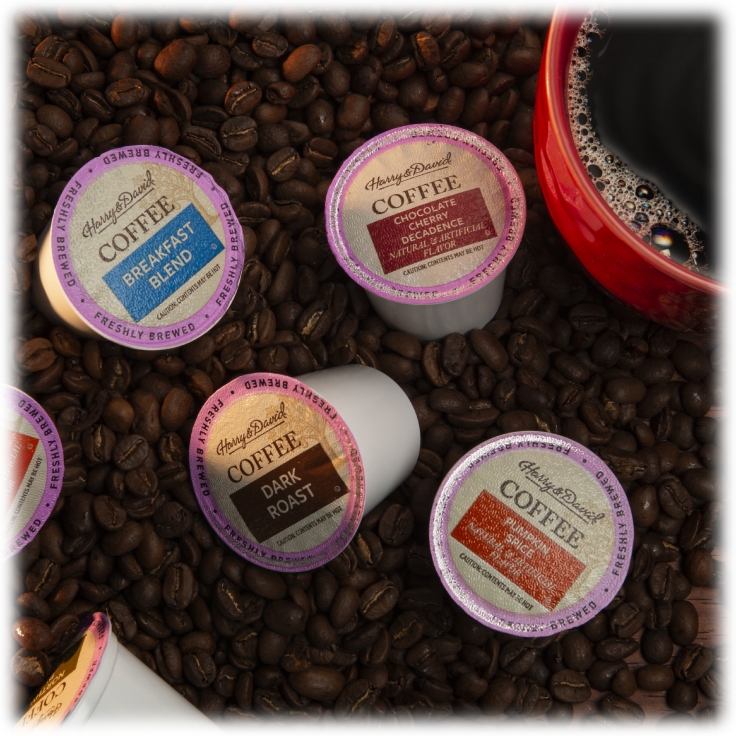 Harry & David 54ct Single-Serve Coffee
Features
The invigorating essence of fresh-brewed coffee filling the room with its unmistakable aroma is a sensational experience contained inside a single cup you can hold in your hand.
Enjoy the depth and complexity that only the finest quality, perfectly roasted coffee can deliver
We select Arabica coffee beans, grown and harvested by hand on small estates around the world. The beans are expertly roasted, then quickly air-cooled to maintain optimal flavor without imparting bitterness and promptly packed to ensure that you enjoy it at its peak of quality.
Directions: Load a single-serve cup with lid into the machine. Position mug below beverage outlet and press start. Single Serve Cup will be hot after the beverage is dispensed. Allow cooling before handling. Store the single-serve cups at room temperature.
Caution: When finished, the single-serve cups are hot and may drip. Help avoid dripping by tilting the single-serve cup during removal from the coffee maker.
Specifications
Fall Variety Pack
Includes 1 box of Pumpkin Spice, Pumpkin Pecan, and Northwest Blend flavors
18 Single Serve K-Cups per box
18 - 0.35oz (10 g)/Net Weight 6.3oz (180 g)
Get the best of all 3 flavors
Pumpkin Spice
Contains 3 boxes of 18 Single Serve K-Cups
18 - 0.35oz (10 g)/Net Weight 6.3oz (180 g)
Ingredients: Arabica Coffee, Natural and Artificial Flavor
Best Use By: 09/06/2021
Featuring a sumptuous combination of creamy pumpkin with a touch of zesty spices
This is a medium roast coffee that is perfect for fall
If the aroma isn't enough, wait till you taste the delicious flavors of this pumpkin spice coffee
Start each morning off deliciously or perk up any time of day with this exceptional flavor
Northwest Blend (Hazelnut, Praline, and Cinnamon)
Contains 3 boxes of 18 Single Serve K-Cups
18 - 0.35oz (10 g)/Net Weight 6.3oz (180 g)
Ingredients: 100% Arabica Coffee, Natural and Artificial Flavor
Best Use By: 09/05/2021
Featuring smooth notes of hazelnut, praline, and cinnamon, our Northwest Blend coffee is satisfying sip after sip
Start each morning off deliciously or perk up any time of day with this exceptional flavor
Dark Roast
Contains 3 boxes of 18 Single Serve K-Cups
18 - 0.35oz (10 g)/Net Weight 6.3oz (180 g)
Ingredients: Aranica Coffee
Best Use By: 09/06/2021
Fill up your cup with the distinct flavor and aroma of the Harry & David Dark Roast Coffee
Dark Roast is a wonderfully smooth, rich dark blend, featuring full body and acidity
This delicious dark roast delivers intense notes you will enjoy sip after sip
Breakfast Blend
Contains 3 boxes of 18 Single Serve K-Cups
18 - 0.35oz (10 g)/Net Weight 6.3oz (180 g)
Ingredients: Aranica Coffee
Best Use By: 09/05/2021
Fill up your cup with the distinct flavor and aroma of refreshing breakfast blend coffee
Enjoy the depth and complexity that only the finest quality, perfectly roasted coffee can deliver
Pumpkin Pecan (Natural and Artificial Flavor)
Contains 3 boxes of 18 Single Serve K-Cups
18 - 0.35oz (10 g)/Net Weight 6.3oz (180 g)
Ingredients: Aranica Coffee, Natural and Artificial Flavor
Best Use By: 09/06/2021
Distilled the flavors of fall into a warm, seasonal blend of Pumpkin Pecan
This tasty flavored coffee gift, bearing accents of pumpkin spice and nutty pecan, evokes the delightful experience of eating a slice of homemade pumpkin pie
Complete the experience by adding a little cream
Chocolate Cherry Decadence (Natural and Artificial Flavor)
Contains 3 boxes of 18 Single Serve K-Cups
18 - 0.35oz (10 g)/Net Weight 6.3oz (180 g)
Ingredients: 100% Arabica Coffee, Natural and Artificial Flavor
Best Use By: 09/06/2021
Let the aromas of decadent chocolate-cherry coffee start your day
Cherry nuances added to this chocolate coffee make this morning indulgence the perfect coffee gift to share with someone special
Included In The Box
54-Pack: Harry & David Single Serve Coffee Pods In Your Flavor Choice
Warranty