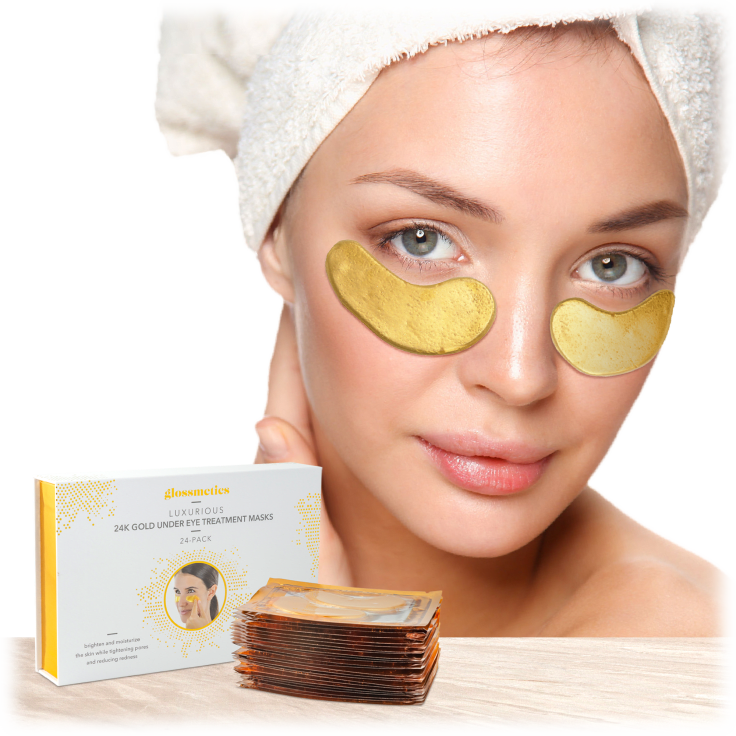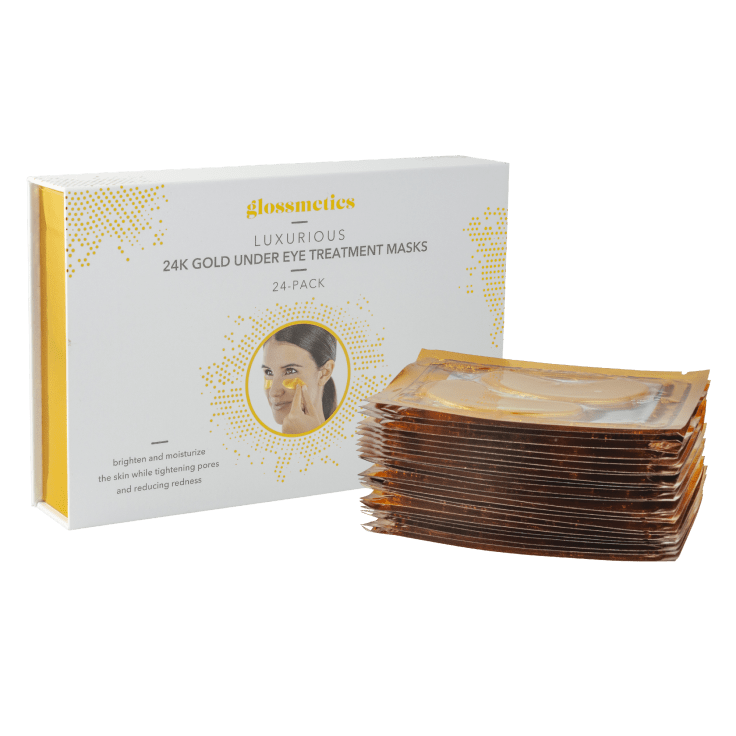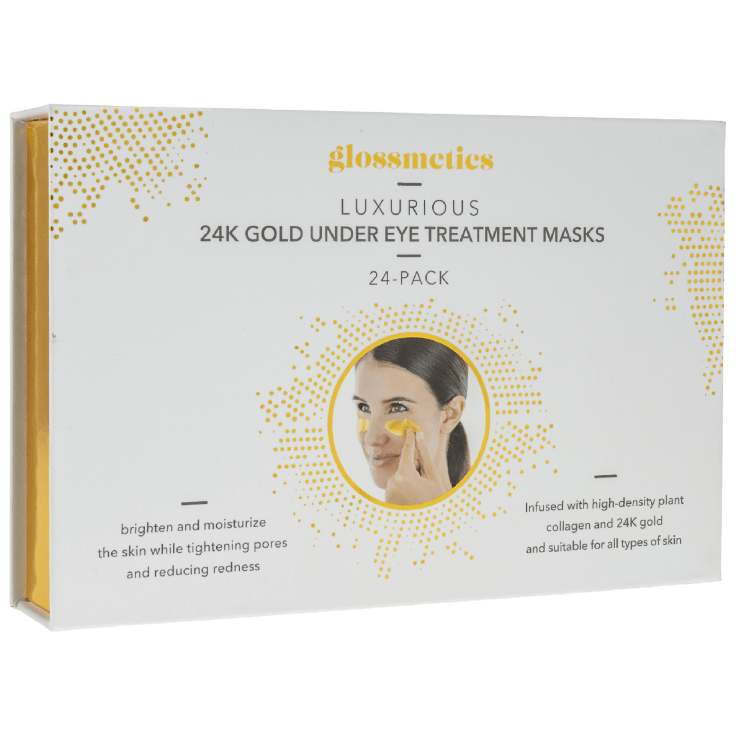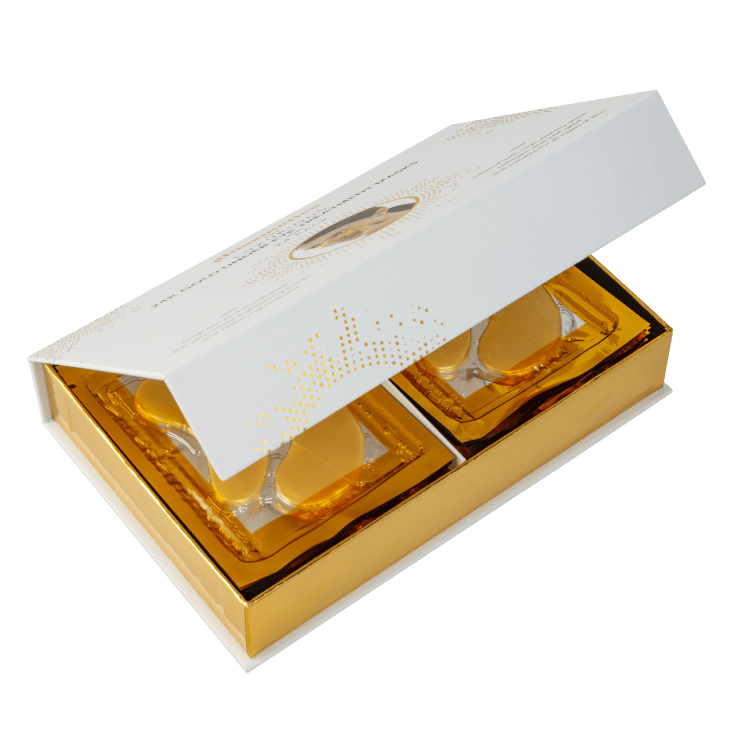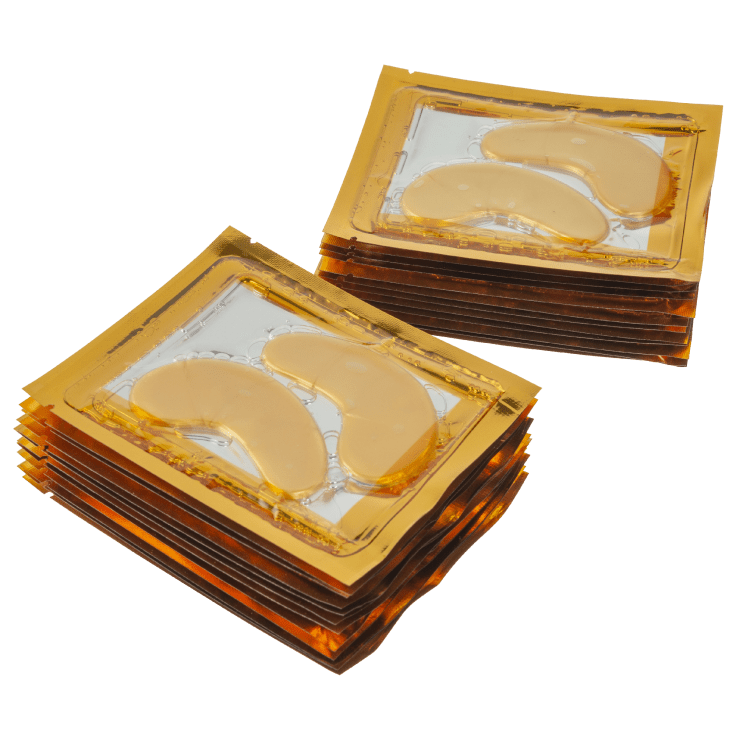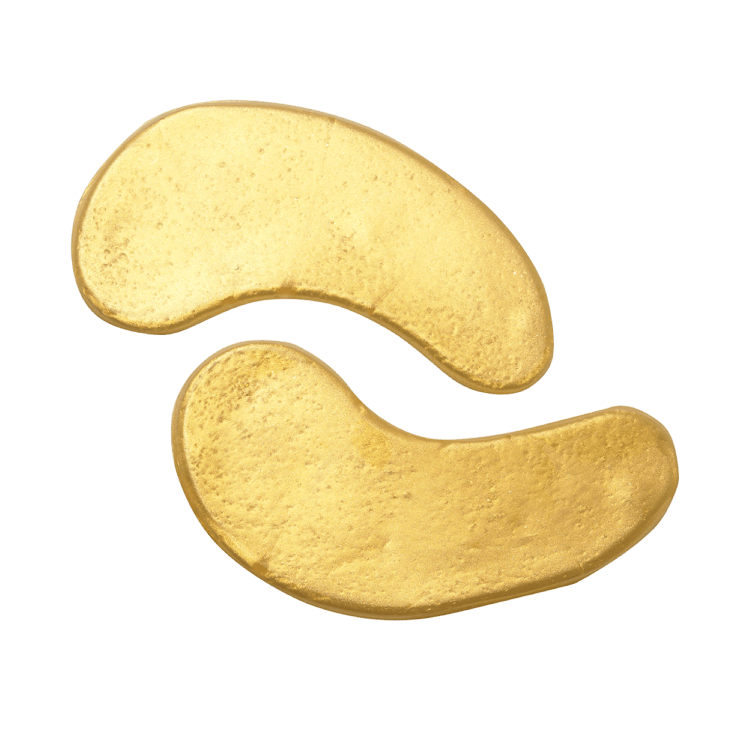 Glossmetics 24K Gold Under Eye Collagen Treatment Masks (24 Pairs)
Features
Infused with high-density plant collagen and 24K gold, these luxurious under-eye masks help brighten and moisturize the skin while tightening pores and reducing redness. From the very first application, you'll notice increased hydration, depuffing, improved skin tone and a smoother surface, providing you with long-lasting confidence. Our 24K gold masks are perfectly suitable for all types of skin and take just a few seconds to apply.
This set includes 24 packs which each have two masks (one right and one left)

Our 24K under-eye masks are made with all-natural ingredients

Some of the key ingredients are 24K Gold, Vitamin C, Vitamin E, Vitamin A, Aloe Vera, Hyaluronic Acid, Collagen and Caviar Extract

After application, all nutrients will immediately start absorbing into your skin, after 20 minutes about 98% of all nutrients will have been absorbed into your skin

These 24K under-eye masks are Dermatology & Allergy tested and are fragrance & alcohol-free
How To Use
• Wash and dry your face
• Open the packet and apply the mask under each eye and leave it on for 10-20 minutes
• These masks are designed to stay perfectly in place and do not slip so you can carry on with your day while they are applied
• Use once a week or every other week for best results
Disclaimer
Do not use on sunburnt or scarred skin nor on extremely sensitive skin. For external use only.
Ingredients
24K Gold, Vitamin C (Ascorbic Acid), Aloe Vera (Aloe Barbadensis), Water (Aqua,) Caprylic/Capric Triglyceride, Glycerine, Simmondsia Chinensis (Jojoba) Seed Oil, Collagen, Stearic Acid, Cetyl Alcohol, Algae Extract (Organic,) Squaline, Prunus Amygdalus Dulcis (Sweet Almond) Oil, Acetyl Hexapeptide-3, Euterpe Oleracea (Acai) Fruit Oil, Chamomilla Recutita (Chamomile) Flower Extract (Organic,) Hyaluronic Acid, Sorbitan Stearate, PEG-100 Stearate, Glyceryl Stearate, Tocopheryl Acetate (Vitamin E,) Retinyl Palmitate (Vitamin A,) Carbomer, Triethanolamine, Ethylhexylglycerin, Phenoxyethanol, Caviar Extract.
INCLUDED IN THE BOX
1x Glossmetics 24K Gold Under Eye Treatment Masks (24 Pairs)
Warranty
Reviews
Verified Purchase
glosssmetics 24k eye collagen mask
It's a great product I would recommend it it really does wonders.
Written by @KoneyT - December 3rd 2020
Verified Purchase
Written by @bellemoser - October 29th 2020
Verified Purchase
24K Gold under eye pads, It work
Written by @Bad2thebonetalk - August 12th 2020
Verified Purchase
Eye Collagen Treatment
I really do like this product. It makes my face so smooth and fresh.
Written by @Betycrook - August 12th 2020
Verified Purchase
In Love
It arrived shortly after I'd showered so I was ready. Oh my goodness it feels great, think I'll take a nap.
Written by @cyncity702 - July 11th 2020
Verified Purchase
I really love this product!
Written by @KarenAshimi - July 8th 2020
Verified Purchase
Eye treatments
Sitting home doing the crona-19 virus I could see need more than my eye cream, so I ordered these eye 24 Gold college treatments , wasn't sleeping, has bags under my eyes ! This does the trick . I use them all the time for my facials I love them
Written by @tap50 - April 16th 2020
Verified Purchase
The best thing since slice bread. I love it!!!
Written by @mboehmke12 - March 25th 2020
Verified Purchase
Love this product! I see definite difference in my under eye skin. So hydrating. Thank you!
Written by @pnielsen - March 24th 2020
Verified Purchase
Havent used yet bought it for a Christmas gift
Written by @NancyChr - October 28th 2020
Verified Purchase
Destroyed!
I received my box and half of the strips had been smashed.
Written by @Fhamesha - June 18th 2020
Verified Purchase
Eye collagen
Do not stay on at all

Written by @BellaBear4078 - June 21st 2020