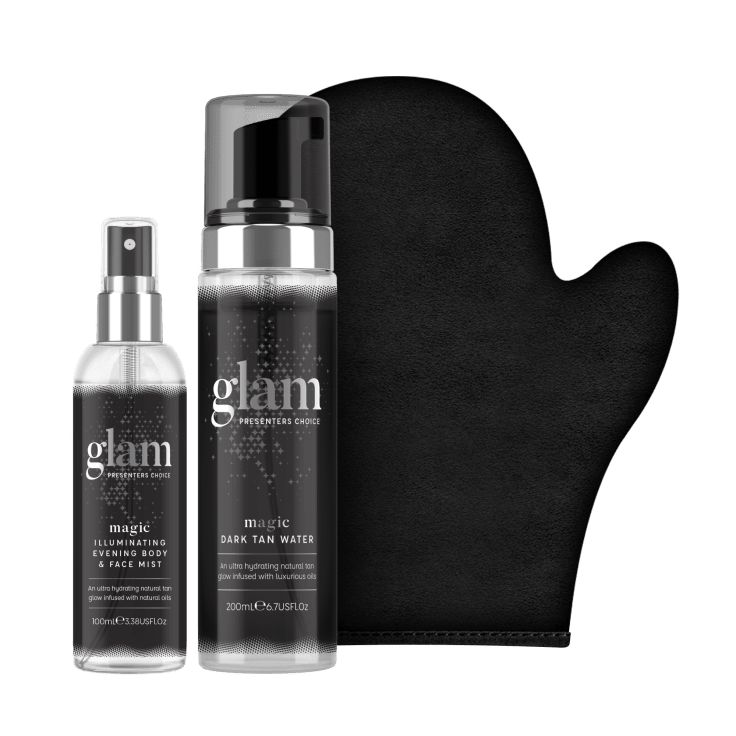 Glam Presenter's Choice Magic Self Tanning Water Kit with Application Mitt
Features
Glow, hydrate, and nourish with the Glam Presenter's Choice Tanning Kit, created to give you the ultimate radiant skin finish.
Use Magic Dark Tan Water for an ultra-hydrating, natural-looking glow that develops within an hour.
Use with your Magic Tan Application Mitt for the best results.
Then help extend and maintain your bronzed glow with the Magic Illuminating Evening Face & Body Mist.
Simply spritz the light, transparent mist and a subtle bronzed effect will develop over one to three days.
Both items are infused with a unique blend ingredients and oils, including hydrolyzed collagen and retinol, with a coconut scent.
Suits all skin types and tones.
Specifications
TAN WATER DIRECTIONS
For a flawless self tan, apply Tan Water to clean, exfoliated skin using the application mitt.
Simply apply a few pumps of product onto the mitt and smooth it over your skin in circular motions.
Use sparingly on elbows, knees, and ankles. Smooth out color for desired look.
Apply a second layer for a darker result.
Allow a few minutes before putting on clothes.
Wash hands after application.
The mitt is designed for use on either hand with a spot for your thumb for easy application.
Rinse mitt in warm water and allow to air dry completely before reuse.
INCLUDED IN THE BOX
1x Glam Presenter's Choice Magic Illuminating Evening Face & Body Mist (100ml / 3.38 fl oz)
1x Glam Presenter's Choice Magic Dark Tan Water (200ml / 6.7 fl oz)
1x Glam Presenter's Choice Magic Tan Application Mitt
Warranty
Reviews
Verified Purchase
Love it
It's so easy to use. No bad smell and great color. It usually takes 2 applications to get a dark color tan and it last. Be sure and shave your legs before you use it. The face spray is great too. It feels like water and doesn't have a bad smell. I love it.
Written by @arkcross - August 18th 2020
Verified Purchase
Love product
Written by @poodleboy - July 16th 2020
Verified Purchase
Love it
You can build your tan it looks natural. I have tried a lot of tanning products and this is the best. The face tanner is great too.
Written by @arkcross - July 11th 2020